Abstract
Methyl mercury chloride "MMC" (CH3ClHg) is an ubiquitous environmental toxicant that causes a variety of adverse effects. In the present study, we investigated the effects of sub-chronic toxicity of MMC on Nile tilapia (Oreochromis niloticus) through the evaluation of growth performance and hematological, biochemical, and oxidative stress biomarkers. From 150 healthy fish, five equally sized treatment groups were created: a control (CT) group fed with a basal diet and four MMC treatment groups exposed to 0.5, 1, 1.5, and 2 mg of MMC per kg of basal diet for 60 days. MMC exposure significantly reduced the growth performance and survival of O. niloticus and decreased red blood cell count and hemoglobin concentration. Treated fish exhibited normocytic normochromic anemia in addition to leucopenia, lymphopenia, granulocytopenia, and monocytopenia. Moreover, MMC exposure significantly affected liver function, including a reduction in the total protein levels while increasing cholesterol and triglyceride levels. It also markedly increased the production of stress biomarkers such as glucose and cortisol levels. Furthermore, MMC significantly elevated the levels of hepatic enzymes, induced tissue damage, and caused inflammation, as indicated by the upregulation of mRNA expression of hepatic metallothionein. Finally, MMC exposure induced oxidative stress by altering the antioxidant status of the liver and downregulating the mRNA expression of superoxide dismutase, glutathione peroxidase, and glutathione S-reductase. In conclusion, MMC toxicity induced hematological and biochemical alterations, leading to an enhanced state of oxidative stress in O. niloticus.
Access options
Buy single article
Instant access to the full article PDF.
US$ 39.95
Tax calculation will be finalised during checkout.
Subscribe to journal
Immediate online access to all issues from 2019. Subscription will auto renew annually.
US$ 79
Tax calculation will be finalised during checkout.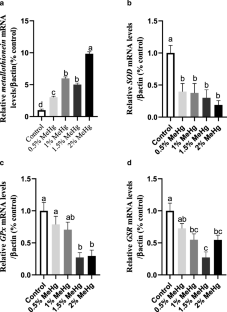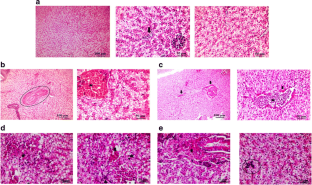 Data availability
The datasets used and/or analyzed during the current study are available from the corresponding author on reasonable request.
References
Abdel-Daim MM, Eissa IAM, Abdeen A, Abdel-Latif HMR, Ismail M, Dawood MAO, Hassan AM (2019) Lycopene and resveratrol ameliorate zinc oxide nanoparticles-induced oxidative stress in Nile tilapia, Oreochromis niloticus. Environ Toxicol Pharmacol 69:44–50. https://doi.org/10.1016/j.etap.2019.03.016

Abdel-Daim MM, Dawood MAO, Aleya L, Alkahtani S (2020a) Effects of fucoidan on the hematic indicators and antioxidative responses of Nile tilapia (Oreochromis niloticus) fed diets contaminated with aflatoxin B(1). Environ Sci Pollut Res Int 27:12579–12586. https://doi.org/10.1007/s11356-020-07854-w

Abdel-Daim MM, Dawood MAO, Elbadawy M, Aleya L, Alkahtani S (2020b) Spirulina platensis reduced oxidative damage induced by chlorpyrifos toxicity in Nile tilapia (Oreochromis niloticus). Animals : Open Access Journal from MDPI 10:473. https://doi.org/10.3390/ani10030473

Abu Zeid EH, Khalifa BA, Said EN, Arisha AH, Reda RM (2021) Neurobehavioral and immune-toxic impairments induced by organic methyl mercury dietary exposure in Nile tilapia Oreochromis niloticus. Aquat Toxicol 230:105702. https://doi.org/10.1016/j.aquatox.2020.105702

Adedeji OB, Adeyemo O, Agbede SA (2009) Effects of diazinon on blood parameters in the African catfish (Clarias gariepinus). African Journal of Biotechnology 8(16):3940–3946

Afifi M, Saddick S, Abu Zinada OA (2016) Toxicity of silver nanoparticles on the brain of Oreochromis niloticus and Tilapia zillii. Saudi J Biol Sci 23:754–760. https://doi.org/10.1016/j.sjbs.2016.06.008

Ahmadifar E, Dawood MAO, Moghadam MS, Sheikhzadeh N, Hoseinifar SH, Musthafa MS (2019) Modulation of immune parameters and antioxidant defense in zebrafish (Danio rerio) using dietary apple cider vinegar. Aquaculture 513:734412. https://doi.org/10.1016/j.aquaculture.2019.734412

Alam RT, Imam TS, Abo-Elmaaty AM, Arisha AHJL (2019) Amelioration of fenitrothion induced oxidative DNA damage and inactivation of caspase-3 in the brain and spleen tissues of male rats by N-acetylcysteine. Life Sci 231:116534

Altunay N (2018) Utility of ultrasound assisted-cloud point extraction and spectrophotometry as a preconcentration and determination tool for the sensitive quantification of mercury species in fish samples. Spectrochim Acta A Mol Biomol Spectrosc 189:167–175. https://doi.org/10.1016/j.saa.2017.08.033

Antunes Dos Santos A, Ferrer B, Marques Gonçalves F, Tsatsakis AM, Renieri EA, Skalny AV, Farina M, Rocha JBT, Aschner M (2018) Oxidative stress in methylmercury-induced cell toxicity. Toxics 6:47. https://doi.org/10.3390/toxics6030047

APHA (1998) Standard Methods for the Examination of Water and Wastewater. 20th Edition, American Public Health Association, American Water Works Association and Water Environmental Federation, Washington DC

Arisha AH, Ahmed MM, Kamel MA, Attia YA, Hussein MMA (2019) Morin ameliorates the testicular apoptosis, oxidative stress, and impact on blood–testis barrier induced by photo-extracellularly synthesized silver nanoparticles. Environ Sci Pollut Res 26:28749–28762. https://doi.org/10.1007/s11356-019-06066-1

Ballatori N, Clarkson TW (1982) Developmental changes in the biliary excretion of methylmercury and glutathione. Science 216:61–63. https://doi.org/10.1126/science.7063871

Barton BA (2002) Stress in fishes: a diversity of responses with particular reference to changes in circulating corticosteroids. Integr Comp Biol 42:517–525. https://doi.org/10.1093/icb/42.3.517

Basha PS, Rani AU (2003) Cadmium-induced antioxidant defense mechanism in freshwater teleost Oreochromis mossambicus (Tilapia). Ecotoxicol Environ Saf 56:218–221. https://doi.org/10.1016/s0147-6513(03)00028-9

Beckvar N, Field J, Salazar S, Hoff R (1996) Contaminants in aquatic habitats at hazardous waste sites: mercury. US Dep. of Commer. NOAA Tech. Memo. NOAA-TM-NOS-ORCA 100, 74pp

Berntssen MHG, Hylland K, Julshamn K, Lundebye AK, Waagbø R (2004) Maximum limits of organic and inorganic mercury in fish feed. Aquac Nutr 10:83–97. https://doi.org/10.1046/j.1365-2095.2003.00282.x

Bleau H, Daniel C, Chevalier G, van Tra H, Hontela A (1996) Effects of acute exposure to mercury chloride and methylmercury on plasma cortisol, T3, T4, glucose and liver glycogen in rainbow trout (Oncorhynchus mykiss). Aquat Toxicol 34:221–235. https://doi.org/10.1016/0166-445X(95)00040-B

Borges A, Scotti LV, Siqueira DR, Zanini R, Amaral F, Jurinitz DF, Wassermann GF (2007) Changes in hematological and serum biochemical values in jundiá Rhamdia quelen due to sub-lethal toxicity of cypermethrin. Chemosphere 69:920–926. https://doi.org/10.1016/j.chemosphere.2007.05.068

Cao L, Huang W, Shan X, Ye Z, Dou S (2012) Tissue-specific accumulation of cadmium and its effects on antioxidative responses in Japanese flounder juveniles. Environ Toxicol Pharmacol 33:16–25. https://doi.org/10.1016/j.etap.2011.10.003

Caxico Vieira CAS, Vieira JS, Bastos MS, Zancanela V, Barbosa LT, Gasparino E, Del Vesco AP (2018) Expression of genes related to antioxidant activity in Nile tilapia kept under salinity stress and fed diets containing different levels of vitamin C. J Toxic Environ Health A 81:20–30. https://doi.org/10.1080/15287394.2017.1401968

Cheung PLA, Kwok Lim Lam V, Chan KM (2005) Tilapia metallothionein genes: PCR-cloning and gene expression studies. Biochim Biophys Acta (BBA) - Gene Struct Express 1731:191–201. https://doi.org/10.1016/j.bbaexp.2005.09.006

Choi CY, An KW, Nelson ER, Habibi H (2007) Cadmium affects the expression of metallothionein (MT) and glutathione peroxidase (GPX) mRNA in goldfish, Carassius auratus. Comp Biochem Physiol C: Toxicol Pharmacol 145:595–600. https://doi.org/10.1016/j.cbpc.2007.02.007

Compeau GC, Bartha R (1985) Sulfate-reducing bacteria: principal methylators of mercury in anoxic estuarine sediment. Appl Environ Microbiol 50:498–502. https://doi.org/10.1128/AEM.50.2.498-502.1985

De Boeck G, Ngo TT, Van Campenhout K, Blust R (2003) Differential metallothionein induction patterns in three freshwater fish during sublethal copper exposure. Aquat Toxicol 65:413–424. https://doi.org/10.1016/s0166-445x(03)00178-4

Dobšíková R, Svobodová Z, Blahová J, Modrá H, Velisek J (2009) The effect of transport on biochemical and haematological indices of common carp (Cyprinus carpio L.). Czech J Anim Sci 54:510–518. https://doi.org/10.17221/52/2009-CJAS

Drevnick PE, Sandheinrich MB (2003) Effects of dietary methylmercury on reproductive endocrinology of fathead minnows. Environ Sci Technol 37:4390–4396. https://doi.org/10.1021/es034252m

Elewa YHA, Mohamed AA, Galal AAA, El-Naseery NI, Ichii O, Kon Y (2019) Food Yellow4 reprotoxicity in relation to localization of DMC1 and apoptosis in rat testes: Roles of royal jelly and cod liver oil. Ecotoxicol Environ Saf 169:696–706. https://doi.org/10.1016/j.ecoenv.2018.11.082

El-Sayed AF (2006) Tilapia Culture. CABI Publications, Wallingford 257pp

Farina M, Aschner M, Rocha JB (2011) Oxidative stress in MeHg-induced neurotoxicity. Toxicol Appl Pharmacol 256:405–417. https://doi.org/10.1016/j.taap.2011.05.001

Fernández E, Vidal L, Costa-García A, Canals A (2016) Mercury determination in urine samples by gold nanostructured screen-printed carbon electrodes after vortex-assisted ionic liquid dispersive liquid–liquid microextraction. Anal Chim Acta 915:49–55. https://doi.org/10.1016/j.aca.2016.02.028

Ferreira JT, Smit GL, Schoonbee HJ, Holzapfel CW (1979) Comparison of anesthetic potency of benzocaine hydrochloride and MS-222 in two freshwater fish species. Progress Fish-Culturist 41:161–163. https://doi.org/10.1577/1548-8659(1979)41[161:COAPOB]2.0.CO;2

Galal AAA, Reda RM, Abdel-Rahman Mohamed A (2018) Influences of Chlorella vulgaris dietary supplementation on growth performance, hematology, immune response and disease resistance in Oreochromis niloticus exposed to sub-lethal concentrations of penoxsulam herbicide. Fish Shellfish Immunol 77:445–456. https://doi.org/10.1016/j.fsi.2018.04.011

Galal AAA, Ramadan RA, Metwally MMM, El-Sheikh SMA (2019) Protective effect of N-acetylcysteine on fenitrothion-induced toxicity: the antioxidant status and metabolizing enzymes expression in rats. Ecotoxicol Environ Saf 171:502–510. https://doi.org/10.1016/j.ecoenv.2019.01.004

Ghazy HA, Abdel-Razek MAS, El Nahas AF, Mahmoud S (2017) Assessment of complex water pollution with heavy metals and Pyrethroid pesticides on transcript levels of metallothionein and immune related genes. Fish Shellfish Immunol 68:318–326. https://doi.org/10.1016/j.fsi.2017.07.034

Glaser V, Nazari EM, Müller YMR, Feksa L, Wannmacher CMD, Rocha JBT, Bem AF, Farina M, Latini A (2010) Effects of inorganic selenium administration in methylmercury-induced neurotoxicity in mouse cerebral cortex. Int J Dev Neurosci 28:631–637. https://doi.org/10.1016/j.ijdevneu.2010.07.225

Guzzi G, Pigatto PD, Spadari F, La Porta CA (2012) Effect of thimerosal, methylmercury, and mercuric chloride in Jurkat T Cell Line. Interdiscip Toxicol 5:159–161. https://doi.org/10.2478/v10102-012-0026-1

Hadi A, Shokr E, Alwan S (2009) Effects of aluminum on the biochemical parameters of fresh water fish, Tilapia zillii. J Sci Appl 3(1):33–41

Hasheesh WS, Marie MAS, Abbas HH, Eshak MG and Zahran EA (2011) An evaluation of the effect of 17 alpha-methyltestosterone hormone on some biochemical, molecular and histological changes in the liver of Nile tilapia; Oreochromis niloticus. Life Sci J 8(3):343–358

He J, Qiang J, Yang H, Xu P, Zhu ZX, Yang RQ (2015) Changes in the fatty acid composition and regulation of antioxidant enzymes and physiology of juvenile genetically improved farmed tilapia Oreochromis niloticus (L.), subjected to short-term low temperature stress. J Therm Biol 53:90–97. https://doi.org/10.1016/j.jtherbio.2015.08.010

Hedayati A, Ghaffari Z (2013) Effect of mercuric chloride on some hematological, biochemical parameters in silver carp (Hypophthalmichthys Molitrix).Int J Vet Med: Res Rep 1–11. https://doi.org/10.5171/2013.183410

Hoffman DJ (1995). Wildlife toxicity testing. Handbook of ecotoxicology. Lewis Publishers Boca Raton FL (4):356–391

Houck A, Cech JJ Jr (2004) Effects of dietary methylmercury on juvenile Sacramento blackfish bioenergetics. Aquat Toxicol 69:107–123. https://doi.org/10.1016/j.aquatox.2004.04.005

Hoyle I, Shaw BJ, Handy RD (2007) Dietary copper exposure in the African walking catfish, Clarias gariepinus: transient osmoregulatory disturbances and oxidative stress. Aquat Toxicol 83:62–72. https://doi.org/10.1016/j.aquatox.2007.03.014

Hussein MM, Gad E, Ahmed MM, Arisha AH, Mahdy HF, Swelum AA-A, Tukur HA, Saadeldin IMJES, Research P (2019) Amelioration of titanium dioxide nanoparticle reprotoxicity by the antioxidants morin and rutin. Environ Sci Pollut Res Int 26:29074–29084

Jasim MA, Azirun M, Yusoff I, Rahman M (2016) Bioaccumulation and histopathological changes induced by toxicity of mercury (HgCl2) to tilapia fish Oreochromis niloticus. Sains Malaysiana 45:119–127

Jobling M (2012) National Research Council (NRC): nutrient requirements of fish and shrimp. Aquac Int 20:601–602. https://doi.org/10.1007/s10499-011-9480-6

Kavitha C, Malarvizhi A, Senthil Kumaran S, Ramesh M (2010) Toxicological effects of arsenate exposure on hematological, biochemical and liver transaminases activity in an Indian major carp, Catla catla. Food Chem Toxicol 48:2848–2854. https://doi.org/10.1016/j.fct.2010.07.017

Kerper LE, Ballatori N, Clarkson TW (1992) Methylmercury transport across the blood-brain barrier by an amino acid carrier. Am J Phys 262:R761–R765. https://doi.org/10.1152/ajpregu.1992.262.5.R761

Kim SG, Park DK, Jang SW, Lee JS, Kim SS, Chung MH (2008) Effects of dietary benzo [a]pyrene on growth and hematological parameters in juvenile rockfish, Sebastes schlegeli (Hilgendorf). Bull Environ Contam Toxicol 81:470–474. https://doi.org/10.1007/s00128-008-9499-1

Layton C, Bancroft JD (2013) Bancroft's Theory and Practice of Histological Techniques, Expert Consult: Online and Print, 7: Bancroft's Theory and Practice of Histological Techniques. Elsevier Health Sciences

Livak KJ, Schmittgen TD (2001) Analysis of relative gene expression data using real-time quantitative PCR and the 2(-Delta Delta C(T)) method. Methods 25:402–408. https://doi.org/10.1006/meth.2001.1262

Ma XY, Qiang J, He J, Gabriel NN, Xu P (2015) Changes in the physiological parameters, fatty acid metabolism, and SCD activity and expression in juvenile GIFT tilapia (Oreochromis niloticus) reared at three different temperatures. Fish Physiol Biochem 41:937–950. https://doi.org/10.1007/s10695-015-0059-4

Makani S, Gollapudi S, Yel L, Chiplunkar S, Gupta S (2002) Biochemical and molecular basis of thimerosal-induced apoptosis in T cells: a major role of mitochondrial pathway. Genes Immun 3:270–278. https://doi.org/10.1038/sj.gene.6363854

Mergler D, Anderson HA, Chan LHM, Mahaffey KR, Murray M, Sakamoto M, Stern AH (2007) Methylmercury exposure and health effects in humans: a worldwide concern. Ambio 36:3–11. https://doi.org/10.1579/0044-7447(2007)36[3:MEAHEI]2.0.CO;2

Mozhdeganloo Z, Jafari AM, Koohi MK, Heidarpour M (2015) Methylmercury-induced oxidative stress in rainbow trout (Oncorhynchus mykiss) liver: ameliorating effect of vitamin c. Biol Trace Elem Res 165:103–109. https://doi.org/10.1007/s12011-015-0241-7

Ni M, Wen H, Li J, Chi M, Bu Y, Ren Y, Zhang M, Song Z, Ding H (2014) The physiological performance and immune responses of juvenile Amur sturgeon (Acipenser schrenckii) to stocking density and hypoxia stress. Fish Shellfish Immunol 36:325–335. https://doi.org/10.1016/j.fsi.2013.12.002

Qiang J, Tao YF, He J, Xu P, Bao JW, Sun YL (2017) miR-122 promotes hepatic antioxidant defense of genetically improved farmed tilapia (GIFT, Oreochromis niloticus) exposed to cadmium by directly targeting a metallothionein gene. Aquat Toxicol 182:39–48. https://doi.org/10.1016/j.aquatox.2016.11.009

Reitman S, Frankel S (1957) A colorimetric method for the determination of serum glutamic oxalacetic and glutamic pyruvic transaminases. Am J Clin Pathol 28:56–63. https://doi.org/10.1093/ajcp/28.1.56

Saber TM, Mansour MF, Abdelaziz AS, Mohamed RM, Fouad RA, Arisha AHJES, Research P (2020) Argan oil ameliorates sodium fluoride-induced renal damage via inhibiting oxidative damage, inflammation, and intermediate filament protein expression in male rats. Environmental Science and Pollution Research International 27(24):30426–30436

Sancho E, Cerón JJ, Ferrando MD (2000) Cholinesterase activity and hematological parameters as biomarkers of sublethal molinate exposure in Anguilla anguilla. Ecotoxicol Environ Saf 46:81–86. https://doi.org/10.1006/eesa.1999.1888

Sastry KV, Rao DR (1981) Enzymological and biochemical changes produced by mercuric chloride in a teleost fish, Channa punctatus. Toxicol Lett 9:321–326. https://doi.org/10.1016/0378-4274(81)90004-7

Sayed AE-DH, Moneeb RH (2015) Hematological and biochemical characters of monosex tilapia (Oreochromis niloticus, Linnaeus, 1758) cultivated using methyltestosterone. J Basic Appl Zool 72:36–42. https://doi.org/10.1016/j.jobaz.2015.03.002

Setiyowati I, Suprapto H, Mahasri G (2019) The effects of mercury chloride (Hgcl2) on the changes in hematology and blood sugar level in carps (Cyprinus carpio). IOP Conference Series: Earth Environ Sci 236:012104. https://doi.org/10.1088/1755-1315/236/1/012104

Shah SL, Altindağ A (2005) Alterations in the immunological parameters of Tench (Tinca tinca L. 1758) after acute and chronic exposure to lethal and sublethal treatments with mercury, cadmium and lead. Turk J Vet Anim Sci 29:1163–1168

Shakoori AR, Iqbal MJ, Mughal AL, Ali SS (1994) Biochemical changes induced by inorganic mercury on the blood, liver and muscles of freshwater Chinese grass carp, Ctenopharyngodon idella. J Ecotoxicol Environ Monit 4:81–92

Sharp JR, Neff JM (1982) The toxicity of mercuric chloride and methylmercuric chloride to Fundulus heteroclitus embryos in relation to exposure conditions. Environ Biol Fish 7:277–284

Shenker BJ, Berthold P, Rooney C, Vitale L, DeBolt K, Shapiro IM (1993) Immunotoxic effects of mercuric compounds on human lymphocytes and monocytes. III. Alterations in B-cell function and viability. Immunopharmacol Immunotoxicol 15:87–112. https://doi.org/10.3109/08923979309066936

Singha Roy U, Chattopadhyay B, Datta S, Mukhopadhyay S (2011) Metallothionein as a biomarker to assess the effects of pollution on Indian major carp species from wastewater-fed fishponds of East Calcutta Wetlands (a Ramsar site). Environ Res Eng Manag. https://doi.org/10.5755/j01.erem.58.4.660

Soengas JL, Agra-Lago MJ, Carballo B, Andrés MD, Veira JA (1996) Effect of an acute exposure to sublethal concentrations of cadmium on liver carbohydrate metabolism of Atlantic salmon (Salmo salar). Bull Environ Contam Toxicol 57:625–631. https://doi.org/10.1007/s001289900236

Standen BT, Peggs DL, Rawling MD, Foey A, Davies SJ, Santos GA, Merrifield DL (2016) Dietary administration of a commercial mixed-species probiotic improves growth performance and modulates the intestinal immunity of tilapia, Oreochromis niloticus. Fish Shellfish Immunol 49:427–435. https://doi.org/10.1016/j.fsi.2015.11.037

Swiergosz-Kowalewska R, Bednarska A, Kafel A (2006) Glutathione levels and enzyme activity in the tissues of bank vole Clethrionomys glareolus chronically exposed to a mixture of metal contaminants. Chemosphere 65:963–974. https://doi.org/10.1016/j.chemosphere.2006.03.040

Thirumoorthy N, Manisenthil Kumar KT, Shyam Sundar A, Panayappan L, Chatterjee M (2007) Metallothionein: an overview. World J Gastroenterol 13:993–996. https://doi.org/10.3748/wjg.v13.i7.993

Thummabancha K, Onparn N, Srisapoome P (2016) Molecular characterization and expression analyses of cDNAs encoding the thioredoxin-interacting protein and selenoprotein P genes and histological changes in Nile tilapia (Oreochromis niloticus) in response to silver nanoparticle exposure. Gene 577:161–173. https://doi.org/10.1016/j.gene.2015.11.031

Tietz NW, Burtis CA, Duncan P, Ervin K, Petitclerc CJ, Rinker AD, Shuey D, Zygowicz ER (1983) A reference method for measurement of alkaline phosphatase activity in human serum. Clin Chem 29:751–761

Trinder P (1969) Determination of blood glucose using an oxidase-peroxidase system with a non-carcinogenic chromogen. J Clin Pathol 22:158–161. https://doi.org/10.1136/jcp.22.2.158

Vetvicka V, Vannucci L, Sima P (2013) The effects of β-glucan on fish immunity. N Am J Med Sci 5:580–588. https://doi.org/10.4103/1947-2714.120792

Yan Y, Fang J, Wen X, Teng X, Li B, Zhou Z, Peng S, Arisha AH, Liu W, Hua JJ (2019) Therapeutic applications of adipose-derived mesenchymal stem cells on acute liver injury in canines. Res Vet Sci 126:233–239

Yang L, Zhang Y, Wang F, Luo Z, Guo S, Strähle U (2020) Toxicity of mercury: molecular evidence. Chemosphere 245:125586. https://doi.org/10.1016/j.chemosphere.2019.125586

Yasutake A, Nakamura M (2011) Induction by mercury compounds of metallothioneins in mouse tissues: inorganic mercury accumulation is not a dominant factor for metallothionein induction in the liver. J Toxicol Sci 36:365–372. https://doi.org/10.2131/jts.36.365

Yu X, Wu F, Xu X, Chen Q, Huang L, Teklehaimanot Tesfai B, Cao L, Xu X, Dou S, Huang W (2019) Effects of short term methylmercury exposure on growth and development of the large yellow croaker embryos and larvae. Front Mar Sci 6. https://doi.org/10.3389/fmars.2019.00754

Zahir F, Rizwi SJ, Haq SK, Khan RH (2005) Low dose mercury toxicity and human health. Environ Toxicol Pharmacol 20:351–360. https://doi.org/10.1016/j.etap.2005.03.007
Ethics declarations
Ethical approval
The experiment was conducted and approved according to the Animal Care and Welfare Committee of the Zagazig University, Egypt.
Consent to participate
Not applicable.
Consent to publish
Not applicable.
Conflict of interest
The authors declare no competing interests.
Additional information
Publisher's note
Springer Nature remains neutral with regard to jurisdictional claims in published maps and institutional affiliations.
Responsible editor: Bruno Nunes
About this article
Cite this article
Alam, R.T.M., Abu Zeid, E.H., Khalifa, B.A. et al. Dietary exposure to methyl mercury chloride induces alterations in hematology, biochemical parameters, and mRNA expression of antioxidant enzymes and metallothionein in Nile tilapia. Environ Sci Pollut Res (2021). https://doi.org/10.1007/s11356-021-13014-5
Received:

Accepted:

Published:
Keywords
Methyl mercury chloride

Oreochromis niloticus

Metallothionein

GPX

GSR

Gene expression