Abstract
Herein, we report the synthesis of between SnO2 QDs /AgVO3 nanoribbons/g-C3N4 nanosheets of ternary photocatalytic systems for the production of H2 through light irradiation. The SnO2/AgVO3/g-C3N4 photocatalyst was successfully produced by using the hydrothermal process. The structural characterizations of the samples revealed the successful formation of ternary heterostructures where SnO2, AgVO3 and g-C3N4 (quantum dots/nanoribbons/nanosheets) 0D/1D/2D structures make a good interface with each other. The fabricated heterostructures of AgVO3/g-C3N4 and SnO2/AgVO3/g-C3N4 photocatalytic structures performed enriched photocatalytic performance for H2 production over that of the pristine g-C3N4, AgVO3 and SnO2 photocatalysts. The AgVO3/g-C3N4 and SnO2 /AgVO3/g-C3N4 of photocatalysts were found to produce H2 of around 17,000 μmol g-1 and 77,000 μmol g-1, respectively, which is much 4.5 times greater than that of AgVO3/g-C3N4 photocatalyst. Moreover, the photodegradation behaviours of prepared catalysts were studied with the dye (rhodamine B, RhB) under light irradiation. The ternary composite SnO2/AgVO3/g-C3N4 performed photodegradation of RhB in 50 min. The higher photocatalytic activity for the ternary photocatalysts is predominantly due to the effective charge separation at the perfect interface formation amid SnO2 and AgVO3/g-C3N4.
Access options
Buy single article
Instant access to the full article PDF.
US$ 39.95
Tax calculation will be finalised during checkout.
Subscribe to journal
Immediate online access to all issues from 2019. Subscription will auto renew annually.
US$ 79
Tax calculation will be finalised during checkout.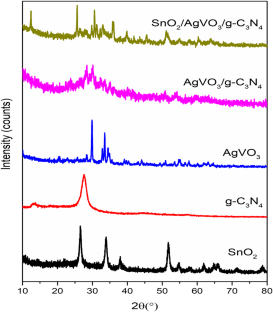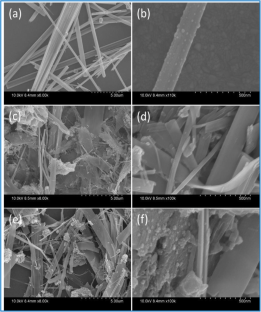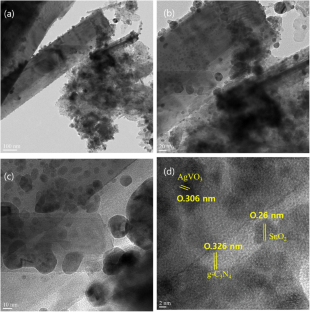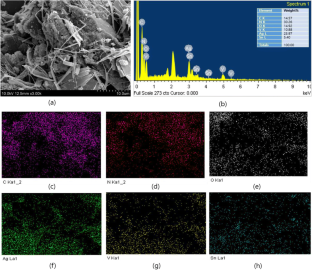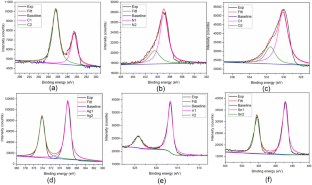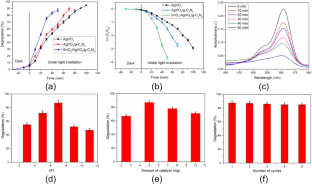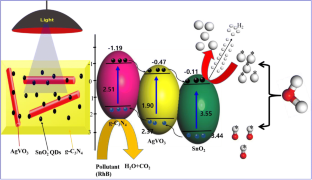 Data availability
The data that support the findings of this study are available from the corresponding author (Koduru Mallikarjuna) upon reasonable request.
Acknowledgements
The King Saud University authors extend their gratitude to their appreciation for the Deanship of Scientific Research at King Saud University for funding this work through research (Group No. RG-1441-539).
Funding
This work is supported by the Deanship of Scientific Research programs of King Saud University.
Ethics declarations
Ethics approval
Ethical approval is not required for our research investigation, there are no human and animal subjects.
Consent to participate and publication
Ensure that all authors mentioned in the manuscript have agreed for authorship read and approved the manuscript, and given the consent for submission and subsequent publication of the manuscript.
Conflict of interest
The authors declare no competing interests.
Additional information
Publisher's note
Springer Nature remains neutral with regard to jurisdictional claims in published maps and institutional affiliations.
Responsible Editor: Ricardo Torres-Palma
About this article
Cite this article
Koyyada, G., Siva Kumar, N., Al-Ghurabi, E.H. et al. Enhanced solar-driven photocatalytic performance of a ternary composite of SnO2 quantum dots//AgVO3 nanoribbons//g-C3N4 nanosheets (0D/1D/2D) structures for hydrogen production and dye degradation. Environ Sci Pollut Res (2021). https://doi.org/10.1007/s11356-021-12962-2
Received:

Accepted:

Published:
Keywords
SnO2 QDs/AgVO3 nanoribbons/g-C3N4 nanosheets

Ternary composite

H2 production

Dye degradation

Photocatalysis

Dimension effect