Abstract
Air and water quality in urban centers are summited to pollution from different sources, such as industrial activities, traffic, and wastewater effluents. A great number of chemicals can be spread by wind throughout the city, exposing the inhabitants to the health risks associated to them. Atmospheric analysis provides punctual data and represents the timing of the air sampling. A long-term evaluation of the atmospheric air quality can be assessed through the evaluation of pollutants that reach the soil by atmospheric deposition; however, they also can be redistributed and desorbed. The evaluation of pollutants in lakes could be a practical solution, given that lakes may act as traps to these compounds. In this context, organic pollutants were assessed in sediment and water from a lake located in the urban area of São Paulo, Brazil, the biggest city of the southern hemisphere. There were no evidences of sewage input to the lake and pyrogenic compounds reached the lake through atmospheric deposition. The content of pyrogenic PAH exposed the large amount of PAH emitted to the atmosphere by the multiple sources of PAH, mainly vehicular emission and diesel combustion. The PAH trapped in the lake highlighted the impact of all burning process in the air quality in which 12.3 million people are exposed.
Access options
Buy single article
Instant access to the full article PDF.
US$ 39.95
Tax calculation will be finalised during checkout.
Subscribe to journal
Immediate online access to all issues from 2019. Subscription will auto renew annually.
US$ 79
Tax calculation will be finalised during checkout.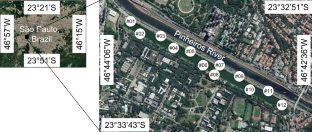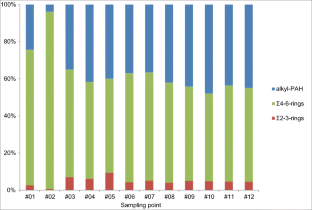 Data Availability
All data generated or analyzed during this study are included in this published article and its supplementary information files.
References
Akyüz M, Çabuk H (2010) Gas-particle partitioning and seasonal variation of polycyclic aromatic hydrocarbons in the atmosphere of Zonguldak, Turkey. Sci Total Environ 408:5550–5558. https://doi.org/10.1016/j.scitotenv.2010.07.063

Baker JE, Eisenreich SJ (1990) Concentrations and fluxes of polycyclic aromatic hydrocarbons and polychlorinated biphenyls across the air-water interface of Lake Superior. Environ Sci Technol 24:342–352. https://doi.org/10.1021/es00073a009

Buchman MF (2008) NOAA Screening Quick Reference Tables NOAA OR&R Report 08-1. Seattle WA, Office of Response and Restoriation Division, National Oceanic and Atmospheric Administration, 34 pages

Callén MS, de la Cruz MT, López JM, Mastral AM (2011) PAH in airborne particulate matter. Carcinogenic character of PM10 samples and assessment of the energy generation impact. Fuel Process Technol 92:176–182. https://doi.org/10.1016/j.fuproc.2010.05.019

CETESB (2020) Quality of coastal beaches in the State of São Paulo. <https://cetesb.sp.gov.br/praias/publicacoes-relatorios> Accessed 2020-09-14.

CONAMA (2000) National Council of the Environment, Resolution n° 274, 2000, November 29. < http://www2.mma.gov.br/port/conama/legiabre.cfm?codlegi=272> Accessed 2020-09-14.

De La Torre-Roche RJ, Lee W-Y, Campos-Díaz SI (2009) Soil-borne polycyclic aromatic hydrocarbons in El Paso, Texas: analysis of a potential problem in the United States/Mexico border region. J Hazard Mater 163:946–958. https://doi.org/10.1016/j.jhazmat.2008.07.089

De Martinis BS, Okamoto RA, Kado NY, Gundel LA, Carvalho LRF (2002) Polycyclic aromatic hydrocarbons in a bioassay-fractionated extract of PM10 collected in São Paulo, Brazil. Atmos Environ 36:307–314. https://doi.org/10.1016/S1352-2310(01)00334-X

Edberg SC, Rice EW, Karlin RJ, Allen MJ (2000) Escherichia coli: the best biological drinking water indicator for public health protection. J Appl Microbiol 88:106S–116S. https://doi.org/10.1111/j.1365-2672.2000.tb05338.x

Eglinton E, Hamilton RJ (1967) Leaf epicuticular waxes. Science 156:1322–1335. https://doi.org/10.1126/science.156.3780.1322

Ellis JB (1991) Urban runoff quality in the UK: problems, prospects and procedures. Appl Geogr 11:187–200. https://doi.org/10.1016/0143-6228(91)90029-9

Enell A, Reichenberg F, Ewald G, Warfvinge P (2005) Desorption kinetics studies on PAH-contaminated soil under varying temperatures. Chemosphere 61:1529–1538. https://doi.org/10.1016/j.chemosphere.2005.04.092

Fontenelle, F.R., Taniguchi, S., da Silva, J., Lourenço, R.A. 2019. Environmental quality survey of an industrialized estuary and an Atlantic Forest Biosphere Reserve through a comparative appraisal of organic pollutants. Environ Pollut 248, 339-348. doi:https://doi.org/10.1016/j.envpol.2019.02.023

Gogou A., Bouloubassi I., Stephanou E.G., 2000. Marine organic geochemistry of the Eastern Mediterranean: 1. Aliphatic and polyaromatic hydrocarbons in Cretan Sea surficial sediments Marine Chemistry 68, 265-282. doi:https://doi.org/10.1016/S0304-4203(99)00082-1

Gomes HG, Kawakami SK, Taniguchi S, Souza Filho PW, Montone RC (2015) Investigation of sewage contamination using steroid indexes in sediments of the Guajará Estuary (Amazon coast, Brazil). Braz J Oceanogr 63:501–510. https://doi.org/10.1590/S1679-87592015097506304

Gonzales-Oreja JA, Saiz-Salinas JI (1998) Short-term spatio-temporal changes in urban pollution by means of faecal sterols analysis. Mar Pollut Bull 36:868–875. https://doi.org/10.1016/S0025-326X(98)00037-X

Grimalt JO, Fernandez P, Bayona JM, Albaiges J (1990) Assessment of fecal sterols and ketones as indicators of urban sewage inputs to coastal waters. Environ Sci Technol 24:357–363. https://doi.org/10.1021/es00073a011

Hachich EM, Di Bari M, Christ APG, Lamparelli CC, Ramos SS, Sato MIZ (2012) Comparison of thermotolerant coliforms and Escherichia coli densities in freshwater bodies. Braz J Microbiol 43:675–681. https://doi.org/10.1590/S1517-83822012000200032

Hwang H-M, Wade TL, Sericano JL (2003) Concentrations and source characterization of polycyclic aromatic hydrocarbons in pine needles from Korea, Mexico, and United States. Atmos Environ 37:2259–2267. https://doi.org/10.1016/S1352-2310(03)00090-6

IBGE, 2020. Brazilian Institute of Geography and Statistics <https://www.ibge.gov.br>. .

Iritani MA (1993) Hydrogeological potential of the University of São Paulo. University of São Paulo, Master Thesis - Institute of Geosciences 103pp

Jeng WL, Han BC (1994) Sedimentary coprostanol in Kaohsiung Harbor and Tan-Shui Estuary. Taiwan. Mar Poll Bull 28:494–499. https://doi.org/10.1016/0025-326X(94)90523-1

Katsoyiannis A, Terzi E, Cai Q-Y (2007) On the use of PAH molecular diagnostic ratios in sewage sludge for the understanding of the PAH sources. Is this use appropriate? Chemosphere 69:1337–1339. https://doi.org/10.1016/j.chemosphere.2007.05.084

Kumar S, Kazmi AA, Ghosh NC, Kumar V, Rajpal A (2018) Urban stormwater runoff treatment of Nainital Lake's catchment: an application of ballasted sand flocculation technology. Water Supply 19:1017–1025. https://doi.org/10.2166/ws.2018.148

Kumar, S., Maharana, P. 2020. Chapter 11 - Air quality and its impact on urban environment. In: urban ecology, emerging patterns and social-ecological systems, Eds. P. Verma, P. Singh, R. Singh, A.S. Raghubanshi, Elsevier, 185-200. doi:https://doi.org/10.1016/B978-0-12-820730-7.00011-2

Leclerc H, Mossel DA, Edberg SC, Struijk CB (2001) Advances in the bacteriology of the coliform group: their suitability as markers of microbial water safety. Annu Rev Microbiol 55:201–234. https://doi.org/10.1146/annurev.micro.55.1.201

Li S, Tao Y, Yao S, Xue B (2016) Distribution, sources, and risks of polycyclic aromatic hydrocarbons in the surface sediments from 28 lakes in the middle and lower reaches of the Yangtze River region, China. Environ Sci Pollut Res 23:4812–4825. https://doi.org/10.1007/s11356-015-5705-y

Lourenço, R.A., Araújo Júnior, M.A.G., Meireles Júnior, R.O., Macena, L.F., Lima, E.F.A., Carneiro M.E.R., 2013. Aliphatic and polycyclic aromatic hydrocarbons and trace elements as indicators of contamination status near oil and gas platforms in the Sergipe-Alagoas Basin (Southwest Atlantic Ocean) Continental Shelf Research 71, 37-44. https://doi.org/10.1016/j.csr.2013.09.015

Lourenço RA, Martins CC, Taniguchi S, Mahiques MM, Montone RC, Magalhães CA, Bícego MC (2017) Distribution and evolution of sterols and aliphatic hydrocarbons in dated marine sediment cores from the Cabo Frio upwelling region, SW Atlantic, Brazil. Environ Sci Pollut Res 24:19888–19901. https://doi.org/10.1007/s11356-017-9657-2

Mackay D, Shiu WY, Ma K-C, Lee SC (2006) Handbook of physical-chemical properties and environmental fate for organic chemicals. CRC Press

Makepeace DK, Smith DW, Stanley SJ (1995) Urban stormwater quality: summary of contaminant data. Crit Rev Environ Sci Technol 25:93–139. https://doi.org/10.1080/10643389509388476

Maldonado C, Venkatesan MI, Phillips CR, Bayona JM (2000) Distribution of trialkylamines and coprostanol in San Pedro Shelf sediments adjacent to a Sewage Outfall. Mar Pollut Bull 40:680–687. https://doi.org/10.1016/S0025-326X(00)00002-3

Malmqvist B, Rundle S (2002) Threats to the running water ecosystems of the world. Environ Conserv 29:134–153. https://doi.org/10.1017/S0376892902000097

Martins CC, Montone RC, Gamba RC, Pellizari VH (2005) Sterols and fecal indicator microorganisms in sediments from Admiralty Bay. Antarctica Brazilian Journal of Oceanography 53:1–12. https://doi.org/10.1590/S1679-87592005000100001

Martins CC, Gomes FBAG, Ferreira JA, Montone RC (2008) Marcadores orgânicos de contaminação por esgotos sanitários em sedimentos superficiais da Baía de Santos, São Paulo. Química Nova 31:1008–1014. https://doi.org/10.1590/S0100-40422008000500012

Menichini E, Monfredini F, Merli F (1999) The temporal variability of the profile of carcinogenic polycyclic aromatic hydrocarbons in urban air: a study in a medium traffic area in Rome, 1993–1998. Atmos Environ 33:3739–3750. https://doi.org/10.1016/S1352-2310(99)00114-4

Meyers PA, Ishiwatari R (1993) Lacustrine organic geochemistry - an overview of indicators of organic matter sources and diagenesis in lake sediments. Org Geochem 20:867–900. https://doi.org/10.1016/0146-6380(93)90100-P

Mostert MMR, Ayoko GA, Kokot S (2010) Application of chemometrics to analysis of soil pollutants. Trends Anal Chem 29:430–435. https://doi.org/10.1016/j.trac.2010.02.009

Mudge SM, Bebianno MJ (1997) Sewage contamination following an accidental spillage in the Ria Formosa. Portugal Marine Pollution Bulletin 34:163–170. https://doi.org/10.1016/S0025-326X(96)00082-3

Novotny V., 2002. Water quality: Diffuse pollution and watershed management. 2nd edition. John Wiley & Sons, Hoboken, US, ISBN: 978-0-471-39633-8, 888 pp.

Oliveira DRP, Cordeiro LGMS, Carreira RS (2013) Characterization of organic matter in cross-margin sediment transects of an upwelling region in the Campos Basin (SW Atlantic, Brazil) using lipid bio- markers. Biogeochemistry 112:311–327. https://doi.org/10.1007/s10533-012-9726-z

Opuene K, Agbozu IE, Adegboro OO (2009) A critical appraisal of PAH indices as indicators of PAH source and composition in Elelenwo Creek, southern Nigeria. Environmentalist 29:47–55. https://doi.org/10.1007/s10669-008-9181-5

Pies C, Hoffmann B, Petrowsky J, Yang Y, Ternes TA, Hofmann T (2008) Characterization and source identification of polycyclic aromatic hydrocarbons (PAHs) in river bank soils. Chemosphere 72:1594–1601. https://doi.org/10.1016/j.chemosphere.2008.04.021

Pyysalo H, Tuominen J, Wickstrom K, Tikkanen L, Salomaa S, Sorsa M, Nurmela T, Mattila T, Pohjola V (1987) Polycyclic organic material (POM) in urban air. Fractionation, chemical analysis and genotoxicity of particulate and vapour phases in an industrial town in Finland. Atmos Environ 21:1167–1180. https://doi.org/10.1016/0004-6981(87)90244-7

Polycarpo IRC, Matos JS, Oliveira CES (2017) Avaliação do índice de qualidade da água de uma barragem localizada no Sítio Japecanga na cidade de Caruaru-PE. Anais do Congresso Brasileiro de Gestão Ambiental e Sustentabilidade 5:897–903 ISSN 2318-7603

Ravindra K, Sokhi R, Van Grieken R (2008a) Atmospheric polycyclic aromatic hydrocarbons: source attribution, emission factors and regulation. Atmos Environ 42:2895–2921. https://doi.org/10.1016/j.atmosenv.2007.12.010

Ravindra K, Wauters E, Van Grieken R (2008b) Variation in particulate PAHs levels and their relation with the transboundary movement of the air masses. Sci Total Environ 396:100–110. https://doi.org/10.1016/j.scitotenv.2008.02.018

Readman JW, Fillmann G, Tolosa I, Bartocci J, Villeneuve JP, Catinni C, Mee LD (2002) Petroleum and PAH contamination of the Black Sea. Mar Pollut Bull 44:48–62. https://doi.org/10.1016/S0025-326X(01)00189-8

Rompré A, Servais P, Baudart J, de-Roubin MR, Laurin P (2002) Detection and enumeration of coliforms in drinking water: current methods and emerging approaches. J Microbiol Methods 49:31–54. https://doi.org/10.1016/S0167-7012(01)00351-7

Saha M, Togo A, Mizukawa K, Murakami M, Takada H, Zakaria MP, Chiem NH, Tuyen BC, Prudente M, Boonyatumanond R, Sarkar SK, Bhattacharya B, Mishra P, Tana TS (2009) Sources of sedimentary PAHs in tropical Asian waters: differentiation between pyrogenic and petrogenic sources by alkyl homolog abundance. Mar Pollut Bull 58:189–200. https://doi.org/10.1016/j.marpolbul.2008.04.049

Smith DJT, Harrison RM, Luhana L, Casimiro AP, Castro LM, Mohammad NT, Hayat S, Quraishi T (1996) Concentrations of particulate airborne polycyclic aromatic hydrocarbons and metals collected in Lahore, Pakistan. Atmos Environ 30:4031–4040

Tallon P, Magajna B, Lofranco C, Leung KT (2005) Microbial indicators of faecal contamination in water: a current perspective. Water Air Soil Pollut 166:139–166. https://doi.org/10.1007/s11270-005-7905-4

Tobiszewski M, Tsakovski S, Simeonov V, Namieśnik J (2010) Surface water quality assessment by the use of combination of multivariate statistical classification and expert information. Chemosphere 80:740–746. https://doi.org/10.1016/j.chemosphere.2010.05.024

Tobiszewski M, Namieśnik J (2012) PAH diagnostic ratios for the identification of pollution emission sources. Environ Pollut 162:110–119. https://doi.org/10.1016/j.envpol.2011.10.025

Tolosa I, Leblond N, Copin-Montégut C, Marty J-C, Mora S, Prieur L (2003) Distribution of sterol and fatty alcohol biomarkers in particulate matter from the frontal structure of the Alboran Sea (S.W. Mediterranean Sea). Mar Chem 82:161–183. https://doi.org/10.1016/S0304-4203(03)00051-3

Tsapakis M, Stephanou EG (2005) Occurrence of gaseous and particulate polycyclic aromatic hydrocarbons in the urban atmosphere: study of sources and ambient temperature effect on the gas/particle concentration and distribution. Environ Pollut 133:147–156. https://doi.org/10.1016/j.envpol.2004.05.012

USEPA (2009) National water quality inventory: report to congress, 2004 Reporting Cycle. Washington, DC. EPA 841-R-08-00.

Venkatesan MI, Kaplan IR (1990) Sedimentary coprostanol as an index of sewage addition in Santa Monica basin, southern California. Environ Sci Technol 24:208–214. https://doi.org/10.1021/es00072a009

Volkman JK (1986) A review of sterol markers for marine and terrigenous organic matter. Org Geochem 9:83–99. https://doi.org/10.1016/0146-6380(86)90089-6

Writer JH, Leenheer JA, Barber LB, Amy GL, Chapra SC (1995) Sewage contamination in the upper Mississippi River as measured by the fecal sterol, coprostanol. Water Res 29:1427–1436. https://doi.org/10.1016/0043-1354(94)00304-P

Yan B, Abrajano TA, Bopp RF, Chaky DA, Benedict LA, Chillrud SN (2005) Molecular tracers of saturated and polycyclic aromatic hydrocarbon inputs into central Park Lake, New York city. Environ Sci Technol 39:7012–7019. https://doi.org/10.1021/es0506105

Yoshinaga MY, Sumida PYG, Wakeham SG (2008) Lipid biomarkers in surface sediments from an unusual coastal upwelling area from the SW Atlantic Ocean. Org Geochem 39:1385–1399. https://doi.org/10.1016/j.orggeochem.2008.07.006

Yunker MB, Macdonald RW, Vingarzan R, Mitchell RH, Goyette D, Sylvestre S (2002) PAHs in the Fraser River basin: a critical appraisal of PAH ratios as indicators of PAH source and composition. Org Geochem 33:489–515. https://doi.org/10.1016/S0146-6380(02)00002-5

Zhang X-X, Cheng S-P, Zhu C-J, Sun S-L (2006) Microbial PAH-Degradation in soil: degradation pathways and contributing factors. Pedosphere 16:555–565. https://doi.org/10.1016/S1002-0160(06)60088-X

Zhang W, Zhang S, Wan C, Yue D, Ye Y, Wang X (2008) Source diagnostics of polycyclic aromatic hydrocarbons in urban road runoff, dust, rain and canopy throughfall. Environ Pollut 153:594–601. https://doi.org/10.1016/j.envpol.2007.09.004
Acknowledgements
The authors are grateful to Prof. José Carlos Simon Farah (CEPEUSP) and Mr. Neto for the support with the sampling and to Fundação de Amparo à Pesquisa do Estado de São Paulo—FAPESP, Process 2016/18348-1, for the use of the gas chromatograph with triple quadrupole mass spectrometer.
Funding
This research did not receive any specific grant from funding agencies in the public, commercial, or not-for-profit sectors.
Ethics declarations
Competing interests
The authors declare that they have no competing interests.
Ethics approval and consent to participate
Not applicable.
Consent for publication
Not applicable.
Additional information
Publisher's note
Springer Nature remains neutral with regard to jurisdictional claims in published maps and institutional affiliations.
Responsible Editor: Philippe Garrigues
Supplementary Information
About this article
Cite this article
Lourenço, R.A., Blanco, J., da Silva, J. et al. Can the environmental health of urban centers be assessed through pollutants trapped in lakes? A study case in the biggest city of the southern hemisphere. Environ Sci Pollut Res (2021). https://doi.org/10.1007/s11356-021-12866-1
Received:

Accepted:

Published:
Keywords
Atmospheric deposition

Organic pollutants

Atmospheric pollution