Abstract
Simulating changes in the value of ecosystem services caused by land use changes in large cities under multiple scenarios is of great significance for cities to formulate land use policies and improve ecosystem services. Take Shijiazhuang, which is in the process of rapid urbanization, as an example. Based on the remote sensing image data and statistical yearbook of 1988, 1998, 2008, and 2018 as the basic data to analyze and estimate the 30 years of land use and ecosystem service value changes in Shijiazhuang. According to this, the CA-Markov model was used to simulate the land use change in Shijiazhuang under three scenarios in 2030 and estimate the value of ecosystem services under each scenario, using grid tools to visually express the spatial distribution of ecosystem service values and the degree of agglomeration under three scenarios. The results indicate that the most obvious feature of land use change in Shijiazhuang from 1988 to 2018 was that the farmland area decreased year by year, the built-up expanded rapidly, the farmland area decreased by 86,874.75 hm2 in 30 years, and the built-up increased by 154,711.90 hm2. In 1988, 1998, 2008, and 2018, the ecosystem service value of Shijiazhuang was 32.578 billion yuan, 32.799 billion yuan, 29.944 billion yuan, and 31.251 billion yuan respectively. In 2030, under three scenarios of natural development, farmland protection, and ecological protection, the value of ecosystem services is 331.111 billion yuan, 33.670 billion yuan, and 33.891 billion yuan in order. The hot spots are mainly concentrated in the northwest and southwest of Shijiazhuang, and cold spots are concentrated in the eastern cities, counties, and districts. Based on changes in land use brought about by urban expansion, simulating the value of ecosystem services under multiple scenarios in the future, providing scientific guidance for building urban ecological networks, and realizing sustainable urban ecological development.
Access options
Buy single article
Instant access to the full article PDF.
US$ 39.95
Tax calculation will be finalised during checkout.
Subscribe to journal
Immediate online access to all issues from 2019. Subscription will auto renew annually.
US$ 79
Tax calculation will be finalised during checkout.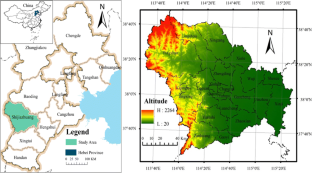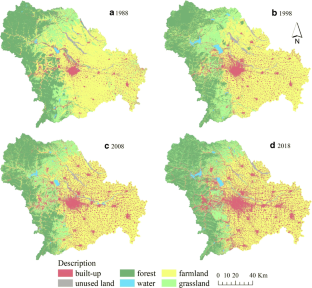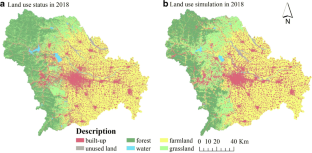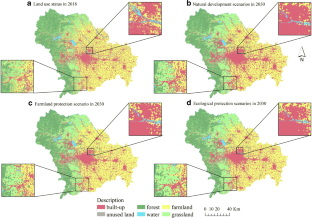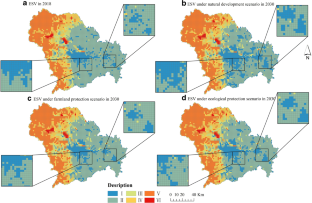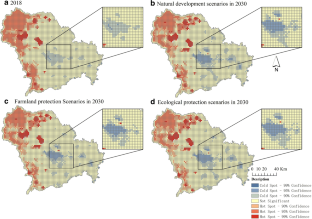 References
Bagstad KJ, Johnson GW, Voigt B, Villa F (2013) Spatial dynamics of ecosystem service flows: a comprehensive approach to quantifying actual services. Ecosyst Serv 4:117–125

Castro AJ, Opez BM, Opez EL, Plieninger T, Cabello J (2015) Do protected areas networks ensure the supply of ecosystem services? Spatial patterns of two nature reserve systems in semi-arid Spain. Appl Geogr 60:1–9

Costanza R, D'Arge R, Groot RD, Farber S, Grasso M, Hannon B, Limburg K, Naeem S, O'Neill RV, Paruelo J, Raskin RG, Sutton P, Van den Belt M (1997) The value of the world's ecosystem services and natural capital. Nature 387:253–260

Costanza R, Groot RD, Sutton P, Van der Ploeg S, Anderson SJ, Kubiszewski L, Farber S, Kerry Turner R (2014) Changes in the global value of ecosystem services. Glob Environ Chang 26(1):152–158

Daily GC (2000) The value of nature and the nature of value. Science 289:395–396

Du Y, Shui W, Sun XR, Yang HF, Zheng JY (2019) Scenario simulation of ecosystem service trade-offs in bay cities: A case study in Quanzhou, Fujian Province, China. Chin J Appl Ecol 30(12):4293–4302

Egoh B, Rouget M, Reyers B, Knight AT, Cowling RM, van Jaarsveld AS, Welz A (2007) Integrating ecosystem services into conservation assessment: A review. Ecol Econ 63:714–721

Egoh BN, Reyers B, Rouget M, Richardson DM (2011) Identifying priority areas for ecosystem service management in South African grasslands. J Environ Manag 92:1642–1650

Eigenbrod BVA, Davies HN, Heinemeyer A, Armsworth PR, Gaston KJ (2011) The impact of projected increases in urbanization on services. Proc Biol Sci 278(1722):3201–3208

Estoque RC, Murayama Y (2012) Examining the potential impact of land use/cover changes on the ecosystem services of Baguio city, the Philippines: Ascenario-based analysis. Appl Geogr 35:316–326

Estoque RC, Murayama Y (2015) Intensity and spatial pattern of urban land changes in the megacities of Southeast Asia. Land Use Policy 48:213–222

Fu BJ, Zhang LW (2014) Land-use change and ecosystem services: concepts, methods and progress. Prog Geogr 33(4):441–446

Gómez-Baggethun E, Barton DN (2013) Classifying and valuing ecosystem services for urban planning. Ecol Econ 86:235–245

Han J, Hayashi Y, Cao X, Lmura H (2009) Application of an integrated system dynamics and cellular automata model for urban growth assessment: a case study of Shanghai, China. Landsc Urban Plan 91(3):133–141

Hang HQ, Hu Y, Wang QX (2015) Evaluation of land use efficiency in three major urban agglomerations of China in 2001-2012. Sci Geogr Sin 35(09):1095–1100

Hao RF, Yu DY, Liu YP, Qiao JM, Wang X, Du JS (2017) Impacts of changes in climate and landscape pattern on ecosystem services. Sci Total Environ 579:718–728

He BJ, Zhao DX, Zhu J, Darko A, Gou ZH (2018) Promoting and implementing urban sustainability in China: An integration of sustainable initiatives at different urban scales. Habitat Int 82:83–93

He BJ, Wang J, Liu H, Ulpiani G (2021) Localized synergies between heat waves and urban heat islands: Implications on human thermal comfort and urban heat management. Environ Res 193:110584

Himes CA, Pendleton L, Atiyah P (2018) Valuing ecosystem services from blue forests: a systematic review of the valuation of salt marshes, sea grass beds and mangrove forests. Ecosyst Serv 30:36–48

Huang DX, Wu YJ, She SX (2017) A study on symbiosis evolution of value co-creation unit in service ecosystem. Ecol Econ 33(07):121–126 +139

Huang LS, Wang B, Niu X, Gao P, Song QF (2019) Changes in ecosystem services and an analysis of driving factors for China's Natural Forest Conservation Program. Ecol Evol 9(7):3700–3716

Jiang GH, Zhang FR, Qin J, Zhang L, Gong P (2006) Relationship between distribution changes of rural residential land and environment in mountainous areas of Beijing. Transact Chin Soc Agric Eng 11:85–92

Jiang C, Nath R, Labzovskii L, Wang D (2018) Integrating ecosystem services into effectiveness assessment of ecological restoration program in Northern China's arid areas: Insights from the Beijing-Tianjin Sandstorm Source Region. Land Use Policy 75:201–214

Jiang W, Fu B, Lü Y (2020) Assessing Impacts of Land Use/Land Cover Conversion on Changes in Ecosystem Services Value on the Loess Plateau, China. Sustainability 12(17):7128

Karki S, Thandar AM, Uddin K, Tun S, Aye WM, Aryal K, Kandel P, Chettri N (2018) Impact of land use land cover change on ecosystem services: a comparative analysis on observed data and people's perception in Inle Lake, Myanmar. Environ Syst Res 7(1):25

Kertész Á, Nagy LA, Balázs B (2019) Effect of land use change on ecosystem services in Lake Balaton Catchment. Land Use Policy 80:430–438

Kremer P, Hamstead ZA, McPhearson T (2016) The value of urban ecosystem services in New York City: A spatially explicit multicriteria analysis of landscape scale valuation scenarios. Environ Sci Pol 62:57–68

Kubiszewski I, Costanza R, Anderson S, Sutton P (2017) The future value of ecosystem services: Global scenarios and national implications. Ecosyst Serv 26:289–301

Lautenbach S, Kugel C, Lausch A, Seppelt R (2011) Analysis of historic changes in regional ecosystem service provisioning using land use data. Ecol Indic 11:676–687

Lei JR, Chen ZZ, Chen XH, Li YL, Wu TT (2020) Spatio-temporal changes of land use and ecosystem services value in Hainan Island from 1980 to 2018. Acta Ecol Sin 40(14):4760–4773

Li C, Gao X, He B, Wu J, Wu K (2019a) Coupling Coordination Relationships between Urban-industrial Land Use Efficiency and Accessibility of Highway Networks: Evidence from Beijing-Tianjin-Hebei Urban Agglomeration, China. Sustainability 11:1446

Li C, Gao X, Wu J, Wu K (2019b) Demand prediction and regulation zoning of urban-industrial land: Evidence from Beijing-Tianjin-Hebei Urban Agglomeration, China. Environ Monit Assess 191(7):412

Liu XY, Kuang WH (2019) Spatio-Temporal Trajectories of Urban Land Use Change During 1980-2015 and Future Scenario Simulation in Beijing-Tianjin-Hebei Urban Agglomeration. Econ Geogr 39(03):187–194 +200

Liu YQ, Liao LW, Long HL (2015) Effects of land use transitions on ecosystem services value: A case study of Hunan province. Geogr Res 34(04):691–700

Liu JH, Li WF, Zhou WQ, Han LJ, Qian GY (2018) Scenario simulation balancing multiple objectives for optimal land use allocation of the Beijing-TianjinHebei megaregion. Acta Ecol Sin 38(12):4341–4350

Liu ZW, Yin D, Huang QX, He CY, Xue F (2019) Research and application progress of ecosystem services in land use planning: Abibliometric and textual analysis. Prog Geogr 38(2):236–247

Mario VB, Caruana J, Zammit A (2018) Assessing the capacity and flow of ecosystem services in multifunctional landscapes: Evidence of a rural-urban gradient in a Mediterranean small island state. Land Use Policy 75:711–725

Masek JG, Lindsay F, Goward SN (2000) Dynamics of Urban Growth in the Washington DC Metropolitan Area 1973-1996 from Land Sat Observations. Int J Remote Sens 21(18):3473–3486

Millennium Ecosystem Assessment (2005) Ecosystems and Human Well-being: Current State and Trends. Island Press, Washington D C, pp 37–39

Niemelä J, Saarela SR, Sderman T, Kopperoinen L, Yli-Pelkonen V, Vre S, Kotze DJ (2010) Using the ecosystem services approach for better planning and conservation of urban green spaces: a Finland case study. Biodivers Conserv 19(11):3225–3243

Ouyang X, He QY, Zhu X (2020) Simulation of Impacts of Urban Agglomeration Land Use Change on Ecosystem Services Value under Multi-Scenarios: Case Study in Changsha-Zhuzhou-Xiangtan Urban Agglomeration. Econ Geogr 40(01):93–102

Shui W, Du Y, Wang YN, Yang HF, Fu Y, Fan BX, Huang MY (2019) Spatiotemporal dynamics and scenarios simulation of trade-offs between ecosystem services in Min Delta urban agglomeration. Acta Ecol Sin 39(14):5188–5197

Song X (2018) Global estimates of ecosystem service value and change: Taking into account uncertainties in Satellite-based land cover data. Ecol Econ 143:227–235

Srikanta S, Zhang Q, Joshi PK, Sutton PC, Keesstra S, Roy PS, Pilla F, Basu B, Wang Y, Jha S, Paul SK, Sen S (2020) Examining effects of climate change and land use dynamic on biophysical and economic values of ecosystem services of a natural reserve region. J Clean Prod 257:120424

Vallet A, Locatelli B, Levrel H, Wunder S, Seppelt R, Scholes RJ, Oszwald J (2018) Relationships between ecosystem services: comparing methods for assessing tradeoffs and synergies. Ecol Econ 150:96–106

Wang YS, Yu XX, He KN, Li QY, Zhang YS, Song SM (2011) Dynamic simulation of land use change in Jihe watershed based on CA-Markov model. Transact Chin Soc Agric Eng 27(12):330–336 +442

Wang JL, Wu GP, Fan QY, Cui JT (2015) Change and prediction of land use in Linyi City, Shandong Province, based on CA-Markov model. Res Soil Water Conserv 22(01):212–216

Wang X, Ma BW, Li D, Chen KL, Yao HS (2020) Multi-scenario simulation and prediction of ecological space in Hubei province based on FLUS model. J Nat Resour 35(01):230–242

Woldeyohannes A, Cotter M, Biru WD, Kelboro G (2020) Assessing changes in ecosystem service values over 1985–2050 in response to land use and land cover dynamics in Abaya-Chamo Basin, Southern Ethiopia. Land 9(2):37

Wondie A (2018) Ecological conditions and ecosystem services of wetlands in the Lake Tana Area, Ethiopia. Ecohydrol Hydrobiol 18(2):231–244

Wu K, Li YC (2019) Research progress of urban land use and its ecosystem services in the context of urban shrinkage. J Nat Resour 34(05):1121–1134

Xie GD, Lu CX, Cheng SK (2001) Progress in evaluating the global ecosystem services. Resour Sci 6:5–9

Xie GD, Lu CX, Leng YF, Zheng D, Li SC (2003) Ecological assets valuation of the Tibetan Plateau. J Nat Resour 2:189–196

Xie GD, Zhen L, Lu CX, Xiao Y, Chen C (2008) Expert knowledge based valuation method of ecosystem services in China. J Nat Resour 5:911–919

Xie GD, Zhang CX, Zhang LX, Chen WH, Li SM (2015) Improvement of the evaluation method for ecosystem service value based on per unit area. J Nat Resour 30(08):1243–1254

Xu C, Jiang WY, Huang QY, Wang YT (2020) Ecosystem services response to rural-urban transitions in coastal and island cities: A comparison between Shenzhen and Hong Kong, China. J Clean Prod 260:121033

Yang GF, Ge Y, Xue H, Yang W, Shi Y, Peng CH, Du YY, Fan X, Ren Y, Chang J (2015) Using ecosystem service bundles to detect trade-offs and synergies across urban-rural complexes. Landsc Urban Plan 136:110–121

Yang J, Sun J, Ge Q, Li X (2017) Assessing the impacts of urbanization-associated green space on urban land surface temperature: A case study of Dalian, China. Urban For Urban Green 22:1–10

Yang K, Yu Z, Yi L, Yang Y, Lei Z, Zhou X (2018) Spatial and temporal variations in the relationship between lake water surface temperatures and water quality-A case study of Dianchi Lake. Sci Total Environ 624:859–871

Yang K, Yu ZY, Luo Y, Shang CX, Zhou XL (2019) Spatial-temporal variation of lake surface water temperature and its driving factors in Yunnan-Guizhou Plateau. Water Resour Res 556:4688–4703

Yang J, Luo X, Jin C, Xiao X, Xia JC (2020a) Spatiotemporal patterns of vegetation phenology along the urban–rural gradient in Coastal Dalian, China. Urban For Urban Green 54:126784

Yang K, Yu ZY, Luo Y (2020b) Analysis on driving factors of lake surface water temperature for major lakes in Yunnan-Guizhou Plateau. Water Res 184:116018

Yue DX, Yang C, Jiang BY, Guo JJXXF (2019) Spatio-temporal pattern prediction of the biocapacity in the Shiyang River Basin on the basis of the CA-Markov model. Acta Ecol Sin 39(06):1993–2003

Zhang HY, Fan JW, Gao W, Zhong HP, Harris W, Gong GL, Zhang YX (2018) Changes in multiple ecosystem services between 2000 and 2013 and their driving factors in the Grazing Withdrawal Program, China. Ecol Eng 116:67–79

Zhao D, Arshad M, Li N, Triantafilis J (2021) Predicting soil physical and chemical properties using vis-NIR in Australian cotton areas. Catena 196:104938
Availability of data and materials
The datasets used or analyzed during the current study are available from the corresponding author on reasonable request.
Funding
This study has been supported by Hebei Province Higher Education Scientific Research Project (Grant No. QN2019023), Hebei Youth College Top Talent Program Project (Grant No. BJ2018117), Youth Fund Project for Humanities and Social Sciences Research of Ministry of Education of China (Grant No. 18XJC630007), Joint Project of Major Theoretical and Practical Problems in the Social Sciences of Shaanxi Province (Grant No. 20ST-98), and Social Science Fund of Shaanxi Province (Grant No. 2020R051).
Ethics declarations
Ethical approval
Not applicable
Consent to participate
Not applicable.
Consent to publish
Not applicable.
Conflict of interest
The authors declare no competing interests.
Additional information
Publisher's note
Springer Nature remains neutral with regard to jurisdictional claims in published maps and institutional affiliations.
Responsible Editor: Philippe Garrigues
About this article
Cite this article
Gao, X., Wang, J., Li, C. et al. Land use change simulation and spatial analysis of ecosystem service value in Shijiazhuang under multi-scenarios. Environ Sci Pollut Res (2021). https://doi.org/10.1007/s11356-021-12826-9
Received:

Accepted:

Published:
Keywords
Change of land use

Ecosystem service value

CA-Markov

Hot spot analysis