Abstract
Antimicrobial additives in personal care products (PCPs) such as triclosan (TCS) and triclocarban (TCC) are of environmental concern due to their potential toxicity in non-target aquatic organisms. In this study, the histological, genotoxic (micronucleus assay), and embryotoxic effects of sublethal and environmentally relevant concentrations of TCS and TCC were evaluated in Clarias gariepinus (the African sharptooth catfish) over a period of 28 days. The 96 hLC50 values of TCS and TCC against fingerlings of C. gariepinus were 16.04 mg/L and 41.57 mg/L respectively. The 24 hLC50 and 26 hEC50 (non-hatching) values for C. gariepinus embryos were 16.48 mg/L and 11.08 mg/L for TCS and 46.08 mg/L and 41.93 mg/L for TCC respectively. TCS was ×3 to ×4 more toxic to C. gariepinus fingerlings and embryos than TCC. Gill histological alterations ranged from mild to severe lamellar necrosis in the exposed fishes with Gill Alteration Index (GAI) of 1.60 on day 14 and 3.20 on day 28. There were significant dose-dependent increases (p < 0.05) in micronuclei and binucleated cells in the erythrocytes of exposed fishes compared to control. Embryotoxic effects assessed from 0 to 72 h post fertilization showed significant decreases (p < 0.05) in hatching success and number of heartbeats per minute, and significant increase (p < 0.05) in percentage abnormalities in the exposed embryos compared to control. The study demonstrates the need for regulatory measures and monitoring of the use of TCS and TCC in PCPs in order to mitigate potential adverse effects to non-target aquatic organisms. This will support the United Nations Sustainable Development Goal 14 on sustaining life below water.
Graphical abstract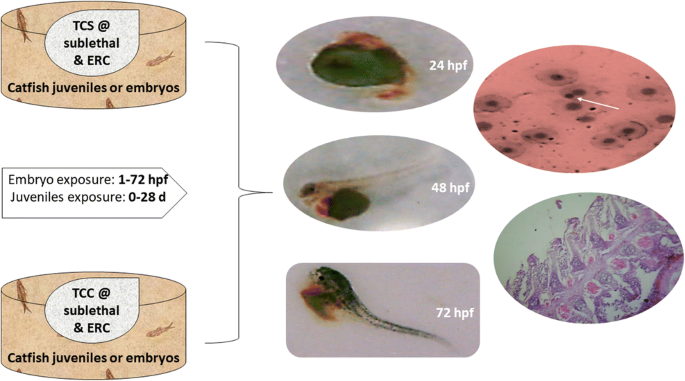 Access options
Buy single article
Instant access to the full article PDF.
US$ 39.95
Tax calculation will be finalised during checkout.
Subscribe to journal
Immediate online access to all issues from 2019. Subscription will auto renew annually.
US$ 79
Tax calculation will be finalised during checkout.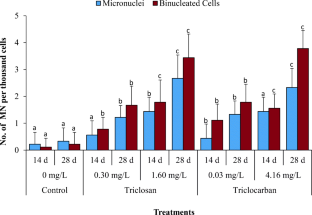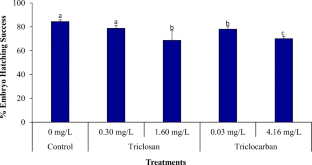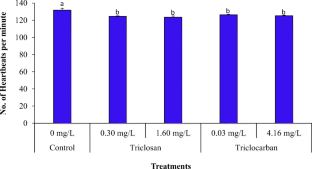 References
Adeboyejo OA, Fagbenro OA, Adeparusi EO, Clarke EO (2013) Acute toxicity of industrial effluents from Agbara environs of Ologe lagoon on early life stages of African catfish Clarias gariepinus. Am J Res Com 1(3):50–60

Adolfsson-Erici M, Pettersson M, Parkkonen J, Sturve J (2002) Triclosan, a commonly used bactericide found in human milk and in the aquatic environment in Sweden. Chemosphere. 46:1485–1489

Alimba CG, Saliu JK, Ubani-Rex OA (2015) Cytogenotoxicity and histopathological assessment of Lekki Lagoon and Ogun River in Synodontis clarias (Linnaeus, 1758). Toxicol Environ Chem 97(2):221–234

Amacher DE, Schomaker SJ, Boldt SE, Mirsky M (2006) The relationship among microsomal enzyme induction, liver weight and histological change in cynomolagus monkey toxicology studies. Food Chem Toxicol 44:528–537

American Veterinary Medical Association (AVMA) (2013)AVMA Guidelines for the euthanasia of animals: 2013 edn 38 (AVMA, Schaumburg, IL, 2013). https://www.avma.org/KB/Policies/Documents/euthanasia.pdf

American Public Health Association (APHA) (1998) Standard methods for the examination of water and wastewater, 16th edn. American Public Health Association, New York 215pp

Bedoux G, Roig B, Thomas O, Dupont V, Le Bot B (2012) Occurrence and toxicity of antimicrobial triclosan and by-products in the environment. Environ Sci Pollut Res 19:1044–1065

Bester K (2003) Triclosan in a sewage treatment process – balances and monitoring data. Water Res 37:3891–3896

Binelli A, Cogni D, Parolini M, Riva C, Provini A (2009) In vivo experiments for the evaluation of genotoxic and cytotoxic effects of triclosan in Zebra mussel hemocytes. Aquat Toxicol 91:238–244

Brausch JM, Rand GM (2011) A review of personal care products in the aquatic environment: environmental concentrations and toxicity. Chemosphere 82(11):15–32

Chen F, Ying GG, Kong LX, Wang L, Zhao JL, Zhou LJ, Zhang LJ (2011) Distribution and accumulation of endocrine disrupting chemicals and pharmaceuticals in wastewater irrigated soils in Hebei, China. Environ Pollut 159(6):1490–1498

Chen J, Ahn KC, Gee NA, Ahmed MI, Duleba AJ, Zhao L, Gee SJ, Hammock BD, Lasley BL (2008) Triclocarban enhances testosterone action: a new type of endocrine disruptor? Endocrinology 149(3):1173–1179

Chen ZF, Ying GG, Liu YS (2014) Triclosan as a surrogate for household biocides: an investigation into biocides in aquatic environments of a highly urbanized region. Water Res 58:269–279

Cheng SH, Wai AWK, So CH, Wu RS (2000) Cellular and molecular basis of cadmium-induced deformities in zebrafish embryos. Environ Toxicol Chem 19:3024–3031

Costa PM, Costa MH (2007) Genotoxicity assessment in fish peripheral blood: a method for more efficient analysis of micronuclei. J Fish Biol 71:148–151

Dann AB, Hontela A (2011) Triclosan: environmental exposure, toxicity and mechanisms of action. J Appl Toxicol 31:285–311

Ekpendu E, Saliu J, Otitoloju A, Ukwa U (2020) Hematological variations, histopathology and reversibility of liver function enzymes in post juvenile Clarias gariepinus exposed singly to five botanical piscicides. Egypt J Aquatic Biol Fish 24(3):169–180

Emery D (2012) Assessing the genotoxicity of triclosan in tadpoles of the American Bullfrog, Lithobates catesbeianus. A thesis submitted in partial fulfillment of the requirements for the degree of Master of Biology at Virginia Commonwealth University. 58 pp

Esenowo IK, Ugwumba OA (2010) Growth response of catfish (Clarias gariepinus) exposed to water soluble fraction of detergent and diesel oil. Environ Res J 4(4):298–301

Gao AB, Tao Yuan A, Cheng C, Bai A, Zhou A, Wang A, Zhang H (2015) Effects of triclosan and triclocarban on the growth inhibition, cell viability, genotoxicity and multixenobiotic resistance responses of Tetrahymena thermophila. Chemosphere 139:434–440

Greenwood N, Earnshaw A (2006) Chemistry of the elements, 2nd edn. Butterworth-Heinemann, Oxford ISBN 978-0-7506-3365-9

Halden RU, Paull DH (2005) Co-occurrence of triclocarban and triclosan in U.S. water resources. J. Environ. Sci. Technol. 39(6):1420–1426

Hallare A, Nagel K, Kohler HR, Triebskorn R (2006) Comparative embryotoxicity and proteotoxicity of three carrier solvents to zebrafish (Danio rerio) embryos. Ecotoxicol Environ Saf 63:378–388

Helbing CC, Propper CR, Veldhoen N (2011) Triclosan affects the thyroid axis of amphibians. Toxicol Sci 123(2):601–602

Heidler J, Halden RU (2008) Meta-analysis of mass balances examining chemical fate during wastewater treatment. Environ Sci Technol 42(17):6324–6332

Ishibashi H, Matsumura N, Hirano M, Matsuoka M, Shiratsuchi H, Ishibashi Y, Takao Y, Arizono K (2004) Effects of triclosan on the early life stages and reproduction of medaka Oryzias latipes and induction of hepatic vitellogenin. Aquat Toxicol 67:167–179

Kaur R, Dua A (2015) 96 h-LC50, behavioural alterations and histopathological effects due to wastewater toxicity in a freshwater fish Channa punctatus. Environ Sci Pollut Res 22(5):100–110

Kumar N, Ambasankar K, Krishnani KK, Gupta SK, Bhushan S, Minhas PS (2016) Acute toxicity biochemical and histopathological responses of endosulfan in Chanos chanos. Ecotoxicol Environ Saf 131:79–88

Lanning LL, Creasy DM, Chapin RE, Mann PC, Barlow NJ, Regan KS, Goodman DG (2002) Recommended approaches for the evaluation of testicular and epididymal toxicity. Toxicol Pathol 30:507–520

Lehutso RF, Daso AP, Okonkwo JO (2017) Occurrence and environmental levels of triclosan and triclocarban in selected wastewater treatment plants in Gauteng Province, South Africa. Emerging Contam 3:107–114

Leonard M, Vanpoucke M, Petit-Poulsen V, Porcher JM (2005) Evaluation of the fish embryo test as a potential alternative to the standard acute fish toxicity test OECD 203. In: International Symposium on Toxicology Assessment, Skathios, Greece

McAvoy DC, Schatowitz B, Jacob M, Hauk A, Eckhoff WS (2002) Measurement of triclosan in wastewater treatment systems. Environ Toxicol Chem 21:1323–1329

Miller TR, Heidler J, Chillrud SN, Delaquil A, Ritchie JC, Mihalic JN, Bopp R, Halden RU (2008) Fate of triclosan and evidence for reductive dechlorination of triclocarban in estuarine sediments. Environ Sci Technol 42(12):4570–4576

Mumuni AA, Sogbanmu TO (2018) Embryotoxic, developmental and genotoxic evaluations of a endosulfan and deltamethrin mixture on the African sharptooth catfish (Clarias gariepinus). West Afr J App Ecol 26(1):1–10

Oellermann LK (1995) A comparison of the aquaculture potential of Clarias gariepinus (Burchell, 1822) and its hybrid with Heterobranchus longiflis valenciennes, 1840 in Southern Africa. PhD Thesis, Rhodes University, South Africa, 152 pp

Oliveira R, Domingues I, Grisolia K, Soares VM (2009) Effects of triclosan on zebrafish early-life stages and adults. Environ Sci Pollut Res 16:679–688

Organization for Economic Cooperation and Development (2013) OECD Guidelines for the testing of chemicals Section 2: effects on biotic systems test no. 236. Fish embryo acute toxicity (FET) test, Paris, France

Organization for Economic Cooperation and Development (1992) OECD guideline for testing of chemicals, fish acute toxicity test. 21 pages

Orvos DR, Versteeg DJ, Inauen J, Capdevielle M, Rothenstein A, Cunningham V (2002) Aquatic toxicity of triclosan. Environ Toxicol Chem 21:1338–1349

Osman A, Wuertz S, Mekkawy I, Exner HJ, Kirschbaum F (2007) Lead induced malformations in embryos of African catfish, Clarias gariepinus (Burchell, 1822). Environ Toxicol 22(4):375–389

Otitoloju AA (2006) Joint action toxicity of spent lubrication oil and laundry detergent against. Poecilia reticulata (Teleostei: Poeciliidae). Afr J Aquat Sci 31(1):125–129

Priyatha V, Chitra C (2018) Acute toxicity of triclosan on the native freshwater fish, Anabas testudineus (Bloch, 1792): behavioral alterations and histopathological lesions. Intl J Life Sci 6(1):166–172

Rodilla V (1993) Origin and evolution of binucleated cells and binucleated cell with micronuclei in cisplatin-treated cho cultures. Mutat Res 300:281–291

Sabaliunas D, Webb SF, Hauk A, Jacob M, Eckhoff WS (2003) Environmental fate of triclosan in the River Aire Basin, UK. Water Res 37(13):3145–3154

Singh PJ, Pandey S, Sharma S (2005) Micronucleus assay for evaluation of in vivo genotoxicity in fishes: training on genotoxic assays in fishes. TOGAIF-2005 edited by Kapoor D, Nagpure NS Lucknow: National Bureau of Fish. Genet Res 1:1–68

Sogbanmu TO, Osibona AO, Oguntade AO, Otitoloju AA (2018) Biomarkers of toxicity in Clarias gariepinus exposed to sublethal concentrations of polycyclic aromatic hydrocarbons. Afr J Aquat Sci 43(3):281–292

Sogbanmu TO, Nagy E, Phillips DH, Arlt VM, Otitoloju AA, Bury NR (2016) Lagos lagoon sediment organic extracts and polycyclic aromatic hydrocarbons induce embryotoxic, teratogenic and genotoxic effects in Danio rerio (zebrafish) embryos. Environ Sci Pollut Res Int 23:14489–14501

Vijitha CK, Asifa KP, Chitra KC (2017) Assessment of genotoxic and haematological consequence of triclosan in the fish, Oreochromis niloticus (Linnaeus, 1758) International J. Appl Theatr Res 3(2):101–109

Wilson RW, Taylor EW (1993) Differential responses to copper in rainbow trout (Oncorhynchus mykiss) acclimated to sea water and brackish water. J Comp Physiol B 163:239–246

Ying GG, Yu XY, Kookana RS (2007) Triclosan in wastewaters and biosolids from Australian wastewater treatment plants. Environ Int 33(2):199–205

Zhao JL, Ying GG, Liu YS, Chen F, Yang JF, Wang L (2010) Occurrence and risks of triclosan and triclocarban in the Pearl River system, South China: from source to the receiving environment. J Hazard Mater 179(1-3):215–222
Acknowledgements
The authors would like to acknowledge Mr Monday of the Department of Marine Sciences, Faculty of Science, University of Lagos, for his technical support in the handling and spawning of African sharptooth catfish embryos.
Availability of data and materials
Data and materials are available on request.
Ethics declarations
Ethical approval
This research was in accordance with the principles in the AVMA Guidelines for the euthanasia of animals (AVMA 2013) and the principles in the Declaration of Helsinki on the humane treatment of animals used in research (https ://www.wma.net/en/30pub lications/10pol icies /a18/).
Consent to participate
Not Applicable
Consent to publish
Both co-authors consent to the publication of the manuscript.
Conflict of interest
The authors have no competing interests.
Additional information
Publisher's note
Springer Nature remains neutral with regard to jurisdictional claims in published maps and institutional affiliations.
Responsible Editor: Philippe Garrigues
Supplementary Information
About this article
Cite this article
Jimoh, R.O., Sogbanmu, T.O. Sublethal and environmentally relevant concentrations of triclosan and triclocarban induce histological, genotoxic, and embryotoxic effects in Clarias gariepinus (Burchell, 1822). Environ Sci Pollut Res (2021). https://doi.org/10.1007/s11356-021-12820-1
Received:

Accepted:

Published:
Keywords
Personal care products (PCPs)

Micronuclei

Catfish

Embryotoxic

Histological alteration

Sublethal concentrations