Abstract
The C/N/P stoichiometry of organic matter can provide useful information for better understanding of the effects of human activities on aquatic ecosystems. The Daya Bay is a semi-closed bay under serious anthropogenic influences in the southeastern China. This study investigated the contents and ratios of C, N, and P in suspended particulate matter (SPM) and surface sediment in Daya Bay during the spring of 2017. Average C/N/P ratios were 139/17/1 in the surface SPM, 129/16/1 in the bottom SPM, and 61/8/1 in the surface sediment. The C/N ratio of SPM was significantly lower in the western inner bay, suggesting that eutrophication can reduce this ratio. The N/P ratio of SPM was slightly higher in the inner bay, while no clearly distribution pattern was found in the C/P ratio of SPM. Compared with SPM, surface sediment showed significantly lower N/P and C/P ratios. The C/N, N/P, and C/P ratios and contents of total organic C, N, and P were higher in the surface sediment in the inner bay. Our results suggested that the distribution of C/N/P stoichiometry was uncoupled between SPM and surface sediment. The C/N/P stoichiometry of surface sediment can effectively reflect the regional variation of terrigenous input and the influence of nuclear power plant thermal effluent.
Access options
Buy single article
Instant access to the full article PDF.
US$ 39.95
Tax calculation will be finalised during checkout.
Subscribe to journal
Immediate online access to all issues from 2019. Subscription will auto renew annually.
US$ 79
Tax calculation will be finalised during checkout.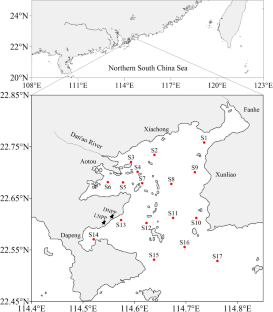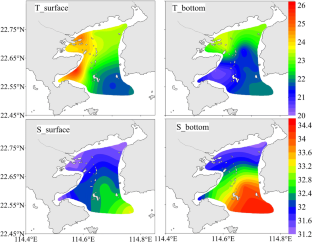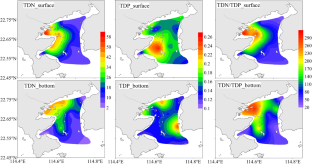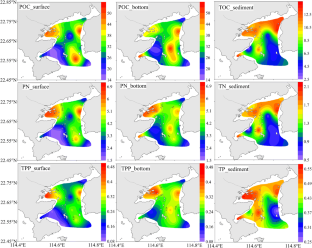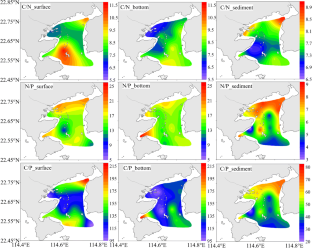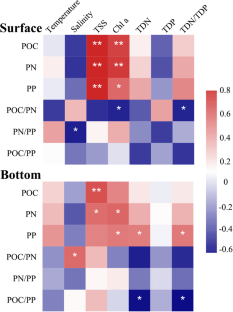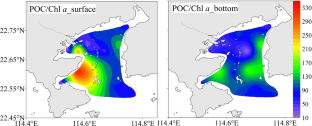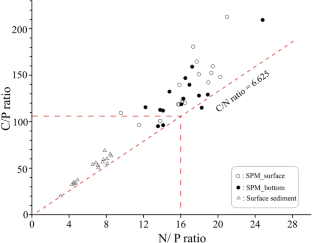 Data Availability
The data and materials of this study will be available from the corresponding author on reasonable request.
References
Babbin AR, Keil RG, Devol AH, Ward BB (2014) Organic matter stoichiometry, flux and oxygen control nitrogen loss in the ocean. Science 344:406–408

Bertilsson S, Berglund O, Karl DM, Chisholm SW (2003) Elemental composition of marine Prochlorococcus and Synechococcus: implications for the ecological stoichiometry of the sea. Limnol Oceanogr 48:1721–1731

Chen S, Torres R (2018) Biogeochemical characteristics and fluxes of suspended particulate organic matter in response to low-tide rainfall. Limnol Oceanogr 63:S307–S323

Dickman EM, Vanni MJ, Horgan MJ (2006) Interactive effects of light and nutrients on phytoplankton stoichiometry. Oecologia 149(4):676–689

Elser JJ, Sterner RW, Gorokhova E, Fagan WF, Markow TA, Conter JB, Harrison JF, Hobbie SE, Odell GM, Weider LJ (2000) Biological stoichiometry from genes to ecosystems. Ecol Lett 3:540–550

Gao XL, Chen SY, Long A (2008) Composition and sources of organic matter and its solvent extractable components in surface sediments of a bay under serious anthropogenic influences: Daya Bay, China. Mar Pollut Bull 56:1066–1075

Glibert PM (2012) Ecological stoichiometry and its implications for aquatic ecosystem sustainability. Curr Opin Environ Sustain 4:272–277

Grasshoff K, Ehrardt M, Kremling K (1983) Methods of seawater analysis, 2nd edn. Verlag Chemie, Weinheim

Hamada K, Ueda N, Yamada M, Tada K, Montani S (2012) Decrease in anthropogenic nutrients and its effect on the C/N/P molar ratio of suspended particulate matter in hypertrophic Dokai Bay (Japan) in summer. J Oceanogr 68:173–182

Hecky RE, Campbell P, Hendzel LL (1993) The stoichiometry of carbon, nitrogen and phosphorus in particulate matter of lakes and oceans. Limnol Oceanogr 38(4):709–724

Hedges JI, Keil RG, Benner R (1997) What happens to terrestrial organic matter in the ocean? Org Geochem 27(5-6):195–212

Ke ZX, Tan YH, Huang LM, Zhao CY, Jiang X (2017) Spatial distribution of δ13C, δ15N and C/N ratios in suspended particulate organic matter of a bay under serious anthropogenic influences: Daya Bay, China. Mar Pollut Bull 114:183–191

Ke ZX, Tan YH, Huang LM, Liu JX, Xiang CH, Zhao CY, Zhang JP (2019) Significantly depleted 15N in suspended particulate organic matter indicating a strong influence of sewage loading in Daya Bay, China. Sci Total Environ 650:759–768

Klausmeier CA, Litchman E, Daufresne T, Levin SA (2004) Optimal nitrogen-to-phosphorus stoichiometry of phytoplankton. Nature 429(13):171–174

Lauridsen RB, Edwards FK, Bowes MJ, Woodward G, Hildrew AG, Ibbotson AT, Jones JI (2012) Consumer-resource elemental imbalances in a nutrient-rich stream. Freshw Sci 31(2):408–422

Lebreton B, Pollack JB, Blomberg B, Palmer TA, Adams L, Guillou G, Montagna PA (2016) Origin, composition and quality of suspended particulate organic matter in relation to freshwater inflow in a South Texas estuary. Estuar Coast Shelf Sci 170:70–82

Liénart C, Susperregui N, Rouaud V, Cavalheiro J, David V, Amo YD, Duran R, Lauga B, Monperrus M, Pigot T, Bichon S, Charlier K, Savoye N (2016) Dynamics of particulate organic matter in a coastal system characterized by the occurrence of marine mucilage – a stable isotope study. J Sea Res 116:12–22

Lipizer M, De Vittor C, Falconi C, Comici C, Tamberlich F, Giani M (2012) Effects of intense physical and biological forcing factors on CNP pools in coastal waters (Gulf of Trieste, Northern Adriatic Sea). Estuar Coast Shelf Sci 115:40–50

Lorrain A, Savoye N, Chauvaud L, Paulet YM, Naulet N (2003) Decarbonation and preservation method for the analysis of organic C and N contents and stable isotope ratios of low-carbonated suspended particulate material. Anal Chim Acta 491:125–133

Ma YE, Ke ZX, Huang LM, Tan YH (2014) Identification of human-induced perturbations in Daya Bay, China: evidence from plankton size structure. Cont Shelf Res 72:10–20

Makino W, Cotner JB, Sterner RW, Elser JJ (2003) Are bacteria more like plants or animals? Growth rate and resource dependence of bacterial C:N:P stoichiometry. Funct Ecol 17:121–130

Meyers PA (1994) Preservation of elemental and isotopic source identification of sedimentary organic matter. Chem Geol 114:289–302

Parsons TR, Maita YR, Lalli CM (1984) A manual of chemical and biological methods for sea water analysis. Pergamon Press

Qiu YW (2001) The characteristics of nutrients variation in the Daya Bay. Acta Oceanol Sin 23(1):85–93

Redfield AC (1958) The biological control of chemical factors in the environment. Am Sci 46:205–221

Sardans J, Rivas-Ubach A, Peñuelas J (2012) The elemental stoichiometry of aquatic and terrestrial ecosystems and its relationships with organismic lifestyle and ecosystem structure and function: a review and perspectives. Biogeochemistry 111:1-39, 1.

Sato T, Miyajima T, Ogawa H, Umezawa Y, Koike I (2006) Temporal variability of stable carbon and nitrogen isotopic composition of size-fractionated particulate organic matter in the hypertrophic Sumida River Estuary of Tokyo Bay, Japan. Estuar Coast Shelf Sci 68:245–258

Solórzano L, Sharp JH (1980) Determination of total dissolved phosphorus and particulate phosphorus in natural waters. Limnol Oceanogr 25:754–758

Song XY, Huang LM, Zhang JL, Huang XP, Zhang JB, Yin JQ, Tan YH, Liu S (2004) Variation of phytoplankton biomass and primary production in Daya Bay during spring and summer. Mar Pollut Bull 49:1036–1044

Sterner RW, Elser JJ (2002) Ecological stoichiometry: the biology of elements from molecules to biosphere. Princeton University Press, Princeton

Suzumura M (2008) Persulfate chemical wet oxidation method for the determination of particulate phosphorus in comparison with a high-temperature dry combustion method. Limnol Oceanogr-Meth 6:619–629

Wang YS, Lou ZP, Sun CC, Sun S (2008) Ecological environment changes in Daya Bay, China, from 1982 to 2004. Mar Pollut Bull 56:1871–1879

Wang ZH, Li YF, Mu DH (2010) Study on sedimentary record of TOC, TN and BSi in Dapengao area of Daya Bay. Mar Environ Sci 29(1):1–7 (in Chinese)

Wu ML, Wang YS, Sun CC, Wang HL, Dong JD, Han SH (2009) Identification of anthropogenic effects and seasonality on water quality in Daya Bay, South China Sea. J Environ Manag 90:3082–3090

Wu ML, Wang YS, Wang YT, Yin JP, Dong JD, Jiang ZY, Sun FL (2017) Scenarios of nutrient alterations and responses of phytoplankton in changing Daya Bay, South China Sea. J Mar Syst 165:1–12

Xu GZ (1989) Environments and Resources of Daya Bay. Anhui Press of Science and Technology, Anhui (in Chinese)

Yang X, Tan YH, Li KZ, Zhang HC, Liu JX, Xiang CH (2020) Long-term changes in summer phytoplankton communities and their influencing factors in Daya Bay, China (1997-2017). Mar Pollut Bull 161:111694

Zhao MY, Zhang S, Tarhan LG, Reinhard CT, Planavsky RN (2020) The role of calcium in regulating marine phosphorus burial and atmospheric oxygenation. Nat Commun 11:2232

Zhou P, Li DM, Li HT, Zhao L, Zhao F, Zheng YL, Wu MG, Yu HS (2019) Biogenic silica contents and its distribution in the sediments of the west Daya Bay. J Appl Oceanogr 38(1):109–117 (in Chinese)
Acknowledgements
We are very grateful to Dr. Shouhui Dai for his assistance in the elemental analysis.
Funding
This research was jointly funded by the National Natural Science Foundation of China (31670458), the Key Special Project for Introduced Talents Team of Southern Marine Science and Engineering Guangdong Laboratory (Guangzhou) (GML2019ZD0401), the National Basic Research Program of China (2015CB452903), and the Science and Technology Planning Project of Guangdong Province (2020B1212060058).
Ethics declarations
Ethics approval
This manuscript has not been published or presented elsewhere in part or in entirety.
Consent to participate
Not applicable
Consent for publication
All authors agreed to publish this article in Environmental Science and Pollution Research.
Competing interests
The authors declare no competing interests.
Additional information
Publisher's note
Springer Nature remains neutral with regard to jurisdictional claims in published maps and institutional affiliations.
Responsible Editor: Philippe Garrigues
About this article
Cite this article
Chen, D., Ke, Z. & Tan, Y. Distribution of C/N/P stoichiometry in suspended particulate matter and surface sediment in a bay under serious anthropogenic influence: Daya Bay, China. Environ Sci Pollut Res (2021). https://doi.org/10.1007/s11356-021-12812-1
Received:

Accepted:

Published:
Keywords
Ecological stoichiometry

Redfield ratio

Thermal effluent

Eutrophication

Terrigenous organic matter