Abstract
While urban open spaces have been shrinking with the rapid urbanization, rooftop space use is an alternative solution to such problems. Rooftop thermal environment is a critical consideration under global warming and local warming. Although there have been studies on rooftop thermal environment, variation of rooftop thermal environment with roof typology has not been fully revealed to support rooftop space design. To fill this gap, a field experiment was conducted over green roof (GR), wooden roof (WR), and shaded roof (SR) in a temperate city of Kitakyushu, Japan. Environmental parameters such as solar radiation, air temperature, and relative humidity at different heights of these three roofs were recorded, to understand rooftop thermal environment and daily heat stress variation with rooftop types and the height above roof surface. The results indicate that WR had the highest diurnal near-surface temperature and the worst heat stress, where the near-surface heat stress could even reach the danger level. GR exhibited the lowest diurnal near-surface temperature and heat stress, where the heat stress was only under caution and almost safe condition. SR exhibited the lowest diurnal 1-m temperature and SR had the weakest heat stress, indicating the significance of installing shading devices for rooftop thermal environment improvement and heat stress alleviation. GR exhibited excellent performance in reducing air temperature and heat stress at the pedestrian level, where its worst heat stress was only in caution condition. Compared with that at 1-m height, moreover, 1-cm temperature and heat stress of WR and SR were generally higher, indicating that people may undergo worse heat stress when kneeling or sitting compared with upright activities. Moreover, GR suppressed near-surface heat stress due to its excellent cooling performance.
Access options
Buy single article
Instant access to the full article PDF.
US$ 39.95
Tax calculation will be finalised during checkout.
Subscribe to journal
Immediate online access to all issues from 2019. Subscription will auto renew annually.
US$ 79
Tax calculation will be finalised during checkout.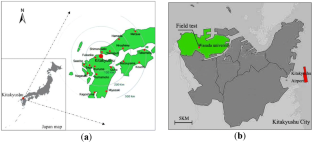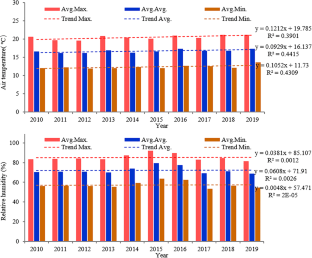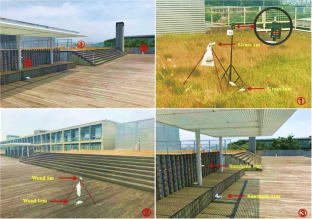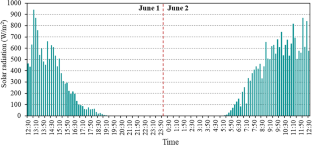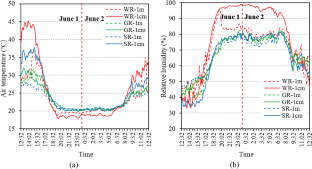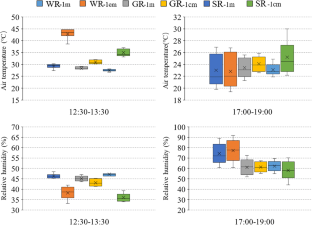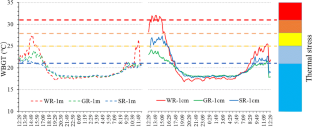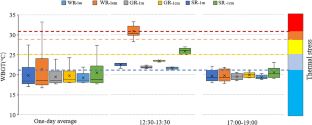 Data availability
All data generated or analyzed during the current study are presented in this article. Raw data will be also accessible from the author group if requested.
References
ACSM (1984) Prevention of thermal injuries during distance running. Med J Aust 141:876–879. https://doi.org/10.5694/j.1326-5377.1984.tb132981.x

Berdahl P, Akbari H, Levinson R, Miller WA (2008) Weathering of roofing materials - an overview. Constr Build Mater 22:423–433. https://doi.org/10.1016/j.conbuildmat.2006.10.015

Blazejczyk K, Epstein Y, Jendritzky G, Staiger H, Tinz B (2012) Comparison of UTCI to selected thermal indices. Int J Biometeorol 56:515–535. https://doi.org/10.1007/s00484-011-0453-2

Cascone S, Coma J, Gagliano A, Perez G (2019) The evapotranspiration process in green roofs: a review. Build Environ 147:337–355. https://doi.org/10.1016/j.buildenv.2018.10.024

Habeeb D, Vargo J, Stone B (2015) Rising heat wave trends in large US cities. Nat Hazards 76:1651–1665. https://doi.org/10.1007/s11069-014-1563-z

He B-J (2018) Potentials of meteorological characteristics and synoptic conditions to mitigate urban heat island effects. Urban Clim 24:26–33. https://doi.org/10.1016/j.uclim.2018.01.004

He B-J, Ding L, Prasad D (2020) Wind-sensitive urban planning and design: precinct ventilation performance and its potential for local warming mitigation in an open midrise gridiron precinct. J Build Eng 101145:101145. https://doi.org/10.1016/j.jobe.2019.101145

He B-J, Wang J, Liu H, Ulpiani G (2021) Localized synergies between heat waves and urban heat islands: implications on human thermal comfort and urban heat management. Environ Res 193:110584. https://doi.org/10.1016/j.envres.2020.110584

He BJ (2019) Towards the next generation of green building for urban heat island mitigation: zero UHI impact building. Sustain Cities Soc 50:101647. https://doi.org/10.1016/j.scs.2019.101647

Hong X-C, Wang G-Y, Liu J, Song L, Wu ETY (2020) Modeling the impact of soundscape drivers on perceived birdsongs in urban forests. J Clean Prod:125315. https://doi.org/10.1016/j.jclepro.2020.125315

Huang YY, Chen CT, Liu WT (2018) Thermal performance of extensive green roofs in a subtropical metropolitan area. Energy Build 159:39–53. https://doi.org/10.1016/j.enbuild.2017.10.039

Jim CY (2015) Assessing climate-adaptation effect of extensive tropical green roofs in cities. Landsc Urban Plan 138:54–70. https://doi.org/10.1016/j.landurbplan.2015.02.014

Jim CY, Tsang SW (2011) Ecological energetics of tropical intensive green roof. Energy Build 43:2696–2704. https://doi.org/10.1016/j.enbuild.2011.06.018

Jin CQ, Bai XL, Luo T, Zou M (2018) Effects of green roofs' variations on the regional thermal environment using measurements and simulations in Chongqing, China. Urban For Urban Green 29:223–237. https://doi.org/10.1016/j.ufug.2017.12.002

Lemke B, Kjellstrom T (2012) Calculating workplace WBGT from meteorological data: a tool for climate change assessment. Ind Health 50:267–278. https://doi.org/10.2486/indhealth.MS1352

Lim E, Yamanaka T, Kotani H, Momoi Y, Sagara K, Soma M (2013) Prediction method of solar shielding effect of roof with sunshade sheets in summer. J Environ Eng (Japan) 78:261–268. https://doi.org/10.3130/aije.78.261

Liu Y, Li Q, Yang L, Mu K, Zhang M, Liu J (2020) Urban heat island effects of various urban morphologies under regional climate conditions. Sci Total Environ 743:140589. https://doi.org/10.1016/j.scitotenv.2020.140589

Liu ZQ, Zuo ZJ, Li L (2014) Simulation on building energy consumption for a residential building. Appl Mech Mater

Manoli G, Fatichi S, Schläpfer M, Yu K, Crowther TW, Meili N, Burlando P, Katul GG, Bou-Zeid E (2019) Magnitude of urban heat islands largely explained by climate and population. Nature 573:55–60. https://doi.org/10.1038/s41586-019-1512-9

Matzarakis A, Mayer H, Iziomon MG (1999) Applications of a universal thermal index: physiological equivalent temperature. Int J Biometeorol 43:76–84. https://doi.org/10.1007/s004840050119

McGeehin MA, Mirabelli M (2001) The potential impacts of climate variability and change on temperature-related morbidity and mortality in the United States. Environ Health Perspect 109:185–189. https://doi.org/10.2307/3435008

Moghbel M, Salim RE (2017) Environmental benefits of green roofs on microclimate of Tehran with specific focus on air temperature, humidity and CO2 content. Urban Clim 20:46–58. https://doi.org/10.1016/j.uclim.2017.02.012

Morakinyo TE, Dahanayake KWDKC, Adegun OB, Balogun AAJE & Buildings (2016) Modelling the effect of tree-shading on summer indoor and outdoor thermal condition of two similar buildings in a Nigerian university. 130, 721-732.

Niachou A, Papakonstantinou K, Santamouris M, Tsangrassoulis A, Mihalakakou G (2001) Analysis of the green roof thermal properties and investigation of its energy performance. Energy Build 33:719–729

Oke TR (1989) The micrometeorology of the urban forest. Philos Trans R Soc Lond B 324:335–349

Oke TR, Mills G, Christen A, Voogt JA (2017) Urban Climates. Cambridge University Press, Cambridge

Onmura S, Matsumoto M, Hokoi S (2001) Study on evaporative cooling effect of roof lawn gardens. Energy Build 33:653–666. https://doi.org/10.1016/S0378-7788(00)00134-1

Ouldboukhitine S-E, Belarbi R, Sailor DJ (2014) Experimental and numerical investigation of urban street canyons to evaluate the impact of green roof inside and outside buildings. Appl Energy 114:273–282

Parizotto S, Lamberts R (2011) Investigation of green roof thermal performance in temperate climate: a case study of an experimental building in Florianopolis city, Southern Brazil. Energy Build 43:1712–1722. https://doi.org/10.1016/j.enbuild.2011.03.014

Qi J-D, He B-J, Wang M, Zhu J, Fu W-C (2019) Do grey infrastructures always elevate urban temperature? No, utilizing grey infrastructures to mitigate urban heat island effects. Sustain Cities Soc 46:101392. https://doi.org/10.1016/j.scs.2018.12.020

Santamouris M (2014) Cooling the cities - a review of reflective and green roof mitigation technologies to fight heat island and improve comfort in urban environments. Sol Energy 103:682–703. https://doi.org/10.1016/j.solener.2012.07.003

Solcerova A, van de Ven F, Wang M, Rijsdijk M, van de Giesen N (2017) Do green roofs cool the air? Build Environ 111:249–255. https://doi.org/10.1016/j.buildenv.2016.10.021

Squier M, Davidson CI (2016) Heat flux and seasonal thermal performance of an extensive green roof. Build Environ 107:235–244. https://doi.org/10.1016/j.buildenv.2016.07.025

Tang MF, Zheng X (2019) Experimental study of the thermal performance of an extensive green roof on sunny summer days. Appl Energy 242:1010–1021. https://doi.org/10.1016/j.apenergy.2019.03.153

Wang JS, Meng QL, Zhang L, Zhang Y, He BJ, Zheng SL, Santamouris M (2019) Impacts of the water absorption capability on the evaporative cooling effect of pervious paving materials. Build Environ 151:187–197. https://doi.org/10.1016/j.buildenv.2019.01.033

Wang Y, Du H, Xu Y, Lu D, Wang X, Guo Z (2018) Temporal and spatial variation relationship and influence factors on surface urban heat island and ozone pollution in the Yangtze River Delta, China. Sci Total Environ 631:921–933

Wong NH, Chen Y, Ong CL, Sia A (2003) Investigation of thermal benefits of rooftop garden in the tropical environment. Build Environ 38:261–270

Yang J, Jin S, Xiao X, Jin C, Xia J, Li X, Wang S (2019a) Local climate zone ventilation and urban land surface temperatures: towards a performance-based and wind-sensitive planning proposal in megacities. Sustain Cities Soc 47:101487. https://doi.org/10.1016/j.scs.2019.101487

Yang J, Wang Y, Xiao X, Jin C, Xia J, Li X (2019b) Spatial differentiation of urban wind and thermal environment in different grid sizes. Urban Clim 28:100458. https://doi.org/10.1016/j.uclim.2019.100458

Zhang G, He B-J (2021) Towards green roof implementation: drivers, motivations, barriers and recommendations. Urban For Urban Green 58:126992. https://doi.org/10.1016/j.ufug.2021.126992

Zhang G, He B-J, Dewancker BJ (2020) The maintenance of prefabricated green roofs for preserving cooling performance: a field measurement in the subtropical city of Hangzhou, China. Sustain Cities Soc 61:102314. https://doi.org/10.1016/j.scs.2020.102314

Zhang G, He BJ, Zhu Z, Dewancker BJ (2019) Impact of morphological characteristics of green roofs on pedestrian cooling in subtropical climates. International Journal of Environmental Research and Public Health, 16. https://doi.org/10.3390/ijerph16020179

Zhang H, Arens E, Huizenga C, Han T (2010) Thermal sensation and comfort models for non-uniform and transient environments: Part I: Local sensation of individual body parts. Build Environ 45:380–388. https://doi.org/10.1016/j.buildenv.2009.06.018

Zhao D, Arshad M, Li N, Triantafilis J (2021) Predicting soil physical and chemical properties using vis-NIR in Australian cotton areas. CATENA 196:104938. https://doi.org/10.1016/j.catena.2020.104938

Zheng S, Zhao L, Li Q (2016) Numerical simulation of the impact of different vegetation species on the outdoor thermal environment. Urban For Urban Green 18:138–150. https://doi.org/10.1016/j.ufug.2016.05.008
Acknowledgements
The authors gratefully acknowledge support from the PhD training program of the University of Kitakyushu. Gaochuan Zhang and Qian Wu warmly celebrate the 40th Anniversary of Zhejiang University of Science and Technology.
Funding
This research was funded by Zhejiang University of Science & Technology (Grant number: F701104K02).
Ethics declarations
Ethics approval and consent to participate
The locations of material collected here are neither privately owned lands nor protected areas. No specific permits were required for our research.
Consent for publication
Not applicable.
Conflict of interest
The authors declare no competing interests.
Additional information
Publisher's note
Springer Nature remains neutral with regard to jurisdictional claims in published maps and institutional affiliations.
Responsible Editor: Philippe Garrigues
About this article
Cite this article
Zhang, G., Wu, Q. & He, BJ. Variation of rooftop thermal environment with roof typology: a field experiment in Kitakyushu, Japan. Environ Sci Pollut Res (2021). https://doi.org/10.1007/s11356-021-12799-9
Received:

Accepted:

Published:
Keywords
Roof typology

Rooftop thermal environment

Heat stress

Green roof

Wooden roof

Shaded roof