Abstract
The restrictions imposed on the use of formaldehyde in wood panel adhesives have been the driving force behind the development of formaldehyde-free resins for the manufacture of wood products. Considering as a boundary condition the idea that the use of fossil-based raw materials should be replaced by biological options, there is growing interest in the environmental assessment of different alternatives for soy-based adhesives, as possible options to replace commonly used synthetic resins. This report includes the environmental profiles of soy-based adhesives taking into account the life cycle assessment (LCA) methodology. In addition, in order to increase their potential to replace synthetic resins, a sensitivity analysis of the main contributors to environmental damage was performed, thus giving an open guide for further research and improvement. This study aims to provide innovative alternatives and new trends in the field of environmentally friendly bio-adhesives for the wood panel industry.
Access options
Buy single article
Instant access to the full article PDF.
US$ 39.95
Tax calculation will be finalised during checkout.
Subscribe to journal
Immediate online access to all issues from 2019. Subscription will auto renew annually.
US$ 79
Tax calculation will be finalised during checkout.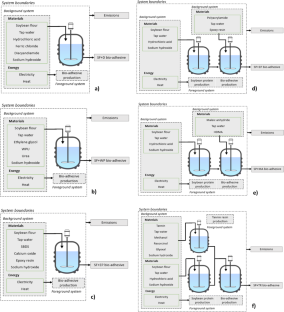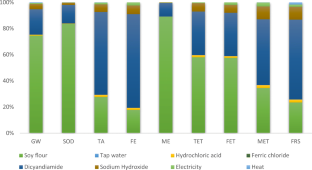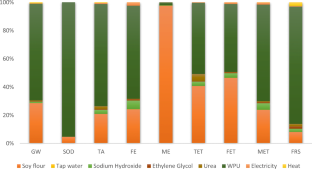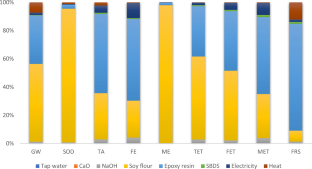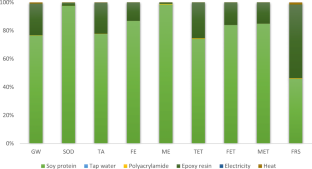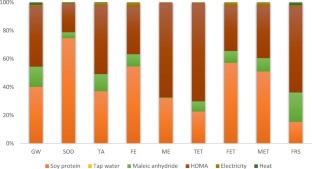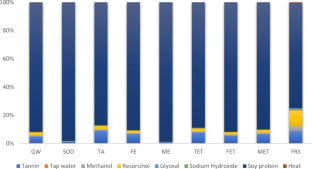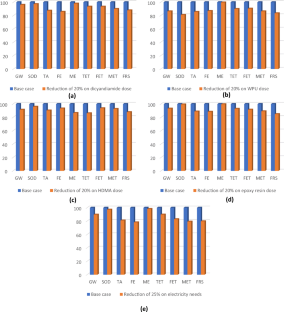 Availability of data and materials
All data generated or analyzed during this study are included in this published article (and its supplementary information files).
References
Arias A, González-García S, González-Rodríguez S et al (2020) Cradle-to-gate Life Cycle Assessment of bio-adhesives for the wood panel industry. Sci Total Environ, A comparison with petrochemical alternatives. https://doi.org/10.1016/j.scitotenv.2020.140357

Berardy A, Costello C, Seager T (2015) Life cycle assessment of soy protein isolate. Dissertation, Proceedings of the International Symposium on Sustainable Systems and Technologies, Dearborn, USA.

Carlisle J, Chan D, Golub M, Henkel S, Painter P, Lily WK (2009) Toxicological profile for bisphenol A. Dissertation, Office of Environmental Health Hazard Assessment Ocean Protection Council under an Interagency Agreement.

Chen M, Luo J, Shi R, Zhang J, Gao Q, Li J (2017) Improved adhesion performance of soy protein-based adhesives with a larch tannin-based resin. Polymers 9:408

EC-JRC (2011) Recommendations for life cycle impact assessment in the European context. EUR 24571 EN

Ferdosian F, Pan Z, Gao G, Zhao B (2017) Bio-based adhesives and evaluation for wood composites application. Polymers 9:70

Frihart CR (2005) Wood adhesion and adhesives. In: Rowell RM (ed) Handbook of wood chemistry and wood composites, 2nd edn. CRC Press, Florida, pp 215–278

Frihart CR, Hunt CG, Birkeland MJ (2014) Soy proteins as wood adhesives. Recent Advances in Adhesion Science and Technology 16:277–290

Ghahri S, Pizzi A, Mohebby B, Mirshokraie A, Mansouri HR (2018) Soy-based, tannin-modified plywood adhesives. J Adhes 94:218–237

González-García S, Feijoo G, Widsten P, Kandelbauer A, Zikulnig-Rusch E, Moreira MT (2009) Environmental performance assessment of hardboard manufacture. Int J Life Cycle Assess 14:456–466

Grand View Research (2020) Share & trends analysis report by product, 2018 to 2025. https://www.grandviewresearch.com/industry-analysis/wood-based-panel-market Accessed date: 24 September 2020.

He Z (2017) Bio-based wood adhesives: preparation, characterization, and testing. CRC Press, Florida

Hemmilä V, Adamopoulos S, Karlsson O, Kumar A (2017) Development of sustainable bio-adhesives for engineered wood panels-A Review. RSC Adv.

Herrero-Gonzalez M, Admon N, Dominguez-Ramos A, Ibañez R, Adi W, Irabien A (2020) Environmental sustainability assessment of seawater reverse osmosis brine valorization by means of electrodialysis with bipolar membranes. Environ Sci Pollut Res 27:1256–1266

Hojilla-Evangelista MP (2010) Adhesion properties of plywood glue containing soybean meal as an extender. JAOCS, J Am Oil Chem Soc. https://doi.org/10.1007/s11746-010-1586-x

Hu J, Peng K, Guo J, Shan D, Kim GB, Li Q, Gerhard E, Zhu L, Tu W, Weizhong L, Hickner MA, Yang J (2016) Click cross-linking-improved waterborne polymers for environment-friendly coatings and adhesives. ACS Appl Mater Interfaces 8:17499–17510

Huang W, Sun X (2000) Adhesive properties of soy proteins modified by sodium dodecyl sulfate and sodium dodecylbenzene sulfonate. J Am Oil Chem Soc 77:705–708

Huijbregts MAJ, Steinmann ZJN, Elshout PMF, Stam G, Verones F, Vieira MDM, Hollander A, Zijp M  van Zelm R (2017) ReCiPe 2016 v1.1.

ISO 14040 (2006) Environmental management - life cycle assessment - principles and framework, 2nd edn. Switzerland.

Jia L, Chu J, Ma L, Qi X, Kumar A (2019) Life cycle assessment of plywood manufacturing process in China. Int J Environ Res Public Health 16:2037

Kajaks J, Reihmane S, Grinbergs U, Kalnins K (2012) Use of innovative environmentally friendly adhesives for wood veneer bonding. Proc Estonian Acad Sci 61:207

Kruyer NS, Wauldron N, Bommarius AS, Peralta-Yahya P (2020) Fully biological production of adipic acid analogs from branched catechols. Sci Rep 10:1–8

Laca A, Gómez N, Laca A, Díaz M (2020) Overview on GHG emissions of raw milk production and a comparison of milk and cheese carbon footprints of two different systems from northern Spain. Environ Sci Pollut Res 27:1650–1666

Lei H, Du G, Wu Z, Xi X, Dong Z (2014) Cross-linked soy-based wood adhesives for plywood. Int J Adhes Adhes 50:199–203

Liu H, Li C, Sun XS (2017) Soy-oil-based waterborne polyurethane improved wet strength of soy protein adhesives on wood. Int J Adhes Adhes 73:66–74

Liu Y, Li K (2007) Development and characterization of adhesives from soy protein for bonding wood. Int J Adhes Adhes 27:59–67

Loste N, Roldán E, Giner B (2020) Is green chemistry a feasible tool for the implementation of a circular economy? Environ Sci Pollut Res 27:6215–6227

Luo J, Luo J, Bai Y, Gao Q, Li J (2016) A high performance soy protein-based bio-adhesive enhanced with a melamine/epichlorohydrin prepolymer and its application on plywood. RSC Adv 6:67669–67676

McDevitt JE, Grigsby WJ (2014) Life cycle assessment of bio-and petro-chemical adhesives used in fiberboard production. J Polym Environ 22:537–544

Pizzi A, Ibeh CC (2014) Aminos. In: Dobiuk G (ed) Handbook of Thermoset Plastics, 3rd edn. Elsevier, Amsterdam, pp 75–91

Plumlee KH (2004) Plants. In: Plumlee KH (ed) Clinical Veterinary Toxicology, 1st edn. Elsevier, Amsterdam, pp 337–442

Pradel M, Lippi M, Daumer ML, Aissani L (2020) Environmental performances of production and land application of sludge-based phosphate fertilizers- a life cycle assessment case study. Environ Sci Pollut Res 27:2054–2070

Raj K, Partow S, Correia K, Khusnutdinova AN, Yakunin AF, Mahadevan R (2018) Biocatalytic production of adipic acid from glucose using engineered Saccharomyces cerevisiae. Metab Eng Commun 6:28–32

Silva DAL, Lahr FAR, Varanda LD et al (2015) Environmental performance assessment of the melamine-urea-formaldehyde (MUF) resin manufacture: A case study in Brazil. J Clean Prod. https://doi.org/10.1016/j.jclepro.2014.03.007

Solt P, Konnerth J, Gindl-Altmutter W, Kantner W, Moser J, Mitter R, Van Herwijnen HW (2019) Technological performance of formaldehyde-free adhesive alternatives for particleboard industry. Int J Adhes Adhes 94:99–131

Sun J, Raza M, Sun X, Yuan Q (2018) Biosynthesis of adipic acid via microaerobic hydrogenation of cis, cis-muconic acid by oxygen-sensitive enoate reductase. J Biotechnol 280:49–54

Vnučec D, Kutnar A, Goršek A (2017) Soy-based adhesives for wood-bonding–a review. J Adhes Sci Technol 31:910–931

Wang Y, Deng L, Fan Y (2018) Preparation of soy-based adhesive enhanced by waterborne polyurethane: optimization by response surface methodology. Adv Mater Sci Eng 2018:1–8

Wang Z, Chen Y, Chen S, Chu F, Zhang R, Wang Y, Fan D (2019) Preparation and characterization of a soy protein based bio-adhesive crosslinked by waterborne epoxy resin and polyacrylamide. RSC Adv 9:35273–35279

Wang Z, Zhao S, Pang H et al (2019) Developing eco-friendly high-strength soy adhesives with improved ductility through multiphase core-shell hyperbranched polysiloxane. ACS Sustain Chem Eng. https://doi.org/10.1021/acssuschemeng.8b06810

Xi X, Pizzi A, Gerardin C, Chen X, Amirou S (2020) Soy protein isolate-based polyamides as wood adhesives. Wood Sci Technol 54:89–102. https://doi.org/10.1007/s00226-019-01141-9

Yang M, Rosentrater KA (2019) Techno-economic analysis of the production process of structural bio-adhesive derived from glycerol. J Clean Prod. https://doi.org/10.1016/j.jclepro.2019.04.288

Yang M, Rosentrater KA (2020) Cradle-to-gate life cycle assessment of structural bio-adhesives derived from glycerol. Int J Life Cycle Assess. https://doi.org/10.1007/s11367-020-01733-9

Yu JL, Xia XX, Zhong JJ, Qian ZG (2014) Direct biosynthesis of adipic acid from a synthetic pathway in recombinant Escherichia coli. Biotechnol Bioeng 111:2580–2586

Zhang M, Song F, Wang XL, Wang YZ (2012) Development of soy protein isolate/waterborne polyurethane blend films with improved properties. Colloids Surf B: Biointerfaces 100:16–21

Zhou X, Pizzi A, Sauget A, Nicollin A, Li X, Celzard A, Rode K, Pasch H (2013) Lightweigh tannin foam/composites sandwich panels and the coldset tannin adhesive to assemble them. Ind Crop Prod 43:255–260
Funding
This research has been financially supported by ERA-CoBIOTech (PCI2018-092866) WooBAdh project. Dr. S. González García thanks to the Spanish Ministry of Economy and Competitiveness for financial support (Grant reference RYC-2014-14984). The authors belong to the Galician Competitive Research Group (GRC ED431C 2017/29) and to CRETUS Strategic Partnership (ED431E 2018/01).
Ethics declarations
Consent for publication
Not applicable.
Competing interests
The authors declare no competing interests.
Additional information
Publisher's note
Springer Nature remains neutral with regard to jurisdictional claims in published maps and institutional affiliations.
Responsible Editor: Ta Yeong Wu
Supplementary information
About this article
Cite this article
Arias, A., González-García, S., Feijoo, G. et al. Environmental benefits of soy-based bio-adhesives as an alternative to formaldehyde-based options. Environ Sci Pollut Res (2021). https://doi.org/10.1007/s11356-021-12766-4
Received:

Accepted:

Published:
Keywords
Wood panel

Soy protein

Environmental profile

Soybean

Life cycle assessment

Sensitivity analysis