Abstract
Industrial sulfur dioxide (SO2) has become an important source of environmental pollution in China, and the regional SO2 emission reduction capacity is a comprehensive reflection of cleaner production capacity, environmental regulation, and economic development. It is obvious that high-tech industries play a crucial role in promoting the cleaner production capacity of the whole industry. Simultaneously, only considering the regional emission and the development of high-tech industry in isolation may deviate from actual economic characteristics. Therefore, by using the panel data of 30 provinces in China from 2005 to 2016, this paper adopts spatial autoregression model (SAR), spatial error model (SEM), and spatial Durbin model (SDM) to analyze the effect of the high-tech industry development on SO2 emission reduction under the spatial adjacency matrix (W1), geographic distance matrix (W2), and economic distance matrix (W3). In addition, this paper selects three indicators, which is SO2 removal rate, SO2 emission, and SO2 removal quantity, as explanatory variables, and R&D investment and number of enterprises in high-tech industry are selected to represent the industrial development level. The major conclusions are as follows: (1) The ability of SO2 emission reduction in the local province is significantly affected by the surrounding provinces, showing the agglomeration characteristics of "high-high" or "low-low." (2) The R&D investment of high-tech industry has a negative impact on SO2 removal rate and SO2 removal quantity, but a positive effect on the SO2 emissions for the local province, and has a positive effect on the emission reduction of surrounding provinces. (3) The expansion of high-tech industry has significantly improved the SO2 emission reduction capacity of the local province and its surrounding provinces. The robustness test supports the empirical conclusions of this paper. Finally, this paper puts forward some policy suggestions for government in environmental governance, such as "joint prevention and control" and the promotion of cleaner production.
Graphical abstract

Access options
Buy single article
Instant access to the full article PDF.
US$ 39.95
Tax calculation will be finalised during checkout.
Subscribe to journal
Immediate online access to all issues from 2019. Subscription will auto renew annually.
US$ 79
Tax calculation will be finalised during checkout.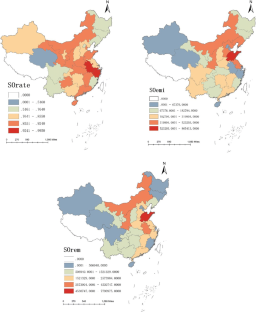 Data availability
The data that support the findings of this study are available from [www.cnki.net] but restrictions apply to the availability of these data, which were used under license for the current study, and so are not publicly available. Data are however available from the authors upon reasonable request and with permission of [www.cnki.net].
References
Anselin L (2010) Thirty years of spatial econometrics. Pap Reg Sci 89:3–25

Bazyli C, Anna M, Jan P, Katarzyna SA, Jakub S (2020) Deadweight loss in environmental policy: The case of the European Union member states. J Clean Prod 260,121604

Case AC, Rosen HS, Hines JR (1993) Budget spillover and fiscal policy interdependence: evidence from the states. J Public Econ 52(3):285–307

Casetti E (1986) The dual expansion method: an application for evaluating the effects of population growth on development. IEEE Transact Syst, Man Cybern 16(1):29–39

Chen XY, Shao S, Tian ZH, Xie Z, Yin P (2017) Impacts of air pollution and its spatial spillover effect on public health based on China's big data sample. J Clean Prod 142(2):915–925

Ding YT, Zhang M, Chen S, Wang WW, Nie R (2019) The environmental Kuznets curve for PM2.5 pollution in Beijing-Tianjin-Hebei region of China: a spatial panel data approach. J Clean Prod 220:984–994

Dong YX, Shao S, Zhang Y (2019) Does FDI have energy-saving spillover effect in China? A perspective of energy-biased technical change. J Clean Prod 234:436–450

Du YY, Sun TS, Peng J, Fang K, Liu YX, Yang Y, Wang YL (2018) Direct and spillover effects of urbanization on PM2.5 concentrations in China's top three urban agglomerations. J Clean Prod 190:72–83

Elhorst JP (2003) Specification and estimation of spatial panel data models. Int Reg Sci Rev 26:244–268

Elhorst JP (2014) Matlab software for spatial panels. Int Reg Sci Rev 37(3):1–17

Feng YC, Wang XH, Du WC, Wu HY, Wang JT (2019) Effects of environmental regulation and FDI on urban innovation in China: a spatial Durbin econometric analysis. J Clean Prod 235:210–224

Fu X, Lahr M, Yaxiong Z, Meng B (2017) Actions on climate change, Intended Reducing carbon emissions in China via optimal industry shifts: Toward hi-tech industries, cleaner resources and higher carbon shares in less-develop regions. Energy Policy 102:616-638

Getis A (2007) Reflections on spatial autocorrelation. Reg Sci Urban Econ 37:491–496

Gu W, Liu D, Wang C, Dai SF, Zhang DH (2020) Direct and indirect impacts of high-tech industry development on CO2 emissions: empirical evidence from China. Environ Sci Pollut Res 27:27093–27110

Guo XP, Ren DF, Shi JX (2016) Carbon emissions, logistics volume and GDP in China: empirical analysis based on panel data model. Environ Sci Pollut Res 23:24758–24767

Haining R (1978) The moving average model for spatial interation. Trans Inst Br Geogr 3(2):202–225

Halkos GH, Paizanos EA (2013) The effect of government expenditure on the envionment: an empirical investigation. Ecol Econ 91:48–56

Hong J, Feng B, Wu YR, Wang LB (2016) Do government grants promote innovation efficiency in China's high-tech industries? Technovation. 57-58:4–13

Hong Y, Lyu X, Chen Y, Li W (2020) Industrial agglomeration externalities, local governments' competition and environmental pollution: evidence from Chinese prefecture-level cities. J Clean Prod 277:123455

Hu W, Wang D (2020) How does environmental regulation influence China's carbon productivity? An empirical analysis based on the spatial spillover effect. J Clean Prod 257:120484

Hu B, Li ZT, Zhang L (2019) Long-run dynamics of sulphur dioxide emissions, economic growth, and energy efficiency in China. J Clean Prod 227:924–949

Huang JT (2018) Sulfur dioxide (SO2) emissions and government spending on environmental protection in China - Evidence from spatial econometric analysis. J Clean Prod 175:431–441

Huang R, Chen GW, Lv GN, Malik A, Shi XP, Xie XT (2020) The effect of technology spillover on CO2 emissions embodied in China-Australia trade. Energy Policy 144:111544

Jiao JL, Jiang GL, Yang RR (2018) Impact of R&D technology spillover on carbon emissions between China's regions. Struct Chang Econ Dyn 47:35–45

Jiao JL, Chen CX, Bai Y (2020) Is green technology vertical spillovers more significant in mitigating carbon intensity? Evidence from Chinese industries. J Cleaner Product 257:120354

Kis Z, Pandya N, Koppelaar RHEM (2018) Electricity generation technologies: comparison of materials use, energy return on investment, jobs creation and CO2 emissions reduction. Energy Policy 120:144–157

Landrigan PJ, Fuller R, Fisher S, Suk WA, Sly P, Chiles TC (2019) Pollution and children's health. Sci Total Environ 650(2):2389–2394

Liang X, Wang Q, Luo Z, Eddings E, Ring T, Li S, Lin J, Xue S, Han L, Xie G (2019) Experimental and numerical investigation on sulfur transformation in pressurized oxy-fuel combustion of pulverized coal. Applied Energy 253:113542

Li M, Li C, Zhang M (2018) Exploring the spatial spillover effects of industrialization and urbanization factors on pollutants emissions in China's Huang-Huai-Hai region. J Clean Prod 195:154–162

Li L, Hong XF, Wang J (2020) Evaluating the impact of clean energy consumption and factor allocation on China's air pollution: a spatial econometric approach. Energy. 195:115842

Lin BQ, Jiang ZJ, Zhang P (2011) Allocation of sulphur dioxide allowance – an analysis based on a survey of power plants in Fujian province in China. Energy. 36(5):3120–3129

Liu XH, Buck T (2007) Innovation performance and channels for international technology spillovers: evidence from Chinese high-tech industries. Res Policy 36(3):355–366

Liu K, Lin BQ (2019) Research on influencing factors of environmental pollution in China: a spatial econometric analysis. J Clean Prod 206:356–364

Liu HM, Fang CL, Zhang XL, Wang ZY, Bao C, Li FZ (2017a) The effect of natural and anthropogenic factors on haze pollution in Chinese cities: a spatial econometrics approach. J Clean Prod 165:323–333

Liu GY, Yang ZF, Tang YC, Ulgiati S (2017b) Spatial correlation model of economy-energy-pollution interactions: the role of river water as a link between production sites and urban areas. Renew Sust Energ Rev 69:1018–1028

Liu QY, Baumgartner J, Foy B, Schauer JJ (2019) A global perspective on national climate mitigation priorities in the context of air pollution and sustainable development. City and Environment Interactions. 1, 100003

Liu CY, Gao XY, Ma WL, Chen XT (2020) Research on regional differences and influencing factors of green technology innovation efficiency of China's high-tech industry. J Comput Appl Math 369:112597

Lopez R, Galinato GI, Islam F (2011) Fiscal spending and the environment: theory and empirics. J Environ Econ Manag 62:180–198

Lv Y, Chen W, Cheng J (2019) Modelling dynamic impacts of urbanization on disaggregated energy consumption in China: A spatial Durbin modelling and decomposition approach. Energy Policy 133:110841

Lv ZK, Li SS (2021) How financial development affects CO2 emissions: a spatial econometric analysis. J Environ Manag 227:111397

Ma YR, Ji Q, Fan Y (2016) Spatial linkage analysis of the impact of regional economic activities on PM2.5 pollution in China. J Clean Prod 139:1157–1167

Peng L, Hong YM (2013) Productivity spillovers among linked sectors. China Econ Rev 25:44–61

Peng JY, Zhang YG, Xie R, Liu Y (2018) Analysis of driving factors on China's air pollution emissions from the view of critical supply chains. J Clean Prod 203:197–209

Ouedraogo A (2016) Local economic impact of boom and bust in mineral resource extraction in the United States: A spatial econometrics analysis. Resources Policy 50:292–305

Shen W, Liu Y, Yan B, Wang J, He P, Zhou C, Huo X, Zhang W, Xu G, Ding Q (2017) Cement industry of China: Driving force, environment impact and sustainable development. Renew Sustain Energy Rev 75:618–628

Tian Y, Sun CW (2018) Comprehensive carrying capacity, economic growth and the sustainable development of urban areas: a case study of the Yangtze River Economic Belt. J Clean Prod 195:486–496

Tobler WR (1970) A computer movie simulating urban growth in the Detroit region. Econ Geogr 46:234–240

Wan Z, Zhou XJ, Zhang Q, Chen JZ (2019) Do ship emission control areas in China reduce sulfur dioxide concentrations in local air? A study on causal effect using the difference-in-difference model. Mar Pollut Bull 149:110506

Wang Q, Yang ZM (2016) Industrial water pollution, water environment treatment, and health risks in China. Environ Pollut 218:358–365

Wang Q, Yuan BL (2018) Air pollution control intensity and ecological total-factor energy efficiency: the moderating effect of ownership structure. J Clean Prod 186:373–387

Wang YX, Wang Y, Su XL, Qi L, Liu M (2019) Evaluation of the comprehensive carrying capacity of interprovincial water resources in China and the spatial effect. J Hydrol 575:794–809

Wang Y, Pan JF, Pei RM, Yi BW, Yang GL (2020) Assessing the technological innovation efficiency of China's high-tech industries with a two-stage network DEA approach. Socio Econ Plan Sci 71:100810

Wang SB, Zhao C, Liu HB, Tian XL (2020b) Exploring the spatial spillover effects of low-grade coal consumption and influencing factors in China. Resources Policy. 101906 https://doi-org.oca.ucsc.edu/10.1016/j.resourpol.2020.101906

Wei ZX, Han BT, Han L, Shi YY (2019) Factor substitution, diversified sources on biased technological progress and decomposition of energy intensity in China's high-tech industry. J Clean Prod 231:87–97

Xie LY (2013) A spatial econometric analysis of impact of Chinese provinces' R&D investment on economic growth. China Soft Sci 9:37–47 (In Chinese)

Xie R, Fang JY, Liu CJ (2016) Impact and Spatial Spillover Effect of Transport Infrastructure on Urban Environment. Energy Procedia 104:227–232

Xu B, Lin BQ (2017) Does the high–tech industry consistently reduce CO2 emissions? Results from nonparametric additive regression model. Environ Impact Assess Rev 63:44–58

Xu B, Lin BQ (2018) Investigating the role of high-tech industry in reducing China's CO2 emissions: a regional perspective. J Clean Prod 177:169–177

Xu L, Tan JL (2020) Financial development, industrial structure and natural resource utilization efficiency in China. Res Policy 66:101642

Yang TR, Liu WL (2018) Does air pollution affect public health and health inequality? Empirical evidence from China. J Clean Prod 203:43–52

Yu L, Liu XQ, Fung HG, Leung WK (2020) Size and value effects in high-tech industries: the role of R&D investment. N Am J Econ Financ 51:100853

Yuan B, Zhang Y (2020) Flexible environmental policy, technological innovation and sustainable development of China's industry: The moderating effect of environment regulatory enforcement. J Clean Prod 243:118543

Yuan XL, Mi M, Mu RM, Zuo J (2013) Strategic route map of sulphur dioxide reduction in China. Energy Policy 60:844–851

Zeng JY, He QQ (2019) Does industrial air pollution drive health care expenditures? Spatial evidence from China. J Clean Prod 218:400–408

Zhang LL, Xiong LC, Cheng BD, Yu C (2018) How does foreign trade influence China's carbon productivity? Based on panel spatial lag model analysis. Struct Chang Econ Dyn 47:171–179

Zhang B, Lou Y, Chiu YH (2019a) Efficiency evaluation of China's high-tech industry with a multi-activity network data envelopment analysis approach. Socio Econ Plan Sci 66:2–9

Zhang XP, Zhang HN, Yuan JH (2019b) Economic growth, energy consumption, and carbon emission nexus: fresh evidence from developing countries. Environ Sci Pollut Res 26:26367–26380

Zhou H, Qu SJ, Wu Z, Ji Y (2020) A study of environmental regulation, technological innovation, and energy consumption in China based on spatial econometric models and panel threshold models. Environ Sci Pollut Res 27:37894–37910
Funding
Financial support was provided by the "Young Innovative Talents" program of Harbin University of Commerce [2019CX16] and the graduate innovation project of Harbin University of Commerce [YJSCX2020-647HSD].
Ethics declarations
Ethics approval and consent to participate
This study involves the macro data of human economy and society. All the data are from the official statistical yearbook. The data collection process is in line with the ethical and moral standards. The research method of this study is spatial econometric method, and there is no need for ethical approval and animal experiment content. The author guarantees that the process, content and conclusion of this study do not violate the theory and moral principles.
Consent for publication
Not applicable.
Competing interests
The authors declare that they have no competing interests.
Additional information
Publisher's note
Springer Nature remains neutral with regard to jurisdictional claims in published maps and institutional affiliations.
Highlights
1. Adopts three indicators to comprehensively reflect the regional SO2 emission reduction capacity, namely, SO2 emissions, SO2 removal quantity, and SO2 removal rate.
2. R&D of high-tech shows negative influence on SO2 emission reduction of the province but a positive spillover effect on SO2 emission
3. Expansion of high-tech shows positive influence on SO2 emission reduction both the province and surrounding areas.
Responsible editor: Philippe Garrigues
Appendix
Appendix
About this article
Cite this article
Lou, L., Li, J. & Zhong, S. Sulfur dioxide (SO2) emission reduction and its spatial spillover effect in high-tech industries: based on panel data from 30 provinces in China. Environ Sci Pollut Res (2021). https://doi.org/10.1007/s11356-021-12755-7
Received:

Accepted:

Published:
Keywords
Sulfur dioxide emission reduction

High-tech industry

Spatial econometric model

China