Abstract
Even though soil acidification can cause significant destabilizing effects on various geotechnical issues, studies have rarely been conducted to determine the influence of soil structure on the impact of acid-contaminated soil. The current work aims to understand the effect of acid fluids on engineering behavior of undisturbed loess through laboratory tests. The sampling site is in a typical region of Loess Plateau, China. The variations in particle size distribution, Atterberg limits, uniaxial compression strength, and permeability were investigated with the help of microstructure for a better understanding of the governing mechanism of undisturbed loess subjected to acid fluids. It was found that exposure to acid fluids can improve the particle size distribution of loess. In contrast, the experimental results indicated that acid fluids can decrease Atterberg limits and strength and permeability of loess, although Atterberg limits and strength of loess are considerably increased in a highly sulfuric acid environment. Then, analyzing the engineering response in the light of microstructure revealed that the face-to-face contacts primarily exist in loess prepared with hydrochloric acid and nitric acid, respectively, whereas the mosaic structure is indeed active in sulfur-contaminated loess. Furthermore, a micro-conceptual structure was proposed based on the experiment led to the conclusion that the cementitious salt and structural characteristics play a dominant role in governing the engineering behavior of loess under acidic conditions.
Access options
Buy single article
Instant access to the full article PDF.
US$ 39.95
Tax calculation will be finalised during checkout.
Subscribe to journal
Immediate online access to all issues from 2019. Subscription will auto renew annually.
US$ 79
Tax calculation will be finalised during checkout.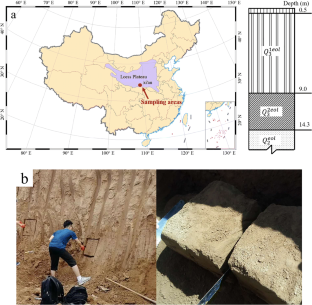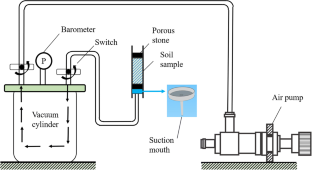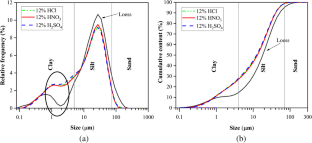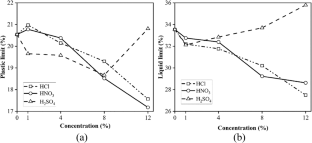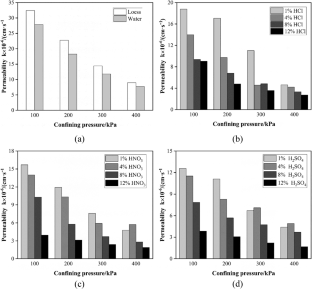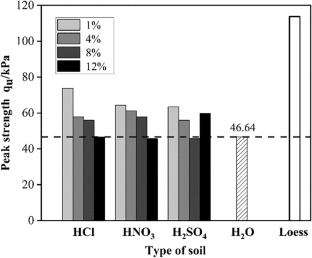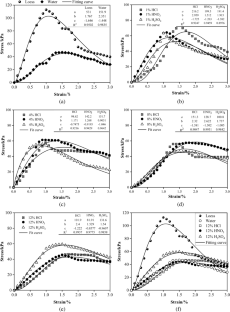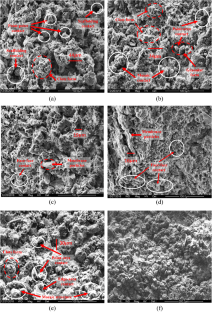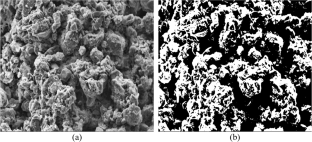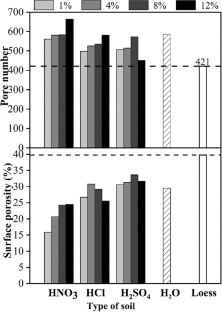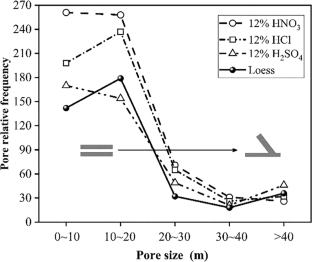 Data availability
Data supporting the findings are available from the corresponding author upon reasonable request.
References
Alshammari AM, Baghabra Al-Amoudi OS, Aiban SA, Saleh TA (2019) Phosphoric acid contaminated calcareous soils: volume change and morphological properties. Powder Technol 352(12):340–349

Anandarajah A, Zhao D (2000) Triaxial behavior of kaolinite in different pore fluids. J Geotech Geoenviron 126(2):148–156

Assallay AM, Rogers CDF, Smalley IJ (1997) Formation and collapse of metastable particle packings and open structures in loess deposits. Eng Geol 48(1):101–115

Bakhshipour Z, Asadi A, Huat BBK, Sridharan A, Kawasaki S (2016) Effect of acid rain on geotechnical properties of residual soils. Soils Found 56(6):1008–1020

Benna M, Kbir-Ariguib N, Magnin A, Bergaya F (1999) Effect of pH on rheological properties of purified sodium bentonite suspensions. J Colloid Interface Sci 218(2):442–455

Chen J (2007) Rapid urbanization in China: a real challenge to soil protection and food security. Catena 69(1):1–15

Chi M (1999) Cation exchange capacity of kaolinite. Clay Clay Miner 47(2):174–180

Delage P (2010) A microstructure approach to the sensitivity and compressibility of some Eastern Canada sensitive clays. Géotechnique 60(5):353–368

Du YJ, Wu J, Bo YL, Jiang NJ (2020) Effects of acid rain on physical, mechanical and chemical properties of GGBS–MgO-solidified/stabilized Pb-contaminated clayey soil. Acta Geotech 15(4):923–932

Eisazadeh A, Kassim KA, Nur H (2013) Morphology and BET surface area of phosphoric acid stabilized tropical soils. Eng Geol 154:36–41

Gajo A, Maines M (2007) Mechanical effects of aqueous fluids of inorganic acids and bases on a natural active clay. Géotechnique 57(8):687–699

Gao YB, Liu JD, Wang YY (2018) Plasticity and its relationship with mechanical properties of a remolded silty clay contaminated by several acids and bases. Chin J Geotech Eng 40(11):2103–2109 (in Chinese)

Gates WP, Anderson JS, Raven MD, Churchman GJ (2002) Mineralogy of a bentonite from Miles, Queensland, Australia and characterisation of its acid activation products. Appl Clay Sci 20(4):189–197

GB/T50123-2019, M o C, Ministry of Water Resources (2019) China national standards GB/T50123-2019: Standard for Geotechnical Testing Method. China Planning Press, Beijing (in Chinese).

Gratchev I, Towhata I (2013) Stress–strain characteristics of two natural soils subjected to long-term acidic contamination. Soils Found 53(3):469–476

Hamdi N, Srasra E (2008) Interaction of aqueous acidic-fluoride waste with natural Tunisian soil. Clay Clay Miner 56(2):259–271

Hamdi N, Srasra E (2013) Hydraulic conductivity study of compacted clay soils used as landfill liners for an acidic waste. Waste Manag 33(3):60–66

Hamdi N, Della MH, Srasra E (2005) Experimental study of the permeability of clays from the potential sites for acid effluent storage. Desalination 185(1):523–534

He JT, Liu H, Wang TH, Guo CY (2019) A temperature-controllable air pressure device for preparing contaminated loess samples. China Patent 201821913733.4

Hu ZQ, Zhang Y, Yue WQ, Song CY, Xue T, He XN (2017) Collapsible tests of loess under acid conditions and related sensitivity analysis. Chin J Rock Mech Eng 36(7):1748–1756 (in Chinese)

Jiang MJ, Hu HJ, Liu F (2012) Summary of collapsible behaviour of artificially structured loess in oedometer and triaxial wetting tests. Can Geotech J 49(10):1147–1157

Jin X, Wang TH, Yu KK et al (2016) Research of engineering properties for sodium hydroxide solution reinforced loess. J Xi'an Univ Arch Tech (Nat Sci Ed) 48(3):383–387 (in Chinese)

Jozefaciuk G (2002) Effect of acid and alkali treatments on surface-charge properties of selected minerals. Clay Clay Miner 50(5):647–656

Kamon M, Ying C, Katsumi T (1996) Effect of acid rain on lime and cement stabilized soils. Soils Found 36(4):91–99

Kamon M, Ying C, Katsumi T (1997) Effect of acid rain on physico-chemical and engineering properties of soils. Soils Found 37(4):23–32

Li P, Vanapalli S, Li T (2016) Review of collapse triggering mechanism of collapsible soils due to wetting. J Rock Mech Geotech Eng 8(2):256–274

Liu ZD (1997) Mechanics and engineering of loess. Science and Technology Press, Shaanxi, pp 140–142

Liu HL, Zhu CP, Zhang XL (2008) Fundamental physical properties of soil polluted by acid and alkali in laboratory. Chin J Geotech Eng 30(8):1213–1217 (in Chinese)

Liu Z, Liu FY, Ma FL, Wang M, Bai XL, Zheng YL, Yin H, Zhang GP (2016) Collapsibility, composition, and microstructure of loess in China. Can Geotech J 53(4):673–686

Musso G, Morales Romero E, Gens A, Castellanos E (2003) The role of structure in the chemically induced deformations of FEBEX bentonite. Appl Clay Sci 23(1):229–237

Nayak S, Sunil BM, Shrihari S (2007) Hydraulic and compaction characteristics of leachate-contaminated lateritic soil. Eng Geol 94(3):137–144

Nouaouria MS, Guenfoud M, Lafifi B (2008) Engineering properties of loess in Algeria. Eng Geol 99(1):85–90

O'Kelly BC, Vardanega PJ, Haigh SK (2018) Use of fall cones to determine Atterberg limits: a review. Géotechnique 68(10):843–856

Pedrotti M, Tarantino A (2018) An experimental investigation into the micromechanics of non-active clays. Géotechnique 68(8):666–683

Rama Vara Prasad C, Hari Prasad Reddy P, Ramana Murthy V, Sivapullaiah PV (2018) Swelling characteristics of soils subjected to acid contamination. Soils Found 58(1):110–121

Roscoe KH, Schofield AN, Thurairajah A (1963) Yielding of clays in states wetter than critical. Géotechnique 13(3):211–240

Schad P (2016) The International Soil Classification System WRB, Third Edition, 2014[M]//Novel methods for monitoring and managing land and water resources in Siberia. Springer International Publishing

Singh PN, Wallender WW (2008) Effects of adsorbed water layer in predicting saturated hydraulic conductivity for clays with Kozeny–Carman equation. J Geotech Geoenviron 134:829–836

Sunil BM, Nayak S, Shrihari S (2006) Effect of pH on the geotechnical properties of laterite. Eng Geol 85(1):197–203

Wahid AS, Gajo A, Di Maggio R (2011) Chemo-mechanical effects in kaolinite. Part 2: exposed samples and chemical and phase analyses. Géotechnique 61(6):449–457

Wang YH, Siu WK (2006a) Structure characteristics and mechanical properties of kaolinite soils. I Surface charges and structural characterizations. Can Geotech J 43(6):587–600

Wang YH, Siu WK (2006b) Structure characteristics and mechanical properties of kaolinite soils. II Effects of structure on mechanical properties. Can Geotech J 43(6):601–617

Wang XM, Chen SX, Cheng CB (2013) Experimental study on physico-mechanical characteristics of undisturbed loess soaked in acid solution. Chin J Geotech Eng 35(9):1619–1626 (in Chinese)

Xu L, Coop MR (2016) Influence of structure on the behavior of a saturated clayey loess. Can Geotech J 53(6):1026–1037

Zhai YZ, Lei Y, Wu J, Teng YG, Wang JS, Zhao XB, Pan XD (2017) Does the groundwater nitrate pollution in China pose a risk to human health? A critical review of published data. Environ Sci Pollut Res 24(4):3640–3653

Zhang Y, Hu ZQ, Xue ZJ (2018) Improving the structure and mechanical properties of loess by acid solutions – an experimental study. Eng Geol 244(3):132–145

Zhang SC, Liu H, Chen WH, Niu FJ, Niu ZL (2020) Strength deterioration model of remolded loess contaminated with acid and alkali solution under freeze-thaw cycles. Bull Eng Geol Environ 79(5):3007–3018
Acknowledgements
We are grateful to Mr Chao-yi Guo for his help during the test, which greatly promoted our innovative work.
Funding
This research was supported by the National Natural Science Foundation of China (Grant No. 51608436), the Natural Science Foundation of Shaanxi Province (2018JQ5003), and the Natural Science Program of Shaanxi Education Department (18JK0478).
Ethics declarations
Ethics approval
Not applicable
Consent to participate
Not applicable
Consent to publish
Yes, approval of all authors
Competing interests
The authors declare no competing interests.
Additional information
Publisher's note
Springer Nature remains neutral with regard to jurisdictional claims in published maps and institutional affiliations.
Responsible Editor: Kitae Baek
About this article
Cite this article
Liu, H., He, Jt., Zhao, Q. et al. An experimental investigation on engineering properties of undisturbed loess under acid contamination. Environ Sci Pollut Res (2021). https://doi.org/10.1007/s11356-021-12749-5
Received:

Accepted:

Published:
Keywords
Undisturbed loess

Hydrochloric acid

Nitric acid

Sulfuric acid

Engineering properties

Microstructure

Soil pore structure