Abstract
The effects of biochar application combined with different forms and rates of inorganic nitrogen (N) addition on nitrous oxide (N2O) emissions from forest soils have not been well documented. A microcosm experiment was conducted to study the effects of rice husk and its biochar in combination with the addition of N fertilizers in different forms (ammonium [NH4+] and nitrate [NO3−]) and rates (equivalent to 150 and 300 kg N ha−1 yr−1) on N2O emissions from Lei bamboo (Phyllostachys praecox) soils. The application of rice husk significantly increased cumulative N2O emissions under the addition of both NO3−-N and NH4+-N. Biochar significantly reduced cumulative N2O emissions by 15.2 and 5.8 μg N kg−1 when co-applied with the low and high rates of NO3−–N, respectively, compared with the respective NO3−-N addition rate without biochar. There was no significant difference in soil N2O emissions between the two NH4+-N addition rates, and cumulative N2O emission decreased with increasing soil NH4+-N concentration, mainly due to the toxic effect caused by the excessive NH4+-N on soil N2O production from the nitrification process. Cumulative N2O emissions recorded 18.74 and 14.04 μg N kg−1 under low and high rates of NO3−-N addition, respectively, which were higher than those produced by NH4+-N addition. Our study demonstrated that the conversion of rice husk to biochar could reduce N2O emissions under the addition of different N forms and rates. Moreover, rice husk or its biochar in combination with NH4+-N fertilizer produced less N2O in Lei bamboo soil, compared with NO3−-N fertilizer.
Access options
Buy single article
Instant access to the full article PDF.
US$ 39.95
Tax calculation will be finalised during checkout.
Subscribe to journal
Immediate online access to all issues from 2019. Subscription will auto renew annually.
US$ 79
Tax calculation will be finalised during checkout.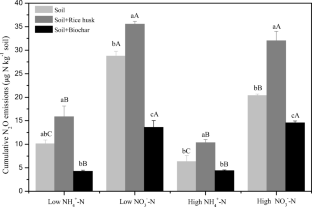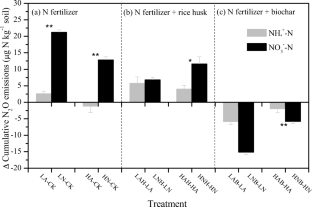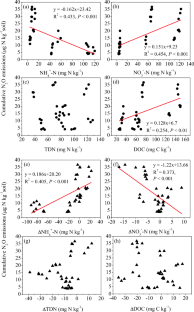 Data availability
The datasets used and/or analyzed during the current study are available from the corresponding author on reasonable request.
References
Abalos D, Sanz-Cobena A, Garcia-Torres L, van Groenigen JW, Vallejo A (2013) Role of maize stover incorporation on nitrogen oxide emissions in a non-irrigated Mediterranean barley field. Plant Soil 364:357–371

Abbruzzini TF, Davies CA, Toledo FH, Cerri CEP (2019) Dynamic biochar effects on nitrogen use efficiency, crop yield and soil nitrous oxide emissions during a tropical wheat-growing season. J Environ Manage 252:109638

Ahmad M, Lee SS, Rajapaksha AU, Vithanage M, Zhang M, Cho JS, Lee SE, Ok YS (2013) Trichloroethylene adsorption by pine needle biochars produced at various pyrolysis temperatures. Bioresour Technol 143:615–622

Aulakh MS, Doran JW, Walters DT, Mosier AR, Francis DD (1991) Crop residue type and placement effects on denitrification and nineralization. Soil Sci Soc Am J 55:1020–1025

Baggs EM, Rees RM, Smith KA, Vinten AJA (2000) Nitrous oxide emission from soils after incorporating crop residues. Soil Use Manage 16:82–87

Baggs EM, Stevenson M, Pihlatie M, Regar A, Cook H, Cadisch G (2003) Nitrous oxide emissions following application of residues and fertiliser under zero and conventional tillage. Plant Soil 254:361–370

Baggs L, Smales C, Bateman E (2010) Changing pH shifts the microbial sourceas well as the magnitude of N2O emission from soil. Biol Fertil Soils 46:793–805

Brassard P, Godbout S, Palacios JH, Jeanne T, Hogue R, Dube P, Limousy L, Raghavan V (2018) Effect of six engineered biochars on GHG emissions from two agricultural soils: a short-term incubation study. Geoderma 327:73–84

Bremner JM (1960) Determination of nitrogen in soil by the Kjeldahl method. J Agric Sci 55:11–33

Brumme R (1995) Mechanisms of carbon and nutrient release and retention in beech forest gaps. Plant Soil 168:593–600

Butterbach-Bahl K, Baggs EM, Dannenmann M, Kiese R, Zechmeister-Boltenstern S (2013) Nitrous oxide emissions from soils: how well do we understand the processes and their controls? Philos Trans R Soc B Biol Sci 368:20130122

Case SDC, McNamara NP, Reay DS, Stott AW, Grant HK, Whitaker J (2015) Biochar suppresses N2O emissions while maintaining N availability in a sandy loam soil. Soil Biol Biochem 81:178–185

Chandra S, Medha I, Bhattacharya J (2020) Potassium-iron rice straw biochar composite for sorption of nitrate, phosphate, and ammonium ions in soil for timely and controlled release. Sci Total Environ 712:136337

Chen CR, Phillips IR, Condron LM, Goloran J, Xu ZH, Chan KY (2013) Impacts of greenwaste biochar on ammonia volatilisation from bauxite processing residue sand. Plant Soil 367:301–312

Chen SY, Lai CM, Ke GR (2011) Effects of rice husk biochar amendment on soil properties, carbon sequestration and greenhouse gas emissions. Taiwan J Agric Chem Food Sci 49:131–140

Cheng CH, Lehmann J, Engelhard MH (2008) Natural oxidation of black carbon in soils: changes in molecular form and surface charge along a climosequence. Geoch Cosmoch Acta 72:1598–1610

Clark CM, Bai Y, Bowman WD, Cowles JM, Fenn ME, Gilliam FS, Phoenix GK, Siddique I, Stevens CJ, Sverdrup HU (2013) Nitrogen deposition and terrestrial biodiversity. Encyclopedia of Biodiversity (Second Edition) 56(7):519-536

Clayton H, McTaggart IP, Parker J, Swan L, Smith KA (1997) Nitrous oxide emissions from fertilised grassland: a 2-year study of the effects of N fertiliser form and environmental conditions. Biol Fertil Soils 25:252–260

Clough TJ, Condron LM (2010) Biochar and the nitrogen cycle: introduction. J Environ Qual 39:1218–1223

Clough TJ, Sherlock RR, Mautner MN, Milligan DB, Wilson PF, Freeman CG, McEwan MJ (2003) Emission of nitrogen oxides and ammonia from varying rates of applied synthetic urine and correlations with soil chemistry. Aust J Soil Res 41:421–438

Cowan N, Levy P, Moring A, Simmons I, Bache C, Stephens A, Marinheiro J, Brichet J, Song L, Pickard A, McNeill C, McDonald R, Maire J, Loubet B, Voylokov P, Sutton M, Skiba U (2019) Nitrogen use efficiency and N2O and NH3 losses attributed to three fertiliser types applied to an intensively managed silage crop. Biogeosciences 16:4731–4745

Cui XQ, Hao HL, Zhang CK, He ZL, Yang XE (2016) Capacity and mechanisms of ammonium and cadmium sorption on different wetland-plant derived biochars. Sci Total Environ 539:566–575

Dai HN, Scheer C, Rowlings DW, Grace PR (2016) Rice husk biochar and crop residue amendment in subtropical cropping soils: effect on biomass production, nitrogen use efficiency and greenhouse gas emissions. Biolb Fertil Soils 52:261–270

Ding Y, Liu YX, Wu WX, Shi DZ, Yang M, Zhong ZK (2010) Evaluation of biochar effects on nitrogen retention and leaching in multi-layered soil columns. Water Air Soil Pollut 213:47–55

Dong W, Walkiewicz A, Bieganowski A, Oenema O, Nosalewicz M, He C, Zhang Y, Hu C (2020) Biochar promotes the reduction of N2O to N2 and concurrently suppresses the production of N2O in calcareous soil. Geoderma 362:114091

Duan P, Zhang X, Zhang Q, Wu Z, Xiong Z (2018) Field-aged biochar stimulated N2O production from greenhouse vegetable production soils by nitrification and denitrification. Sci Total Environ 642:1303–1310

Duxbury JM, Bouldin DR, Terry RE, Tate RL (1982) Emissions of nitrous oxide from soils. Nature 298:462–464

Duxbury JM, McConnaughey PK (1986) Effect of fertilizer source on denitrification and nitrous oxide emissions in a maize field. Soil Sci Soc Am J 50:644–648

El-Naggar A, Awad YM, Tang XY, Liu C, Niazi NK, Jien SH, Tsang DCW, Song H, Ok YS, Lee SS (2018) Biochar influences soil carbon pools and facilitates interactions with soil: a field investigation. Land Degrad Dev 29:2162–2171

El-Naggar A, El-Naggar AH, Shaheen SM, Sarkar B, Chang SX, Tsang DCW, Rinklebe J, Ok YS (2019a) Biochar composition-dependent impacts on soil nutrient release, carbon mineralization, and potential environmental risk: a review. J Environ Manage 241:458–467

El-Naggar A, Lee SS, Rinklebe J, Farooq M, Song H, Sarmah AK, Zimmerman AR, Ahmad M, Shaheen SM, Ok YS (2019b) Biochar application to low fertility soils: a review of current status, and future prospects. Geoderma 337:536–554

Garcia-Ruiz R, Baggs EM (2007) N2O emission from soil following combined application of fertiliser-N and ground weed residues. Plant Soil 299:263–274

Goodroad LL, Keeney DR (1984) Nitrous oxide production in aerobic soils under varying pH, temperature and water-content. Soil Biol Biochem 16:39–43

Hansen S, Froseth RB, Stenberg M, Stalenga J, Olesen JE, Krauss M, Radzikowski P, Doltra J, Nadeem S, Torp T, Pappa V, Watson CA (2019) Reviews and syntheses: review of causes and sources of N2O emissions and NO3− leaching from organic arable crop rotations. Biogeosciences 16:2795–2819

Harter J, Krause HM, Schuettler S, Ruser R, Fromme M, Scholten T, Kappler A, Behrens S (2014) Linking N2O emissions from biochar-amended soil to the structure and function of the N cycling microbial community. ISME J 8:660–674

Henault C, Devis X, Lucas JL, Germon JC (1998) Influence of different agricultural practices (type of crop, form of N-fertilizer) on soil nitrous oxide emissions. Biol Fertil Soils 27:299–306

Huang Y, Zou J, Zheng X, Wang Y, Xingkai X (2004) Nitrous oxide emissions as influenced by amendment of plant residues with different C: N ratios. Soil Biol Biochem 36(6):973–981

Hu Y, Jiang H, Wang F, Xu Z, Chen Y, Ma S, Yan Y, Lu X (2020) Opposite responses of global warming potential to ammonium and nitrate addition in an alpine steppe soil from Northern Tibet. Glob Ecol Conserv 23:e01115

IPCC (2014) Climate Change 2014: synthesis report. Contribution of working groups I, II and III to the fifth assessment report of the intergovernmental panel on climate change [Core Writing Team, R.K. Pachauri and L.A. Meyer (eds.)]. IPCC, Geneva, Switzerland, 151

Jindo K, Mizumoto H, Sawada Y, Sanchez-Monedero MA, Sonoki T (2014) Physical and chemical characterization of biochars derived from different agricultural residues. Biogeosciences 11:6613–6621

Lebender U, Senbayram M, Lammel J, Kuhlmann H (2014) Effect of mineral nitrogen fertilizer forms on N2O emissions from arable soils in winter wheat production. J Plant Nutr Soil Sci 177:722–732

Lehtinen T, Schlatter N, Baumgarten A, Bechini L, Krueger J, Grignani C, Zavattaro L, Costamagna C, Spiegel H (2014) Effect of crop residue incorporation on soil organic carbon and greenhouse gas emissions in European agricultural soils. Soil Use Manage 30:524–538

Li Q, Li P, Zhu P, Wu J, Liang S (2008) Effects of exogenous organic carbon substrates on nitrous oxide emissions during the denitrification process of sequence batch reactors. Environ Engrg Sci 25:1221–1228

Li S, Chen G (2020) Contemporary strategies for enhancing nitrogen retention and mitigating nitrous oxide emission in agricultural soils: present and future. Environ Develop Sustain 22:2703–2741 (In Chinese)

Li T, Zhang W, Yin J, Chadwick D, Norse D, Lu Y, Liu X, Chen X, Zhang F, Powlson D, Dou Z (2018) Enhanced-efficiency fertilizers are not a panacea for resolving the nitrogen problem. Glob Chang Biol 24:e511–e521

Li Y, Jiang P, Chang SX, Wu J, Lin L (2010) Organic mulch and fertilization affect soil carbon pools and forms under intensively managed bamboo (Phyllostachys praecox) forests in southeast China. J Soil Sediment 10:739–747

Liang D, Wu Q, Li S (2007) Influential factors for denitrification and N2O emission in dry land soil. J Northwest A F Univ Nat Sci Ed 35:93–98 (In Chinese)

Liu S, Lin F, Wu S, Ji C, Sun Y, Jin Y, Li S, Li Z, Zou J (2017) A meta-analysis of fertilizer-induced soil NO and combined NO+N2O emissions. Glob Chang Biol 23:2520–2532

Liu X, Dong Y, Qi Y, Peng Q, He Y, Sun L, Jia J, Guo S, Cao C, Yan Z, Liu X (2015) Response of N2O emission to water and nitrogen addition in temperate typical steppe soil in Inner Mongolia, China. Soil Till Res 151:9–17

Liu X, Shi Y, Zhang Q, Li G (2020) Effects of biochar on nitrification and denitrification-mediated N2O emissions and the associated microbial community in an agricultural soil. Environ Sci Pollut Res

Ludwig B, Wolf I, Teepe R (2004) Contribution of nitrification and denitrification to the emission of N2O in a freeze-thaw event in an agricultural soil. J Plant Nutr Soil Sci 167:678–684

Mera F, Xu C (2014) Plantation management and bamboo resource economics in China. Ciencia y Tecnología 7:1–12

Peng Q, Qi Y, Dong Y, Xiao S, He Y (2011) Soil nitrous oxide emissions from a typical semiarid temperate steppe in inner Mongolia: effects of mineral nitrogen fertilizer levels and forms. Plant Soil 342:345–357

Prather M, Ehhalt D (2001) Atmospheric chemistry and greenhouse gases. In: Houghton J, Ding J, Griggs M, Noguer P, van der Linden P, Xiaosu D (eds) Climate change 2001: the scientific basis. Cambridge University Press, Cambridge (Chapter 4)

Prommer J, Wanek W, Hofhansl F, Trojan D, Offre P, Urich T, Schleper C, Sassmann S, Kitzler B, Soja G, Hood-Nowotny RC (2014) Biochar decelerates soil organic nitrogen cycling but stimulates soil nitrification in a temperate arable field trial. PLoS One 9:e86388

Rajapaksha AU, Ok YS, El-Naggar A, Kim H, Song F, Kang S, Tsang YF (2019) Dissolved organic matter characterization of biochars produced from different feedstock materials. J Environ Manage 233:393–399

Rubasinghege G, Spak SN, Stanier CO, Carmichael GR, Grassian VH (2011) Abiotic mechanism for the formation of atmospheric nitrous oxide from ammonium nitrate. Environ Sci Technol 45:2691–2697

Ruser R, Schulz R (2015) The effect of nitrification inhibitors on the nitrous oxide (N2O) release from agricultural soils—a review. J Plant Nutr Soil Sci 178:171–178

Saarnio S, Heimonen K, Kettunen R (2013) Biochar addition indirectly affects N2O emissions via soil moisture and plant N uptake. Soil Biol Biochem 58:99–106

Shen J, Tang H, Liu J, Wang C, Li Y, Ge T, Jones DL, Wu J (2014) Contrasting effects of straw and straw-derived biochar amendments on greenhouse gas emissions within double rice cropping systems. Agric Ecosys Environ 188:264–274

Silva RG, Cameron KC, Di HJ, Hendry T (1999) A lysimeter study of the impact of cow urine, dairy shed effluent, and nitrogen fertiliser on nitrate leaching. Aust J Soil Res 37:357–369

Skinner C, Gattinger A, Krauss M, Krause HM, Mayer J, van der Heijden MGA, Mader P (2019) The impact of long-term organic farming on soil-derived greenhouse gas emissions. Sci Rep 9:1702

Song Y, Li Y, Cai Y, Fu S, Luo Y, Wang H, Liang C, Lin Z, Hu S, Li Y, Chang SX (2019) Biochar decreases soil N2O emissions in Moso bamboo plantations through decreasing labile N concentrations, N-cycling enzyme activities and nitrification/denitrification rates. Geoderma 348:135–145

Uchida Y, Moriizumi M, Shimotsuma M (2019) Effects of rice husk biochar and soil moisture on the accumulation of organic and inorganic nitrogen and nitrous oxide emissions during the decomposition of hairy vetch (Vicia villosa) mulch. Soil Sci Plant Nutr 65:409–418

Wang B, Lehmann J, Hanley K, Hestrin R, Enders A (2015) Adsorption and desorption of ammonium by maple wood biochar as a function of oxidation and pH. Chemosphere 138:120–126

Wang F, Bai L, Zhang K, Huang Z, Yang P, Zhang J (2009) Effects of nitrogen application on N2O flux from fluvo-aquic soil subject to freezing and thawing process. Environ Sci 30:3142–3145

Wang M, Zhou J, Shao X, Xu M, Zhang Y (2018) The exploration of moderate scale management of Zhejiang Lin'an lei bamboo forest. World Bamboo Rattan Comm 16:17–25 (In Chinese)

Wang Y, Cheng S, Fang H, Yu G, Minjie X, Dang X, Linsen L, Wang L (2014) Simulated nitrogen deposition reduces CH4 uptake and increases N2O emission from a subtropical plantation forest soil in southern China. PLoS One 9:e93571

Wolf I, Brumme R (2002) Contribution of nitrification and denitrification sources for seasonal N2O emissions in an acid German forest soil. Soil Biol Biochem 34:741–744

Xiao Y, Che Y, Zhang F, Li Y, Liu M (2018) Effects of biochar, N fertilizer, and crop residues on greenhouse gas emissions from acidic soils. Clean Soil Air Water 46:1700346

Xu M, Zhuang S, Gui R (2017) Soil hypoxia induced by an organic-material mulching technique stimulates the bamboo rhizome up-floating of phyllostachys praecox. Sci Rep 7:14353

Xu YB, Cai ZC (2007) Denitrification characteristics of subtropical soils in China affected by soil parent material and land use. Eur J Soil Sci 58:1293–1303

Xu Z, Zu X, Xu J, Zhou H, Yang W (2015) The status and problem analysis of fertilization in the bamboo forest in Lin'an. J Agron 5:53–56

Yanai Y, Toyota K, Okazaki M (2007) Effects of charcoal addition on N2O emissions from soil resulting from rewetting air-dried soil in short-term laboratory experiments. Soil Sci Plant Nutr 53:181–188

Yang X, Tsibart A, Nam H, Hur J, El-Naggar A, Tack FMG, Wang CH, Lee YH, Tsang DCW, Ok YS (2019) Effect of gasification biochar application on soil quality: trace metal behavior, microbial community, and soil dissolved organic matter. J Hazard Mater 365:684–694

Yao ZS, Yan G, Wang R, Zheng X, Liu C, Butterbach-Bahl K (2019) Drip irrigation or reduced N-fertilizer rate can mitigate the high annual N2O+NO fluxes from Chinese intensive greenhouse vegetable systems. Atmos Environ 212:183–193

Zhang H, Voroney RP, Price GW (2015) Effects of temperature and processing conditions on biochar chemical properties and their influence on soil C and N transformations. Soil Biol Biochem 83:19–28

Zhang J, Cai Z, Yang W, Zhu T, Yu Y, Yan X, Jia Z (2012) Long-term field fertilization affects soil nitrogen transformations in a rice-wheat-rotation cropping system. J Plant Nutr Soil Sci 175:939–946

Zhang L, Song C, Wang D, Wang Y (2007) Effects of exogenous nitrogen on freshwater marsh plant growth and N2O fluxes in Sanjiang Plain, Northeast China. Atmos Environ 41:1080–1090

Zhang W, Mo J, Yu G, Fang Y, Li D, Lu X, Wang H (2008) Emissions of nitrous oxide from three tropical forests in Southern China in response to simulated nitrogen deposition. Plant Soil 306:221–236

Zhang X, Zhong Z, Gai X, Du X, Bian F, Yang C, Gao G, Wen X (2019) Changes of root endophytic bacterial community along a chronosequence of intensively managed lei bamboo (Phyllostachys praecox) forests in subtropical China. Microorganisms 7:616

Zheng N, Yu Y, Shi W, Yao H (2019) Biochar suppresses N2O emissions and alters microbial communities in an acidic tea soil. Environ Sci Pollut Res 26:35978–35987
Acknowledgements
We would like to thank Xiuling Wang and Gaodi Zhu for their help in laboratory work and data analyses.
Funding
This research was funded by National Natural Science Foundation of China (41877085, 41877088), Research and Development Fund of Zhejiang A&F University (2018FR005, 2018FR006), and Open Research Fund Program of the State Key Laboratory of Subtropical Silviculture, Zhejiang A&F University (ZY20180301, ZY20180205).
Ethics declarations
Ethics approval and consent to participate
Not applicable
Consent for publication
Not applicable
Conflict of interest
The authors declare that they have no conflict of interest.
Additional information
Publisher's note
Springer Nature remains neutral with regard to jurisdictional claims in published maps and institutional affiliations.
Responsible Editor: Zhihong Xu
Supplementary information
About this article
Cite this article
Zhou, R., El-Naggar, A., Li, Y. et al. Converting rice husk to biochar reduces bamboo soil N2O emissions under different forms and rates of nitrogen additions. Environ Sci Pollut Res (2021). https://doi.org/10.1007/s11356-021-12744-w
Received:

Accepted:

Published:
Keywords
Exogenous carbon

Greenhouse gas

Lei bamboo forest

Nitrogen form

Nitrogen rate