Abstract
Cold chain, which affects human health and quality of life, is applied for temperature-sensitive and perishable products. Any problems occurring in the cold chain can cause deterioration in products, causing poisoning, death, or various diseases. There are many stages in the cold chain itself and the risk significance level of each stage is different. Therefore, the risks that occur depending on the weight of the stages in the cold chain should be defined and minimized and action plans are needed to be formed. Every action in the action plan cannot be implemented simultaneously since each action requires a different amount of budget and time resources of the companies are finite. Hence, the risks occurring in the cold chain should be minimized with the maximum use of limited company resources. In this study, an integrated mathematical model with analytical hierarchy method and failure mode and effect analysis is proposed that will maximize the weighted risk reduction amount by considering the budget and time constraints of the companies at the same time. The proposed approach has been applied in the 3PL service provider and the results are discussed. According to the results of the study where maximum benefit is aimed with the actions taken against the dangers, the maximum objective function value was obtained at the second and third levels of the workforce and budget values by evaluating the different situations with scenario analyses. In this solution, it is foreseen that by taking 5 actions, improvement will be made in 14 hazards.
We're sorry, something doesn't seem to be working properly.
Please try refreshing the page. If that doesn't work, please contact support so we can address the problem.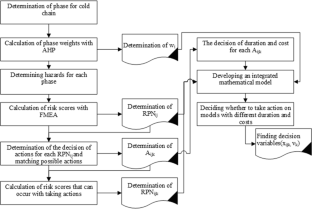 Data Availability
All data and materials are available in manuscript.
References
Apaiah RK, Hendrix EM, Meerdink G, Linnemann AR (2005) Qualitative methodology for efficient food chain design. Trends Food Sci Technol 16(5):204–214

Aqlan F, Lam SS (2015) Supply chain risk modeling and mitigation. Int J Prod Res 53(18):5640–5656

Asgari N, Hassani A, Jones D, Nguye HH (2015) Sustainability ranking of the UK major ports: Methodology and case study. Transportation Research Part E: Logistics and Transportation Review 78:19–39

Azaron A, Brown KN, Tarim SA, Modarres M (2008) A multi-objective stochastic programming approach for supply chain design considering risk. Int J Prod Econ 116(1):129–138

Basole RC, Bellamy MA (2012) Global supply network health: analysis and visualization. Inform Knowl Syst Manag 11(1, 2):59–76

Basole RC, Bellamy MA (2014) Visual analysis of supply network risks: Insights from the electronics industry. Decis Support Syst 67:109–120

Bengiovanni T, Rosito RC, Lacasa V, Simone E, Sergi I, Iacovone V, ..., & Patrono L (2020). Risk management and healthcare: IoT Technologies and smart monitoring system for a good cold chain management. In 2020 5th International Conference on Smart and Sustainable Technologies (SpliTech) (pp. 1-6). IEEE.

Berle Ø, Rice JB Jr, Asbjørnslett BE (2011) Failure modes in the maritime transportation system: a functional approach to throughput vulnerability. Marit Policy Manag 38(6):605–632

Blackburn J, Scudder G (2009) Supply chain strategies for perishable products: the case of fresh produce. Prod Oper Manag 18(2):129–137

Bilgen B, Çelebi Y (2013) Integrated production scheduling and distribution planning in dairy supply chain by hybrid modelling. Ann Oper Res 211(1):55–82

Bilir C, Ekici SO, Ulengin F (2017) An integrated multi-objective supply chain network and competitive facility location model. Comput Ind Eng 108:136–148

Bilska B, Kołożyn-Krajewska D (2019) Risk management of dairy product losses as a tool to improve the environment and food rescue. Foods 8(10):481

Cagliano AC, De Marco A, Grimaldi S, Rafele C (2012) An integrated approach to supply chain risk analysis. J Risk Res 15(7):817–840

Chapman P, Christopher M, Jüttner U, Peck H, Wilding R (2002) Identifying and managing supply chain vulnerability. Logist Transp Focus 4(4):59–70

Chatterjee K, Kar S (2016) Multi-criteria analysis of supply chain risk management using interval valued fuzzy TOPSIS. Opsearch 53(3):474–499

Chen J, Chen T, Ying S, & Shi C (2011). Safety management of work vessel in deep water based on fault tree analysis. In 2011 International Conference of Information Technology, Computer Engineering and Management Sciences (Vol. 3, pp. 377-380). IEEE.

Coulomb D (2008) Refrigeration and cold chain serving the global food industry and creating a better future: two key IIR challenges for improved health and environment. Trends Food Sci Technol 19(8):413–417

Dani S, Deep A (2010) Fragile food supply chains: reacting to risks. Int J Log Res Appl 13(5):395–410

Derse, O., & Göçmen, E. (2019). Transportation mode choice using fault tree analysis and mathematical modeling approach. J Trans Saf Sec, 1-19.

Diabat A, Govindan K, Panicker VV (2012) Supply chain risk management and its mitigation in a food industry. Int J Prod Res 50(11):3039–3050

Duret S, Hoang HM, Derens-Bertheau E, Delahaye A, Laguerre O, Guillier L (2019) Combining quantitative risk assessment of human health, food waste, and energy consumption: the next step in the development of the food cold chain? Risk Anal 39(4):906–925

Faghih-Roohi S, Akcay A, Zhang Y, Shekarian E, de Jong E (2020) A group risk assessment approach for the selection of pharmaceutical product shipping lanes. Int J Prod Econ 229:107774

Fazli Besheli S, Nemati Keshteli R, Emami S, Rasouli SM (2017) A fuzzy dynamic multi-objective, multi-item model by considering customer satisfaction in supply chain. Sci Iran 24(5):2623–2639

Gaudenzi B, Borghesi A (2006) Managing risks in the supply chain using the AHP method. Int J Logist Manag 17(1):114–136

Ghandforoush P, Sen TK (2010) A DSS to manage platelet production supply chain for regional blood centers. Decis Support Syst 50(1):32–42

Goh M, Lim JY, Meng F (2007) A stochastic model for risk management in global supply chain networks. Eur J Oper Res 182(1):164–173

Ho W, Zheng T, Yildiz H, Talluri S (2015) Supply chain risk management: a Literatüre review. Int J Prod Res 53(16):5031–5069

Huchzermeier A, Cohen MA (1996) Valuing operational flexibility under exchange rate risk. Oper Res 44(1):100–113

James SJ, James C (2010) The food cold-chain and climate change. Food Res Int 43(7):1944–1956

Joshi R, Banwet DK, Shankar R (2009) Indian cold chain: modeling the inhibitors. Br Food J 111:1260–1283

Kara ME, Fırat SÜO, Ghadge A (2020) A data mining-based framework for supply chain risk management. Comput Ind Eng 139:105570

Kuo JC, Chen MC (2010) Developing an advanced multi-temperature joint distribution system for the food cold chain. Food Control 21(4):559–566

Lahou E, Jacxsens L, Verbunt E, Uyttendaele M (2015) Evaluation of the food safety management system in a hospital food service operation toward Listeria monocytogenes. Food Control 49:75–84

Lei X, MacKenzie CA (2019) Assessing risk in different types of supply chains with a dynamic fault tree. Comput Ind Eng 137:106061

Likar K, Jevšnik M (2006) Cold chain maintaining in food trade. Food Control 17(2):108–113

Lu Y, Teng F, Zhou J, Wen A, Bi Y (2013) Failure mode and effect analysis in blood transfusion: a proactive tool to reduce risks. Transfusion 53(12):3080–3087

Mangla SK, Kumar P, Barua MK (2015) Risk analysis in green supply chain using fuzzy AHP approach: a case study. Resour Conserv Recycl 104:375–390

Manthou V, Matopoulos A, Vlachopoulou M (2005) Internet-based applications in the agri-food supply chain: a survey on the Greek canning sector. J Food Eng 70(3):447–454

Nagurney A, Masoumi AH, Yu M (2012) Supply chain network operations management of a blood banking system with cost and risk minimization. Comput Manag Sci 9(2):205–231

Nagurney A, Matsypura D (2005) Global supply chain network dynamics with multicriteria decision-making under risk and uncertainty. Transportation Research Part E: Logistics and Transportation Review 41(6):585–612

Najafpour Z, Hasoumi M, Behzadi F, Mohamadi E, Jafary M, Saeedi M (2017) Preventing blood transfusion failures: FMEA, an effective assessment method. BMC Health Serv Res 17(1):453

Nakandala D, Lau H, Zhao L (2017) Development of a hybrid fresh food supply chain risk assessment model. Int J Prod Res 55(14):4180–4195

Nooraie SV, Parast MM (2015) A multi-objective approach to supply chain risk management: Integrating visibility with supply and demand risk. Int J Prod Econ 161:192–200

Nyamah EY, Jiang Y, Feng Y, Enchill E (2017) Agri-food supply chain performance: an empirical impact of risk. Manag Decis 55:872–891

Ovca A, Jevšnik M (2009) Maintaining a cold chain from purchase to the home and at home: consumer opinions. Food Control 20(2):167–172

Popa DM (2019) Engineering risk of series production in Automotive Industry. Manag SystProd Eng 27(1):5–11

Pujawan IN, & Geraldin LH (2009). House of risk: a model for proactive supply chain risk management. Bus Process Manag J.

Qazi A, Dickson A, Quigley J, Gaudenzi B (2018) Supply chain risk network management: A Bayesian belief network and expected utility based approach for managing supply chain risks. Int J Prod Econ 196:24–42

Ridwan A, Santoso MI, Ferdinant PF, & Ankarini R (2019). Design of strategic risk mitigation with supply chain risk management and cold chain system approach. In IOP Conference Series: Materials Science and Engineering (Vol. 673, No. 1, p. 012088). IOP Publishing.

Raab V, Petersen B, Kreyenschmidt J (2011) Temperature monitoring in meat supply chains. Br Food J 113:1267–1289

Rohmah DUM, Dania WAP, Dewi IA (2015) Risk measurement of supply chain organic rice product using fuzzy failure mode effect analysis in MUTOS Seloliman Trawas Mojokerto. Agric Agric Sci Procedia 3:108–113

Saaty TL (1980). The analytical hierarchy process, planning, priority. Resource allocation. RWS publications, USA.

Sherwin MD, Medal H, Lapp SA (2016) Proactive cost-effective identification and mitigation of supply delay risks in a low volume high value supply chain using fault-tree analysis. Int J Prod Econ 175:153–163

Sherwin MD, Medal HR, MacKenzie CA, Brown KJ (2020) Identifying and mitigating supply chain risks using fault tree optimization. IISE Trans 52(2):236–254

Singh RK, Gunasekaran A, Kumar P (2018) Third party logistics (3PL) selection for cold chain management: a fuzzy AHP and fuzzy TOPSIS approach. Ann Oper Res 267(1-2):531–553

Singh RK, Sharma MK (2014) Selecting competitive supply chain using fuzzy AHP and extent analysis. J Ind Prod Eng 31(8):524–538

Stamatis DH (2003). Failure mode and effect analysis: FMEA from theory to execution. Quality Press.

Stevens GC (1989). Integrating the supply chain. İnt J Phys Distrib Mater Manag.

Strohmandl J, Čujan Z (2019) Risk Minimization in Integrated Supply Chains. Open Eng 9(1):593–599

Tabrizi BH, Razmi J (2013) Introducing a mixed-integer non-linear fuzzy model for risk management in designing supply chain networks. J Manuf Syst 32(2):295–307

Tang CS (2006) Perspectives in supply chain risk management. Int J Prod Econ 103(2):451–488

Tirado MC, Clarke R, Jaykus LA, McQuatters-Gollop A, Frank JM (2010) Climate change and food safety: A review. Food Res Int 43(7):1745–1765

Tuncel G, Alpan G (2010) Risk assessment and management for supply chain networks: A case study. Comput Ind 61(3):250–259

Venkatesan SP, Kumanan S (2012) Supply chain risk prioritisation using a hybrid AHP and PROMETHEE approach. Int J Serv Oper Manag 13(1):19–41

Wan C, Yan X, Zhang D, Qu Z, Yang Z (2019) An advanced fuzzy Bayesian-based FMEA approach for assessing maritime supply chain risks. Transportation Research Part E: Logistics and Transportation Review 125:222–240

Wang X, Chan HK, Yee RW, Diaz-Rainey I (2012) A two-stage fuzzy-AHP model for risk assessment of implementing green initiatives in the fashion supply chain. Int J Prod Econ 135(2):595–606

Wen Z, Liao H, Ren R, Bai C, Zavadskas EK, Antucheviciene J, Al-Barakati A (2019) Cold chain logistics management of medicine with an integrated multi-criteria decision-making method. Int J Environ Res Public Health 16(23):4843

Xiaoping W (2016) Food supply chain safety risk evaluation based on AHP fuzzy integrated evaluation method. Int J Secur Appl 10:233–244

Yan B, Wang X, Shi P (2017) Risk assessment and control of agricultural supply chains under Internet of Things. Agrekon 56(1):1–12

Yang Z, Wang J (2015) Use of fuzzy risk assessment in FMEA of offshore engineering systems. Ocean Eng 95:195–204

Yu MC, Goh M (2014) A multi-objective approach to supply chain visibility and risk. Eur J Oper Res 233(1):125–130

Zsidisin GA, & Ritchie B (Eds.). (2008). Supply chain risk: a handbook of assessment, management, and performance (Vol. 124). Springer Science & Business Media.

Zarei M, Fakhrzad MB, Paghaleh MJ (2011) Food supply chain leanness using a developed QFD model. J Food Eng 102(1):25–33

Zhang G, Habenicht W, Spieß WEL (2003) Improving the structure of deep frozen and chilled food chain with tabu search procedure. J Food Eng 60(1):67–79

Shimizu Y, Rusman M (2012) Hybrid approach for multi-stage logistics network optimization under disruption risk. In Computer aided chemical engineering 34:1035–1039
Ethics declarations
Consent to Participate
Not applicable.
Consent to Publish
The authors confirm that the final version of the manuscript has been reviewed, approved, and consented for publication by all authors.
Competing Interests
The authors declare that they have no competing interests.
Ethical Approval
Since this study did not recruit any human and/or animal subjects, this section does not apply.
Additional information
Publisher's note
Springer Nature remains neutral with regard to jurisdictional claims in published maps and institutional affiliations.
Responsible Editor: Philippe Garrigues
About this article
Cite this article
Dagsuyu, C., Derse, O. & Oturakci, M. Integrated risk prioritization and action selection for cold chain. Environ Sci Pollut Res (2021). https://doi.org/10.1007/s11356-021-12733-z
Received:

Accepted:

Published:
Keywords
Cold chain

Failure mode and effect analysis

analytical hierarchy process

Risk assessment

Mathematical model