Abstract
Aerobic denitrifiers have the potential to reduce nitrate in polluted water under aerobic conditions. A salt-tolerant aerobic denitrifier was newly isolated and identified as Vibrio spp. AD2 from a marine recirculating aquaculture system, in which denitrification performance was investigated via single-factor experiment, Box–Behnken experiment, and nitrogen balance analysis. Nitrate reductase genes were identified by polymerase chain reaction. Results showed that strain AD2 removed 98.9% of nitrate-nitrogen (NO3−-N) with an initial concentration about 100 mg·L−1 in 48 h without nitrite-nitrogen (NO2−-N) accumulation. Nitrogen balance indicated that approximately 17.5% of the initial NO3−-N was utilized for bacteria synthesis themselves, 4.02% was converted to organic nitrogen, 39.8% was converted to nitrous oxide (N2O), and 31.1% was converted to nitrogen (N2). Response surface methodology experiment showed that the maximum removal of total nitrogen (TN) occurred under the condition of C/N ratio 11.5, shaking speed 127.9 rpm, and temperature 30.8 °C. Sequence amplification indicated that the denitrification genes, napA and nirS, were present in strain AD2. These results indicated that the strain AD2 has potential applications for removing NO3−-N from high-salinity (3%) wastewater.
Access options
Buy single article
Instant access to the full article PDF.
US$ 39.95
Tax calculation will be finalised during checkout.
Subscribe to journal
Immediate online access to all issues from 2019. Subscription will auto renew annually.
US$ 79
Tax calculation will be finalised during checkout.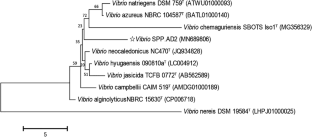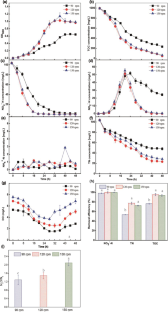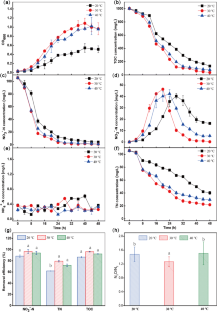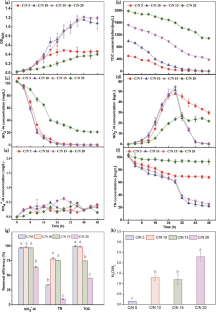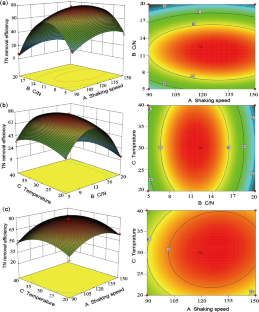 References
Adav SS, Lee DJ (2008) Single-culture aerobic granules with Acinetobacter calcoaceticus. Appl Microbiol Biotechnol 78(3):551–557. https://doi.org/10.1007/s00253-007-1325-x

Bassin J, Kleerebezem R, Dezotti M, Loosdrecht Van MCM (2012) Simultaneous nitrogen and phosphate removal in aerobic granular sludge reactors operated at different temperatures. Water Res 46(12):3805–3816. https://doi.org/10.1016/j.watres.2012.04.015

Braker G, Zhou J, Wu L, Devol AH, Tiedje JM (2000) Nitrite reductase genes (nirK and nirS) as functional markers to investigate diversity of denitrifying bacteria in Pacific Northwest marine sediment communities. Appl Environ Microbiol 66(5):2096–2104. https://doi.org/10.1128/AEM.66.5.2096-2104.2000

Brandes JA, Devol AH, Deutsch C (2010) New developments in the marine nitrogen cycle. Chem Rev 107(20):577–589. https://doi.org/10.1002/chin.200720269

Chen Q, Ni J (2012) Ammonium removal by Agrobacterium sp. LAD9 capable of heterotrophic nitrification-aerobic denitrification. J Biosci Bioeng 113(5):619–623. https://doi.org/10.1016/j.jbiosc.2011.12.012

Chen M, Zhou X, Chen X, Cai Q, Zeng RJ, Zhou S (2020) Mechanisms of nitrous oxide emission during photoelectrotrophic denitrification by self-photosensitized Thiobacillus denitrificans. Water Res 172:115501. https://doi.org/10.1016/j.watres.2020.115501

Duan J, Fang H, Su B, Chen J, Lin J (2015) Characterization of a halophilic heterotrophic nitrification-aerobic denitrification bacterium and its application on treatment of saline wastewater. Bioresour Technol 179:421–428. https://doi.org/10.1016/j.biortech.2014.12.057

Gao H, Schreiber F, Collins G, Jensen MM, Svitlica O, Kostka JE, Lavik G, de Beer D, Zhou HY, Kuypers MM (2010) Aerobic denitrification in permeable Wadden Sea sediments. ISME J 4(3):417–426. https://doi.org/10.1038/ismej.2010.166

Ghorbani F, Younesi H, Ghasempouri SM, Zinatizadeh AA, Amini M, Daneshi A (2008) Application of response surface methodology for optimization of cadmium biosorption in an aqueous solution by Saccharomyces cerevisiae. Chem Eng J 145(2):267–275. https://doi.org/10.1016/j.cej.2008.04.028

Guo LJ, Zhao B, An Q, Tian M (2016) Characteristics of a novel aerobic denitrifying bacterium, Enterobacter cloacae strain HNR. Appl Biochem Biotechnol 178(5):947–959. https://doi.org/10.1007/s12010-015-1920-8

Huang HK, Tseng SK (2001) Nitrate reduction by Citrobacter diversus under aerobic environment. Appl Microbiol Biotechnol 55(1):90–94. https://doi.org/10.1007/s002530000363

Huang T, Guo L, Zhang H, Su J, Wen G, Zhang K (2015) Nitrogen-removal efficiency of a novel aerobic denitrifying bacterium, Pseudomonas stutzeri strain ZF31, isolated from a drinking-water reservoir. Bioresour Technol 196:209–216. https://doi.org/10.1016/j.biortech.2015.07.059

Kong D, Li W, Deng Y, Ruan Y, Chen G, Yu J, Lin F (2018) Denitrification-potential evaluation and nitrate-removal-pathway analysis of aerobic denitrifier strain Marinobacter hydrocarbonoclasticus RAD-2. Water 10(10):1298. https://doi.org/10.3390/w10101298

Kotta J, Futter M, Kaasik A, Liversage K, Rätsep M, Barboza FR, Bergström L, Bergström P, Bobsien I, Díaz E, Herkül K, Jonsson PR, Korpinen S, Kraufvelin P, Krost P, Lindahl O, Lindegarth M, Lyngsgaard MM, Mühl M, Sandman AN, Orav-Kotta H, Orlova M, Skov H, Rissanen J, Šiaulys A, Vidakovic A, Virtanen E (2019) Cleaning up seas using blue growth initiatives: mussel farming for eutrophication control in the Baltic Sea. Sci Total Environ 709:136144. https://doi.org/10.1016/j.scitotenv.2019.136144

Kraft B, Strous M, Tegetmeyer HE (2011) Microbial nitrate respiration-genes, enzymes and environmental distribution. J Biotechnol 155(1):104–117. https://doi.org/10.1016/j.jbiotec.2010.12.025

Lang X, Li Q, Xu Y, Ji M, Yan G, Guo S (2019) Aerobic denitrifiers with petroleum metabolizing ability isolated from caprolactam sewage treatment pool. Bioresour Technol 290:121719. https://doi.org/10.1016/j.biortech.2019.121719

Law Y, Ye L, Pan Y, Yuan Z (2012) Nitrous oxide emissions from wastewater treatment processes. Philos Transact R Soc 367(1593):1265–1277. https://doi.org/10.1098/rstb.2011.0317

Li Y, Ding K, Wen X, Zhang B, Shen B, Yang Y (2016) A novel ammonia-oxidizing archaeon from wastewater treatment plant: its enrichment, physiological and genomic characteristics. Sci Rep 6(1):23747. https://doi.org/10.1038/srep23747

Li Y, Wang Y, Fu L, Gao Y, Zhao H, Zhou W (2017) Aerobic-heterotrophic nitrogen removal through nitrate reduction and ammonium assimilation by marine bacterium Vibrio sp. Y1-5. Bioresour Technol 230:103–111. https://doi.org/10.1016/j.biortech.2017.01.049

Liu Y, Ai GM, Miao LL, Liu ZP (2016) Marinobacter strain NNA5, a newly isolated and highly efficient aerobic denitrifier with zero N2O emission. Bioresour Technol 206:9–15. https://doi.org/10.1016/j.biortech.2016.01.066

Marx Sander E, Virdis B, Freguia S (2018) Bioelectrochemical denitrification for the treatment of saltwater recirculating aquaculture streams. ACS Omega 3(4):4252–4261. https://doi.org/10.1021/acsomega.8b00287

Patureau D, Davison J, Bernet N, Moletta R (1994) Denitrification under various aeration conditions in Comamonas sp., strain SGLY2. FEMS Microbiol Ecol 14(1):71–78. https://doi.org/10.1111/j.1574-6941.1994.tb00092.x

Ren J, Wei C, Ma H, Dai M, Fan J, Liu Y, Wu Y, Han R (2019) The nitrogen-removal efficiency of a novel high-efficiency salt-tolerant aerobic denitrifier, Halomonas Alkaliphile HRL-9, isolated from a seawater biofilter. Inter J Env Res Pub Health 16(22):4451. https://doi.org/10.3390/ijerph16224451

Robertson LA, Kuenen JG (1983) Thiosphaera pantotropha gen. nov. sp. nov. a facultatively anaerobic, facultatively autotrophic sulphur bacterium. Microbiology 129(9):2847–2855. https://doi.org/10.1099/00221287-129-9-2847

Robertson LA, Kuenen JG (1988) Heterotrophic nitrification in thiosphaera-pantotropha-oxygen-uptake and enzyme studies. Microbiology 134(4):857–863. https://doi.org/10.1099/00221287-134-4-857

Ruan Y, Taherzadeh MJ, Kong D, Lu H, Zhao H, Xu X, Liu Y, Cai L (2020a) Nitrogen removal performance and metabolic pathways analysis of a novel aerobic denitrifying Halotolerant Pseudomonas balearica strain RAD-17. Microorganisms 8(1):72. https://doi.org/10.3390/microorganisms8010072

Ruan Y, Ma B, Cai C, Cai L, Gu J, Lu HF, Zhang M (2020b) Kinetic affinity index informs the divisions of nitrate flux in aerobic denitrification. Bioresour Technol 123345:123345. https://doi.org/10.1016/j.biortech.2020.123345

Song ZF, An J, Fu GH, Yang XL (2011) Isolation and characterization of an aerobic denitrifying Bacillus sp. YX-6 from shrimp culture ponds. Aquaculture 319(1–2):188–193. https://doi.org/10.1016/j.aquaculture.2011.06.018

Sun Y, Li A, Zhang X, Ma F (2015) Regulation of dissolved oxygen from accumulated nitrite during the heterotrophic nitrification and aerobic denitrification of Pseudomonas stutzeri T13. Appl Microbiol Biotechnol 99(7):3243–3248. https://doi.org/10.1007/s00253-014-6221-6

Uygur A, Karg F (2004) Salt inhibition on biological nutrient removal from saline wastewater in a sequencing batch reactor. Enzym Microb Technol 34(3–4):313–318. https://doi.org/10.1016/j.enzmictec.2003.11.010

Van Bussel CGJ, Schroeder JP, Wuertz S, Schulz C (2012) The chronic effect of nitrate on production performance and health status of juvenile turbot (Psetta maxima). Aquaculture 326–329:163–167

Vyrides I, Stuckey DC (2009) Adaptation of anaerobic biomass to saline conditions: role of compatible solutes and extracellular polysaccharides. Enzym Microb Technol 44(1):46–51. https://doi.org/10.1016/j.enzmictec.2008.09.008

Yang L, Wang XH, Cui S, Ren YX, Yu J, Chen N, Xiao Q, Guo LK, Wang RH (2019) Simultaneous removal of nitrogen and phosphorous by heterotrophic nitrification-aerobic denitrification of a metal resistant bacterium Pseudomonas putida strain NP5. Bioresour Technol 285:121360. https://doi.org/10.1016/j.biortech.2019.121360

Zhao B, Cheng DY, Tan P, An Q, Guo JS (2017) Characterization of an aerobic denitrifier Pseudomonas stutzeri strain XL-2 to achieve efficient nitrate removal. Bioresour Technol 250:564–573. https://doi.org/10.1016/j.biortech.2017.11.038

Zumft WG (1997) Cell biology and molecular basis of denitrification. Microbiol Mol Biol Rev 61(4):533–616. https://doi.org/10.1016/j.ccr.2004.08.030
Acknowledgements
The authors thank the reviewers for their useful comments.
Funding
This research was supported by the National Natural Science Fund of China (No. 31702391), the National Key R&D Program of China (2019YFD0900501), the Study on Engineering Technology of Planning, Construction and Management for Marine Ranching in Guangdong Province (GML2019ZD0402), the Key R&D Program of Guangdong Province (2019B020215001), the Project in Agriculture Department of Zhejiang province (2019SNLF022), and the Science & Technology Program of Liaoning Province (2019JH2/10200007).
Ethics declarations
Data availability
All data generated or analyzed during this study are included in this published article (and its supplementary information files).
Competing interests
The authors declare that they have no competing interests.
Additional information
Publisher's note
Springer Nature remains neutral with regard to jurisdictional claims in published maps and institutional affiliations.
Responsible editor: Gerald Thouand
About this article
Cite this article
Ren, J., Ma, H., Liu, Y. et al. Characterization of a novel marine aerobic denitrifier Vibrio spp. AD2 for efficient nitrate reduction without nitrite accumulation. Environ Sci Pollut Res (2021). https://doi.org/10.1007/s11356-021-12673-8
Received:

Accepted:

Published:
Keywords
Aerobic denitrification

Vibrio spp.

AD2

Nitrogen removal

Response surface methodology

Nitrogen balance

Denitrification gene