Abstract
Microalgae-based biodiesel has gained widespread interest as an alternative energy source. Low-cost microalgae harvesting technologies are important for economically feasible biodiesel production. This study investigated, for the first time, the impact of adaptation period and height to diameter (H/D) ratio of a reactor on the growth and self-flocculation of microalgae, without the addition of bacteria. Six reactors were grouped into three sets of experiments, and each reactor was operated for 30 days at similar operating conditions (volume exchange ratio = 25% and settling time = 30 min). In set 1, two 8-L reactors, H5a (H/D ratio: 5) and H8a (H/D ratio: 8), were operated under batch operation. In set 2, reactors H5b and H8b were operated as sequential batch reactors (SBRs) without an adaptation period. In set 3, the reactors H5c and H8c were operated as SBRs with an adaptation period. The findings showed a threefold improvement in biomass productivity for the higher H/D ratio (H8c) and a reduction in biomass loss for microalgae. The H8c reactor exhibited 95% settling efficiency within 5 days, in comparison to 30 days for the H5c reactor. This study demonstrated that a higher H/D ratio and the introduction of an adaptation period in SBR operation positively influences growth and self-flocculation of enriched mixed microalgae culture.
Access options
Buy single article
Instant access to the full article PDF.
US$ 39.95
Tax calculation will be finalised during checkout.
Subscribe to journal
Immediate online access to all issues from 2019. Subscription will auto renew annually.
US$ 79
Tax calculation will be finalised during checkout.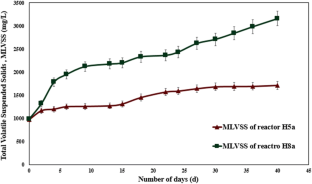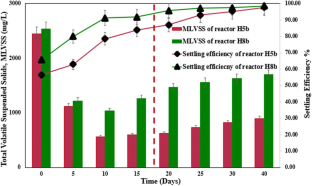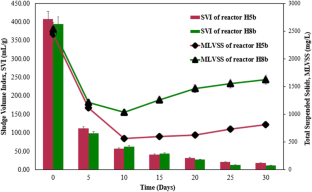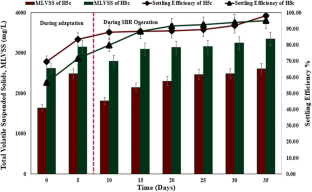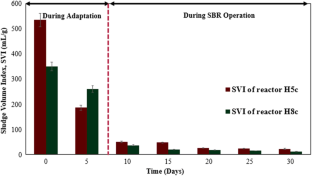 Data availability
The datasets used and/or analyzed during the current study are available from the corresponding author on reasonable request.
References
Adav SS, Lee DJ, Show KY, Tay JH (2008) Aerobic granular sludge: recent advances. Biotechnol Adv 26(5):411–423. https://doi.org/10.1016/j.biotechadv.2008.05.002

Alam MA, Wang Z, Yuan Z (2017) Generation and harvesting of microalgae biomass for biofuel production, in: Prospects and Challenges in Algal Biotechnology. Springer Singapore 89–111. doi:https://doi.org/10.1007/978-981-10-1950-0_3

Branyikova I, Prochazkova G, Potocar T, Jezkova Z, Branyik T (2018) Harvesting of microalgae by flocculation. Fermentation 4:93. https://doi.org/10.3390/fermentation4040093

Cai W, Zhao Z, Li D, Lei Z, Zhang Z, Lee DJ (2019) Algae granulation for nutrients uptake and algae harvesting during wastewater treatment. Chemosphere 214:55–59. https://doi.org/10.1016/J.Chemosphere.2018.09.107

Chen W, Gao X, Xu H, Cai Y, Cui J (2017) Influence of extracellular polymeric substances (EPS) treated by combined ultrasound pretreatment and chemical re-flocculation on water treatment sludge settling performance. Chemosphere 170:196–206. https://doi.org/10.1016/j.chemosphere.2016.12.004

Christenson L, Sims R (2011) Production and harvesting of microalgae for wastewater treatment, biofuels, and bioproducts. Biotechnol Adv 29(6):686–702. https://doi.org/10.1016/j.biotechadv.2011.05.015

Chua ASM, Takabatake H, Satoh H, Mino T (2003) Production of polyhydroxyalkanoates (PHA) by activated sludge treating municipal wastewater: effect of pH, sludge retention time (SRT), and acetate concentration in influent. Water Res 37:3602–3611. https://doi.org/10.1016/S0043-1354(03)00252-5

Di Iaconi C, Ramadori R, Lopez PR (2005) Hydraulic shear stress calculation in a sequencing batch biofilm reactor with granular biomass. Environ Sci Technol 39:889–894

Dubois M, Gilles KA, Hamilton JK, Rebers PA, Smith F (1956) Colorimetric method for determination of sugars and related substances. Anal Chem 28:350–356. https://doi.org/10.1021/ac60111a017

Ganesan S, Vadivelu VM (2020) Effect of storage conditions on maintaining anammox cell viability during starvation and recovery. Bioresour Technol 296:122341. https://doi.org/10.1016/j.biortech.2019.122341

Ghany TMA, Alawlaqi MM, Al Abboud MA (2014) Role of biofertilizers in agriculture: a brief review. Mycopath 11(2):95–101

Guo S, Wang P, Wang X, Zou M, Liu C, Hao J (2020) Microalgae as biofertilizer in modern agriculture, in: Microalgae Biotechnology for Food, Health and High Value Products. Springer Singapore 397–411. doi:https://doi.org/10.1007/978-981-15-0169-2_12

Gutzeit G, Lorch D, Weber A, Engels M, Neis U (2005) Bioflocculent algal-bacterial biomass improves low-cost wastewater treatment. Water Sci Technol 52:9–18. https://doi.org/10.2166/wst.2005.0415

Han SS, Bae TH, Jang GG, Tak TM (2005) Influence of sludge retention time on membrane fouling and bioactivities in membrane bioreactor system. Process Biochem 40:2393–2400. https://doi.org/10.1016/j.procbio.2004.09.017

Henderson RK, Parsons SA, Jefferson B (2008) Successful removal of algae through the control of zeta potential. Sep Sci Technol 43(7):1653–1666. https://doi.org/10.1080/01496390801973771

Hu Y, Hao X, Van LM, Chen H (2017) Enrichment of highly settleable microalgal consortia in mixed cultures for effluent polishing and low-cost biomass production. Water Res 125:11–22. https://doi.org/10.1016/j.watres.2017.08.034

Huang GH, Chen F, Wei D, Zhang XW, Chen G (2010) Biodiesel production by microalgal biotechnology. Appl Energy 87(1):38–46. https://doi.org/10.1016/j.apenergy.2009.06.016

Huang W, Li B, Zhang C, Zhang Z, Lei Z, Lu B, Zhou B (2015) Effect of algae growth on aerobic granulation and nutrients removal from synthetic wastewater by using sequencing batch reactors. Bioresour Technol 179:187–192. https://doi.org/10.1016/j.biortech.2014.12.024

Iasimone F, Panico A, De FV, Fantasma F, Iorizzi M, Pirozzi F (2018) Effect of light intensity and nutrients supply on microalgae cultivated in urban wastewater: biomass production, lipids accumulation and settleability characteristics. J Environ Manage 223:1078–1085. https://doi.org/10.1016/j.jenvman.2018.07.024

Jafari N, Shafiee Alavijeh R, Abdolahnejad A, Farrokhzadeh H, Amin MM, Ebrahimi A (2018) An innovative approach to attached cultivation of Chlorella vulgaris using different materials. Environ Sci Pollut Res 25:20097–20105

Li Z, Stenstrom MK (2017) Impacts of SRT on particle size distribution and reactor performance in activated sludge processes. Water Environ Res 90:48–56. doi:10.2175/106143017×15054988926523

Liao BQ, Allen DG, Droppo IG, Leppard GG, Liss SN (2001) Surface properties of sludge and their role in bioflocculation and settleability. Water Res 35:339–350. https://doi.org/10.1016/S0043-1354(00)00277-3

Liu Y (2006) Chapter 5 Factors affecting aerobic granulation. Waste Manag Ser 6:99–114. https://doi.org/10.1016/S0713-2743(06)80107-8

Liu Y, Fang HHP (2003) Influences of extracellular polymeric substances (EPS) on flocculation, settling, and dewatering of activated sludge. Crit Rev Environ Sci Technol 33:237–273. https://doi.org/10.1080/10643380390814479

Liu Y, Tay JH (2002) The essential role of hydrodynamic shear force in the formation of biofilm and granular sludge. Water Res 36(7):1653–1665

Liu YQ, Tay JH (2015) Fast formation of aerobic granules by combining strong hydraulic selection pressure with overstressed organic loading rate. Water Res 80:256–266. https://doi.org/10.1016/j.watres.2015.05.015

Manheim D, Nelson Y (2013) Settling and bioflocculation of two species of algae used in wastewater treatment and algae biomass production. Environ Prog Sustain Energy 32:946–954. https://doi.org/10.1002/ep.11861

Park JBK, Craggs RJ, Shilton AN (2011) Wastewater treatment high rate algal ponds for biofuel production. Bioresour Technol 102:35–42. https://doi.org/10.1016/j.biortech.2010.06.158

Park JBK, Craggs RJ, Shilton AN (2015) Algal recycling enhances algal productivity and settleability in Pediastrum boryanum pure cultures. Water Res 87:97–104. https://doi.org/10.1016/j.watres.2015.09.013

Ramanan R, Kim B, Cho D, Oh H, Kim H (2016) Algae–bacteria interactions: evolution, ecology and emerging applications. Biotechnol Adv 34:14–29. https://doi.org/10.1016/j.biotechadv.2015.12.003

Ratnayaka DD, Brandt MJ, Johnson KM (2012) Storage, clarification and chemical treatment, in: Water Supply. Butterworth-Heinemann 267–314. doi:https://doi.org/10.1016/b978-0-7506-6843-9.00015-9

Rice EW, Baird RB et al (2012) Standard methods for the examination of water and wastewater, American Public Health Association (APHA), American Water Works Association (AWWA) and Water Environment Federation (WEF), Washington, D.C., USA.

Singh G, Patidar SK (2018) Microalgae harvesting techniques: a review. J Environ Manage 217:499–508. https://doi.org/10.1016/j.jenvman.2018.04.010

Sirakov I, Naneva VK, Stoyanova S, Velichkova K, Staykov Y (2015) Katya VC (2015) The importance of microalgae for aquaculture industry. Int J Fish 2(4):81

Tay JH, Liu Y, Tay STL, Hung YT (2009) Aerobic granulation technology, in: Advanced Biological Treatment Processes. Humana Press 109–128. doi:https://doi.org/10.1007/978-1-60327-170-7_3

Wingender J, Strathmann M, Rode A, Leis A, Flemming HC (2001) Isolation and biochemical characterization of extracellular polymeric substances from Pseudomonas aeruginosa. Methods Enzymol 336:302–314. https://doi.org/10.1016/S0076-6879(01)36597-7

You K, Wang D, Liu J, Yuan YS (2014) Effect of EPS on flocculation and settlement of activated sludge in MBR. Adv Mater Res 1023:262–265. https://doi.org/10.4028/www.scientific.net/AMR.1023.262

Yousuf I (2013) 38 th Annual WIOA Qld Water Industry Operations Conference.

Zhang M, Yao J, Wang X, Hong Y, Chen Y (2019) The microbial community in filamentous bulking sludge with the ultra-low sludge loading and long sludge retention time in oxidation ditch. Sci Rep 9:1–10. https://doi.org/10.1038/s41598-019-50086-3

Zhou J-H, Zhang Z-M, Zhao H, Yu H-T, Alvarez PJJ, Xu X-Y, Zhu L (2016) Optimizing granules size distribution for aerobic granular sludge stability: effect of a novel funnel-shaped internals on hydraulic shear stress. Bioresour Technol 216:562–570

Zhuang LL, Azimi Y, Yu D, Wang WL, Wu YH, Dao GH, Hu HY (2016) Enhanced attached growth of microalgae Scenedesmus. LX1 through ambient bacterial pre-coating of cotton fiber carriers. Bioresour Technol 218:643–649. https://doi.org/10.1016/j.biortech.2016.07.013
Acknowledgements
This research was supported by the Ministry of Education, Malaysia, through the Fundamental Research Grant Scheme (FRGS) 6071446. The first author would also like to thank Jabatan Perkhidmatan Awam (JPA), Malaysia, for providing scholarships.
Funding
This research was supported by the Ministry of Education, Malaysia, through the Fundamental Research Grant Scheme (FRGS) 6071446.
Ethics declarations
Ethics approval and consent to participate
Not applicable.
Consent for publication
Not applicable.
Competing interests
The authors declare no competing interests.
Additional information
Publisher's note
Springer Nature remains neutral with regard to jurisdictional claims in published maps and institutional affiliations.
Responsible Editor: Ta Yeong Wu
About this article
Cite this article
Gobi, S., Gobi, K., Lee, K.T. et al. Self-flocculation of enriched mixed microalgae culture in a sequencing batch reactor. Environ Sci Pollut Res (2021). https://doi.org/10.1007/s11356-021-12615-4
Received:

Accepted:

Published:
Keywords
Hydraulic attrition

Height to diameter ratio

Adaptation period

Settleability

Extracellular polymeric substances

Microalgae harvesting

Denser microalgae