Abstract
Sulfate radical−based advanced oxidation processes have received considerable attentions in the remediation of organic pollutants due to their high oxidation ability. In this study, a novel Co3O4/CeO2 catalyst was fabricated and employed as a peroxymonosulfate (PMS) activator to generate SO4•− for phenol degradation. The Co3O4/CeO2 catalyst exhibited a good catalytic performance at a wide pH range of 3.4 to 10.8, and 100% phenol (20 mg/L) was removed within 50-min reaction under optimal conditions with 0.2 g/L catalyst and 2.0 g/L PMS at room temperature. The transformation products and total organic carbon during the degradation process were also determined. The quenching experiments and electron paramagnetic resonance spectra revealed that sulfate radical (SO4•−) rather than other species such as singlet oxygen (1O2) and hydroxyl radical (•OH) was primarily responsible for phenol degradation in the Co3O4/CeO2/PMS system, and a rational mechanism was proposed. Moreover, the recycling experiments as well as low cobalt leaching concentration manifested satisfactory reusability and stability. The effects of various inorganic anions and natural organic matter in real water matrix on phenol oxidation were further evaluated. We believe that the Co3O4/CeO2 composites have promising applications of PMS activation for the degradation of organic pollutants in wastewater treatment.
Access options
Buy single article
Instant access to the full article PDF.
US$ 39.95
Tax calculation will be finalised during checkout.
Subscribe to journal
Immediate online access to all issues from 2019. Subscription will auto renew annually.
US$ 79
Tax calculation will be finalised during checkout.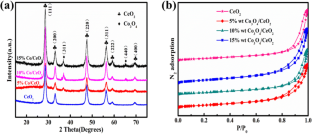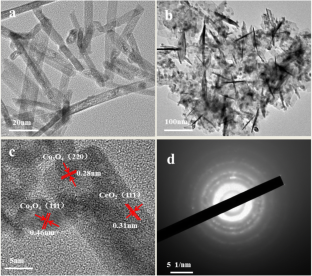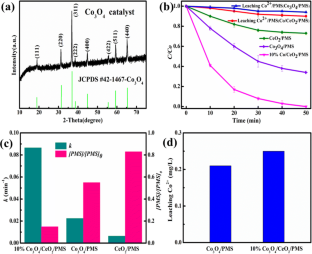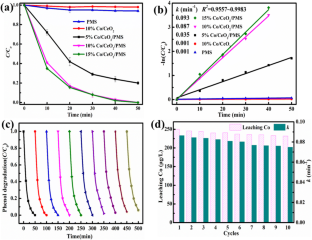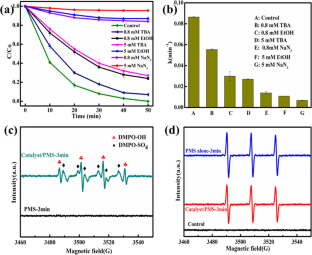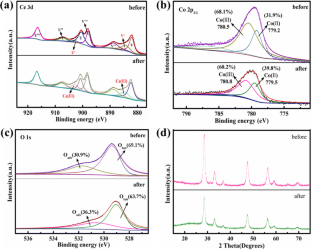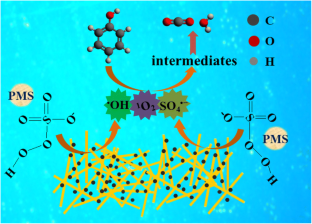 Data availability
The datasets used and/or analyzed during the current study are available from the corresponding author on reasonable request.
References
Abdullah WNW, Bakar WAWA, Ali R, Mokhtar WNAW, Omar MF (2017) Catalytic oxidative desulfurization technology of supported ceria based catalyst: physicochemical and mechanistic studies. J Clean Prod 162:1455–1464

Bechambi O, Touati A, Sayadi S, Najjar W (2015) Effect of cerium doping on the textural, structural and optical properties of zinc oxide: role of cerium and hydrogen peroxide to enhance the photocatalytic degradation of endocrine disrupting compounds. Mater Sci Semicond Process 39:807–816

Cai W, Zhao Y, Chen M, Jiang X, Wang H, Ou M, Wan S, Zhong Q (2018) The formation of 3D spherical Cr-Ce mixed oxides with roughness surface and their enhanced low-temperature NO oxidation. Chem Eng J 333:414–422

Chen L, Ding D, Liu C, Cai H, Qu Y, Yang S, Gao Y, Cai T (2018) Degradation of norfloxacin by CoFe2O4-GO composite coupled with peroxymonosulfate: a comparative study and mechanistic consideration. Chem Eng J 334:273–284

Chen M, Zhu L, Liu S, Li R, Wang N, Tang H (2019) Efficient degradation of organic pollutants by low–level Co2+ catalyzed homogeneous activation of peroxymonosulfate. J Hazard Mater 371:456–462

Dai D, Yang Z, Yao Y, Chen L, Jia G, Luo L (2017) Highly efficient removal of organic contaminants based on peroxymonosulfate activation by iron phthalocyanine: mechanism and the bicarbonate ion enhancement effect. Cat Sci Technol 7:934–942

Deng J, Feng S, Zhang K, Li J, Wang H, Zhang T, Ma X (2017a) Heterogeneous activation of peroxymonosulfate using ordered mesoporous Co3O4 for the degradation of chloramphenicol at neutral pH. Chem Eng J 308:505–515

Deng L, Shi Z, Zou Z, Zhou S (2017b) Magnetic EDTA functionalized CoFe2O4 nanoparticles (EDTA–CoFe2O4) as a novel catalyst for peroxymonosulfate activation and degradation of Orange G. Environ Sci Pollut Res 24:11536–11548

Du J, Bao J, Liu Y, Ling H, Zheng H, Kim SH, Dionysiou DD (2016) Efficient activation of peroxymonosulfate by magnetic Mn-MGO for degradation of bisphenol A. J Hazard Mater 320:150–159

Du W, Zhang Q, Shang Y, Wang W, Li Q, Yue Q, Gao B, Xu X (2020) Sulfate saturated biosorbent–derived Co–S@NC nanoarchitecture as an efficient catalyst for peroxymonosulfate activation. Appl Catal B 262:118302

Duan X, Yang S, Waclawek S, Fang G, Xiao R, Dionysiou D (2020) Limitations and prospects of sulfate–radical based advanced oxidation processes. J Environ Chem Eng 8:103849

Fang G, Dionysiou D, Wang Y, Al–Abed S, Zhou D (2012) Sulfate radical–based degradation of polychlorinated biphenyls: effects of chloride ion and reaction kinetics. J Hazard Mater 227:394–401

Gao C, Chen S, Quan X, Yu H, Zhang Y (2017) Enhanced Fenton–like catalysis by iron–based metal organic frameworks for degradation of organic pollutants. J Catal 356:125–132

Ghanbari F, Moradi M (2017) Application of peroxymonosulfate and its activation methods for degradation of environmental organic pollutants: review. Chem Eng J 310:41–62

Hu L, Zhang G, Liu M, Wang Q, Wang P (2018) Enhanced degradation of bisphenol A (BPA) by peroxymonosulfate with Co3O4–Bi2O3 catalyst activation: Effects of pH, inorganic anions, and water matrix. Chem Eng J 338:300–310

Hu X, Zhao C, Guan Q, Hu X, Li W, Chen J (2019) Selective hydrogenation of CO2 over a Ce promoted Cu-based catalyst confined by SBA–15. Inorg Chem Front 6:1799–1812

Jaafarzadeh N, Ghanbari F, Ahmadi M (2017) Catalytic degradation of 2,4–dichlorophenoxyacetic acid (2,4–D) by nano–Fe2O3 activated peroxymonosulfate: influential factors and mechanism determination. Chemosphere 169:568–576

Khan A, Liao Z, Liu Y, Jawad A, Ifthikar J, Chen Z (2017) Synergistic degradation of phenols using peroxymonosulfate activated by CuO–Co3O4@MnO2 nanocatalyst. J Hazard Mater 329:262–271

Li W, Li Y, Zhang D, Lan Y, Guo J (2015) CuO–Co3O4@CeO2 as a heterogeneous catalyst for efficient degradation of 2,4–dichlorophenoxyacetic acid by peroxymonosulfate. J Hazard Mater 381:121209

Li H, Wang S, Wang X, Tang N, Pan S, Hu J (2017) Comparative study of Co/TiO2, Co–Mn/TiO2 and Co–Mn/Ti–Ce catalysts for oxidation of elemental mercury in flue gas. Chem Pap 71:1569–1578

Li H, Shan C, Pan B (2018) Fe(III)–doped g–C3N4 mediated activation of peroxymonosulfate for selective degradation of phenolic compounds via high–valent iron–oxo species. Environ Sci Technol 52:2197–2205

Li C, Huang Y, Dong X, Sun Z, Duan X, Ren B, Zheng S, Dionysiou DD (2019a) Highly efficient activation of peroxymonosulfate by natural negatively-charged kaolinite with abundant hydroxyl groups for the degradation of atrazine. Appl Catal B 247:10–23

Li Z, Liu D, Zhao Y, Li S, Wei X, Meng F, Huang W, Lei Z (2019b) Singlet oxygen dominated peroxymonosulfate activation by CuO–CeO2 for organic pollutants degradation: performance and mechanism. Chemosphere 233:549–558

Liang P, Zhang C, Duan X, Sun H, Liu S, Tade MO, Wang S (2017) An insight into metal organic framework derived N–doped graphene for the oxidative degradation of persistent contaminants: formation mechanism and generation of singlet oxygen from peroxymonosulfate. Environ Sci Nano 4:315–324

Lin S, Su G, Zheng M, Ji D, Jia M, Liu Y (2012) Synthesis of flower-like Co3O4–CeO2 composite oxide and its application to catalytic degradation of 1,2,4–trichlorobenzene. Appl Catal B 123:440–447

Lin B, Liu Y, Heng L, Ni J, Lin J, Jiang L (2017) Effect of ceria morphology on the catalytic activity of Co/CeO2 catalyst for ammonia synthesis. Catal Commun 101:15–19

Lin X, Li S, He H, Wu Z, Wu J, Chen L, Ye D, Fu M (2018) Evolution of oxygen vacancies in MnOx–CeO2 mixed oxides for soot oxidation. Appl Catal B 223:91–102

Lin H, Li S, Deng B, Tan W, Li R, Xu Y, Zhang H (2019) Degradation of bisphenol A by activating peroxymonosulfate with Mn0.6Zn0.4Fe2O4 fabricated from spent Zn–Mn alkaline batteries. Chem Eng J 364:541–551

Liu T, Zhang D, Yin K, Yang C, Luo S, Crittenden J (2020) Degradation of thiacloprid via unactivated peroxymonosulfate: the overlooked singlet oxygen oxidation. Chem Eng J 388:124264

Ma J, Wang X, Cao W, Han C, Yang H, Yuan J, Cao M (2018) A facile fabrication and highly tunable microwave absorption of 3D flowerlike Co3O4–rGO hybrid-architectures. Chem Eng J 339:487–498

Ma Z, Sheng L, Wang X, Yuan W, Chen S, Xue W, Han G, Zhang Z, Yang H, Lu Y, Wang Y (2020) Oxide catalysts with ultrastrong resistance to SO2 deactivation for removing nitric oxide at low temperature. Adv Mater 32:1907806

Mady AH, Baynosa ML, Tuma D, Shim JJ (2019) Heterogeneous activation of peroxymonosulfate by a novel magnetic 3D γ–MnO2@ZnFe2O4/rGO nanohybrid as a robust catalyst for phenol Degradation. Appl Catal B 244:946–956

Marinescu C, Ben Ali M, Hamdi A, Cherifi Y, Barras A, Coffinier Y, Somacescu S, Raditoiu V, Szunerits S, Boukherroub R (2018) Cobalt phthalocyanine–supported reduced graphene oxide: a highly efficient catalyst for heterogeneous activation of peroxymonosulfate for rhodamine B and pentachlorophenol degradation. Chem Eng J 336:465–475

Oh WD, Dong Z, Lim TT (2016) Generation of sulfate radical through heterogeneous catalysis for organic contaminants removal: current development, challenges and prospects. Appl Catal B 194:169–201

Pan X, Yan L, Li C, Qu R, Wang Z (2017) Degradation of UV–filter benzophenone–3 in aqueous solution using persulfate catalyzed by cobalt ferrite. Chem Eng J 326:1197–1209

Pan X, Chen J, Wu N, Qi Y, Xu X, Ge J, Wang X, Li C, Qu R, Sharma VK, Wang Z (2018) Degradation of aqueous 2,4,4–Trihydroxybenzophenone by persulfate activated with nitrogen doped carbonaceous materials and the formation of dimer products. Water Res 143:176–187

Peng Y, Wang K, Liu T, Xu J, Xu B (2017) Synthesis of one-dimensional Bi2O3–Bi2O2.33 heterojunctions with high interface quality for enhanced visible light photocatalysis in degradation of high–concentration phenol and MO dyes. Appl Catal B 203:946–954

Qi F, Chu W, Xu B (2013) Catalytic degradation of caffeine in aqueous solutions by cobalt–MCM41 activation of peroxymonosulfate. Appl Catal B 134:324–332

Reddy GK, Peck TC, Roberts CA (2019) CeO2−MxOy (M = Fe, Co, Ni, and Cu)–based oxides for direct NO decomposition. J Phys Chem C 123:28695–28706

Shannon MA, Bohn PW, Elimelech M, Georgiadis JG, Mariñas BJ, Mayes AM (2008) Science and technology for water purification in the coming decades. Nature 452:301–310

Shen C, Wen X, Fei Z, Liu Z, Mu Q (2019) Visible–light–driven activation of peroxymonosulfate for accelerating ciprofloxacin degradation using CeO2/Co3O4 p–n heterojunction photocatalysts. Chem Eng J 391

Somanathan T, Pandurangan A, Sathiyamoorthy D (2006) Catalytic influence of mesoporous Co–MCM–41 molecular sieves for the synthesis of SWNTs via CVD method. J Mol Catal A 256:193–199

Tian W, Zhang H, Qian Z, Ouyang T, Sun H, Qin J, Tadé MO, Wang S (2018) Breadmaking synthesis of hierarchically Co@C nanoarchitecture in heteroatom doped porous carbons for oxidative degradation of emerging contaminants. Appl Catal B 225:76–83

Wacławek S, Lutze H, Grübel K, Padil V, Černík M, Dionysiou D (2017) Chemistry of persulfates in water and wastewater treatment: a review. Chem Eng J 330:44–62

Wacławek S, Padil V, Černík M (2018) Major advances and challenges in heterogeneous catalysis for environmental applications: a review. Ecol Chem Eng S 25:9–34

Wahba N, El Asmar MF, El Sadr MM (1959) Iodometric method for determination of persulfates. Anal Chem 31:1870–1871

Wan Z, Wang J (2016) Ce–Fe–reduced graphene oxide nanocomposite as an efficient catalyst for sulfamethazine degradation in aqueous solution. Environ Sci Pollut Res 23:18542–18551

Wang Z, Yuan R, Guo Y, Xu L, Liu J (2011) Effects of chloride ions on bleaching of azo dyes by Co2+/oxone reagent: kinetic analysis. J Hazard Mater 190:1083–1087

Wang J, Yang N, Tang H, Dong Z, Jin Q, Yang M, Kisailus D, Zhao H, Tang Z, Wang D (2013) Accurate control of multishelled Co3O4 hollow microsphere as high–performance anode material in lithium-ion batteries. Angew Chem Int Ed 52:6417–6420

Wang X, Wen W, Mi J, Li X, Wang R (2015) The ordered mesoporous transition metal oxides for selective catalytic reduction of NOx at low temperature. Appl Catal B 176:454–463

Wang Z, Qiu W, Pang S, Zhou Y, Gan Y, Guan C, Jiang J (2019) Further understanding the involvement of Fe (IV) in peroxydisulfate and peroxymonosulfate activation by Fe (II) for oxidative water treatment. Chem Eng J 371:842–847

Wu M, Fu K, Deng H, Shi J (2019) Cobalt tetracarboxyl phthalocyanine–manganese octahedral molecular sieve (OMS–2) as a heterogeneous catalyst of peroxymonosulfate for degradation of diclofenac. Chemosphere 219:756–765

Xian G, Zhang G, Chang H, Zhang Y, Zou Z, Li X (2019) Heterogeneous activation of persulfate by Co3O4–CeO2 catalyst for diclofenac removal. J Environ Manag 234:265–272

Xiao R, Luo Z, Wei Z, Luo S, Spinney R, Yang W, Dionysiou D (2018) Activation of peroxymonosulfate/persulfate by nanomaterials for sulfate radical-based advanced oxidation technologies. Curr Opin Chem Eng 19:51–58

Xu Y, Lin H, Li Y, Zhang H (2017a) The mechanism and efficiency of MnO2 activated persulfate process coupled with electrolysis. Sci Total Environ 609:644–654

Xu J, Lu G, Guo Y, Guo Y, Gong X (2017b) A highly effective catalyst of Co–CeO2 for the oxidation of diesel soot: the excellent NO oxidation activity and NOx storage capacity. Appl Catal A 535:1–8

Yang G, Zhang G, Wang H (2015) Current state of sludge production, management, treatment and disposal in China. Water Res 78:60–73

Yin R, Guo W, Wang H, Du J, Zhou X, Wu Q, Zheng H, Chang J, Ren N (2018) Enhanced peroxymonosulfate activation for sulfamethazine degradation by ultrasound irradiation: performances and mechanisms. Chem Eng J 335:145–153

Zhang T, Zhu H, Croué JP (2013) Production of sulfate radical from peroxymonosulfate induced by a magnetically separable CuFe2O4 spinel in water: efficiency, stability, and mechanism. Environ Sci Technol 47:2784–2791

Zhang Q, Zhao X, Duan L, Shen H, Liu R (2019) Controlling oxygen vacancies and enhanced visible light photocatalysis of CeO2/ZnO nanocomposites. J Photoch Photobio A 392:112156

Zhou Y, Jiang J, Gao Y, Pang S, Ma J, Duan J, Guo Q, Li J, Yang Y (2018) Oxidation of steroid estrogens by peroxymonosulfate (PMS) and effect of bromide and chloride ions: kinetics, products, and modeling. Water Res 138:56–66

Zhu J, Zhu Z, Zhang H, Lu H, Qiu Y, Zhu L, Küppers S (2016) Enhanced photocatalytic activity of Ce–doped Zn–Al multi–metal oxide composites derived from layered double hydroxide precursors. J Colloid Interface Sci 481:144–157
Funding
This work was supported by grants from the National Natural Science Foundation of China (Grant Nos. 21808243, U1662119 and 21776314), the National Key Research and Development Program of China (Grant No. 2017YFB0306600), and the Fundamental Research Funds for the Central Universities (Grant Nos.17CX02061).
Ethics declarations
Ethics approval
Ethical approval was not required for secondary analysis of anonymous data in this study.
Consent to participate
Not applicable.
Consent for publication
Not applicable.
Competing interest
The authors declare that they have no competing interest.
Additional information
Publisher's note
Springer Nature remains neutral with regard to jurisdictional claims in published maps and institutional affiliations.
Responsible Editor: Santiago V. Luis
Supplementary information
About this article
Cite this article
Gao, Q., Cui, Y., Wang, S. et al. Efficient activation of peroxymonosulfate by Co-doped mesoporous CeO2 nanorods as a heterogeneous catalyst for phenol oxidation. Environ Sci Pollut Res (2021). https://doi.org/10.1007/s11356-021-12605-6
Received:

Accepted:

Published:
Keywords
Sulfate radical

Heterogeneous catalyst

Peroxymonosulfate

Degradation

Mechanism

Phenol