Abstract
This paper reports the development of a novel photoelectrochemical (PEC) oxidation technique based on UV-C irradiation and boron-doped diamond (BDD) anode and its application for the effective removal of the commercial herbicide halosulfuron-methyl (HSM). The study evaluated the influence of the following key operating variables in the photoelectrochemical process: current density, pH, temperature, and initial HSM concentration. With regard to HSM degradation/mineralization, the application of high current densities was found to be more advantageous once it promoted a more rapid degradation and mineralization, with 96% of total organic carbon removal, though the process became more energy-demanding over time. The initial concentration of HSM did not modify the relative degradation rate, though the degradation process became more efficient as expected in a mass-transfer controlled process. The use of acidic pH (pH 3) was found to be more suitable than neutral conditions; this is probably because an anionic resonant form of HSM may be formed in neutral conditions. The temperature level was also found to affect the rate of HSM removal and the degradation efficiency. Finally, the substitution of Na2SO4 by NaCl promoted a more rapid and effective degradation; this is attributed to high production of powerful oxidants. However, only 70% mineralization was reached after 3 h of treatment; this is probably related to the formation of recalcitrant chlorinated sub-products.
Access options
Buy single article
Instant access to the full article PDF.
US$ 39.95
Tax calculation will be finalised during checkout.
Subscribe to journal
Immediate online access to all issues from 2019. Subscription will auto renew annually.
US$ 79
Tax calculation will be finalised during checkout.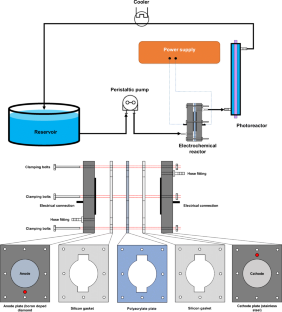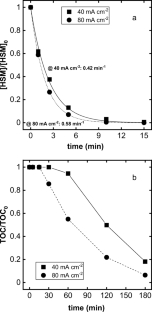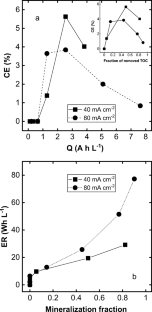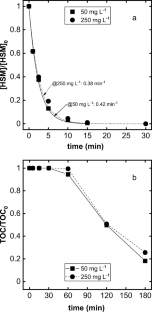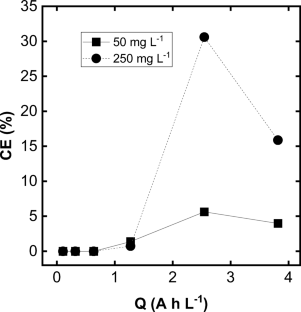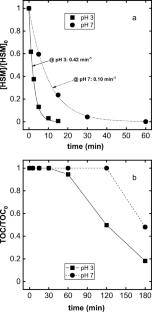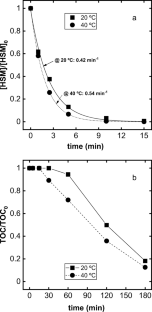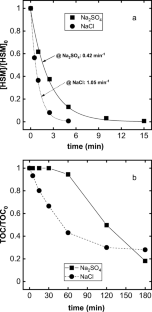 References
Abdessemed A, Djebbar KE, El-Kalliny AS et al (2014) Water treatment combined chlorine (monochloramine) degradation using direct photolysis and homogeneous photocatalysis (UV/H2O2, UV/NaOCl) with a medium pressure (MP) lamp as a source of UV. Int J Chem React Eng 12:671–681. https://doi.org/10.1515/ijcre-2014-0013

Barrera-Díaz C, Cañizares P, Fernández FJ et al (2014) Electrochemical advanced oxidation processes: an overview of the current applications to actual industrial effluents. J Mex Chem Soc 58:256–275

Britto-Costa PH, Ruotolo LAM (2012) Phenol removal from wastewaters by electrochemical oxidation using boron doped diamond (BDD) and Ti/Ti0.7Ru0.3O2 dsa® electrodes. Brazilian J Chem Eng 29:763–773. https://doi.org/10.1590/S0104-66322012000400008

Catanho M, Malpass GRP, Motheo AJ (2006) Photoelectrochemical treatment of the dye reactive red 198 using DSA® electrodes. Appl Catal B Environ 62:193–200. https://doi.org/10.1016/j.apcatb.2005.07.011

Cotillas S, de Vidales MJM, Llanos J et al (2016) Electrolytic and electro-irradiated processes with diamond anodes for the oxidation of persistent pollutants and disinfection of urban treated wastewater. J Hazard Mater 319:93–101. https://doi.org/10.1016/j.jhazmat.2016.01.050

da Silva SW, Heberle ANA, Santos AP et al (2019) Antibiotics mineralization by electrochemical and UV-based hybrid processes: evaluation of the synergistic effect. Environ Technol 40:3456–3466. https://doi.org/10.1080/09593330.2018.1478453

Daniel D, dos Santos VB, Vidal DTR, do Lago CL (2015) Determination of halosulfuron-methyl herbicide in sugarcane juice and tomato by capillary electrophoresis–tandem mass spectrometry. Food Chem 175:82–84. https://doi.org/10.1016/j.foodchem.2014.11.137

de Araújo BRS, Linares JJ (2018) Electrochemical treatment of cetrimonium chloride with boron-doped diamond anodes. A technical and economical approach. J Environ Manage 214:86–93. https://doi.org/10.1016/j.jenvman.2018.02.094

de Lourdes Souza F, Sáez C, Cañizares P, de Jesus Motheo A, Andres Rodrigo M (2014) Using a new photo-reactor to promote conductive-diamond electrochemical oxidation of dimethyl phthalate. Journal of Chemical Technology & Biotechnology 89(8):1251–1258

de Vidales MJM, Barba S, Sáez C et al (2014) Coupling ultraviolet light and ultrasound irradiation with conductive-diamond electrochemical oxidation for the removal of progesterone. Electrochim Acta 140:20–26. https://doi.org/10.1016/j.electacta.2014.02.118

de Vidales MJM, Sáez C, Pérez JF, Cotillas S, Llanos J, Cañizares P, Rodrigo MA (2015) Irradiation-assisted electrochemical processes for the removal of persistent organic pollutants from wastewater. J Appl Electrochem 45:799–808. https://doi.org/10.1007/s10800-015-0825-0

de Vidales MJM, Cotillas S, Perez-Serrano JF, Llanos J, Saez C, Canizares P, Rodrigo MA (2016) Scale-up of electrolytic and photoelectrolytic processes for water reclaiming: a preliminary study. Environ Sci Pollut Res Int 23(19):19713–19722

Diban N, Urtiaga A (2018) Electrochemical mineralization and detoxification of naphthenic acids on boron-doped diamond anodes. Environ Sci Pollut Res Int 25(35):34922–34929

Fatta-Kassinos D, Kalavrouziotis IK, Koukoulakis PH, Vasquez MI (2011) The risks associated with wastewater reuse and xenobiotics in the agroecological environment. Sci Total Environ 409:3555–3563. https://doi.org/10.1016/j.scitotenv.2010.03.036

Fenoll J, Hellín P, Flores P, Martínez CM, Navarro S (2012) Photocatalytic degradation of five sulfonylurea herbicides in aqueous semiconductor suspensions under natural sunlight. Chemosphere. 87:954–961. https://doi.org/10.1016/j.chemosphere.2012.01.056

Freitas JM, da Oliveira TC, Munoz RAA, Richter EM (2019) Boron doped diamond electrodes in flow-based systems. Front Chem 7:190. https://doi.org/10.3389/fchem.2019.00190

Ganiyu SO, Brito LRD, de Araújo Costa ECT, dos Santos EV, Martínez-Huitle CA (2019) Solar photovoltaic-battery system as a green energy for driven electrochemical wastewater treatment technologies: application to elimination of Brilliant Blue FCF dye solution. Journal of Environmental Chemical Engineering 7(1):102924

Ganiyu SO, Martínez-Huitle CA, Rodrigo MA (2020) Renewable energies driven electrochemical wastewater/soil decontamination technologies: a critical review of fundamental concepts and applications. Appl Catal B Environ 270:118857. https://doi.org/10.1016/j.apcatb.2020.118857

Gil A, Galeano LA, Vicente MÁ (2019) Applications of advanced oxidation processes (AOPs) in drinking water treatment | Antonio Gil | Springer, 1st edn. Springer International Publishing, Cham, Switzerland

Hurwitz G, Hoek EMV, Liu K et al (2014a) Photo-assisted electrochemical treatment of municipal wastewater reverse osmosis concentrate. Chem Eng J 249:180–188. https://doi.org/10.1016/j.cej.2014.03.084

Hurwitz G, Pornwongthong P, Mahendra S, Hoek EMV (2014b) Degradation of phenol by synergistic chlorine-enhanced photo-assisted electrochemical oxidation. Chem Eng J 240:235–243. https://doi.org/10.1016/j.cej.2013.11.087

Kolthoff IM, Miller IK (1951) The chemistry of persulfate. I. The kinetics and mechanism of the decomposition of the persulfate ion in aqueous medium 1. J Am Chem Soc 73:3055–3059. https://doi.org/10.1021/ja01151a024

Lan Y, Coetsier C, Causserand C, Serrano KG (2017) On the role of salts for the treatment of wastewaters containing pharmaceuticals by electrochemical oxidation using a boron doped diamond anode. Electrochim Acta 231:309–318. https://doi.org/10.1016/j.electacta.2017.01.160

Louhichi B, Ahmadi MF, Bensalah N, Gadri A, Rodrigo MA (2008) Electrochemical degradation of an anionic surfactant on boron-doped diamond anodes. J Hazard Mater 158:430–437. https://doi.org/10.1016/j.jhazmat.2008.01.093

Martínez-Huitle CA, Andrade LS (2011) Electrocatalysis in wastewater treatment: recent mechanism advances. Quim Nova 34:850–858. https://doi.org/10.1590/S0100-40422011000500021

Martínez-Huitle CA, Panizza M (2018) Electrochemical oxidation of organic pollutants for wastewater treatment. Curr Opin Electrochem 11:62–71. https://doi.org/10.1016/j.coelec.2018.07.010

Martínez-Huitle CA, Rodrigo MA, Sirés I, Scialdone O (2015) Single and coupled electrochemical processes and reactors for the abatement of organic water pollutants: a critical review. Chem Rev 115:13362–13407. https://doi.org/10.1021/acs.chemrev.5b00361

McBeath ST, Wilkinson DP, Graham NJD (2019) Application of boron-doped diamond electrodes for the anodic oxidation of pesticide micropollutants in a water treatment process: a critical review. In: Environ. Sci.: Water Res. Technol. The Royal Society of Chemistry, pp 2090–2107

Montanaro D, Lavecchia R, Petrucci E, Zuorro A (2017) UV-assisted electrochemical degradation of coumarin on boron-doped diamond electrodes. Chem Eng J 323:512–519. https://doi.org/10.1016/j.cej.2017.04.129

Murray B, Dungey S (2017) Opinion proposing harmonised classification and labelling at EU level of halosulfuron-methyl. European Union, Helsinki, Finland

Osgerby IT (2006) ISCO technology overview: do you really understand the chemistry? In: Calabrese EJ, Kostecki PT, Dragun J (eds) Contaminated Soils, Sediments and Water: Successes and Challenges. Springer-Verlag, Boston, MA, pp 287–308

Osugi ME, Umbuzeiro GA, Anderson MA, Zanoni MVB (2005) Degradation of metallophtalocyanine dye by combined processes of electrochemistry and photoelectrochemistry. Electrochim Acta 50:5261–5269. https://doi.org/10.1016/j.electacta.2005.01.058

Panizza M, Michaud PA, Cerisola G, Comninellis CH (2001) Anodic oxidation of 2-naphthol at boron-doped diamond electrodes. J Electroanal Chem 507:206–214. https://doi.org/10.1016/S0022-0728(01)00398-9

Pedlowski MA, Canela MC, da Costa Terra MA, Ramos de Faria RM (2012) Modes of pesticides utilization by Brazilian smallholders and their implications for human health and the environment. Crop Prot 31:113–118. https://doi.org/10.1016/j.cropro.2011.10.002

Rodrigo MA, Oturan N, Oturan MA (2014) Electrochemically assisted remediation of pesticides in soils and water: a review. Chem Rev 114:8720–8745. https://doi.org/10.1021/cr500077e

Sarigül T, İnam R, Aboul-Enein HY (2010) Electro-oxidation of herbicide halosulfuron methyl on glassy carbon electrode and applications. Talanta 82:1814–1819. https://doi.org/10.1016/j.talanta.2010.07.085

Souza FL, Sáez C, Cañizares P et al (2014) Coupling photo and sono technologies to improve efficiencies in conductive diamond electrochemical oxidation. Appl Catal B Environ 144:121–128. https://doi.org/10.1016/j.apcatb.2013.07.003

Souza FL, Lanza MRV, Llanos J et al (2015a) A wind-powered BDD electrochemical oxidation process for the removal of herbicides. J Environ Manage 158:36–39. https://doi.org/10.1016/j.jenvman.2015.04.040

Souza FL, Saéz C, Llanos J et al (2015b) Solar-powered CDEO for the treatment of wastewater polluted with the herbicide 2,4-D. Chem Eng J 277:64–69. https://doi.org/10.1016/j.cej.2015.04.118

Souza FL, Saéz C, Lanza MRV et al (2016) Removal of pesticide 2,4-D by conductive-diamond photoelectrochemical oxidation. Appl Catal B Environ 180:733–739. https://doi.org/10.1016/j.apcatb.2015.07.038

Souza FL, Sáez C, Cañizares P, Rodrigo MA (2020) Improving photolytic treatments with electrochemical technology. Sep Purif Technol 235:116229. https://doi.org/10.1016/j.seppur.2019.116229
Data and materials availability
All data generated or analyzed during this study are included in this published article (and its supplementary information files).
Funding
The authors are grateful for the financial support provided by the Fundação de Apoio à Pesquisa do Distrito Federal (FAPDF, processes n. 0193-000.714/2016 and n. 0193-000.236/2014), Brazilian National Council for Scientific and Technological Development - CNPq (grants no. 465571/2014-0, 302874/2017-8 and 427452/2018-0), São Paulo Research Foundation – FAPESP (grants #2014/50945-4 and #2017/10118-0), and for the scholarship awarded to Beatriz Rodrigues Pinto (process 23006.001141/2017-41) by the Pro-Rectory of Research at UFABC.
Ethics declarations
Ethics approval and consent to participate
Not applicable
Consent for publication
Not applicable
Competing interests
The authors declare no competing interests.
Additional information
Publisher's note
Springer Nature remains neutral with regard to jurisdictional claims in published maps and institutional affiliations.
Responsible Editor: Weiming Zhang
Supplementary Information
About this article
Cite this article
Rodrigues Pinto, B., Linares, J.J., de Vasconcelos Lanza, M.R. et al. UV-irradiation and BDD-based photoelectrolysis for the treatment of halosulfuron-methyl herbicide. Environ Sci Pollut Res (2021). https://doi.org/10.1007/s11356-021-12603-8
Received:

Accepted:

Published:
Keywords
Boron-doped diamond

UV irradiation

Operating parameters

Halosulfuron-methyl

Photoelectrolysis

PEC