Abstract
Fabric dyeing produces high amounts of wastewater containing organic and inorganic pollutants such as reactive dyes that are the most common textile dyes employed by the industry. Three vinylsulfonic reactive dyes, blue 19 (B-19), red 198 (R-198), and yellow 15 (Y-15), were removed from effluents of industrial-like dyeing processes employing three adsorbents: (1) magnetite nanoparticles (MNP), (2) yeast waste obtained after β-glucan removal from yeast biomass (YW), and (3) nanomagnetic composite produced from YW and MNP (YW-MNP). The non-linear kinetic pseudo-second-order and two-stage models best explained the experimental phenomena for the majority of adsorbate:adsorbent systems. The theoretical isotherm models were fitted to experimental isotherms obtained from experiments conducted with appropriated dilutions of effluents, which have a specific condition, limited by the maximum dye concentration established by the dye recipe. Thus, the saturation of adsorbents was not reached for all adsorbate:adsorbent systems. In this way, the best conditional sorption capacities (SCcond) were obtained by YW (1.7, 2.3, and 2.5 g/kg for B-19, R-198, and Y-15, respectively). The SIPS model best described all dyes adsorbed by YW, while the D-R model best described the phenomena for MNP and YW-MNP.
Access options
Buy single article
Instant access to the full article PDF.
US$ 39.95
Tax calculation will be finalised during checkout.
Subscribe to journal
Immediate online access to all issues from 2019. Subscription will auto renew annually.
US$ 79
Tax calculation will be finalised during checkout.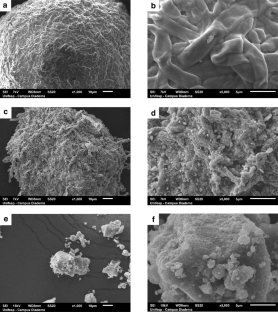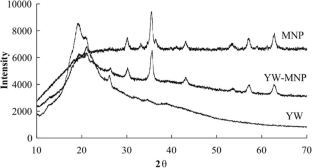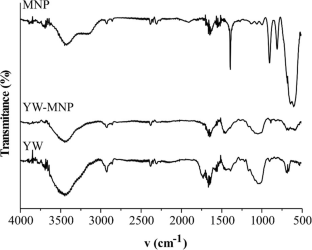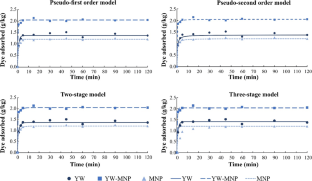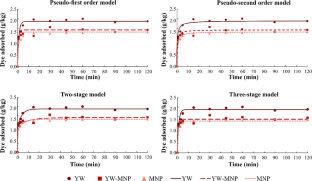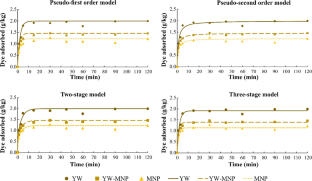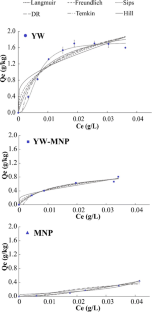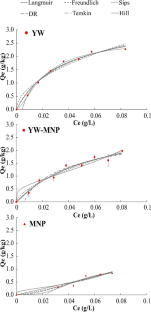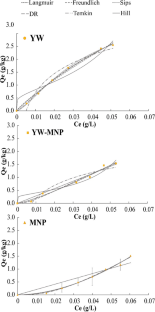 Data availability
The datasets used and/or analyzed during the current study are available from the corresponding author on reasonable request.
References
Ayawei N, Ebelegi AN, Wankasi D (2017) Modelling and interpretation of adsorption isotherms. J Chem:Article 3039817. https://doi.org/10.1155/2017/3039817

Baldermann A, Grießbacher AC, Baldermann C, Purgstaller B, Letofsky-Papst I, Kaufhold S, Dietzel M (2018) Removal of barium, cobalt, strontium and zinc from solution by natural and synthetic allophane adsorbents. Geosciences 8:8–309. https://doi.org/10.3390/geosciences8090309

Cardona DS, Debs KB, Lemos SG, Vitale G, Nassar NN, Carrilho ENVM, Semensatto D, Labuto G (2019) A comparison study of cleanup techniques for oil spill treatment using magnetic nanomaterials. J Environ Manag 242:362–371. https://doi.org/10.1016/j.jenvman.2019.04.106

Carneiro PA, Umbuzeiro GA, Oliveira DP, Zanoni MVB (2010) Assessment of water contamination caused by a mutagenic textile effluent/dyehouse effluent bearing disperse dyes. J Hazard Mater 174:694–699. https://doi.org/10.1016/j.jhazmat.2009.09.106

Choi J, Choi N, Lee S, Kim D (2007) Novel three-stage kinetic model for aqueous benzene adsorption on activated carbon. 314:367–372. https://doi.org/10.1016/j.jcis.2007.05.070

Debs KB, Cardona DS, da Silva HDT, Nassar NN, Carrilho ENVM, Haddad PS, Labuto G (2019) Oil spill cleanup employing magnetite nanoparticles and yeast-based magnetic bionanocomposite. J Environ Manag 230:405–412. https://doi.org/10.1016/j.jenvman.2018.09.094

Epps HH (2003) Basic principles of textile coloration. 1st. Society of Dyers and Colourists, West Yorkshire, pp 152-153. https://doi.org/10.1002/col.10152

Foo KY, Hameed BH (2010) Insights into the modeling of adsorption isotherm systems. Chem Eng J 156:2–10. https://doi.org/10.1016/j.cej.2009.09.013

Gisi SD, Lofrano G, Grassi M, Notarnicola M (2016) Characteristics and adsorption capacities of low-cost sorbents for wastewater treatment: a review. SM&T 9:10–40. https://doi.org/10.1016/j.susmat.2016.06.002

Ho YS, McKay G (1998) Kinetic models for the sorption of dye from aqueous solution by wood. Process Saf Environ Prot 76:183–191. https://doi.org/10.1205/095758298529326

Jose JC, Debs KB, Labuto G, Carrilho ENVM (2019) Synthesis, characterization, and application of yeast-based magnetic bionanocomposite for the removal of Cu(II) from water. Chem Eng Commun 206:1570–1580

Kajjumba GW, Emik S, Öngen A, Özcan HK, Aydın S (2019) Modelling of adsorption kinetic processes—errors, theory and application. In: Edebali S (ed) Advanced sorption process applications, 1st edn. Inthech Open, London, pp 1–19. https://doi.org/10.5772/intechopen.80495

Kathri A, Peerzada MH, Mohin M, White M (2015) A review on developments in dyeing cotton fabrics with reactive dyes for reducing effluent pollution. J Clean Prod 87:50–57. https://doi.org/10.1016/j.jclepro.2014.09.017

Labuto G, Trama B, Silveira GC, Guarnieri BS, Silva FV, Colazzo R (2015) Metals uptake by live yeast and heat-modified yeast residue. Rev Ambient Água 10:510–519

Labuto G, Cardona DS, Debs KB, Imamura AR, Bezerra KCH, Carrilho ENVM, Haddad OS (2018) Low-cost agroindustrial biomasses and ferromagnetic bionanocomposites to cleanup textile effluents. Desalin Water Treat 112:80–89. https://doi.org/10.5004/dwt.2018.21914

Lagergren S (1898) Zur theorie der sogenannten adsorption gelöster stoffe, K. Sven. Vetenskapsakad Handl. 24 1–39. Chem und Ind der Kolloide 2, 15 (1907). https://doi.org/10.1007/BF01501332

Lavanya C, Dhankar R, Chhikara S, Sheoran (2014) Review article degradation of toxic dyes: a review. Int J Curr Microbiol App Sci 3:189–199

Limousin G, Gaudet JP, Charlet L, Szenknect S, Barthès V, Krimissa M (2007) Sorption isotherms: a review on physical bases, modeling and measurement. Appl Geochem 22:249–275. https://doi.org/10.1016/j.apgeochem.2006.09.010

Magnani M, Castro-Gómez RJH (2008) β-Glucana from Saccharomyces cerevisiae: constitution, bioactivity and obtaining. Semin Agrar 29:631–650

Mahmoodi NM, Arami M, Bahrami H, Khorramfar S (2011) The effect of pH on the removal of anionic dyes from colored textile wastewater using a biosorbent. J Appl Polym Sci 120:2996–3003. https://doi.org/10.1002/app.33406

Mani S, Bharagava RN (2018) Textile industry wastewater environmental and health hazards and treatment approaches. In: Bharagava RN (ed) Recent advances in environmental management, 1st edn. CRC Press, Boca Raton, pp 48–62

Nethaji S, Sivasamy A, Mandal AB (2013) Adsorption isotherms, kinetics and mechanism for the adsorption of cationic and anionic dyes onto carbonaceous particles prepared from Juglans regia shell biomass. Int J Environ Sci Technol 10:231–242. https://doi.org/10.1007/s13762-012-0112-0

Rahdar A, Rahdar S, Labuto G (2020) Environmentally friendly synthesis of Fe2O3@SiO2 nanocomposite: characterization and application as an adsorbent to aniline removal from aqueous solution. Environ Sci Pollut Res 27:279181–279191. https://doi.org/10.1007/s11356-019-07491-y

Sivashankar R, Sathya AB, Vasantharaj K, Sivasubramanian V (2014) Magnetic composite an environmental super adsorbent for dye sequestration - a review. Environ Nanotechnol Monit Manag 1–2:36–49. https://doi.org/10.1016/j.enmm.2014.06.001

Tien C (2007) Remarks on adsorption manuscripts received and declined: an editorial. Sep Purif Technol 54:277–278. https://doi.org/10.1016/j.seppur.2007.02.006

Uday USP, Mahata N, Sasmal S, Bandyopadhyay TK, Mondal A, Bhunia B (2017) Ecotoxicological effects, health hazards, and biodegradation and bioremediation mechanisms for environmental cleanup. In: Bharagava RN (ed) Environmental Pollution Their Bioremediation Approaches, 1st edn. Taylor & Francis, CRC Press, Boca Raton, pp 97–147

Wilczak A, Keinath TM (1985) Kinetics of sorption and desorption of copper (II) and lead (II) on activated carbon. Water Environ Res 65:238–244

Yao X, Ji L, Guo J, Ge S, Lu W, Cai L, Wang Y, Song W, Zhang H (2020) Magnetic activated biochar nanocomposites derived from wakame and its application in methylene blue adsorption. Bioresour Technol 302:122842. https://doi.org/10.1016/j.biortech.2020.122842
Funding
The authors received financial support from FAPESP (2016/06271-4) and Biorigin Company (São Paulo, Brazil).
Ethics declarations
Ethics approval and consent to participate
Not applicable
Consent to publish
Not applicable
Competing interests
The authors declare no competing interests.
Additional information
Publisher's note
Springer Nature remains neutral with regard to jurisdictional claims in published maps and institutional affiliations.
Responsible Editor: Angeles Blanco
Supplementary Information
About this article
Cite this article
Nascimento, J.R., Bezerra, K.C., Martins, T.D. et al. Textile effluent treatment employing yeast biomass and a new nanomagnetic biocomposite. Environ Sci Pollut Res (2021). https://doi.org/10.1007/s11356-021-12594-6
Received:

Accepted:

Published:
Keywords
Reactive dyes

Adsorption

Textile effluents

Real conditions