Abstract
Contamination of soils with heavy metals (HMs) caused serious problems because plants tend to absorb HMs from the soil. In view of HM hazards to plants as well as agro-ecosystems, we executed this study to assess metal toxicity to mung bean (Vigna radiata) plants cultivated in soil with six treatment levels of cadmium (Cd) and nickel (Ni) and to find metal tolerant variety, i.e., M-93 (V1) and M-1(V2) with multifarious plant biochemical and physiological attributes. Increasing doses of Cd and Ni inhibited plant growth and photosynthesis and both varieties showed highly significant differences in the morpho-physiological attributes. V2 showed sensitivity to Cd and Ni treatments alone or in combination. Tolerance indices for attributes presented a declined growth of Vigna plants under HM stress accompanied by highly significant suppression in gas exchange characteristics. Of single element applications, the adverse effects on mung bean were more pronounced in Cd treatments. V1 showed much reduction in photosynthesis attributes except sub-stomatal CO2 concentration in all treatments compared to V2. The yield attributes, i.e., seed yield/plant and 100-seed weight, were progressively reduced in T5 for both varieties. In combination, we have observed increased mobility of Cd and Ni in both varieties. The results showed that water use efficiency (WUE) generally increased in all the treatments for both varieties compared to control. V2 exhibited less soluble sugars and free amino acids compared to V1 in all the treatments. Similarly, we recorded an enhanced total free amino acid contents in both varieties among all the metal treatments against control plants. We conclude that combinatorial treatment proved much lethal for Vigna plants, but V1 performed better than V2 in counteracting the adverse effects of Cd and Ni.
Access options
Buy single article
Instant access to the full article PDF.
US$ 39.95
Tax calculation will be finalised during checkout.
Subscribe to journal
Immediate online access to all issues from 2019. Subscription will auto renew annually.
US$ 79
Tax calculation will be finalised during checkout.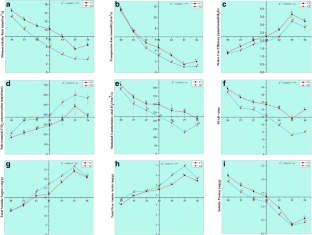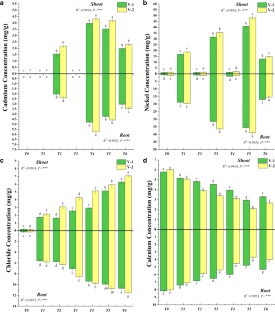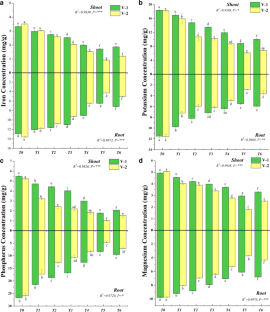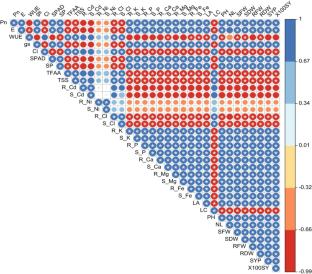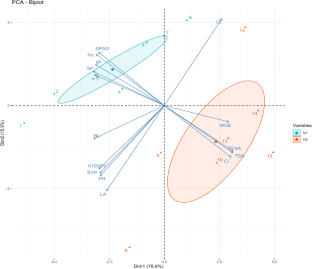 References
Ahmad MS, Ashraf M, Hussain M (2011) Phytotoxic effects of nickel on yield and concentration of macro- and micro-nutrients in sunflower (Helianthus annuus L.) achenes. J Hazard Mater 185:1295–1303. https://doi.org/10.1016/j.jhazmat.2010.10.045

Ahmad MSA, Hussain M, Ashraf M, Ahmad R, Ashraf MY (2009) Effect of nickel on seed germinability of some elite sunflower (Helianthus annuus L.) cultivars. Pak J Bot 41:1871–1882

Amirjani M (2012) Effects of cadmium on wheat growth and some physiological factors. Int J For Soil Eros 2:50–58

Ashraf MY, Ashraf M, Arshad M (2010) Major nutrients supply in legume crops under stress environments. Climate change and management of cool season grain legume crops. Springer, In, pp 155–169

Ashraf MY, Roohi M, Iqbal Z, Ashraf M, Öztürk M, Gücel S (2016) Cadmium (Cd) and lead (Pb) induced changes in growth, some biochemical attributes, and mineral accumulation in two cultivars of mungbean [Vigna radiata (L.) Wilczek]. Commun Soil Sci Plant Anal 47:405–413

Ashraf MY, Sadiq R, Hussain M, Ashraf M, Ahmad MSA (2011) Toxic effect of nickel (Ni) on growth and metabolism in germinating seeds of sunflower (Helianthus annuus L.). Biol Trace Elem Res 143:1695–1703

Bahmani R, Bihamta M, Habibi D, Forozesh P, Ahmadvand S (2012) Effect of cadmium chloride on growth parameters of different bean genotypes (Phaseolus vulgaris L.). ARPN J Agric Biol Sci 7:35–40

Bartholomae E, Incollingo A, Vizcaino M, Wharton C, Johnston CS (2019) Mungbean protein supplement improves muscular strength in healthy, underactive vegetarian adults. Nutrients 11:2423

Bradford MM (1976) A rapid and sensitive method for the quantitation of microgram quantities of protein utilizing the principle of protein-dye binding. Anal Biochem 72:248–254

Chen Q, Zhang X, Liu Y, Wei J, Shen W, Shen Z, Cui J (2017) Hemin-mediated alleviation of zinc, lead and chromium toxicity is associated with elevated photosynthesis, antioxidative capacity; suppressed metal uptake and oxidative stress in rice seedlings. Plant Growth Regul 81:253–264

Ci D, Jiang D, Wollenweber B, Dai T, Jing Q, Cao W (2010) Cadmium stress in wheat seedlings: growth, cadmium accumulation and photosynthesis. Acta Physiol Plant 32:365–373

Cwielag-Drabek M, Piekut A, Gut K, Grabowski M (2020) Risk of cadmium, lead and zinc exposure from consumption of vegetables produced in areas with mining and smelting past. Sci Rep 10:1–9

De Filippis L, Ziegler H (1993) Effect of sublethal concentrations of zinc, cadmium and mercury on the photosynthetic carbon reduction cycle of Euglena. J Plant Physiol 142:167–172

Dong J, Wu FB, Zhang GP (2005) Effect of cadmium on growth and photosynthesis of tomato seedlings. J Zhejiang Univ Sci B 6:974–980. https://doi.org/10.1631/jzus.2005.B0974

Figlioli F, Sorrentino MC, Memoli V, Arena C, Maisto G, Giordano S, Capozzi F, Spagnuolo V (2019) Overall plant responses to cd and Pb metal stress in maize: growth pattern, ultrastructure, and photosynthetic activity. Environ Sci Pollut Res 26:1781–1790. https://doi.org/10.1007/s11356-018-3743-y

Greger M, Johansson M (1992) Cadmium effects on leaf transpiration of sugar beet (Beta vulgaris). Physiol Plant 86:465–473

Hamilaton P, Van Slyke D (1943) Amino acids determination with ninhydrin. J Biol Chem 150:223–231

Hou D et al (2019) Mungbean (Vigna radiata L.): bioactive polyphenols, polysaccharides, peptides, and health benefits. Nutrients 11:1238

Ilyas N, Ambreen F, Batool N, Arshad M, Mazhar R, Bibi F, Saeed M (2018) Contribution of nitrogen fixed by mungbean to the following wheat crop. Commun Soil Sci Plant Anal 49:148–158

Irshad MK, Chen C, Noman A, Ibrahim M, Adeel M, Shang J (2020) Goethite-modified biochar restricts the mobility and transfer of cadmium in soil-rice system. Chemosphere 242:125152

Jackson ML (1962) Soil chemical analysis vol 497. Constable and Co Ltd., London

Kazemi N, Khavari-Nejad RA, Fahimi H, Saadatmand S, Nejad-Sattari T (2010) Effects of exogenous salicylic acid and nitric oxide on lipid peroxidation and antioxidant enzyme activities in leaves of Brassica napus L. under nickel stress. Sci Hortic 126:402–407

Khalid N, Aqeel M, Noman A (2019a) System biology of metal tolerance in plants: An integrated view of genomics, Transcriptomics, metabolomics, and Phenomics. Plant Metallomics and Functional Omics, In, pp 107–144. https://doi.org/10.1007/978-3-030-19103-0_6

Khalid N, Hussain M, Hameed M, Ahmad R (2017a) Physiological, biochemical and defense system responses of Parthenium hysterophorus to vehicular exhaust pollution. Pak J Bot 49:67–75

Khalid N, Masood A, Noman A, Aqeel M, Qasim M (2019b) Study of the responses of two biomonitor plant species (Datura alba & Ricinus communis) to roadside air pollution. Chemosphere 235:832–841. https://doi.org/10.1016/j.chemosphere.2019.06.143

Khalid N, Noman A, Aqeel M, Hadayat N, Anjum S (2017b) NPK could alleviate the adverse effects of simulated acid rain in sunflower (Helianthus annuus L.). J Plant Nutr 41:584–595. https://doi.org/10.1080/01904167.2017.1406108

Khalid N, Noman A, Sanaullah T, Akram MA, Aqeel M (2018) Vehicle pollution toxicity induced changes in physiology, defence system and biochemical characteristics of Calotropis procera L. Chem Ecol 34:565–581. https://doi.org/10.1080/02757540.2018.1452917

Kotapati KV, Palaka BK, Ampasala DR (2017) Alleviation of nickel toxicity in finger millet (Eleusine coracana L.) germinating seedlings by exogenous application of salicylic acid and nitric oxide. Crop J 5:240–250. https://doi.org/10.1016/j.cj.2016.09.002

Li Q, Lu Y, Shi Y, Wang T, Ni K, Xu L, Liu S, Wang L, Xiong Q, Giesy JP (2013) Combined effects of cadmium and fluoranthene on germination, growth and photosynthesis of soybean seedlings. J Environ Sci 25:1936–1946

Mengel K, Kirkby EA, Kosegarten H, Appel T (2001) Nitrogen. In: Principles of plant nutrition. Kluwer Academic Publishers, Springer, Dordrecht, pp 397–434. https://doi.org/10.1007/978-94-010-1009-2_7

Noman A, Aqeel M (2017) miRNA-based heavy metal homeostasis and plant growth. Environ Sci Pollut Res 24:10068–10082. https://doi.org/10.1007/s11356-017-8593-5

Noman A, Fahad S, Aqeel M, Ali U, Amanullah, Anwar S, Baloch SK, Zainab M (2017) miRNAs: major modulators for crop growth and development under abiotic stresses. Biotechnol Lett 39:685–700. https://doi.org/10.1007/s10529-017-2302-9

Noman A, Sanaullah T, Khalid N, Islam W, Khan S, Irshad MK, Aqeel M (2019) Crosstalk between plant miRNA and heavy metal toxicity. Plant Metallomics and Functional Omics, In, pp 145–168. https://doi.org/10.1007/978-3-030-19103-0_7

Osman ME, El-Naggar AH, El-Sheekh MM, El-Mazally EE (2004) Differential effects of Co2+ and Ni2+ on protein metabolism in Scenedesmus obliquus and Nitzschia perminuta. Environ Toxicol Pharmacol 16:169–178

Rai PK, Lee SS, Zhang M, Tsang YF, Kim K-H (2019) Heavy metals in food crops: health risks, fate, mechanisms, and management. Environ Int 125:365–385

Riazi A, Matsuda K, Arslan A (1985) Water-stress induced changes in concentrations of proline and other solutes in growing regions of young barley leaves. J Exp Bot 36:1716–1725

Rizwan M, Ali S, Rizvi H, Rinklebe J, Tsang DCW, Meers E, Ok YS, Ishaque W (2016) Phytomanagement of heavy metals in contaminated soils using sunflower: a review. Crit Rev Environ Sci Technol 46:1498–1528

Rubio M, Escrig I, Martinez-Cortina C, Lopez-Benet F, Sanz A (1994) Cadmium and nickel accumulation in rice plants. Effects on mineral nutrition and possible interactions of abscisic and gibberellic acids. Plant Growth Regul 14:151–157

Rucińska-Sobkowiak R (2016) Water relations in plants subjected to heavy metal stresses. Acta Physiol Plant 38:257

Sandalio L, Dalurzo H, Gomez M, Romero-Puertas M, Del Rio L (2001) Cadmium-induced changes in the growth and oxidative metabolism of pea plants. J Exp Bot 52:2115–2126

Schlegel H, Godbold DL, Hüttermann A (1987) Whole plant aspects of heavy metal induced changes in CO2, uptake and water relations of spruce (Picea abies) seedlings. Physiol Plant 69:265–270

Shah SS, Mohammad F, Shafi M, Bakht J, Zhou W (2011) Effects of cadmium and salinity on growth and photosynthesis parameters of Brassica species. Pak J Bot 43:333–340

Shamsi IH, Wei K, Jilani G, G-p Z (2007) Interactions of cadmium and aluminum toxicity in their effect on growth and physiological parameters in soybean. J Zhejiang Univ Sci B 8:181–188

Sreekanth T, Nagajyothi P, Lee K, Prasad T (2013) Occurrence, physiological responses and toxicity of nickel in plants. Int J Envrion Sci Technol 10:1129–1140

Sundari T (2009) Morphological and physiological characteristics of shading tolerant and sensitive mungbean genotypes. HAYATI J Biosci 16:127–134

Tchounwou PB, Yedjou CG, Patlolla AK, Sutton DJ (2012) Heavy metal toxicity and the environment. Molecular, clinical and environmental toxicology. Springer, In, pp 133–164

Wahid A, Ghani A (2008) Varietal differences in mungbean (Vigna radiata) for growth, yield, toxicity symptoms and cadmium accumulation. Ann Appl Biol 152:59–69. https://doi.org/10.1111/j.1744-7348.2007.00192.x

Wahid A, Ghani A, Javed F (2008) Effect of cadmium on photosynthesis, nutrition and growth of mungbean. Agron Sunstain Develop 28:273–280. https://doi.org/10.1051/agro:2008010

Wolf B (1982) A comprehensive system of leaf analyses and its use for diagnosing crop nutrient status. Commun Soil Sci Plant Anal 13:1035–1059

Yadav S (2010) Heavy metals toxicity in plants: an overview on the role of glutathione and phytochelatins in heavy metal stress tolerance of plants. S Afr J Bot 76:167–179

Yi-Shen Z, Shuai S, Fitzgerald R (2018) Mungbean proteins and peptides: nutritional, functional and bioactive properties. Food. Nutr Res 62:1290. https://doi.org/10.29219/fnr.v62.1290

Younis U, Qayyum MF, Shah MHR, Danish S, Shahzad AN, Malik SA, Mahmood S (2015) Growth, survival, and heavy metal (cd and Ni) uptake of spinach (Spinacia oleracea) and fenugreek (Trigonella corniculata) in a biochar-amended sewage-irrigated contaminated soil. J Plant Nutr Soil Sci 178:209–217

Zhang H, Zhang LL, Li J, Chen M, An RD (2020) Comparative study on the bioaccumulation of lead, cadmium and nickel and their toxic effects on the growth and enzyme defence strategies of a heavy metal accumulator, Hydrilla verticillata (L.f.) Royle. Environ Sci Pollut Res 27:9853–9865. https://doi.org/10.1007/s11356-019-06968-0
Funding
The Deanship of Scientific Research, King Khalid University, funded this work through research groups program under grant number R.G.P. 2/101/41.
Ethics declarations
Ethical approval and consent to participate
Not applicable
Consent for publication
Not applicable
Competing interests
The authors declare no competing interests.
Additional information
Publisher's note
Springer Nature remains neutral with regard to jurisdictional claims in published maps and institutional affiliations.
Responsible Editor: Gangrong Shi
About this article
Cite this article
Aqeel, M., Khalid, N., Tufail, A. et al. Elucidating the distinct interactive impact of cadmium and nickel on growth, photosynthesis, metal-homeostasis, and yield responses of mung bean (Vigna radiata L.) varieties. Environ Sci Pollut Res (2021). https://doi.org/10.1007/s11356-021-12579-5
Received:

Accepted:

Published:
Keywords
Biomass yield

Chlorosis

Elemental quantification

Metal toxicity

SPAD value

Vigna radiata