Abstract
This study examines the relationship between FDI and CO2 emissions in a nonlinear framework using data from countries along the "One Belt, One Road" from 1979 to 2017 as the sample. First, the linear analysis method was used to examine the stability of FDI and CO2 emissions in countries along the "One Belt, One Road." In addition, the BDS (Brock-Dechert-Scheinkman test) method and nonlinear Granger causality test are used to investigate the nonlinear relationship between variables. Finally, a threshold vector autoregressive model (TVAR) is used to analyze the dynamic change mechanism between China's FDI and CO2 emissions, and a threshold vector error correction model (TVECM) is used to test how the variables respond to deviations from equilibrium. Then, the Markov switching model is used to test the robustness of the results. The research results show that China, India, South Africa, and other countries all have a nonlinear causal relationship between FDI and CO2 emissions. At the same time, the comovement of FDI and CO2 emissions in China has obvious structural break features, which are relevant for the underlying regime. Furthermore, the results also show that the adjustment process of the FDI toward equilibrium is highly persistent in the first regime, and CO2 emissions will adjust to an equilibrium state at a faster speed in the second regime. Therefore, this paper puts forward different policy suggestions for different countries. For China, we should pay attention to the long-term benefits of FDI and introduce high-tech green FDI.
Access options
Buy single article
Instant access to the full article PDF.
US$ 39.95
Tax calculation will be finalised during checkout.
Subscribe to journal
Immediate online access to all issues from 2019. Subscription will auto renew annually.
US$ 79
Tax calculation will be finalised during checkout.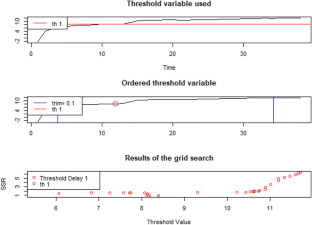 Data availability
The datasets used and analyzed during the current study are available from the corresponding author upon reasonable request.
References
Abdouli M, Hammami S (2017) Economic growth, FDI inflows and their impact on the environment: an empirical study for the MENA countries. Qual Quant 51(1):1–26

Appiah MO (2018) Investigating the multivariate Granger causality between energy consumption, economic growth and CO2 emissions in Ghana. Energy Policy 112:198–208

Asimakopoulos I, Ayling D, Mansor Mahmood W (2000) Non-linear Granger causality in the currency futures returns. Econ Lett 68:25–30

Bakhsh K, Rose S, Ali MF, Ahmad N, Shahbaz M (2017) Economic growth, CO2 emissions, renewable waste and FDI relation in Pakistan: New evidences from 3SLS. J Environ Manag 196:627–632

Baumol WJ, Oates WE (1988) The theory of environmental policy. Cambridge University Press, Cambridge

Bruyn SMD, Bergh JCJM, Opschoor JB (1996) Economic growth and patterns of emissions –reconsidering the empirical basis of environmental Kuznet Curves. Ecol Econ 25(2):161–175

Cheng S, Cao Y (2019) On the relation between global food and crude oil prices: an empirical investigation in a nonlinear framework. Energy Econ 81:422–432

Cheng C, Ren X, Wang Z, Cheng Y (2019) Heterogeneous impacts of renewable energy and environmental patents on CO2 emission-evidence from the BRIICS. Sci Total Environ 668:1328–1338

Chichilnisky G (1994) North-south trade and the global environment. Am Econ Rev 84(4):851–874

Diks C, Panchenko V (2006) A new statistic and practical guidelines for nonparametric Granger causality testing. J Econ Dyn Control 30:1647–1669

Ganneval S (2016) Spatial price transmission on agricultural commodity markets under different volatility regimes. Econ Model 52:173–185

Hanif I, Raza SMF, Gagodesantos P, Abbas Q (2019) Fossil fuels, foreign direct investment, and economic growth have triggered CO2 emissions in emerging Asian economies: some empirical evidence. Energy 171:493–501

Hansen BE (1999) Testing for linearity. J Econ Surv 13(5):551–576

Hansen BE, Seo B (2002) Testing for two-regime threshold cointegration in vector error-correction models. J Econ 110(2):293–318

Haug AA, Ucal M (2019) The role of trade and FDI for CO2 emissions in Turkey: nonlinear relationships. Energy Econ 81:297–307

Hiemstra C, Jones JD (1994) Testing for linear and nonlinear granger causality in the stock price-volume relation. J Financ 49(5):1639–1664

Huang J, Chen X, Huang B, Yang X (2017) Economic and environmental impacts of foreign direct investment in China: a spatial spillover analysis. China Econ Rev 45:289–309

Jungho B (2016) A new look at the FDI–income–energy–environment nexus: dynamic panel data analysis of ASEAN. Energy Policy 91:22–27

Kivyiro P, Arminen H (2014) Carbon dioxide emissions, energy consumption, economic growth, and foreign direct investment: Causality analysis for Sub-Saharan Africa. Energy 74:595–606

Lee T, White H, Granger CW (1993) Testing for neglected nonlinearity in time series models: a comparison of neural network methods and alternative tests. essays in econometrics. Cambridge University Press, Cambridge

Li M, Zheng H, Chong TTL, Zhang Y (2016) The stock–bond comovements and cross-market trading. J Econ Dyn Control 73:417–438

Lindmark M (2002) An EKC-pattern in historical perspective: carbon dioxide emissions, technology, fuel prices and growth in Sweden 1870–1997. Ecol Econ 42(1):333–347

Liobikienė G, Butkus M (2019) Scale, composition, and technique effects through which the economic growth, foreign direct investment, urbanization, and trade affect greenhouse gas emissions. Renew Energy 132:1310–1322

Mahadevan R, Sun Y (2020) Effects of foreign direct investment on carbon emissions: evidence from China and its Belt and Road countries. J Environ Manag 276:111321

Malik MY, Latif K, Khan Z, Butt HD, Hussain M, Nadeem MA (2020) Symmetric and asymmetric impact of oil price, FDI and economic growth on carbon emission in Pakistan: Evidence from ARDL and non-linear ARDL approach. Sci Total Environ 726:138421

Omri A, Nguyen DK, Rault C (2014) Causal interactions between CO2 emissions, FDI, and economic growth: evidence from dynamic simultaneous-equation models. Econ Model 42:382–389

Pazienza P (2019) The impact of FDI in the OECD manufacturing sector on CO2 emission: evidence and policy issues. Environ Impact Assess Rev 77:60–68

Pragidis IC, Tsintzos P, Plakandaras B (2018) Asymmetric effects of government spending shocks during the financial cycle. Econ Model 68:372–387

Rafindadi AA, Muye IM, Kaita RA (2018) The effects of FDI and energy consumption on environmental pollution in predominantly resource-based economies of the GCC. Sustain. Energy Tech Assess 25:126–137

Shahbaz M, Nasreen S, Abbas F, Anis Q (2015) Does foreign direct investment impede environmental quality in high-, middle-, and low-income countries? Energy Econ 51:275–287

Shahbaz M, Gozgor G, Adom PK, Hammoudeh S (2019) The technical decomposition of carbon emissions and the concerns about FDI and trade openness effects in the United States. Int Econ 58:943–951

Walter I, Ugelow JL (1979) Environmental policies in developing countries. Ambio 8(23):102–109

Xie Q, Wang X, Cong X (2020) How does foreign direct investment affect CO2 emissions in emerging countries?New findings from a nonlinear panel analysis. J Clean Prod 249:119422

Yang ZH (2010) Nonlinear research on the relationship between "Economic Growth" and "CO2 emissions": based on nonlinear Granger causality test in developing countries. J World Econ 10:139–160

Yaseen Anwar (2016) China-Pakistan economic corridor (CPEC). International Monetary Review 3(2):117–119

Zhang C, Zhou X (2016) Does foreign direct investment lead to lower CO2 emissions? Evidence from a regional analysis in China. Renew. Sust Energ Rev 58:943–951
Funding
This work is supported by the Humanities and Social Sciences Foundation of the Chinese Ministry of Education (20YJC790031). The scientific research program was funded by the Hubei Provincial Education Department (Q20201513). Philosophy and Social Science Research Project of Hubei Provincial Education Department (20Y057).
Ethics declarations
Competing interests
The authors declare that they have no competing interests.
Ethical approval
Not applicable.
Consent to participate
Not applicable.
Consent to publish
Not applicable.
Additional information
Publisher's note
Springer Nature remains neutral with regard to jurisdictional claims in published maps and institutional affiliations.
Responsible Editor: Eyup Dogan
About this article
Cite this article
Gong, M., Zhen, S. & Liu, H. Research on the nonlinear dynamic relationship between FDI and CO2 emissions in the "One Belt, One Road" countries. Environ Sci Pollut Res (2021). https://doi.org/10.1007/s11356-021-12532-6
Received:

Accepted:

Published:
Keywords
FDI

CO2 emissions

Nonlinear

TVAR

TVECM