Abstract
The increase of affected river reaches by reservoirs has drastically disturbed the original hydrological conditions, and subsequently influenced the nutrient biogeochemistry in the aquatic system, particularly in the cascade reservoir system. To understand the seasonal variation of nitrogen (N) behaviors in cascade reservoirs, hydrochemistry and nitrate dual isotopes (δ15N-NO3− and δ18O-NO3−) were conducted in a karst watershed (Wujiang River) in southwest China. The results showed that NO3−–N accounted for almost 90% of the total dissolved nitrogen (TDN) concentration with high average concentration 3.8 ± 0.4 mg/L among four cascade reservoirs. Higher N concentration (4.0 ± 0.8 mg/L) and larger longitudinal variation were observed in summer than in other seasons. The relationship between the variation of NO3−–N and dual isotopes in the profiles demonstrated that nitrification was dominated transformation, while assimilation contributed significantly in the epilimnion during spring and summer. The high dissolved oxygen concentration in the present cascade reservoirs system prevented the occurrence of N depletion processes in most of the reservoirs. Denitrification occurred in the oldest reservoir during winter with a rate ranging from 18 to 28%. The long-term record of surface water TDN concentration in reservoirs demonstrated an increase from 2.0 to 3.6 mg/L during the past two decades (~ 0.1 mg/L per year). The seasonal nitrate isotopic signature and continuously increased fertilizer application demonstrated that chemical fertilizer contribution significantly influenced NO3−–N concentration in the karst cascade reservoirs. The research highlighted that the notable N increase in karst cascade reservoirs could influence the aquatic health in the region and further investigations were required.
Access options
Buy single article
Instant access to the full article PDF.
US$ 39.95
Tax calculation will be finalised during checkout.
Subscribe to journal
Immediate online access to all issues from 2019. Subscription will auto renew annually.
US$ 79
Tax calculation will be finalised during checkout.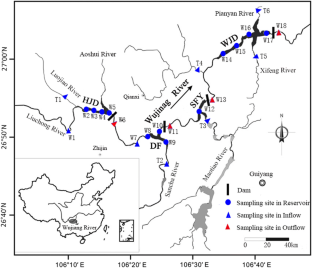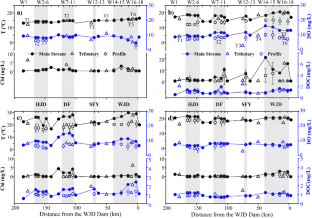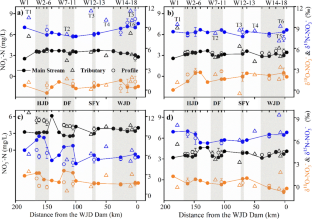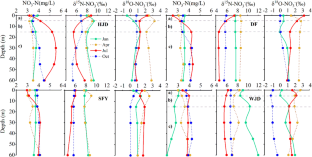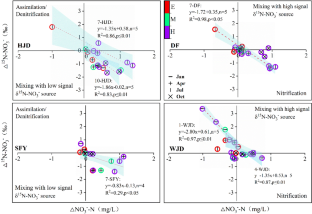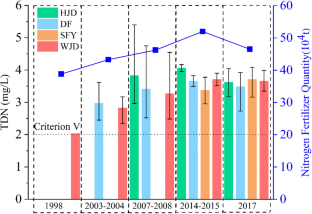 Data Availability
The datasets used and/or analyzed during the current study are available from the corresponding author on reasonable request.
References
Akbarzadeh Z, Maavara T, Slowinski S, Van Cappellen P (2019) Effects of damming on river nitrogen fluxes: a global analysis. Glob Biogeochem Cycles 33:1339–1357

Bardhan P, Naqvi SWA, Karapurkar SG, Shenoy DM, Kurian S, Naik H (2017) Isotopic composition of nitrate and particulate organic matter in a pristine dam reservoir of western India: implications for biogeochemical processes. Biogeosciences 14:767–779

Barros N, Cole JJ, Tranvik LJ, Prairie YT, Bastviken D, Huszar VLM, del Giorgio P, Roland F (2011) Carbon emission from hydroelectric reservoirs linked to reservoir age and latitude. Nat Geosci 4:593–596

Buchwald C, Casciotti KL (2010) Oxygen isotopic fractionation and exchange during bacterial nitrite oxidation. Limnol Oceanogr 55:1064–1074

Chen A, Wu M, McClain ME (2019) Classifying dams for environmental flow implementation in China. Sustainability-Basel 12(1):107

Chen Q, Shi W, Huisman J, Maberly SC (2020) Hydropower reservoirs on the upper Mekong River modify nutrient bioavailability downstream. Natl Sci Rev nwaa026:1–9

Cheng F, Zhang HM, Zhang GL, Liu SM, Song GD, Du GX (2019) Distribution and emission of N2O in the largest river-reservoir system along the Yellow River. Sci Total Environ 666:1209–1219

Davraz A, Karaguzel R, Soyaslan I, Sener E, Seyman F, Sener S (2009) Hydrogeology of karst aquifer systems in SW Turkey and an assessment of water quality and contamination problems. Environ Geol 58:973–988

Ding S, Chen P, Liu S, Zhang G, Zhang J, Dan SF (2019) Nutrient dynamics in the Changjiang and retention effect in the Three Gorges Reservoir. J Hydrol 574:96–109

Evans CD, Futter MN, Moldan F, Valinia S, Frogbrook Z, Kothawala DN (2017) Variability in organic carbon reactivity across lake residence time and trophic gradients. Nat Geosci 10:832–835

Fadhullah W, Yaccob NS, Syakir MI, Muhammad SA, Yue FJ, Li SL (2020) Nitrate sources and processes in the surface water of a tropical reservoir by stable isotopes and mixing model. Sci Total Environ 700:134517

Fenech C, Rock L, Nolan K, Tobin J, Morrissey A (2012) The potential for a suite of isotope and chemical markers to differentiate sources of nitrate contamination: a review. Water Res 46:2023–2041

Fenton O, Mellander PE, Daly K, Wall DP, Jahangir MMR, Jordan P, Hennessey D, Huebsch M, Blum P, Vero S, Richard KG (2017) Integrated assessment of agricultural nutrient pressures and legacies in karst landscapes. Agric Ecosyst Environ 239:246–256

Finlay JC, Small GE, Sterner RW (2013) Human influences on nitrogen removal in lakes. Science 342:247–250

Gao Y, Jia YL, Yu GR, He NP, Zhang L, Zhu B, Wang YF (2019) Anthropogenic reactive nitrogen deposition and associated nutrient limitation effect on gross primary productivity in inland water of China. J Clean Prod 208:530–540

Glibert PM, Wilkerson FP, Dugdale RC, Raven JA, Dupont CL, Leavitt PR, Parker AE, Burkholder JM, Kana TM (2016) Pluses and minuses of ammonium and nitrate uptake and assimilation by phytoplankton and implications for productivity and community composition, with emphasis on nitrogen-enriched conditions. Limnol Oceanogr 61:165–197

Granger J, Sigman DM, Rohde MM, Maldonado MT, Tortell PD (2010) N and O isotope effects during nitrate assimilation by unicellular prokaryotic and eukaryotic plankton cultures. Geochim Cosmochim Acta 74:1030–1040

Green SM, Dungait JA, Tu C, Buss HL, Sanderson N, Hawkes SJ, Xing K, Yue F, Hussey VL, Peng J et al (2019) Soil functions and ecosystem services research in the Chinese karst Critical Zone. Chem Geol 527:119107

Grill G, Lehner B, Thieme M, Geenen B, Tickner D, Antonelli F, Babu S, Borrelli P, Cheng L, Crochetiere H, Ehalt Macedo H, Filgueiras R, Goichot M, Higgins J, Hogan Z, Lip B, McClain ME, Meng J, Mulligan M, Nilsson C, Olden JD, Opperman JJ, Petry P, Reidy Liermann C, Sáenz L, Salinas-Rodríguez S, Schelle P, Schmitt RJP, Snider J, Tan F, Tockner K, Valdujo PH, van Soesbergen A, Zarfl C (2019) Mapping the world's free-flowing rivers. Nature 569:215–221

Harrison JA, Maranger RJ, Alexander RB, Giblin AE, Jacinthe P-A, Mayorga E, Seitzinger SP, Sobota DJ, Wollheim WM (2009) The regional and global significance of nitrogen removal in lakes and reservoirs. Biogeochemistry 93:143–157

Huang SY, Pu JB, Li JH, Zhang T, Cao JH, Pan MC (2020) Sources, variations, and flux of settling particulate organic matter in a subtropical karst reservoir in Southwest China. J Hydrol 586:124882

Jin ZF, Cen JR, Hu YM, Li LJ, Shi YS, Fu GW, Li FL (2019) Quantifying nitrate sources in a large reservoir for drinking water by using stable isotopes and a Bayesian isotope mixing model. Environ Sci Pollut Res 26:20364–20376

Kendall C, Elliott EM, Wankel SD (2007) Tracing anthropogenic inputs of nitrogen to ecosystems. In: Lajtha K, Michener R (eds) Stable Isotopes in Ecology and Environmental Science, 2nd edn. Blackwell, UK, pp 375–449

Li C, Ji H (2016) Chemical weathering and the role of sulfuric and nitric acids in carbonate weathering: isotopes (13C,15N,34S, and18O) and chemical constraints. J Geophys Res Biogeosci 121:1288–1305

Li SL, Liu CQ, Li J, Liu XL, Chetelat B, Wang BL, Wang FS (2010) Assessment of the sources of nitrate in the Changjiang River, China using a nitrogen and oxygen isotopic approach. Environ Sci Technol 44:1573–1578

Li C, Li SL, Yue FJ, Liu J, Zhong J, Yan ZF, Zhang RC, Wang ZJ, Xu S (2019) Identification of sources and transformations of nitrate in the Xijiang River using nitrate isotopes and Bayesian model. Sci Total Environ 646:801–810

Li S-L, Xu S, Wang T-J, Yue F-J, Peng T, Zhong J, Wang L-C, Chen J-A, Wang S-J, Chen X, Liu C-Q (2020a) Effects of agricultural activities coupled with karst structures on riverine biogeochemical cycles and environmental quality in the karst region. Agric Ecosyst Environ 303:107120

Li Y, Abegunrin TP, Guo H, Huang Z, Are KS, Wang H, Gu M, Wei L (2020b) Variation of dissolved nutrient exports by surface runoff from sugarcane watershed is controlled by fertilizer application and ground cover. Agric Ecosyst Environ 303:107121

Li Z, Xu X, Zhu J, Xu C, Wang K (2020c) The contributions of the largest erosive events to sediment yields in karst catchments. Water Resour Res 56. https://doi.org/10.1029/2019WR025839

Liang X, Xing T, Li J, Wang BL, Wang F, He C, Hou LJ, Li SL (2019) Control of the hydraulic load on nitrous oxide emissions from cascade reservoirs. Environ Sci Technol 53:11745–11754

Liu C (2007) Bio–geochemical processes and cycling of nutrients in the earth's surface: erosion of karstic catchment and nutrients cycling in Southwest China. Science Press, Beijing

Liu XL, Liu CQ, Li SL, Wang FS, Wang BL, Wang ZL (2011) Spatiotemporal variations of nitrous oxide (N2O) emissions from two reservoirs in SW China. Atmos Environ 45:5458–5468

Liu X, Li S, Wang Z, Han G, Li J, Wang B, Wang F, Bai L (2017) Nitrous oxide (N2O) emissions from a mesotrophic reservoir on the Wujiang River, southwest China. Acta Geochim 36:667–679

Liu SS, Wu FC, Feng WY, Guo WJ, Song FH, Wang H, Wang Y, He ZQ, Giesy JP, Zhu P, Tang Z (2018) Using dual isotopes and a Bayesian isotope mixing model to evaluate sources of nitrate of Tai Lake, China. Environ Sci Pollut Res 25:32631–32639

Maavara T, Chen Q, Van Meter K, Brown LE, Zhang J, Ni J, Zarfl C (2020) River dam impacts on biogeochemical cycling. Nat Rev Earth Environ 1:103–116

Mayer B, Wassenaar LI (2012) Isotopic characterization of nitrate sources and transformations in Lake Winnipeg and its contributing rivers, Manitoba, Canada. Journal of Great Lakes Research 38. Supplement 3:135–146

McIlvin MR, Casciotti KL (2011) Technical updates to the bacterial method for nitrate isotopic analyses. Anal Chem 83:1850–1856

Mulligan M, van Soesbergen A, Saenz L (2020) GOODD, a global dataset of more than 38,000 georeferenced dams. Sci Data 7:31

Nestler A, Berglund M, Accoe F, Duta S, Xue DM, Boeckx P, Taylor P (2011) Isotopes for improved management of nitrate pollution in aqueous resources: review of surface water field studies. Environ Sci Pollut Res 18:519–533

Qin B, Zhou J, Elser JJ, Gardner WS, Deng J, Brookes JD (2020) Water depth underpins the relative roles and fates of nitrogen and phosphorus in lakes. Environ Sci Technol 54:3191–3198

Ran XB, Bouwman L, Yu ZG, Beusen A, Chen HT, Yao QZ (2017) Nitrogen transport, transformation, and retention in the Three Gorges Reservoir: a mass balance approach. Limnol Oceanogr 62:2323–2337

Ren J, Zhao M, Zhang W, Xu Q, Yuan J, Dong B (2020) Impact of the construction of cascade reservoirs on suspended sediment peak transport variation during flood events in the Three Gorges Reservoir. Catena 188:104409

Schmutz S, Moog O (2018) Dams: ecological impacts and management, Riverine Ecosystem Management. In: Schmutz S., Sendzimir J. (eds) Riverine Ecosystem Management. Aquatic Ecology Series, vol 8. Springer, Cham, pp 111–127

Shi W, Qiuwen C, Jianyun Z, Dongsheng L, Qitao Y, Yuchen C, Honghai M, Liuming H (2020) Nitrous oxide emissions from cascade hydropower reservoirs in the upper Mekong River. Water Res 173:115582

Su WC (2002) Negative effects of cascade hydropower exploitation environmental in the Wujiang Basin. Resour Environ Yangtze Basin 11:388–392 (In Chinese with English Abstract)

Sullivan PL, Macpherson GL, Martin JB, Price RM (2019) Evolution of carbonate and karst critical zones. Chem Geol 527:119223

Swart PK, Evans S, Capo T, Altabet MA (2014) The fractionation of nitrogen and oxygen isotopes in macroalgae during the assimilation of nitrate. Biogeosciences 11:6147–6157

Van Cappellen P, Maavara T (2016) Rivers in the Anthropocene: global scale modifications of riverine nutrient fluxes by damming. Ecohydrol Hydrobiol 16:106–111

Wang FS, Yu YX, Liu CQ, Wang BL, Wang YC, Guan J, Mei HY (2010) Dissolved silicate retention and transport in cascade reservoirs in Karst area, Southwest China. Sci Total Environ 408:1667–1675

Wang B, Qiu X-L, Peng X, Wang F (2018a) Phytoplankton community structure and succession in karst cascade reservoirs, SW China. Inland Waters 8:229–238

Wang ZJ, Yue FJ, Li SL, Li XD, Wang SL, Li C, Tao FX (2018b) Nitrate dynamics during impoundment and flood periods in a subtropical karst reservoir: Hongfeng Lake, Southwestern China. Environ Sci Process Impacts 20:1736–1745

Wang KL, Zhang CH, Chen HS, Yue YM, Zhang W, Zhang MY, Qi XK, Fu ZY (2019) Karst landscapes of China: patterns, ecosystem processes and services. Landsc Ecol 34(12):2743–2763

Wang BL, Zhang HT, Liang X, Li XD, Wang FS (2019a) Cumulative effects of cascade dams on river water cycle: evidence from hydrogen and oxygen isotopes. J Hydrol 568:604–610

Wang W, Li S, Zhong J, Maberly SC, Li C, Wang FS, Xiao HY, Liu CQ (2019b) Climatic and anthropogenic regulation of carbon transport and transformation in a karst river-reservoir system. Sci Total Environ 707:135628

Wenk CB, Zopfi J, Blees J, Veronesi M, Niemann H, Lehmann MF (2014) Community N and O isotope fractionation by sulfide-dependent denitrification and anammox in a stratified lacustrine water column. Geochim Cosmochim Acta 125:551–563

Winton RS, Calamita E, Wehrli B (2019) Reviews and syntheses: dams, water quality and tropical reservoir stratification. Biogeosciences 16:1657–1671

Xing M, Liu WG (2016) Using dual isotopes to identify sources and transformations of nitrogen in water catchments with different land uses, Loess Plateau of China. Environ Sci Pollut Res 23:388–401

Xue D, Botte J, De Baets B, Accoe F, Nestler A, Taylor P, Van Cleemput O, Berglund M, Boeckx P (2009) Present limitations and future prospects of stable isotope methods for nitrate source identification in surface- and groundwater. Water Res 43:1159–1170

Yang D, Wang S, Lu W, Xiang P, Yang Y, Tan D, Guo M, Yeager KM (2018) Impoundment-induced nitrogen–phosphorus imbalance in cascade reservoirs alleviated by input of anthropogenic nutrients. Inland Waters 8:196–206

Yang M, Li X-D, Huang J, Ding S, Cui G, Liu C-Q, Li Q, Lv H, Yi Y (2020) Damming effects on river sulfur cycle in karst area: a case study of the Wujiang cascade reservoirs. Agric Ecosyst Environ 294:106857

Yu Z, Yang J, Amalfitano S, Yu X, Liu L (2014) Effects of water stratification and mixing on microbial community structure in a subtropical deep reservoir. Sci Rep-Uk 4:5821

Yue F-J, Li S-L, Liu C-Q, Mostofa KMG, Yoshida N, Toyoda S, Wang S-L, Hattori S, Liu X-L (2018) Spatial variation of nitrogen cycling in a subtropical stratified impoundment in southwest China, elucidated by nitrous oxide isotopomer and nitrate isotopes. Inland Waters 8:186–195

Yue F-J, Waldron S, Li S-L, Wang Z-J, Zeng J, Xu S, Zhang Z-C, Oliver DM (2019) Land use interacts with changes in catchment hydrology to generate chronic nitrate pollution in karst waters and strong seasonality in excess nitrate export. Sci Total Environ 696:134062

Yue F-J, Li S-L, Waldron S, Wang Z-J, Oliver DM, Chen X, Liu C-Q (2020) Rainfall and conduit drainage combine to accelerate nitrate loss from a karst agroecosystem: insights from stable isotope tracing and high-frequency nitrate sensing. Water Res 186:116388

Zarfl C, Lumsdon AE, Berlekamp J, Tydecks L, Tockner K (2015) A global boom in hydropower dam construction. Aquat Sci 77:161–170

Zhang HY, Yang YS, Zou JY, Wen YJ, Gao CP (2018) The sources and dispersal of nitrate in multiple waters, constrained by multiple isotopes, in the Wudalianchi region, northeast China. Environ Sci Pollut Res 25:24348–24361

Zhao HJ, Xiao Q, Miao Y, Wang ZJ, Wang QG (2020) Sources and transformations of nitrate constrained by nitrate isotopes and Bayesian model in karst surface water, Guilin, Southwest China. Environ Sci Pollut Res 27:21299–21310

Zhou X, Chen N, Yan Z, Duan S (2016) Warming increases nutrient mobilization and gaseous nitrogen removal from sediments across cascade reservoirs. Environ Pollut 219:490–500

Zhu J (2005) Effect of dams on the biogeochemical cycles of nutrients in the Wujiang River. Institute of Geochemistry, Chinese Academy of Sciences, Guiyang (China) (In Chinese with English Abstract)
Funding
This research was funded by the National Key Research and Developmental Program of China (grant no. 2016YFA0601002) and National Natural Science Foundation of China (grant nos. 41672351, 42073076, 419250020).
Ethics declarations
Ethics approval and consent to participate
Not applicable.
Consent for publication
Not applicable.
Competing interests
The authors declare that they have no competing interests.
Additional information
Publisher's note
Springer Nature remains neutral with regard to jurisdictional claims in published maps and institutional affiliations.
Responsible editor: Philippe Garrigues
Supplementary Information
About this article
Cite this article
Chen, SN., Yue, FJ., Liu, XL. et al. Seasonal variation of nitrogen biogeochemical processes constrained by nitrate dual isotopes in cascade reservoirs, Southwestern China. Environ Sci Pollut Res (2021). https://doi.org/10.1007/s11356-021-12505-9
Received:

Accepted:

Published:
Keywords
Cascade reservoirs

Nitrogen cycle

Nitrate dual isotopes

Wujiang River