Abstract
Personal protective equipment (PPE) is always considered the last and sometimes the most important safety shield against pesticides' hazards health risks. The spread of pests and low-quality pesticides, especially in developing countries, has increased health hazard potential among farmers. The present study aimed to assess farmers' health risks when using PPE (composite index) by exploring its most important predictive factors. A sample of 370 farmers in Ardabil province, Iran, was selected based on the multistage sampling method. The results reveal that most farmers use three types of PPE when applying pesticides. Based on their perception of pesticides' health risk, the number of PPE used differs. The highest health hazard in using PPE and the minimum perception of health risks caused by pesticides among farmers are related to the pesticides Paraquat and Chlorpyrifos. Also, the most important predictive factors of the composite index were found to be farm size, pesticides' health risk perception, previous experiences with harmful effects of chemical pesticides on health (especially among large-scale farmers), training courses, and ability to afford PPE-related costs, respectively. Accordingly, farmers' safety and health programs in the region should focus on reducing or replacing the mentioned high-risk pesticides. Reducing government subsidies for high-risk pesticides, establishing government subsidies for farmers' PPE, providing extension training (especially for small-scale farmers), and receiving ongoing training feedback to improve farmers' health risk perception of pesticides and the need to use PPE will effectively reduce farmers' health risks.
Access options
Buy single article
Instant access to the full article PDF.
US$ 39.95
Tax calculation will be finalised during checkout.
Subscribe to journal
Immediate online access to all issues from 2019. Subscription will auto renew annually.
US$ 79
Tax calculation will be finalised during checkout.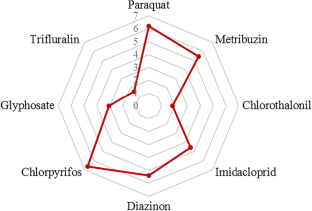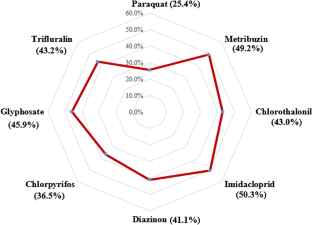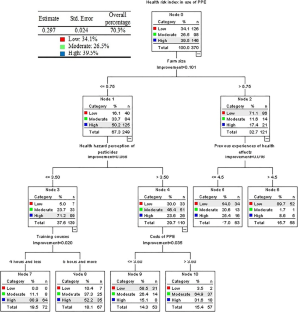 References
Afshari M, Poorolajal J, Assari MJ, Rezapur-Shahkolai F, Karimi-Shahanjarini A (2018) Acute pesticide poisoning and related factors among farmers in rural Western Iran. Toxicol Ind Health 074823371879573:1–14

Agri-Jihad Organization of Ardabil Province (2019) Statistical yearbook of cropping products. Deputy of Planning and Economic Affairs, Office of Statistics and Information Technology. Publications of Agri-Jihad Organization of Ardabil Province, Iran

Akter M, Fan L, Rahman MM, Geissen V, Ritsema C (2018) Vegetable farmers' behavior and knowledge related to pesticide use and related health problems: a case study from Bangladesh. J Clean Prod 200:122e133

Asgar E, Jafar G, Morteza K (2017) Colorado potato beetle (Leptinotarsa decemlineata Say) control potential of essential oil isolated from Iranian Cymbopogon citratus Stapf. Natural Product Sciences. Korean Soc Pharmacogn 23(4):235–238

Bagheri A, Bondori A, Allahyari MS, Damalas CA (2019) Modeling farmers' intention to use pesticides: an expanded version of the theory of planned behavior. J Environ Manag 248:109291

Bagnara, S., Tartaglia, R., Albolino, S., Alexander, T., & Fujita, Y. (Eds.). (2019). Proceedings of the 20th Congress of the International Ergonomics Association (IEA 2018). Advances in Intelligent Systems and Computing. Springer International Publishing, held in Florence, Italy, August 26-30, 821

Bakhsh K, Ahmad N, Tabasum S, Hassan S, Hassan I (2017) Health hazards and adoption of personal protective equipment during cotton harvesting in Pakistan. Sci Total Environ 598:1058–1064

Bartlett JE, Kotrlik JW, Higgins CC (2001) Organizational research: determining appropriation sample size in survey research. Inf Technol Learn Perform J 19:43–50

Chionis D, Karanikas N (2018) Differences in risk perception factors and behaviors amongst and within professionals and trainees in the aviation engineering domain. Aerospace 5(2):62 1-23

Cornell University (2019) List of pesticide active ingredient EIQ values, The EIQ Equation, collage of agriculture and life science. Available on: https://nysipm.cornell.edu/eiq/list-pesticide-active-ingredient-eiq-values/

Damalas CA, Abdollahzadeh G (2016) Farmers' use of personal protective equipment during handling of plant protection products: determinants of implementation. Sci Total Environ 571:730–736

Damalas CA, Khan M (2016) Farmers' attitudes towards pesticide labels: implications for personal and environmental safety. Int J Pest Manag 62(4):319–325

Deihimfard R, Zand E, Damghani AM, Soufizadeh S (2007) Herbicide risk assessment during the Wheat Self-sufficiency Project in Iran. Pest Manag Sci 63:1036–1045

Diyanat M, Mofidi S, Ramezani M (2019) Study of the soil characteristics and utilization history of metribuzin used in potato fields on its efficiency to control of redroot pigweed (Amaranth retroflexus L.). Weed Res J 10(2):1–14

Franklin RC, McBain-Rigg KE, King JC, Lower T (2015) Exploring the barriers and facilitators to adoption of improved work practices for safety in the primary industries. Rural Industries Research and Development Corporation, Barton

Garrigou A, Laurent C, Berthet A, Colosio C, Jas N, Daubas-Letourneux V, Jackson Filho JM, Jouzel JN, Samuel O, Baldi I, Lebailly P, Galey L, Goutille F, Judon N (2020) Critical review of the role of PPE in the prevention of risks related to agricultural pesticide use. Saf Sci 123:104527

Gustafson DI (1989) Groundwater ubiquity score: a simple method for assessing pesticide leach ability. Environ T Chem 8:339–357

Hahn MB, Riederer AM, Foster SO (2009) The livelihood vulnerability index: a pragmatic approach to assessing risks from climate variability and change – a case study in Mozambique. Glob Environ Chang 19:74–88

Joko T, Dewanti NAY, Dangiran HL (2020) Pesticide poisoning and the use of personal protective equipment (PPE) in Indonesian farmers. J Environ Public Health 2020:1–7

Kearney GD, Xu X, Balanay JAG, Allen DL, Rafferty AP (2015) Assessment of personal protective equipment use among farmers in Eastern North Carolina: a cross-sectional study. J Agromed 20(1):43–54

Keshavarz M, Maleksaeidi H, Karami E (2017) Livelihood vulnerability to drought: a case of rural Iran. Int J Disaster Risk Reduct 21:223–230

Kniss AR, Coburn CW (2015) Quantitative evaluation of the environmental impact quotient EIQ for comparing herbicides. PLoS One 106:e0131200

Kovach J, Petzoldt C, Degni J, Tette J (1992) A Method to Measure the Environmental Impact of Pesticides. New York's Food Life Sci Bull 139:1–8

Levitan L, Merwin I, Kovach J (1995) Assessing the relative environmental impacts of agricultural pesticides: the quest for a holistic method. Agric Ecosyst Environ 55:153–168

Londoño Pineda AA, Vélez Rojas (Oscar) OA, Jonathan MP, Sujitha SB (2019) Evaluation of climate change adaptation in the energy generation sector in Colombia via a composite index; a monitoring tool for government policies and actions. J Environ Manag 250(109453):1–9

Moradhaseli S, Sadighim H, Ataei P (2017) Investigation of the farmers' safety and protective behavior to use pesticides in the farms. HEHP. 5(2):53–65

Morteza Z, Mousavi SB, Baghestani MA, Aitio A (2017) An assessment of agricultural pesticide uses in Iran, 2012-2014. J Environ Health Sci Eng 15(10):1–8

Najafi Saleh H, Kavosi A, Pakdel M, Yousefi M, Baghal Asghari F, Mohammadi AA (2018) Assessment health status of ICU medical equipment levels at Neyshabur hospitals using ICNA and ACC indices. MethodsX 5:1364–1372

Ndayambaje B, Amuguni H, Coffin-Schmitt J, Sibo N, Ntawubizi M, VanWormer E (2019) Pesticide application practices and knowledge among small-scale local rice growers and communities in Rwanda: a cross-sectional study. Int J Environ Res Public Health 16(23):4770

OECD. (2008). Handbook on constructing composite indicators: methodology and user guide, Website: <www.oecd.org>

Okoffo ED, Mensah M, Fosu-Mensah BY (2016) Pesticides exposure and the use of personal protective equipment by cocoa farmers in Ghana. Environ Syst Res 5(17):1–17

Panda S, Chakraborty M, Misra SK (2016) Assessment of social sustainable development in urban India by a composite index. Int J Sustain Built Environ 5(2):435–450

Rezaei R, Safa L, Ganjkhanlo MM (2020) Understanding farmers' ecological conservation behavior regarding the use of integrated pest management- an application of the technology acceptance model. Glob Ecol Conserv e00941(22):1–18

Russell-Green S, Cotton J, Brumby S (2020) Research engagement changes attitudes and behaviours towards agrichemical safety in Australian farmers. Safety 6(1):16

Schripsema A, Meijer B (2017) Food losses in the Iranian potato sector – identification mission. Ministry of economic affairs of the Netherlands. Wageningen Food and Biobased Research. Report, 1750

Scriven, M. (2007). The logic and methodology of checklists. Kalamazoo, MI: The Evaluation Center. Available from http://www.wmich.edu/evalctr/checklists/

Sepúlveda S (2008) Methodology for estimating sustainable development levels in areas. IICA, San José

Serna C, Czerny M, Londoño A, Rojas O (2015) Livelihood assessment in district 1 of Medellin–Colombia. Miscellanea Geograph 19(4):9–20

Sharifzadeh MS, Abdollahzadeh G, Damalas CA, Rezaei R (2018) Farmers' criteria for pesticide selection and use in the pest control process. Agriculture 8(24):1–16

Sjoberg L, Moen B, Rundmo T (2004) Explaining risk perception: an evaluation of the psychometric paradigm in risk perception research. Norwegian University of Science and Technology Department of Psychology, Trondheim

Tajmiri P, Fathi SAA, Golizadeh A, Nouri-Ganbalani G (2017) Effect of strip-intercropping potato and annual alfalfa on populations of Leptinotarsa decemlineata Say and its predators. Int J Pest Manag 63:273–279

WHO (World Health Organization) (2010) WHO recommended classification of pesticides by hazard and guidelines to classification 2009. Publisher: World Health Organization. Inter-Organization Programme for the Sound Management of Chemicals (IPCS). 78 pages

Wilson RS, Zwickle A, Walpole H (2019) Developing a broadly applicable measure of risk perception. Risk Anal 39(4):777–791

Yarpuz-Bozdogan N (2018) The importance of personal protective equipment in pesticide applications in agriculture. Curr Opin Environ Sci Health 4:1–4
Funding
The authors would like to thank University of Mohaghegh Ardabili (Ardabil, Iran) for financial support for this study.
Ethics declarations
Ethical approval
Not applicable
Consent to participate
Not applicable
Consent to publish
Not applicable
Competing interests
The authors declare that they have no conflict of interest.
Additional information
Publisher's note
Springer Nature remains neutral with regard to jurisdictional claims in published maps and institutional affiliations.
Responsible editor: Lotfi Aleya
About this article
Cite this article
Sookhtanlou, M., Allahyari, M.S. Farmers' health risk and the use of personal protective equipment (PPE) during pesticide application. Environ Sci Pollut Res (2021). https://doi.org/10.1007/s11356-021-12502-y
Received:

Accepted:

Published:
Keywords
Personal protection equipment

Potato farmers

Pesticides

Health risk