Abstract
The health of family farmers is at risk due to occupational exposure to pesticides. The aims of the current study were to investigate the level of farmers' perception of risks associated with pesticide use and to assess their health condition based on biochemical and immunological tests. Family farmers living in a vegetable-producing region in Southern Brazil were selected to participate in the study. More than 70% of the family farmers were often exposed to more than one type of pesticides; 41.2% were intensively using several pesticides for more than one decade and 74.4% were not using personal protective equipment (PPE) at the time of pesticide handling due to low perception of the risks posed by these chemicals. Enzymatic analysis performed in participants' blood samples showed changes in catalase (CAT) and glutathione reductase (GR) activity, in lipid peroxidation (TBARS) and carbonylated protein levels, as well as in chemoattractant (IL-8) and anti-inflammatory (IL-10) interleukin expression. Low perception of health-related risks posed by pesticides can be attributed to factors such as low schooling and lack of information, which put farmers' health at risk, as evidenced by blood biochemical and immunological changes.
Access options
Buy single article
Instant access to the full article PDF.
US$ 39.95
Tax calculation will be finalised during checkout.
Subscribe to journal
Immediate online access to all issues from 2019. Subscription will auto renew annually.
US$ 79
Tax calculation will be finalised during checkout.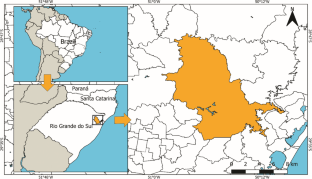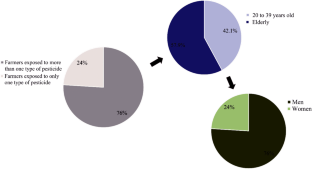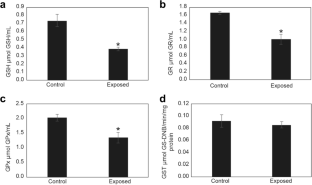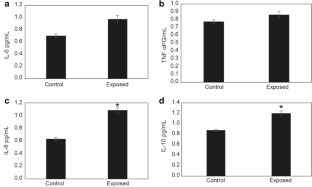 References
Agência Nacional de Vigilância Sanitária (National Health Surveillance Agency) - ANVISA (2020) Painel de Monografias de Agrotóxicos. http://portalanalitico.anvisa.gov.br/monografias-de-agrotoxicos. Accessed Dec 2020 (in Portuguese)

Bagheri A, Emami N, Allahyari MS, Damalas CA (2018) Pesticide handling practices, health risks, and determinants of safety behavior among Iranian apple farmers. Hum Ecol Risk Assess 24:1–15

Baharuddin MRB, Sahid IB, Noor MABM, Sulaiman N, Othman F (2011) Pesticide risk assessment: A study on inhalation and dermal exposure to 2,4-D and paraquat among Malaysian paddy farmers. J Environ Sci Health B 46:600–607. https://doi.org/10.1080/03601234.2011.589309

Benedetti D, Alderete BL, Souza CTS, Dias JF, Niekraszewicz L, Cappetta M, Martínez-López W, Silva J (2018) DNA damage and epigenetic alteration in soybean farmers exposed to complex mixture of pesticides. Mutagenesis 33:87–95. https://doi.org/10.1093/mutage/gex035

Bittar A, Chung JM, Jun J, Wang J, Leem JW, Chung JM (2017) Reactive oxygen species affect spinal cell type-specific synaptic plasticity in a model of neuropathic pain. Pain 158:2137–2146. https://doi.org/10.1097/j.pain.0000000000001014

Bondori A, Bagheri A, Sookhtanlou M, Allahyari MS, Damalas CA (2018) Pesticide use in cereal production in Moghan Plain, Iran: risk knowledge and farmers' attitudes. Crop Prot 110:117–124. https://doi.org/10.1016/j.cropro.2018.04.009

Brand RM, McMahon L, Jendrzejewski JL, Charron AR (2007) Transdermal absorption of the herbicide 2,4-dichlorophenoxyacetic acid is enhanced by both ethanol consumption and sunscreen application. Food Chem Toxicol 45:93–97. https://doi.org/10.1016/j.fct.2006.08.005

Brazil (2017a). Ministério da Agricultura. http://www.mda.gov.br/sitemda/noticias/o-que-é-agricultura-familiar (in Portuguese)

Brazil (2017b). Ministério da Saúde. Técnicas para coleta de sangue. http://www.bvsms.saude.gov.br/bvs/publicacoes/0108tecnicas_sangue.pdf (in Portuguese)

Campos E, Silva VSP, Mello MSC, Otero UB (2016) Exposure to pesticides and mental disorders in a rural population of Southern Brazil. Neurotoxicology 56:7–16. https://doi.org/10.1016/j.neuro.2016.06.002

Cardoso TPA, Viturino da Silva JW, Kishishita J, Bedor CNG, Bedor DCG, Pereira de Santana D, Leal BL (2020) Pesticide dermal absorption: case study x in vitro study. Environ Toxicol Pharmacol 75:103313. https://doi.org/10.1016/j.etap.2019.103313

Cattelan MDP, Maurer P, Garcia F, Berro LF, Machado MM, Manfredini V, Piccoli JCE (2018) Occupational exposure to pesticides in family agriculture and the oxidative, biochemical and hematological profile in this agricultural model. Life Sci 203:177–183. https://doi.org/10.1016/j.lfs.2018.04.038

Cecconi S, Paro R, Rossi G, Macchiarelli G (2007) The effects of the endocrine disruptors dithiocarbamates on the mammalian ovary with particular regard to mancozeb. Curr Pharm Des 13:2989–3004. https://doi.org/10.2174/138161207782110516

Corsini E, Codecà I, Mangiaratti S, Birindelli S, Minoia C, Turci R, Viviani B, Facchi A, Vitelli N, Lucchi L, Galli CL, Marinovich M, Colosio C (2007) Immunomodulatory effects of the herbicide propanil on cytokine production in humans: in vivo and in vitro exposure. Toxicol Appl Pharmacol 208:178–185. https://doi.org/10.1016/j.taap.2007.04.017

Costa C, Teodoro M, Rugolo CA, Alibrando C, Giambò F, Briguglio G, Fenga C (2020) MicroRNAs alteration as early biomarkers for cancer and neurodegenerative diseases: New challenges in pesticides exposure. Toxicol Rep 7:759–767. https://doi.org/10.1016/j.toxrep.2020.05.003

Cuenca JB, Tirado N, Barral J, Ali I, Levi M, Stenius U, Berglund M, Dreij K (2019) Increased levels of genotoxic damage in a Bolivian agricultural population exposed to mixtures of pesticides. Sci Total Environ 695:133942. https://doi.org/10.1016/j.scitotenv.2019.133942

Damalas CA, Abdollahzadeh G (2016) Farmers' use of personal protective equipment during handling of plant protection products: determinants of implementation. Sci Total Environ 571:730–736

Damalas CA, Eleftherohorinos IG (2011) Pesticide exposure, safety issues, and risk assessment indicators. Int J Environ Res Public Health 8:1402–1419

Damalas CA, Khan M (2017) Pesticide use in vegetable crops in Pakistan: insights through an ordered probit model. Crop Prot 99:59–64

Damalas CA, Koutroubas SD (2016) Farmers' exposure to pesticides: toxicity types and ways of prevention. Toxics 4:1

Damalas CA, Koutroubas SD, Abdollahzadeh G (2019) Drivers of personal safety in agriculture: a case study with pesticide operators. Agriculture 9:34

Das N, Paul S, Chatterjee D, Banerjee N, Majumder NS, Sarma N, Sau TJ, Basu S, Banerjee S, Majumder P, Bandyopadhyay AK, States JC, Giri AK (2012) Arsenic exposure through drinking water increases the risk of liver and cardiovascular diseases in the population of West Bengal, India. BMC Public Health 12:639. https://doi.org/10.1186/1471-2458-12-639

Deschacht N, Winter A (2015) Rural crisis and rural exodus? Local migration dynamics during the crisis of the 1840s in Flanders (Belgium). Explor Econ Hist 56:32–52. https://doi.org/10.1016/j.eeh.2014.11.001

Dutta T, Nayak C, Bhattacharjee S (2019) Acetylcholinesterase, Butyrylcholinesterase and Glutathione S-Transferase enzyme activities and their correlation with genotypic variations based on GST M1 and GST T1 Loci in long term-pesticide-exposed tea garden workers of Sub-Himalayan West Bengal. Toxicol Environ Heal Sci 11:63–72. https://doi.org/10.1007/s13530-019-0389-1

Ellman GL (1959) Tissue Sulfhydryl Groups. Arch Biochem Biophys 82:70–77. https://doi.org/10.1016/0003-9861(59)90090-6

Ellman GL, Courtney KD, Andres V Jr, Feather-Stone RM (1961) A new and rapid colorimetric determination of acetylcholinesterase activity. Biochem Pharmacol 7:88–90. https://doi.org/10.1016/0006-2952(61)90145-9

Fan L, Niu H, Yang X, Qin W, Bento CPM, Ritsema CJ, Geissen V (2015) Factors affecting farmers' behaviour in pesticide use: Insights from a field study in northern China. Sci Total Environ 537:360–368. https://doi.org/10.1016/j.scitotenv.2015.07.150

Faria NMX, Fassa AG, Meucci RD, Fiori NS, Miranda VI (2014) Occupational exposure to pesticides, nicotine and minor psychiatric disorders among tobacco farmers in southern Brazil. Neurotoxicology 45:347–354. https://doi.org/10.1016/j.neuro.2014.05.002

Food and Agriculture Organization of the United Nations – FAO (2019). Introducing the UN Decade of Family Farming. http://www.fao.org/family-farming-decade/home/en/. Accessed Oct 2020

Fukuyama T, Kosaka T, Hayashi K, Miyashita K, Tajima Y, Wada K, Nishino R, Ueda H, Harada T (2012) Immunotoxicity in mice induced by short-term exposure to methoxychlor, parathion, or piperonyl butoxide. J Immunotoxicol 10:150–159. https://doi.org/10.3109/1547691X.2012.703252

Habig WH, Pabst MJ, Jakoby WB (1974) Glutathione S-Transferases the first enzymatic step in mercapturic acid formation. J Biol Chem 249:7130–7139

Halliwell B (1994) Free radicals, antioxidants, and human disease: curiosity, cause or consequence? Lancet 344:721–724. https://doi.org/10.1016/s0140-6736(94)92211-x

Hayat K, Afzal M, Aqueel MA, Ali S, Saeed MF, Qureshi AK, Ullah MI, Khan QM, Naseem MT, Ashfaq U, Damalas CA (2019) Insecticide toxic effects and blood biochemical alterations in occupationally exposed individuals in Punjab, Pakistan. Sci Total Environ 655:102–111. https://doi.org/10.1016/j.scitotenv.2018.11.175

Hernández AF, Gómez MA, Pérez V, García-Lario JV, Pena G, Gil O, Rodrigo L, Pino G, Pla A (2006) Influence of exposure to pesticides on serum components and enzyme activities of cytotoxicity among intensive agriculture farmers. Environ Res 102:70–76. https://doi.org/10.1016/j.envres.2006.03.002

Houbraken M, Bauweraerts I, Fevery D, Labeke MCV, Spanoghe P (2016) Pesticide knowledge and practice among horticultural workers in the Lâm Đồng region, Vietnam: a case study of chrysanthemum and strawberries. Sci Total Environ 550:1001–1009. https://doi.org/10.1016/j.scitotenv.2016.01.183

Infante-Rivard C, Weichenthal S (2007) Pesticides and childhood cancer: an update of Zahm and Ward's 1998 review. J Toxicol Environ Health B 10:81–99. https://doi.org/10.1080/10937400601034589

Ishihara K, Hirano T (2002) IL-6 in autoimmune disease and chronic inflammatory proliferative disease. Cytokine Growth F R 13:357–368. https://doi.org/10.1016/s1359-6101(02)00027-8

Jallow MFA, Awadh DG, Albaho MS, Devi VY, Thomas BM (2017) Pesticide risk behaviors and factors influencing pesticide use among farmers in Kuwait. Sci Total Environ 574:490–498. https://doi.org/10.1016/j.scitotenv.2016.09.085

Jentzsch AM, Bachmann H, Fürst P, Biesalski HK (1996) Improved analysis of malondialdehyde in human body fluids. Free Radic Biol Med 20:251–256. https://doi.org/10.1016/0891-5849(95)02043-8

Jors E, Hay-Younes J, Condarco MA, Condarco G, Cervantes R, Huici O, Balum J (2013) Is gender a risk factor for pesticide intoxications among farmers in Bolivia? A cross-sectional study. J Agromed 18:132–139. https://doi.org/10.1080/1059924X.2013.767102

Kaur N, Starling AP, Calafat AM, Sjodin A, Clouet-Foraison N, Dolan LM, Imperatore G, Jensen ET, Lawrence JM, Ospina M, Pihoker C, Taylor KW, Turley C, Dabelea D, Jaacks LM (2020) Longitudinal association of biomarkers of pesticide exposure with cardiovascular disease risk factors in youth with diabetes. Environ Res 181:108916. https://doi.org/10.1016/j.envres.2019.108916

Khan M, Damalas CA (2014) Occupational exposure to pesticides and resultant health problems among cotton farmers of Punjab, Pakistan. Int J Environ Health Res 25:508–521. https://doi.org/10.1080/09603123.2014.980781

Khan M, Damalas CA (2015a) Farmers' willingness to pay for less health risks by pesticide use: a case study from the cotton belt of Punjab, Pakistan. Sci Total Environ 530-531:297–303. https://doi.org/10.1016/j.scitotenv.2015.05.110

Khan M, Damalas CA (2015b) Farmers' knowledge about common pests and pesticide safety in conventional cotton production in Pakistan. Crop Prot 77:45–51. https://doi.org/10.1016/j.cropro.2015.07.014

Khan M, Damalas CA (2015c) Factors preventing the adoption of alternatives to chemical pest control among Pakistani cotton farmers. Int J Pest Manage 61:9–16

Khan DA, Bhatti MM, Khan FA, Naqvi ST, Karam A (2008) Adverse effects of pesticides residues on biochemical markers in pakistani tobacco farmers. Int J Clin Exp Med 1:274–282

Khan M, Mahmood HZ, Damalas CA (2015) Pesticide use and risk perceptions among farmers in the cotton belt of Punjab, Pakistan. Crop Prot 67:184–190. https://doi.org/10.1016/j.cropro.2014.10.013

Kim K, Kabir E, Jahan SA (2017) Exposure to pesticides and the associated human health effects. Sci Total Environ 575:525–535. https://doi.org/10.1016/j.scitotenv.2016.09.009

Koh SB, Kim TH, Min S, Lee K, Kang DR, Choi JR (2017) Exposure to pesticide as a risk factor for depression: a population-based longitudinal study in Korea. Neurotoxicology 62:181–185. https://doi.org/10.1016/j.neuro.2017.07.005

Lesmes-Fabian C, García-Santos G, Leuenberger F, Nuyttens D, Binder CR (2012) Dermal exposure assessment of pesticide use: the case of sprayers in potato farms in the Colombian highlands. Sci Total Environ 430:202–208. https://doi.org/10.1016/j.scitotenv.2012.04.019

Levine RL, Garland D, Oliver CN, Amici A, Climent I, Lenz AG, Ahn BW, Shaltiel S, Stadtman ER (1990) Determination of carbonyl content in oxidatively modified proteins. Methods Enzymol 186:464–478. https://doi.org/10.1016/0076-6879(90)86141-h

Li S, Yan T, Yang JQ, Oberley TD, Oberley LW (2000) The role of cellular glutathione peroxidase redox regulation in the suppression of tumor cell growth by manganese superoxide dismutase. Cancer Res 60:3927–3939

Lu JL (2009) Comparison of pesticide exposure and physical examination, neurological assessment, and laboratory findings between full-time and part-time vegetable farmers in the Philippines. Environ Health Prev Med 14:345–352. https://doi.org/10.1007/s12199-009-0105-x

Madani FZ, Hafida M, Merzouk AS, Loukidi B, Taouli K, Narce M (2016) Hemostatic, inflammatory, and oxidative markers in pesticide user farmers. Biomarkers 21:138–145. https://doi.org/10.3109/1354750X.2015.1118545

Mandić-Rajčević S, Rubino FM, Colosio C (2020) Establishing health-based biological exposure limits for pesticides: a proof of principle study using mancozeb. Regul Toxicol Pharmacol 115:104689. https://doi.org/10.1016/j.yrtph.2020.104689

Marconi MA, Lakatos EM (2016) Fundamentos de metodologia científica: 7. Ed Atlas, São Paulo (in Portuguese)

Margalit RC, Adler B, Abramson JH, Gofin J, Kark JD (2006) Butyrylcholinesterase activity, cardiovascular risk factors, and mortality in middle-aged and elderly men and women in Jerusalem. Clin Chem 52:845–852. https://doi.org/10.1373/clinchem.2005.059857

Mecdad AA, Ahmed MH, ElHalwagy MEA, Afify MMM (2011) A study on oxidative stress biomarkers and immunomodulatory effects of pesticides in pesticide-sprayers. Egypt J Forensic Sci 1:93–98. https://doi.org/10.1016/j.ejfs.2011.04.012

Nelson DP, Kiesov LA (1972) Enthalpy of decomposition of hydrogen peroxide by catalase at 25° C (with molar extinction coefficients of H2O2 solutions in the UV). Anal Biochem 49:474–478. https://doi.org/10.1016/0003-2697(72)90451-4

Ogut S, Gultekin F, Kisioglu AN, Kucukoner E (2011) Oxidative stress in the blood of farm workers following intensive pesticide exposure. Toxicol Ind Health 27:820–825. https://doi.org/10.1177/0748233711399311

Pedlowski MA, Canela MC, Terra MAC, Faria RMR (2012) Modes of pesticides utilization by Brazilian smallholders and their implications for human health and the environment. Crop Prot 31:113–118. https://doi.org/10.1016/j.cropro.2011.10.002

Phillips TM (2000) Assessing environmental exposure in children: immunotoxicology screening. J Expo Anal Environ Epidemiol 10:769–775

Piccoli C, Cremonese C, Koifman R, Koifman S, Freire C (2016) Pesticide exposure and thyroid function in an agricultural population in Brazil. Environ Res 151:389–398. https://doi.org/10.1016/j.envres.2016.08.011

Pirard C, Remyb S, Giustib A, Champonb L, Charliera C (2020) Assessment of children's exposure to currently used pesticides in wallonia, Belgium. Toxicol Lett. 329:1–11. https://doi.org/10.1016/j.toxlet.2020.04.020

Ranjbar A, Solhi H, Mashayekhi FJ, Susanabdi A, Rezaie A, Abdollahi M (2005) Oxidative stress in acute human poisoning with organophosphorus insecticides; a case control study. Environ Toxicol Pharmacol 20:88–91. https://doi.org/10.1016/j.etap.2004.10.007

Repetto R, Baliga SS (1997) Pesticides and immunosuppression: the risks to public health. Health Policy Plan 12:97–106. https://doi.org/10.1093/heapol/12.2.97

Rio Grande do Sul (2009) Secretaria da Agricultura, Pecuária, Pesca e Agronegócio. http://www2.seapa.rs.gov.br/uploads/1270059901BatataInglesa.pdf. Accessed Oct 2020 (in Portuguese)

Rio Grande do Sul (2020) Atlas socioeconômico do Rio Grande do Sul. https://atlassocioeconomico.rs.gov.br/batata-doce-e-batata-inglesa. Accessed Dec 2020 (in Portuguese)

Saeed MF, Shaheen M, Ahmad I, Zakir A, Nadeem M, Chishti AA, Shahid M, Bakhsh K, Damalas C (2017) Pesticide exposure in the local community of Vehari District in Pakistan: an assessment of knowledge and residues in human blood. Sci Total Environ 587-588:137–144. https://doi.org/10.1016/j.scitotenv.2017.02.086

Sankoh AI, Whittle R, Semple KT, Jones KC, Sweetman AJ (2016) An assessment of the impacts of pesticide use on the environment and health of rice farmers in Sierra Leone. Environ Int 94:458–466. https://doi.org/10.1016/j.envint.2016.05.034

Sapan HB, Paturussi I, Jusuf I et al (2017) Interleukin-6 and interleukin-10 gene polymorphisms and their plasma level after polytrauma. Int J Surg Open 7:5–9. https://doi.org/10.1016/j.ijso.2017.04.001

Schmitt B, Vicenzi M, Garrel C, Denis FM (2015) Effects of N-acetylcysteine, oral glutathione (GSH) and a novel sublingual form of GSH on oxidative stress markers: a comparative crossover study. Redox Biol 6:198–205. https://doi.org/10.1016/j.redox.2015.07.012

Sharifzadeh MS, Abdollahzadeh G, Damalas CA, Rezaei R, Ahmadyousefi M (2019) Determinants of pesticide safety behavior among Iranian rice farmers. Sci Total Environ 651:2953–2960

Simoniello MF, Kleinsorge EC, Carballo MA (2010) Evaluacion bioquimica de trabajadores rurales expuestos a pesticidas. Medicina 70:489–498 (in Spanish)

Suemizu H, Kawai K, Murayama N, Nakamura M, Yamazaki H (2018) Chimeric mice with humanized liver as a model for testing organophosphate and carbamate pesticide exposure. Pest Manag Sci 74:1424–1430. https://doi.org/10.1002/ps.4825

Takada LT (2017) Innate immunity and inflammation in Alzheimer's disease pathogenesis. Arq Neuropsiquiatr 7:607–608. https://doi.org/10.1590/0004-282x20170126

Turner MD, Nedjai B, Hurst T, Pennington DJ (2014) Cytokines and chemokines: at the crossroads of cell signalling and inflammatory disease. Biochim Biophys Acta 1843:2563–2582. https://doi.org/10.1016/j.bbamcr.2014.05.014

Veríssimo G, Bast A, Weseler AR (2017) Paraquat disrupts the anti-inflammatory action of cortisol in human macrophages in vitro: therapeutic implications for paraquat intoxications. Toxicol Res 6:232–241. https://doi.org/10.1039/c6tx00406g

Vieira R, Venâncio CAS, Félix LM (2020) Toxic effects of a mancozeb-containing commercial formulation at environmental relevant concentrations on zebrafish embryonic development. Environ Sci Pollut Res Int 27:21174–21187. https://doi.org/10.1007/s11356-020-08412-0

Wafa T, Nadia K, Amel N, Ikbal C, Insaf T, Asma K, Hedi MA, Mohamed H (2013) Oxidative stress, hematological and biochemical alterations in farmers exposed to pesticides. J Environ Sci Health B 48:1058–1069. https://doi.org/10.1080/03601234.2013.824285

Weiss-Altaner ER (1983) Rural exodus in the third world: a malthusian crisis? Hist Eur Ideas 4:183–201. https://doi.org/10.1016/0191-6599(83)90005-0

Yang SN, Hsieh CC, Kuo HF, Lee MS, Huang MY, Kuo CH, Hung CH (2014) The effects of environmental toxins on allergic inflammation. Allergy, Asthma Immunol Res 6:478–484. https://doi.org/10.4168/aair.2014.6.6.478

Ye X, Pan W, Zhao Y, Zhao S, Zhu Y, Liu W, Liu J (2017) Association of pyrethroids exposure with onset of puberty in Chinese girl. Environ Pollut 227:606–612. https://doi.org/10.1016/j.envpol.2017.04.035

Zepeda-Arce R, Rojas-García AE, Benitez-Trinidad A, Herrera-Moreno JF, Medina-Díaz IM, Barrón-Vivanco BS, Villegas GP, Hernández-Ochoa I, Sólis Heredia MJ, Bernal-Hernández YY (2017) Oxidative stress and genetic damage among workers exposed primarily to organophosphate and pyrethroid pesticides. Environ Toxicol 32:1754–1764. https://doi.org/10.1002/tox.22398

Zhang X, Zhao W, Jing R, Wheeler K, Smith GA, Stallones L, Xiang H (2011) Work-related pesticide poisoning among farmers in two villages of Southern China: a cross-sectional survey. BMC Public Health 11:429. https://doi.org/10.1186/1471-2458-11-429

Zhao MA, Yu A, Zhu YZ, Kim JH (2015) Potential dermal exposure to flonicamid and risk assessment of applicators during treatment in apple orchards. J Occup Environ Hyg 12:D147–D152. https://doi.org/10.1080/15459624.2015.1009984

Zhu Y, Deng G, Ji A, Yao J, Meng X, Wang J, Wang Q, Wang Q, Wang R (2017) Porous Se@SiO2 nanospheres treated paraquat-induced acute lung injury by resisting oxidative stress. Int J Nanomedicine 12:7143–7152. https://doi.org/10.2147/IJN.S143192
Ethics declarations
Competing interests
The authors declare that they have no competing interests.
Ethics approval and consent to participate
The Research Ethics Committee under Protocol number 0071.0.417.000-11.
Consent for publication
Not applicable.
Additional information
Publisher's note
Springer Nature remains neutral with regard to jurisdictional claims in published maps and institutional affiliations.
Responsible Editor: Lotfi Aleya
About this article
Cite this article
Lovison Sasso, E., Cattaneo, R., Rosso Storck, T. et al. Occupational exposure of rural workers to pesticides in a vegetable-producing region in Brazil. Environ Sci Pollut Res (2021). https://doi.org/10.1007/s11356-021-12444-5
Received:

Accepted:

Published:
Keywords
Potato farmers

Health

Biomarkers

Personal protective equipment