Abstract
In recent years, calcium nitrate addition has become a promising and usually used method for in situ sediment remediation. In this study, excess calcium nitrate was applied to column sediments to explore the coupling reactions of elements such as N, Fe, S, and P. Diffusive gradients in thin film (DGT) devices were used to collect labile substances at the sediment-water interface. Rhizon samplers were used to collect soluble substances in interstitial water. Results showed that nitrate addition turned the surface sediment into a more oxidized state, and mobile Fe, S, P, and As were removed in surface ~ 10-cm sediment. Due to different nitrate distributions in corresponding sediment depths, the consumption rates of NH3-N and soluble reactive P were faster in the surface sediment than that in deeper layers. Different from previous researches, the transient increase of soluble Fe was observed in this study, which was probably attributed to the solvation of FeS in the autotrophic denitrification process. According to our results, we suggest that a dosage of far less than 141 g N/m2 and slightly more than 45.3 g N/m2 can be used for the remediation of black and odorous sediment and control of internal P by calcium nitrate.
Access options
Buy single article
Instant access to the full article PDF.
US$ 39.95
Tax calculation will be finalised during checkout.
Subscribe to journal
Immediate online access to all issues from 2019. Subscription will auto renew annually.
US$ 79
Tax calculation will be finalised during checkout.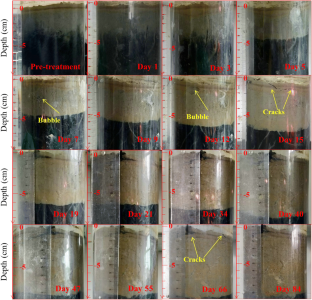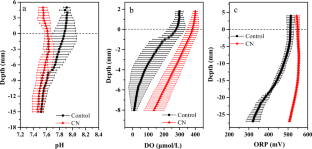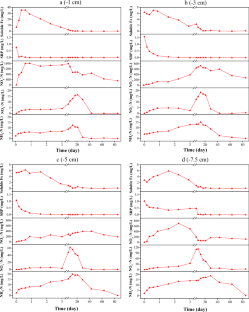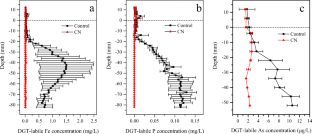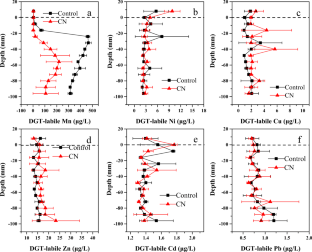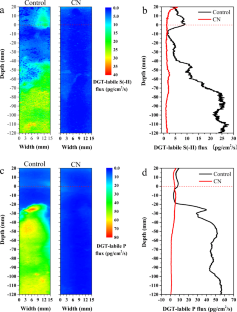 Data availability
The datasets used and/or analyzed during the current study are available from the corresponding author on reasonable request.
References
Burton ED, Bush RT, Sullivan LA, Hocking RK, Mitchell DRG, Johnston SG, Fitzpatrick RW, Raven M, McClure S, Jang LY (2009) Iron-monosulfide oxidation in natural sediments: resolving microbially mediated S transformations using XANES, electron microscopy, and selective extractions. Environmental Science & Technology 43:3128–3134

Calmano W, Forstner U, Hong J (1994) Mobilization and scavenging of heavy-metals following resuspension of anoxic sediments from the Elbe River. In: Alpers CN, Blowes DW (eds) Environmental Geochemistry of Sulfide Oxidation. Amer Chemical Soc, Washington, pp 298–321

Cardoso RB, Sierra-Alvarez R, Rowlette P, Flores ER, Gomez J, Field JA (2006) Sulfide oxidation under chemolithoautotrophic denitrifying conditions. Biotechnology and Bioengineering 95:1148–1157

Chen MS, Ding SM, Chen X, Sun Q, Fan XF, Lin J, Ren MY, Yang LY, Zhang CS (2018) Mechanisms driving phosphorus release during algal blooms based on hourly changes in iron and phosphorus concentrations in sediments. Water Research 133:153–164

Ding SM, Sun Q, Xu D, Jia F, He X, Zhang CS (2012) High-resolution simultaneous measurements of dissolved reactive phosphorus and dissolved sulfide: the first observation of their simultaneous release in sediments. Environmental Science & Technology 46:8297–8304

Ding SM, Wang Y, Xu D, Zhu CG, Zhang CS (2013) Gel-based coloration technique for the submillimeter-scale imaging of labile phosphorus in sediments and soils with diffusive gradients in thin films. Environmental Science & Technology 47:7821–7829

Dolejs P, Paclik L, Maca J, Pokorna D, Zabranska J, Bartacek J (2015) Effect of S/N ratio on sulfide removal by autotrophic denitrification. Applied Microbiology and Biotechnology 99:2383–2392

Feibicke M (1997) Impact of nitrate addition on phosphorus availability in sediment and water column and on plankton biomass - experimental field study in the shallow brackish Schlei fjord (western Baltic, Germany). Water Air and Soil Pollution 99:445–456

Foy RH (1986) Suppression of phosphorus release from lake-sediments by the addition of nitrates. Water Research 20:1345–1351

Hansen J, Reitzel K, Jensen HS, Andersen FO (2003) Effects of aluminum, iron, oxygen and nitrate additions on phosphorus release from the sediment of a Danish softwater lake. Hydrobiologia 492:139–149

He ZH, Huang R, Liang YH, Yu GW, Chong YX, Wang L (2018) Index for nitrate dosage calculation on sediment odor control using nitrate-dependent ferrous and sulfide oxidation interactions. Journal of Environmental Management 226:289–297

He ZH, Long XX, Li LY, Yu GW, Chong YX, Xing W, Zhu Z (2017) Temperature response of sulfide/ferrous oxidation and microbial community in anoxic sediments treated with calcium nitrate addition. Journal of Environmental Management 191:209–218

Hirst JM, Aston SR (1983) Behavior of copper, zinc, iron and manganses during experimental resuspension and reoxidation of polluted anoxic sediments. Estuarine Coastal and Shelf Science 16:549–558

Huygens D, Boeckx P, Templer PH, Paulino L, Van Cleemput O, Oyarzun C, Muller C, Godoy R (2008) Mechanisms for retention of bioavailable nitrogen in volcanic rainforest soils. Nature Geoscience 1:543–548

Lai J, Cheng M, Huang R, Yu G, Chong Y, Li Y, Zhong Y (2020) Mechanism of ammonium sharp increase during sediments odor control by calcium nitrate addition and an alternative control approach by subsurface injection. Environmental Research 190:109979–109979

Liang S, Zhang L, Jiang F (2016) Indirect sulfur reduction via polysulfide contributes to serious odor problem in a sewer receiving nitrate dosage. Water Research 100:421–428

Lin J, Qiu PH, Yan XJ, Xiong X, Jing LD, Wu CX (2015) Effectiveness and mode of action of calcium nitrate and Phoslock (R) in phosphorus control in contaminated sediment, a microcosm study. Water Air and Soil Pollution 226:12

Lin J, Zhong YF, Fan H, Song CF, Yu C, Gao Y, Xiong X, Wu CX, Liu JT (2017) Chemical treatment of contaminated sediment for phosphorus control and subsequent effects on ammonia-oxidizing and ammonia-denitrifying microorganisms and on submerged macrophyte revegetation. Environmental Science and Pollution Research 24:1007–1018

Liu XN, Tao Y, Zhou KY, Zhang QQ, Chen GY, Zhang XH (2017) Effect of water quality improvement on the remediation of river sediment due to the addition of calcium nitrate. Science of the Total Environment 575:887–894

Liu TZ, Yuan JJ, Dong WY, Wu HC, Wang HJ (2015) Effects on inorganic nitrogen compounds release of contaminated sediment treatment with in situ calcium nitrate injection. Environmental Science and Pollution Research 22:1250–1260

Matthews DA, Babcock DB, Nolan JG, Prestigiacomo AR, Effler SW, Driscoll CT, Todorova SG, Kuhr KM (2013) Whole-lake nitrate addition for control of methylmercury in mercury-contaminated Onondaga Lake, NY. Environmental Research 125:52–60

MEPC (2002) Standard Methods for Examination of Water and Wastewater, fourth edn. Chinese Environmental Sciences Press, Beijing

Ripl W (1976) Biochemical oxidation of polluted lake sediment with nitrate: a new lake restoration method. Ambio 5:132–135

Robertson EK, Roberts KL, Burdorf LDW, Cook P, Thamdrup B (2016) Dissimilatory nitrate reduction to ammonium coupled to Fe(II) oxidation in sediments of a periodically hypoxic estuary. Limnology and Oceanography 61:365–381

Rutting T, Huygens D, Muller C, Cleemput O, Godoy R, Boeckx P (2008) Functional role of DNRA and nitrite reduction in a pristine south Chilean Nothofagus forest. Biogeochemistry 90:243–258

Santner J, Larsen M, Kreuzeder A, Glud RN (2015) Two decades of chemical imaging of solutes in sediments and soils - a review. Analytica Chimica Acta 878:9–42

Shao MF, Zhang T, Fang HHP (2009) Autotrophic denitrification and its effect on metal speciation during marine sediment remediation. Water Research 43:2961–2968

Shao MF, Zhang T, Fang HHP (2010) Sulfur-driven autotrophic denitrification: diversity, biochemistry, and engineering applications. Applied Microbiology and Biotechnology 88:1027–1042

Shao MF, Zhang T, Fang HHP, Li XD (2011) The effect of nitrate concentration on sulfide-driven autotrophic denitrification in marine sediment. Chemosphere 83:1–6

Stockdale A, Davison W, Zhang H (2009) Micro-scale biogeochemical heterogeneity in sediments: a review of available technology and observed evidence. Earth-Science Reviews 92:81–97

Stumm W, Sulzberger B (1992) The cycling of iron in natural environments-considerations based on laboratory studies of heterogeneous redox processes. Geochimica Et Cosmochimica Acta 56:3233–3257

Sun Q, Lin J, Cao J, Li C, Shi D, Gao M, Wang Y, Zhang C, Ding S (2019) A new method to overall immobilization of phosphorus in sediments through combined application of capping and oxidizing agents. Science of the Total Environment 694:133770

Tang YQ, Li M, Zou YA, Lv MY, Sun JM (2018) Mechanism of aerobic denitrifiers and calcium nitrate on urban river sediment remediation. International Biodeterioration & Biodegradation 126:119–130

Teasdale PR, Hayward S, Davison W (1999) In situ, high-resolution measurement of dissolved sulfide using diffusive gradients in thin films with computer-imaging densitometry. Analytical Chemistry 71:2186–2191

Wang Y, Ding SM, Shi L, Gong MD, Xu SW, Zhang CS (2017) Simultaneous measurements of cations and anions using diffusive gradients in thin films with a ZrO-Chelex mixed binding layer. Analytica Chimica Acta 972:1–11

Wang L, Long XX, Chong YX, Yu GW (2016) Potential risk assessment of heavy metals in sediments during the denitrification process enhanced by calcium nitrate addition: Effect of AVS residual. Ecological Engineering 87:333–339

Wang GB, Wang Y, Guo Y, Peng DC (2017) Effects of four different phosphorus-locking materials on sediment and water quality in Xi'an moat. Environmental Science and Pollution Research 24:264–274

Wang GB, Wang Y, Zhang Y (2018) Combination effect of sponge iron and calcium nitrate on severely eutrophic urban landscape water: an integrated study from laboratory to fields. Environmental Science and Pollution Research 25:8350–8363

Xu MY, He ZL, Zhang Q, Liu J, Guo J, Sun GP, Zhou JZ (2015) Responses of aromatic-degrading microbial communities to elevated nitrate in sediments. Environmental Science & Technology 49:12422–12431

Xu MY, Zhang Q, Xia CY, Zhong YM, Sun GP, Guo J, Yuan T, Zhou JZ, He ZL (2014) Elevated nitrate enriches microbial functional genes for potential bioremediation of complexly contaminated sediments. Isme Journal 8:1932–1944

Yamada TM, Sueitt APE, Beraldo DAS, Botta CMR, Fadini PS, Nascimento MRL, Faria BM, Mozeto AA (2012) Calcium nitrate addition to control the internal load of phosphorus from sediments of a tropical eutrophic reservoir: microcosm experiments. Water Research 46:6463–6475

Yin HB, Yang P, Kong M (2019) Effects of nitrate dosing on the migration of reduced sulfur in black odorous river sediment and the influencing factors. Chemical Engineering Journal 371:516–523

Zhan Y, Wu X, Lin J (2020) Combined use of calcium nitrate, zeolite, and anion exchange resin for controlling phosphorus and nitrogen release from sediment and for overcoming disadvantage of calcium nitrate addition technology. Environmental Science and Pollution Research International 27:24863–24878

Zhan YH, Wu XL, Lin JW, Zhang Z, Zhao YY, Yu Y, Wang Y (2019) Combined use of calcium nitrate addition and anion exchange resin capping to control sedimentary phosphorus release and its nitrate nitrogen releasing risk. Science of the Total Environment 689:203–214

Zhang H, Davison W (1995) Performance-characteristics of diffusion gradients in thin-films for the in-situ measurement of trace-metals in aqueous-solution. Analytical Chemistry 67:3391–3400

Zopfi J, Bttcher ME, Jorgensen BB (2008) Biogeochemistry of sulfur and iron in Thioploca-colonized surface sediments in the upwelling area off central chile. Geochimica Et Cosmochimica Acta 72:827–843
Funding
This work was funded by the National Scientific Foundation of China (41877492, 41621002), the Nantong Science and Technology Project (JC2019158), the Entrepreneurship and Innovation Plan of Jiangsu Province, and the Research Startup Foundation of Nantong University.
Ethics declarations
Competing interests
The authors declare that they have no competing interests.
Ethics approval and consent to participate
Not applicable.
Consent for publication
Not applicable.
Additional information
Publisher's note
Springer Nature remains neutral with regard to jurisdictional claims in published maps and institutional affiliations.
Responsible Editor: Philippe Garrigues
Supplementary information
About this article
Cite this article
Lin, J., Fu, Z., Ding, S. et al. Laboratory investigation on calcium nitrate induced coupling reactions between nitrogen, phosphorus, sulfur, and metals in contaminated sediments. Environ Sci Pollut Res (2021). https://doi.org/10.1007/s11356-021-12441-8
Received:

Accepted:

Published:
Keywords
Calcium nitrate

Internal phosphorus

Sediment remediation

Black and odor

Eutrophication

Diffusive gradients in thin films