Abstract
To solve the problem of the traditional vermicomposting cycle being too long, a new type of laboratory earthworm reactor was developed for high-speed vermicomposting of sludge. The earthworm reactor was established based on the model of first creating an optimal living environment for earthworms and then introducing sludge into the environment for vermicomposting. In addition, we selected four different materials to condition sludge to optimize the treatment efficiency and shorten the vermicomposting cycle. The results revealed that the use of the new earthworm reactor for high-speed vermicomposting can shorten the vermicomposting cycle to 61.33 h, which is 1/30 of the traditional method. Compared to the traditional method, the vermicompost obtained from high-speed vermicomposting had better stability and maturity (C/N: 14.96, humification index: 4.69, Germination index: 78.84%, TOC: 88.5 mg/g and ash content: 686 mg/g). Besides, the FT-IR, SEM, EEM, and enzyme activity from the earthworm analysis results show that the addition of vermicompost (raw material) was beneficial to the stability and mineralization of the final vermicompost for dewatered sludge vermicomposting.
Access options
Buy single article
Instant access to the full article PDF.
US$ 39.95
Tax calculation will be finalised during checkout.
Subscribe to journal
Immediate online access to all issues from 2019. Subscription will auto renew annually.
US$ 79
Tax calculation will be finalised during checkout.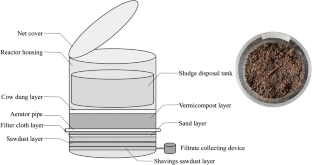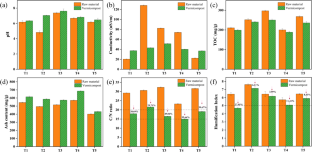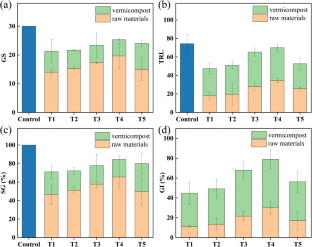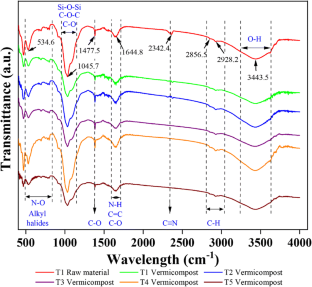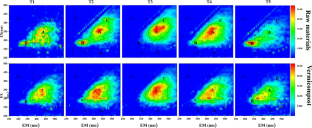 Data availability
All data generated or analyzed during this study are included in this published article [and its supplementary information files].
References
Aira M, Monroy F, Dominguez J (2006) Eisenia fetida (Oligochaeta, Lumbricidae) activates fungal growth, triggering cellulose decomposition during vermicomposting. Microb Ecol 52:738–747. https://doi.org/10.1007/s00248-006-9109-x

Ananthavalli R, Ramadas V, Paul JAJ, Selvi BK, Karmegam N (2019) Seaweeds as bioresources for vermicompost production using the earthworm, Perionyx excavatus (Perrier). Bioresour Technol 275:394–401. https://doi.org/10.1016/j.biortech.2018.12.091

Arancon NQ, Edwards CA, Atiyeh R, Metzger JD (2004) Effects of vermicomposts produced from food waste on the growth and yields of greenhouse peppers. Bioresour Technol 93(2):139–144. https://doi.org/10.1016/j.biortech.2003.10.015

Benito M, Masaguer A, Moliner A, Arrigo N, Palma RM (2003) Chemical and microbiological parameters for the characterisation of the stability and maturity of pruning waste compost. Biol Fertil Soils 37:184–189. https://doi.org/10.1007/s00374-003-0584-7

Bhat SA, Singh J, Vig AP (2015) Potential utilization of bagasse as feed material for earthworm Eisenia fetida and production of vermicompost Springerplus:4. https://doi.org/10.1186/s40064-014-0780-y

Bian BO, Hu X, Tian G, Zhang T, Zhang L (2020). Earthworm reactor of frame composite structure and method of treating sludge thereby. U.S. patent 16881439

Boruah T, Barman A, Kalita P, Lahkar J, Deka H (2019) Vermicomposting of citronella bagasse and paper mill sludge mixture employing Eisenia fetida. Bioresour Technol 294. https://doi.org/10.1016/j.biortech.2019.122147.

Deka H, Deka S, Baruah CK, Das J, Hoque S, Sarma H, Sarma NS (2011) Vermicomposting potentiality of Perionyx excavatus for recycling of waste biomass of java citronella - An aromatic oil yielding plant. Bioresour Technol 102:11212–11217. https://doi.org/10.1016/j.biortech.2011.09.102

Droussi Z, D'Orazio V, Provenzano MR, Hafidi M, Ouatmane A (2009) Study of the biodegradation and transformation of olive-mill residues during composting using FTIR spectroscopy and differential scanning calorimetry. J Hazard Mater 164:1281–1285. https://doi.org/10.1016/j.jhazmat.2008.09.081

Edwards CA, Bohlen PJ (1996) Biology and ecology of earthworms. Springer Science Business Media Volume 3. https://doi.org/10.1016/S0167-8809(97)88859-7.

Elvira C, Goicoechea M, Sampedro L, Mato S, Nogales R (1996) Bioconversion of solid paper-pulp mill sludge by earthworms. Bioresour Technol 57:173–177. https://doi.org/10.1016/0960-8524(96)00065-X

EPA. 1996. Microwave assisted acid digestion of siliceous and organically based matrices. EPA, Washington, DC, pp.

Fayolle L, Michaud H, Cluzeau D, Stawiecki J (1997) Influence of temperature and food source on the life cycle of the earthworm Dendrobaena veneta (Oligochaeta). Soil Biol Biochem 29:747–750. https://doi.org/10.1016/S0038-0717(96)00023-5

Fu X, Cui G, Huang K, Chen X, Li F, Zhang X, Li F (2016) Earthworms facilitate the stabilization of pelletized dewatered sludge through shaping microbial biomass and activity and community. Environ Sci Pollut Res 23(5):4522–4530. https://doi.org/10.1007/s11356-015-5659-0

Goswami L, Pratihar S, Dasgupta S, Bhattacharyya P, Mudoi P, Bora J, Bhattacharya SS, Kim KH (2016) Exploring metal detoxification and accumulation potential during vermicomposting of Tea factory coal ash: sequential extraction and fluorescence probe analysis. Sci Rep 6. https://doi.org/10.1038/srep30402

Griffiths BS, Bonkowski M, Roy J, Ritz K (2001) Functional stability, substrate utilisation and biological indicators of soils following environmental impacts. Appl Soil Ecol 16:49–61. https://doi.org/10.1016/S0929-1393(00)00081-0

Gutierrez-Miceli FA, Santiago-Borraz J, Montes Molina JA, Nafate CC, Abud-Archila M, Oliva Llaven MA, Rincon-Rosales R, Dendooven L (2007) Vermicompost as a soil supplement to improve growth, yield and fruit quality of tomato (Lycopersicum esculentum). Bioresour Technol 98(15):2781–2786. https://doi.org/10.1016/j.biortech.2006.02.032

Hait S, Tare V (2011) Vermistabilization of primary sewage sludge. Bioresour Technol 102:2812–2820. https://doi.org/10.1016/j.biortech.2010.10.031

Hanc A, Hrebeckova T, Pliva P, Cajthaml T (2020) Vermicomposting of sludge from a malt house. Waste Manag 118:232–240. https://doi.org/10.1016/j.wasman.2020.08.027

He X, Zhang Y, Shen M, Zeng G, Zhou M, Li M (2016) Effect of vermicomposting on concentration and speciation of heavy metals in sewage sludge with additive materials. Bioresour Technol 218:867–873. https://doi.org/10.1016/j.biortech.2016.07.045

Huang Guofeng WQ, Qingqiang M, Huanzhong H (2002) Substance changes and maturity evaluation during pig manure composting. J South China Agric Univ 23:1–4. https://doi.org/10.1007/s11769-002-0041-9

Huang K, Chen JY, Guan MX, Xia H, Lin L (2020a) Effects of biochars on the fate of antibiotics and their resistance genes during vermicomposting of dewatered sludge. J Hazard Mater 397:0304–3894. https://doi.org/10.1016/j.jhazmat.2020.122767

Huang QJ, Shen YW, Wang YH, Xiao JM, Yuan HP, Lou ZY, Zhu NW (2020b) Synergy between denitrification and calcium bridging improves dewaterability of waste activated sludge. J Cleaner Prod 242. https://doi.org/10.1016/j.jclepro.2019.118438.

Karmegam N, Vijayan P, Prakash M, Paul JAJ (2019) Vermicomposting of paper industry sludge with cowdung and green manure plants using Eisenia fetida: A viable option for cleaner and enriched vermicompost production. J Clean Prod 228:718–728. https://doi.org/10.1016/j.jclepro.2019.04.313

Kaushik P, Garg VK (2003) Vermicomposting of mixed solid textile mill sludge and cow dung with the epigeic earthworm Eisenia foetida. Bioresour Technol 90:311–316. https://doi.org/10.1016/S0960-8524(03)00146-9

Lazcano C, Gomez-Brandon M, Dominguez J (2008) Comparison of the effectiveness of composting and vermicomposting for the biological stabilization of cattle manure. Chemosphere 72:1013–1019. https://doi.org/10.1016/j.chemosphere.2008.04.016

Lim PN, Wu TY, Sim EYS, Lim SL (2011) The potential reuse of soybean husk as feedstock of Eudrilus eugeniae in vermicomposting. J Sci Food Agric 91:2637–2642

Malinska K, Golanska M, Caceres R, Rorat A, Weisser P, Slezak E (2017) Biochar amendment for integrated composting and vermicomposting of sewage sludge - The effect of biochar on the activity of Eisenia fetida and the obtained vermicompost. Bioresour Technol 225:206–214. https://doi.org/10.1016/j.biortech.2016.11.049

Marhuenda-Egea FC, Martinez-Sabater E, Jorda J, Moral R, Bustamante MA, Paredes C, Perez-Murcia MD (2007) Dissolved organic matter fractions formed during composting of winery and distillery residues: Evaluation of the process by fluorescence excitation-emission matrix. Chemosphere 68:301–309. https://doi.org/10.1016/j.chemosphere.2006.12.075

Nayak AK, Varma S, Kalamdhad AS (2013) Effects of varius C/N ratios during vermicomposting of sewage sludge using Eisenia fetida. Environ Sci Technol 6:63–78b

Nelson DW (1982) Total carbon, organic carbon and organic matter. Methods Soil Anal 9:961–1010. https://doi.org/10.2136/sssabookser5.3.c34

Parthasarathi K, Balamurugan M, Prashija KV, Jayanthi L, Ameer Basha S (2016) Potential of Perionyx excavatus(Perrier) in lignocellulosic solid waste management and quality vermifertilizer production for soil health. Int J Recycl Organic Waste Agric 5:65–86. https://doi.org/10.1007/s40093-016-0118-6

Pattnaik S, Reddy MV (2010) Assessment of municipal solid waste management in Puducherry (Pondicherry). India Resour Conserv Recycl 54:512–520. https://doi.org/10.1016/j.resconrec.2009.10.008

Pigatin LBF, Atoloye IA, Obikoya OA, Borsato AV, Rezende MOO (2016) Chemical study of vermicomposted agroindustrial wastes. Int J Recycl Organic Waste Agric 5:55–63. https://doi.org/10.1007/s40093-016-0117-7

Pramanik P, Ghosh GK, Ghosal PK, Banik P (2007) Changes in organic - C, N, P and K and enzyme activities in vermicompost of biodegradable organic wastes under liming and microbial inoculants. Bioresour Technol 98:2485–2494. https://doi.org/10.1016/j.biortech.2006.09.017

Ravindran B, Dinesh SL, Kennedy LJ, Sekaran G (2008) Vermicomposting of Solid Waste Generated from Leather Industries Using Epigeic Earthworm Eisenia foetida. Appl Biochem Biotechnol 151:480–488. https://doi.org/10.1007/s12010-008-8222-3

Sangwan P, Kaushik CP, Garg VK (2008) Vermiconversion of industrial sludge for recycling the nutrients. Bioresour Technol 99:8699–8704. https://doi.org/10.1016/j.biortech.2008.04.022

Sharma K, Garg VK (2017) Management of food and vegetable processing waste spiked with buffalo waste using earthworms (Eisenia fetida). Environ Sci Pollut Res 24:7829–7836. https://doi.org/10.1007/s11356-017-8438-2

Sharma K, Garg VK (2018) Comparative analysis of vermicompost quality produced from rice straw and paper waste employing earthworm Eisenia fetida (Sav.). Bioresour Technol 250:708–715. https://doi.org/10.1016/j.biortech.2017.11.101

Smidt E, Meissl K (2007) The applicability of fourier transform infrared (FT-IR) spectroscopy in waste management. Waste Manage 27:268–276. https://doi.org/10.1016/j.wasman.2006.01.016

Soobhany N, Gunasee S, Rago YP, Joyram H, Raghoo P, Mohee R, Garg VK (2017) Spectroscopic, thermogravimetric and structural characterization analyses for comparing Municipal Solid Waste composts and vermicomposts stability and maturity. Bioresour Technol 236:11–19. https://doi.org/10.1016/j.biortech.2017.03.161

Srivastava V, Goel G, Thakur VK, Singh RP, Araujo ASF, Singh P (2020) Analysis and advanced characterization of municipal solid waste vermicompost maturity for a green environment. J Environ Manage 255. https://doi.org/10.1016/j.jenvman.2019.109914w.

Suthar S (2009) Vermicomposting of vegetable-market solid waste using Eisenia fetida: Impact of bulking material on earthworm growth and decomposition rate. Ecol Eng 35:914–920. https://doi.org/10.1016/j.ecoleng.2008.12.019

Tripathi G, Bhardwaj P (2004) Comparative studies on biomass production, life cycles and composting efficiency of Eisenia fetida (Savigny) and Lampito mauritii (Kinberg). Bioresour Technol 92:275–283. https://doi.org/10.1016/j.biortech.2003.09.005

Wang P, Changa CM, Watson ME, Dick WA, Chen Y, Hoitink HAJ (2004a) Maturity indices for composted dairy and pig manures. Soil Biol Biochem 36:767–776. https://doi.org/10.1016/j.soilbio.2003.12.012

Wang YQ, Schuchardt F, Sheng FL, Zhang RZ, Cao ZY (2004b) Assessment of maturity of vineyard pruning compost by Fourier Transform Infrared Spectroscopy, biological and chemical analyses. Landbauforschung Volkenrode 54:163–169. https://doi.org/10.1016/b978-0-12-599322-7.50009-9

Wang L, Zhang Y, Lian J, Chao J, Gao Y, Yang F, Zhang L (2013) Impact of fly ash and phosphatic rock on metal stabilization and bioavailability during sewage sludge vermicomposting. Bioresour Technol 136:281–287. https://doi.org/10.1016/j.biortech.2013.03.039

Yadav A, Garg VK (2016a) Vermiconversion of biogas plant slurry and parthenium weed mixture to manure. Int J Recycl Organic Waste Agric 5(4):1–9. https://doi.org/10.1007/s40093-016-0140-8

Yadav A, Garg VK (2016b) Influence of stocking density on the vermicomposting of an effluent treatment plant sludge amended with cow dung. Environ Sci Pollut Res 23(13):13317–13326. https://doi.org/10.1007/s11356-016-6522-7

Yadav A, Suthar S, Garg VK (2015) Dynamics of microbiological parameters, enzymatic activities and worm biomass production during vermicomposting of effluent treatment plant sludge of bakery industry. Environ Sci Pollut Res 22(19):14702–14709. https://doi.org/10.1007/s11356-015-4672-7

Yu GH, He PJ, Shao LM (2010) Novel insights into sludge dewaterability by fluorescence excitation-emission matrix combined with parallel factor analysis. Water Res 44:797–806. https://doi.org/10.1016/j.watres.2009.10.021

Yu Z, Tang J, Liao H, Liu X, Zhou P, Chen Z, Rensing C, Zhou S (2018) The distinctive microbial community improves composting efficiency in a full-scale hyperthermophilic composting plant. Bioresour Technol 265:146–154. https://doi.org/10.1016/j.biortech.2018.06.011

Yuan Y, Tao Y, Zhou S, Yuan T, Lu Q, He J (2012) Electron transfer capacity as a rapid and simple maturity index for compost. Bioresour Technol 116:428–434. https://doi.org/10.1016/j.biortech.2012.03.114

Zbytniewski R, Buszewski B (2005) Characterization of natural organic matter (NOM) derived from sewage sludge compost. Part 2: multivariate techniques in the study of compost maturation. Bioresour Technol 96:479–484. https://doi.org/10.1016/j.biortech.2004.05.019

Zhang H, Li J, Zhang Y, Huang K (2020) Quality of vermicompost and microbial community diversity affected by the contrasting temperature during vermicomposting of dewatered sludge. Int J Environ Res Public Health 17(5). https://doi.org/10.3390/ijerph17051748
Funding
This work was supported by the Social development project of Jiangsu Province of China (Nos. BE2018735, 2017631), Project for Comprehensive Management of Tai Lake Water Environment in Jiangsu Province (Nos. TH2018201) and the National Major Project of Science and Technology Ministry of China (Nos. 2017ZX07202-004).
Ethics declarations
Competing interests
The authors declare that they have no competing interests.
Consent for publication
Not applicable.
Ethics approval and consent to participate
Not applicable.
Additional information
Publisher's note
Springer Nature remains neutral with regard to jurisdictional claims in published maps and institutional affiliations.
Responsible Editor: Ta Yeong Wu
Supplementary Information
About this article
Cite this article
Hu, X., Zhang, T., Tian, G. et al. Performance and mechanism of high-speed vermicomposting of dewatered sludge using a new type of laboratory earthworm reactor. Environ Sci Pollut Res (2021). https://doi.org/10.1007/s11356-021-12438-3
Received:

Accepted:

Published:
Keyword
Vermicompost

Eisenia fetida

Stability and maturity

Supplementary materials

Mineralization

Humification