Abstract
The textile industry is a large source of pollution due to the production of raw materials (natural and synthetic fibers), preparation and finishing processes, as well as due to textile waste, especially the post-consumer waste. This paper is an attempt to change the perception concerning such waste. In the context of circular economy, textile waste has to be conceived as a source for carbon and energy. A new attitude is compulsory due to the increase of post-consumer waste quantity since the volume of textile consumption has lately increased. Fast fashion cycle and cheaper textile products having a shorter lifetime led to an increase of the quantity of post-consumer textile waste. Demands for pollution reduction generated the concern to upcycle the textile waste in order to recover, at least partially, the materials as well as the energy consumed for their manufacture, reducing accordingly the carbon and water footprints of these products,. The scarcity of raw materials and of fossil fuels, the high environmental impact of the simple disposal of waste, imposed a new policy regarding the transformation of the linear economy which characterizes today's textile industry into a circular one, leading to a lower environmental impact. This involves the valorization of post-consumer waste by recycling or at least by a partial recovery of the materials and energy spent for the manufacture of these products. A good management of post-consumer textile waste is mandatory for attaining a zero waste target. Some good practices in the field are presented by this paper.
Access options
Buy single article
Instant access to the full article PDF.
US$ 39.95
Tax calculation will be finalised during checkout.
Subscribe to journal
Immediate online access to all issues from 2019. Subscription will auto renew annually.
US$ 79
Tax calculation will be finalised during checkout.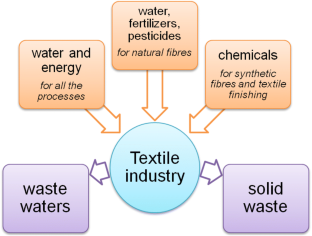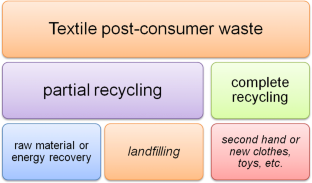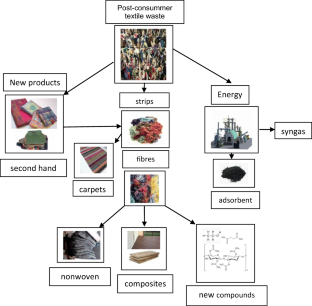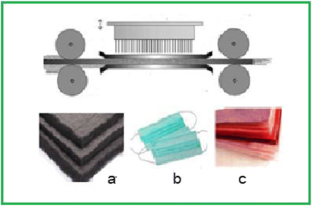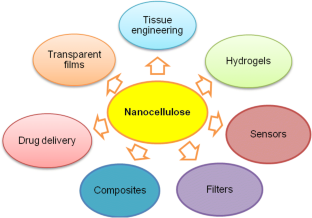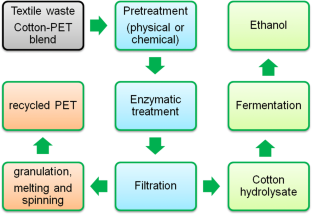 Data availability
All the data analyzed are included in the published articles presented into the references part.
Ethics declarations
Conflict of interest
The author declares that she has no conflict of interest.
Ethics approval and consent to participate
Not applicable.
Consent for publication
Not applicable.
Additional information
Publisher's note
Springer Nature remains neutral with regard to jurisdictional claims in published maps and institutional affiliations.
Responsible Editor: Philippe Garrigues
About this article
Cite this article
Stanescu, M.D. State of the art of post-consumer textile waste upcycling to reach the zero waste milestone. Environ Sci Pollut Res (2021). https://doi.org/10.1007/s11356-021-12416-9
Received:

Accepted:

Published:
Keywords
Textile post-consumer waste

Recycling worn clothes

Recovering fiber content

Valorization of carbon content

Energy production