Abstract
Atmospheric PM2.5-bound metals have been widely addressed, but research on the exposure levels and sources of personal PM2.5-bound metals among urban community residents is limited. The aim of this study is to explore the exposure levels and sources of 24-h personal PM2.5-bound metals among community inhabitants in Wuhan, China. We conducted a penal study of 216 observations with measurements of 16 metals bounded to 24-h personal PM2.5 samples in April–May, 2014, 2017. Analyses of covariance were used to compare PM2.5-bound metal levels across different living habits and ambient conditions. Principal component analysis (PCA) with varimax rotation was performed to explore PM2.5-bound metal sources. Personal PM2.5-bound aluminum (Al) (113.41 ng/m3) showed the highest geometric mean (GM) concentration, followed by lead (Pb) (90.89 ng/m3), zinc (Zn) (67.71 ng/m3), and iron (Fe) (51.85 ng/m3). The elevated levels of PM2.5-bound Al, vanadium (V), manganese (Mn), arsenic (As), rubidium (Rb), cadmium (Cd), and thallium (Tl) were found in participants with cigarette smoke exposure, compared with those without. The concentrations of Rb and strontium (Sr) were positively associated with the time spent outdoors. The increased concentration of nickel (Ni) was found in individuals who spent > 30 min/day in traffic. The elevated levels of V, Mn, and cobalt (Co) were associated with a short distance from dwellings to the main road. The results of PCA showed that PM2.5-bound metals might come from five sources: As, selenium (Se), Rb, Cd, Tl, and Pb from cigarette smoke exposure; Al, V, Mn, Fe, and Sr from crustal dust; copper (Cu) and antimony (Sb) from industrial activities; Ni and Co from traffic emission; and Zn from coal combustion. The concentrations of PM2.5-bound metals in this study were at moderate levels. Cigarette smoke exposure, industrial activities, traffic emission, and coal combustion might be major anthropogenic sources of personal PM2.5-bound metal exposures in Wuhan, China.
We're sorry, something doesn't seem to be working properly.
Please try refreshing the page. If that doesn't work, please contact support so we can address the problem.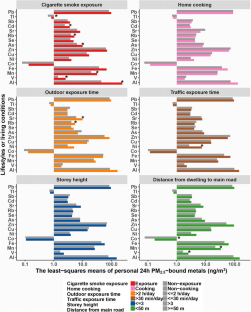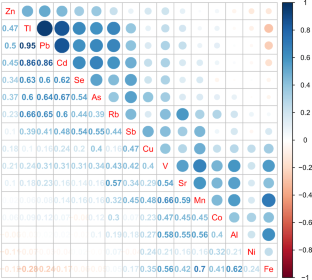 Data availability
The datasets generated and analyzed during the current study were not publicly available but are available from the corresponding author on reasonable request.
References
Badea M, Luzardo OP, González-Antuña A, Zumbado M, Rogozea L, Floroian L, Alexandrescu D, Moga M, Gaman L, Radoi M, Boada LD, Henríquez-Hernández LA (2018) Body burden of toxic metals and rare earth elements in non-smokers, cigarette smokers and electronic cigarette users. Environ Res 166:269–275

Benson NU, Anake WU, Adedapo AE, Fred-Ahmadu OH, Ayejuyo OO (2017) Toxic metals in cigarettes and human health risk assessment associated with inhalation exposure. Environ Monit Assess 189:619

Borrok DM, Giere R, Ren MH, Landa ER (2010) Zinc isotopic composition of particulate matter generated during the combustion of coal and coal plus tire-derived fuels. Environ Sci Technol 44:9219–9224

Cavallari JM, Eisen EA, Fang SC, Schwartz J, Hauser R, Herrick RF, Christiani DC (2008) PM2.5 metal exposures and nocturnal heart rate variability: a panel study of boilermaker construction workers. Environ Health-Glob 7:36

China Statistical Yearbook (2020) http://www.stats.gov.cn/tjsj/ndsj/. Accessed 13 July 2020

Cui X, Zhou T, Shen Y, Rong Y, Zhang Z, Liu Y, Xiao L, Zhou Y, Li W, Chen W (2019) Different biological effects of PM2.5 from coal combustion, gasoline exhaust and urban ambient air relate to the PAH/metal compositions. Environ Toxicol Pharmacol 69:120–128

Dai WT, Zhong H, Li L, Cao J, Huang Y, Shen M, Wang L, Dong J, Tie X, Ho SSH, Ho KF (2018) Characterization and health risk assessment of airborne pollutants in commercial restaurants in northwestern China: under a low ventilation condition in wintertime. Sci Total Environ 633:308–316

De Gregori I, Fuentes E, Rojas M, Pinochet H, Potin-Gautier M (2003) Monitoring of copper, arsenic and antimony levels in agricultural soils impacted and non-impacted by mining activities, from three regions in Chile. J Environ Monit 5:287–295

Drago G, Perrino C, Canepari S, Ruggieri S, L'Abbate L, Longo V, Colombo P, Frasca D, Balzan M, Cuttitta G, Scaccianoce G, Piva G, Bucchieri S, Melis M, Viegi G, Cibella F, RESPIRA Collaborative Project Group, Indoor and Outdoor Air Quality and Respiratory Health in Malta and Sicily - RESPIRA Study Group, Balzan M, Bilocca D, Borg C, Montefort S, Zammit C, Bucchieri S, Cibella F, Colombo P, Cuttitta G, Drago G, Ferrante G, L'Abbate L, Grutta S, Longo V, Melis MR, Ruggieri S, Viegi G, Minardi R, Piva G, Ristagno R, Rizzo G, Scaccianoce G (2018) Relationship between domestic smoking and metals and rare earth elements concentration in indoor PM2.5. Environ Res 165:71–80

Feng J, Yu H, Liu S, Su X, Li Y, Pan Y, Sun J (2017) PM2.5 levels, chemical composition and health risk assessment in Xinxiang, a seriously air-polluted city in North China. Environ Geochem Health 39:1071–1083

Feng W, He X, Chen M, Deng S, Qiu G, Li X, Liu C, Li J, Deng Q, Huang S, Wang T, Dai X, Yang B, Yuan J, He M, Zhang X, Chen W, Kan H, Wu T (2015) Urinary metals and heart rate variability: a cross-sectional study of urban adults in Wuhan, China. Environ Health Perspect 123:217–222

Foti L, Dubs F, Gignoux J, Lata JC, Lerch TZ, Mathieu J, Nold F, Nunan N, Raynaud X, Abbadie L, Barot S (2017) Trace element concentrations along a gradient of urban pressure in forest and lawn soils of the Paris region (France). Sci Total Environ 598:938–948

Franklin M, Koutrakis P, Schwartz P (2008) The role of particle composition on the association between PM2.5 and mortality. Epidemiology 19:680–689

Gavett SH, Haykal-Coates N, Copeland LB, Heinrich J, Gilmour MI (2003) Metal composition of ambient PM2.5 influences severity of allergic airways disease in mice. Environ Health Perspect 111:1471–1477

Hampel R, Peters A, Beelen R, Brunekreef B, Cyrys J, de Faire U, de Hoogh K, Fuks K, Hoffmann B, Hüls A, Imboden M, Jedynska A, Kooter I, Koenig W, Künzli N, Leander K, Magnusson P, Männistö S, Penell J, Pershagen G, Phuleria H, Probst-Hensch N, Pundt N, Schaffner E, Schikowski T, Sugiri D, Tiittanen P, Tsai MY, Wang M, Wolf K, Lanki T, ESCAPE TRANSPHORM study groups (2015) Long-term effects of elemental composition of particulate matter on inflammatory blood markers in European cohorts. Environ Int 82:76–84

Hernandez-Mena L, Murillo-Tovar M, Ramirez-Muniz M, Colunga-Urbina E, de la Garza-Rodriguez I, Saldarriaga-Norena H (2011) Enrichment factor and profiles of elemental composition of PM 2.5 in the city of Guadalajara, Mexico. B Environ Contam Tox 87:545–549

Hou SN, Zheng N, Tang L, Ji XF, Li YY, Hua XY (2019) Pollution characteristics, sources, and health risk assessment of human exposure to Cu, Zn, Cd and Pb pollution in urban street dust across China between 2009 and 2018. Environ Int 128:430–437

Hsu CY, Chiang HC, Lin SL, Chen MJ, Lin TY, Chen YC (2016) Elemental characterization and source apportionment of PM10 and PM2.5 in the western coastal area of central Taiwan. Sci Total Environ 541:1139–1150

Kulshrestha A, Satsangi PG, Masih J, Taneja A (2009) Metal concentration of PM2.5 and PM10 particles and seasonal variations in urban and rural environment of Agra, India. Sci Total Environ 407:6196–6204

Li R, Li JL, Cui LL, Wu Y, Fu HB, Chen JM, Chen MD (2017) Atmospheric emissions of Cu and Zn from coal combustion in China: spatio-temporal distribution, human health effects, and short-term prediction. Environ Pollut 229:724–734

Lim JM, Jeong JH, Lee JH, Moon JH, Chung YS, Kim KH (2011) The analysis of PM2.5 and associated elements and their indoor/outdoor pollution status in an urban area. Indoor Air 21:145–155

Men C, Liu RM, Wang QR, Guo LJ, Shen ZY (2018a) The impact of seasonal varied human activity on characteristics and sources of heavy metals in metropolitan road dusts. Sci Total Environ 637:844–854

Men C, Liu RM, Xu F, Wang QR, Guo LJ, Shen ZY (2018b) Pollution characteristics, risk assessment, and source apportionment of heavy metals in road dust in Beijing, China. Sci Total Environ 612:138–147

Mu G, Fan L, Zhou Y, Liu Y, Ma J, Yang S, Wang B, Xiao L, Ye Z, Shi T, Yuan J, Chen W (2019) Personal exposure to PM2.5-bound polycyclic aromatic hydrocarbons and lung function alteration: results of a panel study in China. Sci Total Environ 684:458–465

Mu G, Wang B, Yang S, Wang X, Zhou M, Song W, Qiu W, Ye Z, Zhou Y, Chen W (2020) Assessment for personal PM2.5 exposure with a modeling method: a panel study in Wuhan, China. Atmos Pollut Res 11:1991–1997

Olson DA, Turlington J, Duvall RV, Vicdow SR, Stevens CD, Williams R (2008) Indoor and outdoor concentrations of organic and inorganic molecular markers: Source apportionment of PM2.5 using low-volume samples. Atmos Environ 42:1742–1751

Overholser BR, Sowinski KM (2008) Biostatistics primer: Part 2. Nutr Clin Pract 23:76–84

Pakkanen TA, Loukkola K, Korhonen CH, Aurela M, Mäkelä T, Hillamo RE, Aarnio P, Koskentalo T, Kousa A, Maenhaut W (2001) Sources and chemical composition of atmospheric fine and coarse particles in the Helsinki area. Atmos Environ 35:5381–5391

Pappas RS, Martone N, Gonzalez-Jimenez N, Fresquez MR, Watson CH (2015) Determination of toxic metals in little cigar tobacco with 'Triple Quad' ICP-MS. J Anal Toxicol 39:347–352

Pappas RS, Polzin GM, Zhang L, Watson CH, Paschal DC, Ashley DL (2006) Cadmium, lead, and thallium in mainstream tobacco smoke particulate. Food Chem Toxicol 44:714–723

Pappas RS, Watson CH, Valentin-Blasini L (2018) Aluminum in tobacco products available in the United States. J Anal Toxicol 42:637–641

Pinto E, Cruz M, Ramos P, Santos A, Almeida A (2017) Metals transfer from tobacco to cigarette smoke: evidences in smokers' lung tissue. J Hazard Mater 325:31–35

Qie GH, Wang Y, Wu C, Mao H, Zhang P, Li T, Li Y, Talbot R, Hou C, Yue T (2018) Distribution and sources of particulate mercury and other trace elements in PM2.5 and PM10 atop Mount Tai, China. J Environ Manag 215:195–205

Santarsiero A, Fuselli S (2008) Indoor and outdoor air carbonyl compounds correlation elucidated by principal component analysis. Environ Res 106:139–147

Singh SM, Sharma J, Gawas-Sakhalkar P, Upadhyay AK, Naik S, Pedneker SM, Ravindra R (2013) Atmospheric deposition studies of heavy metals in Arctic by comparative analysis of lichens and cryoconite. Environ Monit Assess 185:1367–1376

Song Y, Xie SD, Zhang YH, Zeng LM, Salmon LG, Zheng M (2006) Source apportionment of PM2.5 in Beijing using principal component analysis/absolute principal component scores and UNMIX. Sci Total Environ 372:278–286

Song YC, Hou J, Huang X, Zhang X, Tan A, Rong Y, Sun H, Zhou Y, Cui X, Yang Y, Guo Y, Zhang Z, Luo X, Zhang B, Hou F, He X, Xie J, Wu T, Chen W, Yuan J (2014) The Wuhan-Zhuhai (WHZH) cohort study of environmental air particulate matter and the pathogenesis of cardiopulmonary diseases: study design, methods and baseline characteristics of the cohort. BMC Public Health 14:994

Suryawanshi S, Chauhan AS, Verma R, Gupta T (2016) Identification and quantification of indoor air pollutant sources within a residential academic campus. Sci Total Environ 569:46–52

Taner S, Pekey B, Pekey H (2013) Fine particulate matter in the indoor air of barbeque restaurants: elemental compositions, sources and health risks. Sci Total Environ 454:79–87

Wang J, Su JW, Li ZG, Liu BX, Cheng GH, Jiang YH, Li YC, Zhou SQ, Yuan WY (2019) Source apportionment of heavy metal and their health risks in soil-dustfall-plant system nearby a typical non-ferrous metal mining area of Tongling, Eastern China. Environ Pollut 254:113089

Wang S, Yu J, Okubo K (2020) Estimation of End-of-Life Hybrid Vehicle number in Japan considering secondhand vehicle exportation. Waste Manag 104:198–206

Wang XF, He SL, Chen SC, Zhang YL, Wang AH, Luo JB, Ye XL, Mo Z, Wu LZ, Xu PW, Cai GF, Chen ZJ, Lou XM (2018) Spatiotemporal characteristics and health risk assessment of heavy metals in PM2.5 in Zhejiang Province. Inte J Enviro Res Public Health 15(4):583

Wu CC, Chen YC (2017) Assessment of industrial antimony exposure and immunologic function for workers in Taiwan. Inte J Environ Res Public Health 14(7):689

Wu CF, Lin HI, Ho CC, Yang TH, Chen CC, Chan CC (2014) Modeling horizontal and vertical variation in intraurban exposure to PM2.5 concentrations and compositions. Environ Res 133:96–102

Wu H, Zhang YF, Han SQ, Wu JH, Bi XH, Shi GL, Wang J, Yao Q, Cai ZY, Liu JL, Feng YC (2015) Vertical characteristics of PM2.5 during the heating season in Tianjin, China. Sci Total Environ 523:152–160

Wu SW et al (2016) Chemical constituents and sources of ambient particulate air pollution and biomarkers of endothelial function in a panel of healthy adults in Beijing, China. Sci Total Environ 560:141–149

Xu H, Han S, Bi X, Zhao Z, Zhang L, Yang W, Zhang M, Chen J, Wu J, Zhang Y, Feng Y (2016) Atmospheric metallic and arsenic pollution at an offshore drilling platform in the Bo Sea: A health risk assessment for the workers. J Hazard Mater 304:93–102

Yang J, Fu Q, Guo XS, Chu BL, Yao YW, Teng YG, Wang YY (2015) Concentrations and seasonal variation of ambient PM2.5 and associated metals at a typical residential area in Beijing, China. B Environ Contam Tox 94:232–239

Yu YQ, Cui XQ, Feng W, Zhang XM, Yuan J, Chen WH, Wu TC (2016) Association between personal exposure to metals in fine particulate matter and urinary metals: baseline results from a panel study. Zhonghua Yu Fang Yi Xue Za Zhi 50:673–679

Zeng X, Xu XJ, Zheng XB, Reponen T, Chen AM, Huo X (2016) Heavy metals in PM2.5 and in blood, and children's respiratory symptoms and asthma from an e-waste recycling area. Environ Pollut 210:346–353

Zhang N, Han B, He F, Xu J, Zhao R, Zhang Y, Bai Z (2017) Chemical characteristic of PM2.5 emission and inhalational carcinogenic risk of domestic Chinese cooking. Environ Pollut 227:24–30

Zhang Y, Ji X, Ku T, Li G, Sang N (2016a) Heavy metals bound to fine particulate matter from northern China induce season-dependent health risks: a study based on myocardial toxicity. Environ Pollut 216:380–390

Zhang YL, Cao F (2015) Fine particulate matter (PM2.5) in China at a city level. Sci Rep-Uk 5:14884

Zhang YQ, Cao SZ, Xu XY, Qiu J, Chen MX, Wang D, Guan DH, Wang CY, Wang X, Dong BW, Huang H, Zhao N, Jing L, Bai YN, Duan XL, Liu Q, Zhang YW (2016b) Metals compositions of indoor PM2.5, health risk assessment, and birth outcomes in Lanzhou, China. Environ Monit Assess 188(6):325

Zhao S, Yu Y, Yin D, He J, Liu N, Qu J, Xiao J (2016) Annual and diurnal variations of gaseous and particulate pollutants in 31 provincial capital cities based on in situ air quality monitoring data from China National Environmental Monitoring Center. Environ Int 86:92–106

Zhou MG, Wang H, Zeng X, Yin P, Zhu J, Chen W, Li X, Wang L, Wang L, Liu Y, Liu J, Zhang M, Qi J, Yu S, Afshin A, Gakidou E, Glenn S, Krish VS, Miller-Petrie MK, Mountjoy-Venning WC, Mullany EC, Redford SB, Liu H, Naghavi M, Hay SI, Wang L, Murray CJL, Liang X (2019) Mortality, morbidity, and risk factors in China and its provinces, 1990-2017: a systematic analysis for the Global Burden of Disease Study 2017. Lancet 394:1145–1158

Zhou S, Yuan Q, Li W, Lu Y, Zhang Y, Wang W (2014) Trace metals in atmospheric fine particles in one industrial urban city: spatial variations, sources, and health implications. J Environ Sci 26:205–213
Acknowledgments
We are grateful to all participants recruited in our study and all members of our study team.
Funding
This study was funded by Key Program of the National Nature Science Foundation of China (Grant Number: 91543207) and Major Research Program of the National Natural Science Foundation of China (Grant Number: 91843302).
Ethics declarations
Conflict of interest
The authors declare that they have no conflict of interest.
Ethics approval and consent to participate
All participants in this study signed informed consent, and the research protocol was approved by the Ethics and Human Subject Committee of Tongji Medical College, Huazhong University of Science and Technology.
Consent for publication
Not applicable.
Additional information
Publisher's note
Springer Nature remains neutral with regard to jurisdictional claims in published maps and institutional affiliations.
Responsible Editor: Lotfi Aleya
Supplementary Information
About this article
Cite this article
Wang, X., Wang, B., Xiao, L. et al. Sources of 24-h personal exposure to PM2.5-bound metals: results from a panel study in Wuhan, China. Environ Sci Pollut Res (2021). https://doi.org/10.1007/s11356-021-12386-y
Received:

Accepted:

Published:
Keywords
PM2.5-bound metals

Personal exposure

Sources

PCA

Community residents

Cigarette smoke