Abstract
A hydrodynamic model is applied to a domain encompassing Mosquito Lagoon and a segment of north Indian River Lagoon on the east coast of Florida with the goals of (1) describing the hydrodynamic regime of the area according to existing conditions and (2) to determine the flushing rates of the system after introducing a hypothetical pollutant (numerical dye tracer). Results from the 1-year simulation agree with observations and show that the Mosquito Lagoon (ML) and North Indian River Lagoon (NIRL) are dominated by the nontidal (low frequency) water level oscillations except at the northernmost part of the ML where the influence of tidal renewal dominates. The global tracer application results reveal that only the two northernmost segments of Mosquito Lagoon (ML-ac and ML-df) reach 50% of tracer concentrations (R50) within the year of simulation (day 19 and day 176 respectively). The five (discrete) segments tracer study resulted in lower R50 values and the hypothetical pollutant is removed (flushed) from each of the segments within the year and with an averaged renewal time value for the Mosquito Lagoon basin of 98 days. Observed throughout the simulation period is the interaction across the different segments and a predominantly two-layered water mass exchange through the Haulover Canal. Most significant is that the resulting renewal times (R50) indicate the existence of three dynamically distinct sections within Mosquito Lagoon. These findings aid in the identification of poorly flushed zones and serve as a baseline for the duration and possible propagation of detrimental conditions such as a harmful algal bloom (HAB) event or a contaminant spill.
Access options
Buy single article
Instant access to the full article PDF.
US$ 39.95
Tax calculation will be finalised during checkout.
Subscribe to journal
Immediate online access to all issues from 2019. Subscription will auto renew annually.
US$ 79
Tax calculation will be finalised during checkout.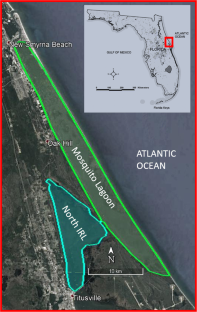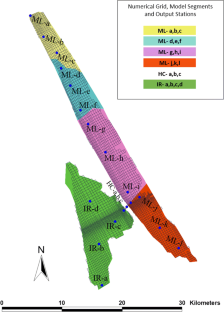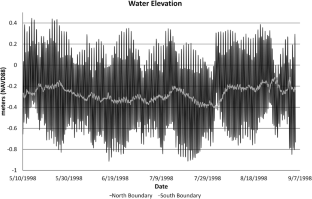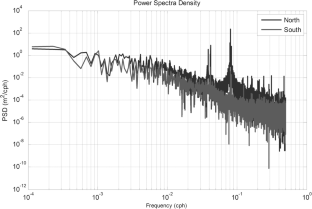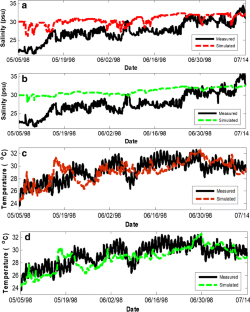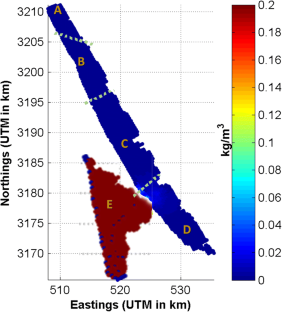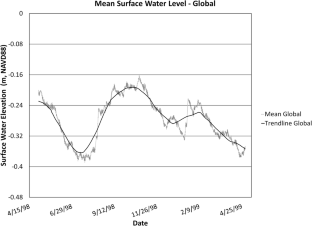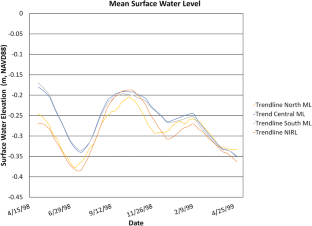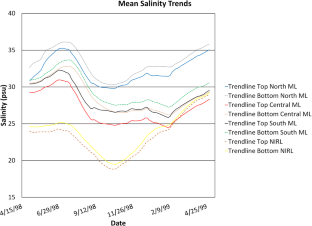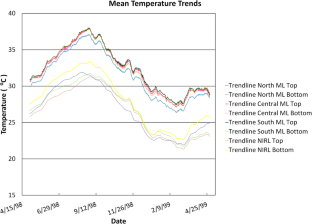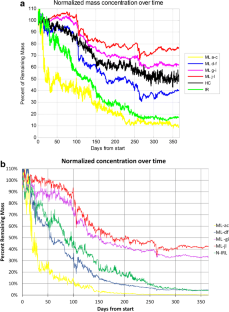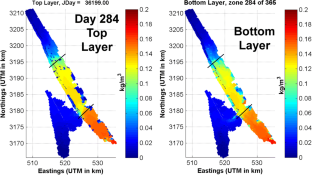 Data availability
The data sets used and analyzed during this study are available from the corresponding author on reasonable request.
References
Beer T (1997) Environmental oceanography. CRC Press, Boca Raton, FL

Cambridge Systematics Inc. (2008) Florida waterway system plan. Submitted to Florida Department of Transportation, Seaport Office, 130 pp

Clapp D (1987) Overview of physiographic and surface drainage features. In: Indian River Lagoon Joint Reconnaissance Report. Steward IS and VanArman JA (eds) p. 1-27

Colvin J, Lazarus L, Splitt M, Weaver R, Taeb P (2018) Wind driven setup in east central Florida's Indian River Lagoon: forcings and parametrizations. Estuar Coast Shelf Sci 213:40–48

Deliman PN, Pack WJ, Nelson EJ (1999) Integration of the hydrologic simulation program - FORTRAN (HSPF) watershed water quality model into the watershed modeling system (WMS). USACE Technical Report W-99-2

Du H (2000) Use of three-dimensional hydrodynamic model and accurate advection scheme for modeling flushing dynamics and developing segmentation schemes in Indian River Lagoon. Thesis from University of Florida, Gainesville Fl, 154 pp

Ezer T, Atkinson LP, Corlett WB, Blanco JL (2013) Gulf Stream's induced sea level rise and variability along the U.S. mid-Atlantic coast. J Geophys Res Atmos 118(2):685–697

Foster G, Riegl BM, Morris LJ, Foster KA (2018) Reproducible multi-parameter acoustic detection of seasonal drift macroalgae in the Indian River Lagoon, Florida. J Coast Conserv 22:587–604

Hamrick JM (1992) Estuarine environmental impact assessment using a three-dimensional circulation and transport model. Estuarine and coastal modeling. Proceedings of the 2nd International Conference. M.L. Spaulding, K. Bedford, A. Blumberg, R. Cheng, and S. Swanson (eds.), ASCE, NY, pp 292–303

Johnson DR, Funicelli NA, Bohnsack JA (1999) Effectiveness of an existing estuarine no-take fish sanctuary within the Kennedy Space Center, Florida. N Am J Fish Manag 19:436–453

Kjerfve B, Greer JE, Crout RL (1978) Low-frequency response of estuarine sea level to non-local forcing. Academic Press, Inc.

Kjerfve B, Magill KE (1989) Geographic and hydrodynamic characteristics of shallow coastal lagoons. Marine Geology, Vol. 88 pp. 187-199. Elsevier science publishers B.V., Amsterdam

Mailander JL (1990) Climate of the Kennedy Space Center and vicinity. NASA Tech Memorandum 103498. p 62

Mendonca MT (1983) Movements and feeding ecology of immature green turtles (Chelonia mydas) in a Florida lagoon. Copeia 4:1013–1023

Rao D (1987) Surface water hydrology, Chapter 2. In: Indian River Lagoon Joint Reconnaissance Report. Steward JS and VanArman JA (eds), pp 1–40

Sigua GC, Steward JS (2000a) Establishing pollutant load reduction targets for the Indian River Lagoon, Florida. J Am Water Resour Assoc 36:123–132

Sigua GC, Steward JS (2000b) Water quality monitoring and biological integrity assessment in the Indian River Lagoon, Florida: status, trends and loadings (1988-1994). Environmental Managements 25:199–209

Smith NP (1996) Tidal and low frequency flushing of a coastal lagoon using a flexible grid model. In: Mixing in estuarine and coastal seas, coastal and estuarine studies, vol 50, pp 171–183

Snelson FF Jr. (1983) Ichthyofauna of the northern part of the Indian River Lagoon system, Florida. Fla. Sci. 46(3/4):187-206. Ref. 52

Windsor JG (1988) A review of water quality and sediment chemistry with an historical perspective. In: Barile DA (ed) The Indian River Lagoon monograph. Marine Resources Council of East Central Florida. Melbourne, FL

Woodward-Clyde Consultants (1994) IRLNEP (Indian River Lagoon National Estuary Project), Physical Features of the Indian River Lagoon. Indian River Lagoon National Estuary Program, Melbourne, FL. Final Technical Report. Project number 92F274C. Tampa, FL

Zarillo GA (2019) Interaction between tidal inlet shoals and short and long-term sand budgets on the east central Florida coast. Proceedings of the coastal sediments '19. Tampa, FL. World Scientific Publishing Co.
Acknowledgments
We would want to extend our gratitude to Dr. John Trefry, Dr. Steven Lazarus, and Mr. Michael Splitt for their availability to discuss data, methods, and relevant scientific literature.
Contributions
Jo-Ann Rosario-Llantín: conceptualization, investigation, methodology, formal analysis, and writing-original draft preparation. Gary A. Zarillo: funding acquisition, initial data acquisition, methodology review, writing-review, and editing.
Funding
This study was possible due to the interest and support from the National Park Service and Scientific and Environmental Applications, Inc. (Contract Number N5180070017, from 2006 to 2009).
Ethics declarations
Conflict of interest
The authors declare that they have no conflict of interest.
Ethical approval
Not applicable.
Consent to participate
Not applicable.
Consent to publish
Not applicable.
Additional information
Publisher's note
Springer Nature remains neutral with regard to jurisdictional claims in published maps and institutional affiliations.
Responsible Editor: Marcus Schulz
Supplementary information
About this article
Cite this article
Rosario-Llantín, JA., Zarillo, G.A. Flushing rates and hydrodynamical characteristics of Mosquito Lagoon (Florida, USA). Environ Sci Pollut Res (2021). https://doi.org/10.1007/s11356-021-12367-1
Received:

Accepted:

Published:
Keywords
Indian River Lagoon

Renewal times

Water quality

Florida

Hydrodynamical modeling

Flushing

Numerical tracer study

Environmental Fluid Dynamics Code