Abstract
Microplastics have caused considerable harm to the environment and threatened human health due to their strong adsorption and hard biodegradation. Therefore, the research of microplastic received increasing attention recently, producing numbers of related achievements. To comprehensively grasp the quantitative information of published papers on "microplastics," we analyzed the research progress and hotspots of "microplastics" through visualization software "VOSviewer." The results show that the number of literature on microplastics published from 2009 to 2019 increased exponentially (R2 = 0.9873). The top 10 cited references are mainly in "zooplankton ingesting microplastics," "microplastics in artificially cultivated bivalve," "microplastics in surface waters such as lakes," etc. The cutting-edge microplastics research is adsorption, biodegradation, ingestion and accumulation model, and toxicity analysis. In addition, the results predict that the combination of constructed wetland, biotechnology, and photocatalysis to remove microplastics will become new hotspots. The study provides researchers in microplastics with an overview of existing research and directional guidance for future research.
Access options
Buy single article
Instant access to the full article PDF.
US$ 39.95
Tax calculation will be finalised during checkout.
Subscribe to journal
Immediate online access to all issues from 2019. Subscription will auto renew annually.
US$ 79
Tax calculation will be finalised during checkout.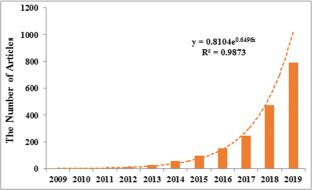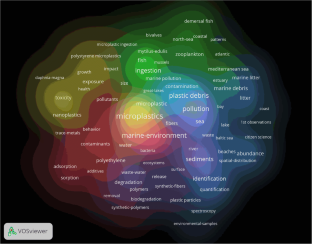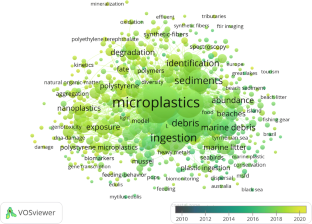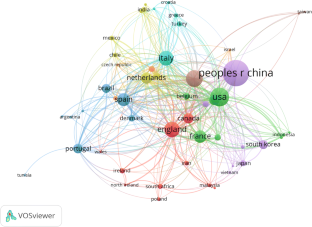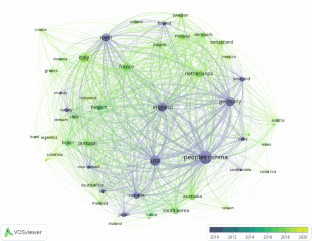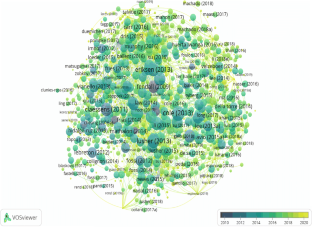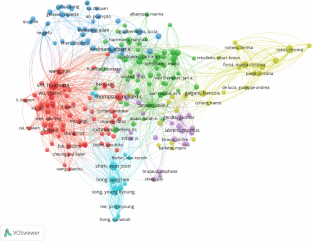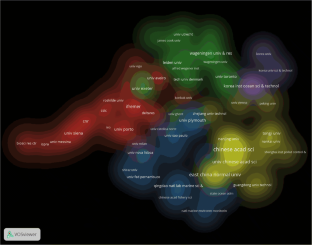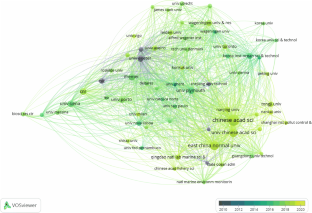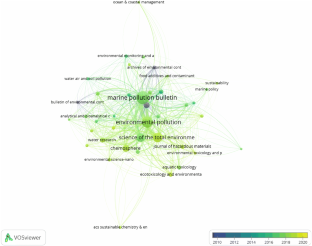 Data availability
All data generated or analyzed during this study are included in this published article.
References
Alexy P, Anklam E, Emans T, Furfari A, Galgani F, Hanke G, Koelmans A, Pant R, Saveyn H, Sokull KB (2020) Managing the analytical challenges related to micro- and nanoplastics in the environment and food: filling the knowledge gaps. Food Addit Contam A 37:1–10

Andrady AL (2017) The plastic in microplastics: a review. Mar Pollut Bull 119:12–22

Bergmann M, Mützel S, Primpke S, Tekmanl MB, Trachsel J, Gerdts G (2019) White and wonderful? Microplastics prevail in snow from the Alps to the Arctic. Sci Adv 5:eaax1157

Cai HW, Du FN, Li LY, Li B, Li JN, Shi HH (2019) A practical approach based on FT-IR spectroscopy for identification of semi-synthetic and natural celluloses in microplastic investigation. Sci Total Environ 669:692–701

Cauwenberghe LV, Vanreusel A, Mees J, Janssen CR (2013) Microplastic pollution in deep-sea sediments. Environ Pollut 182:495–499

Cauwenberghe LV, Claessens M, Vandegehuchte MB, Janssen CR (2015) Microplastics are taken up by mussels (Mytilus edulis) and lugworms (Arenicola marina) living in natural habitats. Environ Pollut 199:10–17

Cauwenberghe LV, Janssen CR (2014) Microplastics in bivalves cultured for human consumption. Environ Pollut 193:65–70

Chae Y, An Y-J (2017) Effects of micro- and nanoplastics on aquatic ecosystems: current research trends and perspectives. Mar Pollut Bull 124:624–632

Chen QQ, Zhang HB, Allgeier A, Zhou Q, Ouellet JD, Crawford SE, Luo YM, Yang Y, Shi HH, Hollert H (2019) Marine microplastics bound dioxin-like chemicals: model explanation and risk assessment. J Hazard Mater 364:2–90

Cho Y, Shim WJ, Jang M, Han GM, Hong SH (2019) Abundance and characteristics of microplastics in market bivalves from South Korea. Environ Pollut 245:1107–1116

Claessens M, Meester SD, Landuyt LV, Clerck KD, Janssen CR (2011) Occurrence and distribution of microplastics in marine sediments along the Belgian coast. Mar Pollut Bull 62:2199–2204

Cole M, Lindeque P, Fileman E, Halsband C, Goodhead R, Moger J, Galloway TS (2013) Microplastic ingestion by zooplankton. Environ Sci Technol 47:6646–6655

Corradini F, Bartholomeus H, Lwanga EH, Gertsen H, Geissen V (2019) Predicting soil microplastic concentration using vis-NIR spectroscopy. Sci Total Environ 650:922–932

Costa MF, Ivar do Sul JA, Silva-Cavalcanti JS, Araújo MCB, Spengler Â, Tourinho PS (2010) On the importance of size of plastic fragments and pellets on the strandline: a snapshot of a Brazilian beach. Environ Monit Assess 168:299–304

Dhital S, Rupakheti D (2019) Bibliometric analysis of global research on air pollution and human health: 1998–2017. Environ Sci Pollut Res 26:13103–13114

Ding JN, Zhang SS, Zou H, Zhang Y, Zhu R (2017) Occurrence, source and ecotoxicological effect of microplastics in freshwater environment. Ecology and Environmental Sciences 26:1619–1626

Eerkes-Medrano D, Thompson RC, Aldridge DC (2015) Microplastics in freshwater systems: a review of the emerging threats, identification of knowledge gaps and prioritisation of research needs. Water Res 75:63–82

Eriksen M, Mason S, Wilson S, Box C, Zellers A, Edwards W, Farley H, Amato S (2013) Microplastic pollution in the surface waters of the Laurentian Great Lakes. Mar Pollut Bull 77:177–182

Fendall LS, Sewell MA (2009) Contributing to marine pollution by washing your face: microplastics in facial cleansers. Mar Pollut Bull 58:1225–1228

Frere L, Paul-Pont I, Rinnert E, Petton S, Jaffré J, Bihannic I, Soudant P, Lambert C, Huvet A (2017) Influence of environmental and anthropogenic factors on the composition, concentration and spatial distribution of microplastics: a case study of the Bay of Brest (Brittany, France). Environ Pollut 225:211–222

Frias JPGL, Sobral P, Ferreira AM (2010) Organic pollutants in microplastics from two beaches of the Portuguese coast. Mar Pollut Bull 60:1988–1992

Gao YF, Xu YN, Zhu YX, Zhang JH (2018) An analysis of the hotspot and frontier of mine eco-environment restoration based on big data visualization of VOSviewer and CiteSpace. Geological Bulletin of China 37:2144–2153

Green DS, Colgan TJ, Thompson RC, Carolan JC (2019) Exposure to microplastics reduces attachment strength and alters the haemolymph proteome of blue mussels (Mytilus edulis). Environ Pollut 246:423–434

Horton AA, Svendsen C, Williams RJ, Spurgeon DJ, Lahive E (2017) Large microplastic particles in sediments of tributaries of the River Thames, UK–abundance, sources and methods for effective quantification. Mar Pollut Bull 114:218–226

Hu LL, Chernick M, Hinton DE, Shi HH (2018) Microplastics in small waterbodies and tadpoles from Yangtze River Delta, China. Environ Sci Technol 52:8885–8893

Jang M, Shim WJ, Han GM, Rani M, Song YK, Hong SH (2017) Widespread detection of a brominated flame retardant, hexabromocyclododecane, in expanded polystyrene marine debris and microplastics from South Korea and the Asia-Pacific coastal region. Environ Pollut 231:785–794

Jang M, Shim WJ, Han GM, Song YK, Hong SH (2018) Formation of microplastics by polychaetes (Marphysa sanguinea) inhabiting expanded polystyrene marine debris. Mar Pollut Bull 131:365–369

Jin JL, Chen PF, Chen ML, Li JQ, Xu XY, Chang T (2019) Bibliometric analysis of research progress on water resources carrying capacity based on knowledge map. Water Resources Protection 35:14–24,57

Kaeppler A, Fischer D, Oberbeckmann S, Schernewski G, Labrenz M, Eichhorn K, Voit B (2016) Analysis of environmental microplastics by vibrational microspectroscopy: FTIR, Raman or both? Anal Bioanal Chem 408:8377–8391

Klingelhöfer D, Braun M, Quarcoo D, Brüggmann D, Groneberg DA (2020) Research landscape of a global environmental challenge: microplastics. Water Res 170:115358

Koelmans AA, Besseling E, Foekema E, Kooi M, Mintenig S, Ossendorp BC, Redondo-Hasselerharm PE, Verschoor A, Wezel AP, Scheffer M (2017) Risks of plastic debris: unravelling fact, opinion, perception, and belief. Environ Sci Technol 51:11513–11519

Lee J, Lee JS, Jang YC, Hong SY, Shim WJ, Song YK, Hong SH, Jang M, Han GM, Kang D, Hong S (2015) Distribution and size relationships of plastic marine debris on beaches in South Korea. Arch Environ Contam Toxicol 69:288–298

Li JN, Yang DQ, Li L, Jabeen K, Shi HH (2015) Microplastics in commercial bivalves from China. Environ Pollut 207:190–195

Li WC, Tse HF, Fok L (2016) Plastic waste in the marine environment: a review of sources, occurrence and effects. Sci Total Environ 566/567:333–349

Lorenz C, Roscher L, Meyer MS, Hildebrandt L, Prume J, Löder MGJ, Primpke S, Gerdts G (2019) Spatial distribution of microplastics in sediments and surface waters of the southern North Sea. Environ Pollut 252:1719–1729

Lusher AL, Mchugh M, Thompson RC (2013) Occurrence of microplastics in the gastrointestinal tract of pelagic and demersal fish from the English Channel. Mar Pollut Bull 67:94–99

Lv XM, Dong Q, Zuo ZQ, Liu YY, Huang X, Wu WM (2019) Microplastics in a municipal wastewater treatment plant: fate, dynamic distribution, removal efficiencies, and control strategies. J Clean Prod 225:579–586

Ma BW, Xue WJ, Hu CZ, Liu HJ, Qu JH, Li LL (2019) Characteristics of microplastic removal via coagulation and ultrafiltration during drinking water treatment. Chem Eng J 359:159–167

Monikh FA, Grundschober N, Romeijn S, Arenas-Lago D, Vijver MG, Jiskoot W, Peijnenburg WJGM (2019) Development of methods for extraction and analytical characterization of carbon-based nanomaterials (nanoplastics and carbon nanotubes) in biological and environmental matrices by asymmetrical flow field-flow fractionation. Environ Pollut 255:113304

Nelms SE, Parry HE, Bennett KA, Galloway TS, Godley BJ, Santillo D, Lindeque PK (2019) What goes in, must come out: combining scat-based molecular diet analysis and quantification of ingested microplastics in a marine top predator. Methods Ecol Evol 10:1712–1722

Obbard RW, Sadri S, Wong YQ, Khitun AA, Baker I, Thompson RC (2014) Global warming releases microplastic legacy frozen in Arctic Sea ice. Earths Future 2:315–320

Oberbeckmann S, Kreikemeyer B, Labrenz M (2018) Environmental factors support the formation of specific bacterial assemblages on microplastics. Front Microbiol 8:2709

Panti C, Baini M, Lusher A, Hernandez-Milan G, Rebolledo ELB, Unger B, Syberg K, Simmonds MP, Fossi MC (2019) Marine litter: one of the major threats for marine mammals. Outcomes from the European Cetacean Society workshop. Environ Pollut 247:72–79

Panti C, Giannetti M, Baini M, Rubegni F, Minutoli R, Fossi MC (2015) Occurrence, relative abundance and spatial distribution of microplastics and zooplankton NW of Sardinia in the Pelagos Sanctuary Protected Area, Mediterranean Sea. Environ Chem 12:618–626

Pauna VH, Buonocore E, Renzi M, Russo GF, Franzese PP (2019) The issue of microplastics in marine ecosystems: a bibliometric network analysis. Mar Pollut Bull 149:110612

Rochman CM, Brookson C, Bikker J, Djuric N, Earn A, Bucci K, Athey S, Huntington A, McIlwraith H, Munno K, Frond HD, Kolomijeca A, Erdle L, Grbic J, Bayoumi M, Borrelle SB, Wu T, Santoro S, Werbowski LM, Zhu X et al (2019) Rethinking microplastics as a diverse contaminant suite. Environ Toxicol Chem 38:703–711

Romeo T, Peda C, Fossi MC, Andaloro F, Battaglia P (2016) First record of plastic debris in the stomach of Mediterranean lanternfishes. Acta Adriatica 57:115–123

Sadri SS, Thompson RC (2014) On the quantity and composition of floating plastic debris entering and leaving the Tamar Estuary, Southwest England. Mar Pollut Bull 81:55–60

Setala O, Fleming-Lehtinen V, Lehtiniemi M (2014) Ingestion and transfer of microplastics in the planktonic food web. Environ Pollut 185:77–83

Shim WJ, Song YK, Hong SH, Jang M (2016) Identification and quantification of microplastics using Nile Red staining. Mar Pollut Bull 113:469–476

Shukla AK, Janmaijaya M, Abraham A, Muhuri PK (2019) Engineering applications of artificial intelligence: a bibliometric analysis of 30 years (1988–2018). Eng Appl Artif Intel 85:517–532

Song YK, Hong SH, Eo S, Jang M, Han GM, Isobe A, Shim WJ (2018) Horizontal and vertical distribution of microplastics in Korean coastal waters. Environ Sci Technol 52:12188–12197

Su L, Deng H, Li BW, Chen QQ, Pettigrove V, Wu CX, Shi HH (2019) The occurrence of microplastic in specific organs in commercially caught fishes from coast and estuary area of east China. J Hazard Mater 365:716–724

Tallec K, Blard O, Gonzalez-Fernandez C, Brotons G, Berchel M, Soudant P, Huvet A, Paul-Pont I (2019) Surface functionalization determines behavior of nanoplastic solutions in model aquatic environments. Chemosphere 225:639–646

Thompson RC, Olsen Y, Mitchell RP, Davis A, Rowland SJ, John AWG, McGonigle D, Russell AE (2004) Lost at sea: where is all the plastic? Science 304:838

Turner A, Holmes LA (2015) Adsorption of trace metals by microplastic pellets in fresh water. Environ Chem 12:600–610

Von MN, Burkhardt-Holm P, Köhler A (2012) Uptake and effects of microplastics on cells and tissue of the blue mussel Mytilus edulis L after an experimental exposure. Environ Sci Technol 46:11327–11335

Wang J, Wang MX, Ru SG, Liu XS (2019) High levels of microplastic pollution in the sediments and benthic organisms of the South Yellow Sea, China. Sci Total Environ 651:1661–1669

Wezel AV, Caris I, Kools SAE (2016) Release of primary microplastics from consumer products to wastewater in the Netherlands. Environ Toxicol Chem 35:1627–1631

Wu CX, Zhang K, Huang XL, Liu JT (2016) Sorption of pharmaceuticals and personal care products to polyethylene debris. Environ Sci Pollut Res 23:8819–8826

Xanthos D, Walker TR (2017) International policies to reduce plastic marine pollution from single-use plastics (plastic bags and microbeads): a review. Mar Pollut Bull 118:17–26

Xu P, Peng GY, Su L, Gao YQ, Gao L, Li DJ (2018) Microplastic risk assessment in surface waters: a case study in the Changjiang Estuary, China. Mar Pollut Bull 133:647–654

Yang LB, Li KX, Cui S, Kang Y, An LH, Lei K (2019) Removal of microplastics in municipal sewage from China's largest water reclamation plant. Water Res 155:175–181

Zong QJ, Yuan QJ, Shen HZ (2012) Research focus of China Library Science in 2010 based on VOSviewer. Library 4:88–90
Funding
This work was supported by the project of the Zhejiang Provincial Key Research and Development Program (No. 2021C02048), Zhejiang Provincial Natural Science Foundation of China (No. LY18E080005), National Natural Science Foundation of China (No. 51709254), Support funds project of the Zhejiang Provincial Key Research and Development Program (No. 2019C03110), and Youth Innovation Promotion Association, Chinese Academy of Sciences (No. 2020335).
Ethics declarations
Competing interests
The authors declare that they have no competing interests.
Ethics approval and consent to participate
Not applicable.
Consent for publication
Not applicable.
Additional information
Publisher's note
Springer Nature remains neutral with regard to jurisdictional claims in published maps and institutional affiliations.
Responsible Editor: Philippe Garrigues
About this article
Cite this article
Zhou, M., Wang, R., Cheng, S. et al. Bibliometrics and visualization analysis regarding research on the development of microplastics. Environ Sci Pollut Res 28, 8953–8967 (2021). https://doi.org/10.1007/s11356-021-12366-2
Received:

Accepted:

Published:

Issue Date:
Keywords
Microplastics

VOSviewer

Marine pollutions

Big data analysis

Research hotspots