Abstract
Microcystins (MCs) have seriously polluted drinking water supplies and have caused great harm to aquatic organisms and humans. Understanding the dynamics of MC concentrations and its influencing factors is necessary for drinking water safety. Many previous studies on MC pollution focused on intracellular MCs rather than on extracellular MCs, which are more difficult to remove by water treatment. So far, the release characteristics of MCs and the relationships between intracellular and extracellular MCs are still unclear. To explore these questions, a survey was conducted at 18 sites across Lake Erhai from May 2014 to April 2015 as in Lake Erhai the frequency and coverage area of cyanobacterial blooms have been increasing. Variation of extracellular MCs lagged behind that of intracellular MCs. The highest value of intracellular MCs was 1.07 μg L−1 in October 2014 and the highest extracellular MC concentration was 0.035 μg L−1 in November 2014. Intracellular MCs were positively influenced by MC-producing cyanobacterial biomass, water temperature (WT), pH, and conductivity (Cond). The extracellular MCs showed little correlation with cyanobacterial abundances and intracellular MC concentrations, but showed significant negative correlations with WT, pH, and Cond. These results indicated that high biomass and high intracellular MC concentrations did not quickly lead to large releases of MCs, and that when cyanobacterial cells died and blooms disappeared, MCs were intensively released into the water, posing the greatest threat to drinking water supply.
Access options
Buy single article
Instant access to the full article PDF.
US$ 39.95
Tax calculation will be finalised during checkout.
Subscribe to journal
Immediate online access to all issues from 2019. Subscription will auto renew annually.
US$ 79
Tax calculation will be finalised during checkout.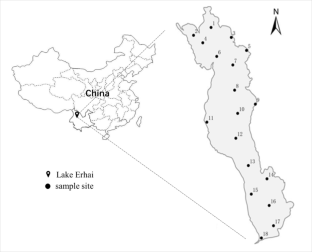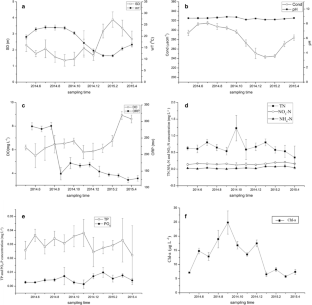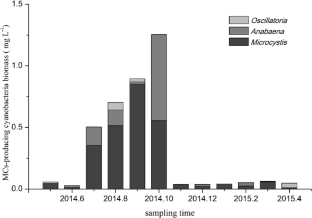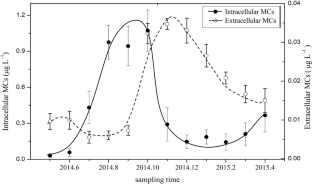 Data availability
All authors agreed to state that required data and materials relevant will be available for further validity of the results presented.
References
Bao ZY, Wu Y (2016) Biodegradation of microcystin-LR by an amino acid-degrading anaerobic bacterium. Desalin Water Treat 57:870–880

Beaulieu M, Pick F, Gregory-Eaves I (2013) Nutrients and water temperature are significant predictors of cyanobacterial biomass in a 1147 lakes data set. Limnol Oceanogr 58:1736–1746

Bourne DG, Jones GJ, Blakeley RL, Jones A, Negri AP, Riddles P (1996) Enzymatic pathway for the bacterial degradation of the cyanobacterial cyclic peptide toxin microcystin LR. Appl Environ Microbiol 62:4086–4094

Butterwick C, Heaney SI, Talling JF (2005) Diversity in the influence of temperature on the growth rates of freshwater algae, and its ecological relevance. Freshw Biol 50:291–300

Chen J, Xie P (2005) Seasonal dynamics of the hepatotoxic microcystins in various organs of four freshwater bivalves from the large eutrophic lake Taihu of subtropical China and the risk to human consumption. Environ Toxicol 20:572–584

Chen W, Song LR, Peng L, Wan N, Zhang XM, Gan NQ (2008) Reduction in microcystin concentrations in large and shallow lakes: water and sediment-interface contributions. Water Res 42:763–773

Chen J, Xie P, Li L, Xu J (2009) First identification of the hepatotoxic microcystins in the serum of a chronically exposed human population together with indication of hepatocellular damage. Toxicol Sci 108:81–89

Chen C, Deng W, Xu X, He J, Wang S, Jiao L, Zhang Y (2015) Phosphorus adsorption and release characteristics of surface sediments in Dianchi Lake, China. Environ Earth Sci 74:3689–3700

Chen L, Chen J, Zhang X, Xie P (2016) A review of reproductive toxicity of microcystins. J Hazard Mater 301:381–399

Chen L, Hu YF, He J, Chen J, Giesy JP, Xie P (2017) Responses of the proteome and metabolome in livers of zebrafish exposed chronically to environmentally relevant concentrations of microcystin-LR. Environ Sci Technol 51:596–607

Chen, L., Giesy, J.P., Adamovsky, O., Svirčev, Z., Meriluoto, J., Codd, G.A., Mijovic, B., Shi, T., Tuo, X., Li, S.C., Pan, B.Z., Chen, J., Xie, P., 2020. Challenges of using blooms of Microcystis spp. in animal feeds: a comprehensive review of nutritional, toxicological and microbial health evaluation. Sci Total Environ, 142319

Chernova E, Russkikh I, Voyakina E, Zhakovskaya Z (2016) Occurrence of microcystins and anatoxin-a in eutrophic lakes of Saint Petersburg, northwestern Russia. Oceanol Hydrobiol Stud 45:466–484

Chu Z, Jin X, Iwami N, Inamori Y (2007) The effect of temperature on growth characteristics and competitions of Microcystis aeruginosa and Oscillatoria mougeotii in a shallow, eutrophic lake simulator system. Hydrobiologia 581:217–223

Davis TW, Berry DL, Boyer GL, Gobler CJ (2009) The effects of temperature and nutrients on the growth and dynamics of toxic and non-toxic strains of Microcystis during cyanobacteria blooms. Harmful Algae 8:715–725

Dawson RM (1998) The toxicology of microcystins. Toxicon 36:953–9622

de Maagd PG, Hendriks AJ, Seinena W, Sijm DTHM (1999) pH-dependent hydrophobicity of the cyanobacteria toxin microcystin-LR. Water Res 33:677–680

Dziga D, Maksylewicz A, Maroszek M, Budzynska A, Napiorkowska-Krzebietke A, Toporowska M, Grabowska M, Kozak A, Rosinska J, Meriluoto J (2017) The biodegradation of microcystins in temperate freshwater bodies with previous cyanobacterial history. Ecotoxicol Environ Saf 145:420–430

Edwards, C., Lawton, L.A., 2009. Chapter 4 Bioremediation of cyanotoxins, advances in applied microbiology. Academic Press, 109-129

Eva P, Lindsay B (2014) Microcystin and algal chlorophyll in relation to nearshore nutrient concentrations in Lake Winnipeg, Canada. Environ Pollut 3:36–47

Genuário DB, Lorenzi AS, Agujaro LF, Isaac RdL, Azevedo MTdP, Cantúsio Neto R, Fiore MF (2016) Cyanobacterial community and microcystin production in a recreational reservoir with constant Microcystis blooms. Hydrobiologia 779:105–125

Greenberg, A.E., Clesceri L.S., Eaton A.D., 1992. Standard methods for the examination of water and wastewater. American Public Health Association, Washington, D.C.

Harada KI, Tsuji K, Watanabe MF, Kondo F (1996) Stability of microcystins from cyanobacteria.III. Effect of pH and temperature. Phycologia 35:83–88

Harke MJ, Steffen MM, Gobler CJ, Otten TG, Wilhelm SW, Wood SA, Paerl HW (2016) A review of the global ecology, genomics, and biogeography of the toxic cyanobacterium, Microcystis spp. Harmful Algae 54:4–20

He J, Li G, Chen J, Lin J, Zeng C, Chen J, Deng J, Xie P (2017) Prolonged exposure to low-dose microcystin induces nonalcoholic steatohepatitis in mice: a systems toxicology study. Arch Toxicol 91:465–480

Himberg K, Keijola AM, Hiisvirta L, Pyysalo H, Sivonen K (1989) The effect of water treatment processes on the removal of hepatotoxins fromMicrocystis andOscillatoria cyanobacteria: a laboratory study. Water Res 23:979–984

Ho L, Sawade E, Newcombe G (2012) Biological treatment options for cyanobacteria metabolite removal-a review. Water Res 46:1536–1548

Honkanen RE, Zwiller J, Moore RE, Daily SL, Khatra BS, Dukelow M, Boynton AL (1990) Characterization of microcystin-LR, a potent inhibitor of type 1 and type 2A protein phosphatases. J Biol Chem 265:19401–19404

Jiang Y, Ji B, Wong RNS, Wong MH (2008) Statistical study on the effects of environmental factors on the growth and microcystins production of bloom-forming cyanobacterium-Microcystis aeruginosa. Harmful Algae 7:127–136

Jin XC, Tu QY (1990) The standard methods for observation and analysis in Lake eutrophication. Chinese Environmental Science Press, Beijing

Joung SH, Oh HM, Ko SR, Ahn CY (2011) Correlations between environmental factors and toxic and non-toxic Microcystis dynamics during bloom in Daechung Reservsoir, Korea. Harmful Algae 10:188–193

Kaebernick M, Neilan BA, Borner T, Dittmann E (2000) Light and the transcriptional response of the microcystin biosynthesis gene cluster. Appl Environ Microbiol 66:3387–3392

Lawton LA, Robertson PKJ (1999) Physico-chemical treatment methods for the removal of microcystins (cyanobacterial hepatotoxins) from potable waters. Chem Soc Rev 28:217–224

Lehman PW, Marr K, Boyer GL, Acuna S, Teh SJ (2013) Long-term trends and causal factors associated with Microcystis abundance and toxicity in San Francisco Estuary and implications for climate change impacts. Hydrobiologia 718:141–158

Li DM, Zheng HY, Pan J, Zhang TQ, Tang SK, Lu JM, Zhong LQ, Liu YS, Liu XW (2017) Seasonal dynamics of photosynthetic activity, Microcystis genotypes and microcystin production in Lake Taihu, China. J Great Lakes Res 43:710–716

Lürling M, van Oosterhout F, Faassen E (2017) Eutrophication and warming boost cyanobacterial biomass and microcystins. Toxins 64:1–16

Mackintosh RW, Dalby KN, Campbell DG, Cohen PTW, Cohen P, Mackintosh C (1995) The cyanobacterial toxin microcystin birds covalently to cysteine-273 on protein phosphatase 1. FEBS Lett 371:236–240

MacKintoshl C, Beatti BKA, Klumpp S, Philip C, Codd AG (1990) Cyanobacterial microcystin-LR is a potent and specific inhibitor of protein phosphatases 1 and 2A from both mammals and higher plants. FEBS Lett 264:187–192

Metcalf JS, Codd GA (2000) Microwave oven and boiling waterbath extraction of hepatotoxins from cyanobacterial cells. FEMS Microbiol Lett 184:241–246

Niu Y, Shen H, Chen J, Xie P, Yang X, Tao M, Ma ZM, Qi M (2011) Phytoplankton community succession shaping bacterioplankton community composition in Lake Taihu, China. Water Res 45:4169–4182

O'Neil JM, Davis TW, Burford MA, Gobler CJ (2012) The rise of harmful cyanobacteria blooms: the potential roles of eutrophication and climate change. Harmful Algae 14:313–334

Paerl HW, Paul VJ (2012) Climate change: links to global expansion of harmful cyanobacteria. Water Res 46:1349–1363

Paerl HW, Hall NS, Calandrino ES (2011) Controlling harmful cyanobacterial blooms in a world experiencing anthropogenic and climatic-induced change. Sci Total Environ 409:1739–1745

Parsons TR, Maita Y, Lalli CM (1984) A manual of chemical and biological methods for sea water analysis. Elmsford, New York

Pérez S, Aga DS (2005) Recent advances in the sample preparation, liquid chromatography tandem mass spectrometric analysis and environmental fate of microcystins in water. TrAC Trends Anal Chem 24:658–670

Pimentel JS, Giani A (2014) Microcystin production and regulation under nutrient stress conditions in toxic microcystis strains. Appl Environ Microbiol 80:5836–5843

Romo S, Soria J, Fernandez F, Ouahid Y, Baron-Sola A (2013) Water residence time and the dynamics of toxic cyanobacteria. Freshw Biol 58:513–522

Sadler T, Kuster C, Elert E (2014) Seasonal dynamics of chemotypes in a freshwater phytoplankton community – a metabolomic approach. Harmful Algae 39:102–111

Silvoso J, Izaguirre I, Allende L (2011) Picoplankton structure in clear and turbid eutrophic shallow lakes: a seasonal study. Limnologica 41:181–190

Stumm W, Morgan JJ (1970) Aquatic chemistry. Wiley, New York

Su, X., Alan, D. S., Maggie O., Michael, H., Xie L.,2019. The influence of nutrients limitation on phytoplankton growth and microcystins production in Spring Lake, USA. Chemosphere, 234, 34–42

Svirčev Z, Lalić D, Savić GB, Tokodi N, Backović DD, Chen L, Meriluoto J, Codd GA (2019) Global geographical and historical overview of cyanotoxin distribution and cyanobacterial poisonings. Arch Toxicol 93:2429–2481

Tammy AL, Gretchen RB, Stephen MB, Joshua JF (2015) Environmental influence on cyanobacteria abundance and microcystin toxin production in a shallow temperate lake. Ecotoxicol Environ Saf 114:318–325

Tao M, Xie P, Chen J, Qin B, Zhang D, Niu Y, Zhang M, Wang Q, Wu L (2012) Use of a generalized additive model to investigate key abiotic factors affecting microcystin cellular quotas in heavy bloom areas of Lake Taihu. PLoS One 7:e32020

Tillett D, Dittmann E, Erhard M, von Dohren H, Borner T, Neilan BA (2000) Structural organization of microcystin biosynthesis in Microcystis aeruginosa PCC7806: an integrated peptide-polyketide synthetase system. Chem Biol 7:753–764

Tonk L, Welker M, Huisman J, Visser PM (2009) Production of cyanopeptolins, anabaenopeptins, and microcystins by the harmful cyanobacteria Anabaena 90 and Microcystis PCC 7806. Harmful Algae 8:219–224

Walls JT, Wyatt KH, Doll JC, Rubenstein EM, Rober AR (2018) Hot and toxic: temperature regulates microcystin release from cyanobacteria. Sci Total Environ 610-611:786–795

Wang Y (2008) Study on the group development of Cyanophyta and the cause of algal bloom in Erhai Lake in summer and autumn. J Dali Univ 7:39–42

Wang Q, Xie P, Chen J, Liang GD (2008) Distribution of microcystins in various organs (heart, liver, intestine, gonad, brain, kidney and lung) of Wistar rat via intravenous injection. Toxicon 52:721–727

Wang R, Dearing JA, Langdon PG, Zhang E, Yang X, Dakos V, Scheffer M (2012) Flickering gives early warning signals of a critical transition to a eutrophic lake state. Nature 492:419–422

Wang C, Wang X, Wang P, Chen B, Hou J, Qian J, Yang YY (2016) Effects of iron on growth, antioxidant enzyme activity, bound extracellular polymeric substances and microcystin production of Microcystis aeruginosa FACHB-905. Ecotoxicol Environ Saf 132:231–239

Wang H, Zhao D, Chen L, Giesy JP, Zhang W, Yuan C, Ni L, Shen H, Xie P (2020) Light, but not nutrients, drives seasonal congruence of taxonomic and functional diversity of phytoplankton in a eutrophic highland lake in China. Front Plant Sci 11:1–11

WorldBank, 2007. China-Second Yunnan Urban Environmental Project:Erhai Lake Basin regional environmental assessment 1748,138

Wu, Y., Li, L., Gan, N., Zheng, L., Ma, H., Shan, K., Liu, J., Xiao, B., Song, L., 2014. Seasonal dynamics of water bloom-forming Microcystis morphospecies and the associated extracellular microcystin concentrations in large, shallow, eutrophic Dianchi Lake. Journal of Environmental Sciences 26, 1921-1929

Xie P (2006) Microcystins in aquatic animals with potential risk to human health. Science Press, Beijing

Xie LQ, Xie P, Guo LG, Li L, Miyabara Y, Park HD (2005) Organ distribution and bioaccumulation of microcystins in freshwater fish at different trophic levels from the eutrophic Lake Chaohu, China. Environ Toxicol 20:293–300

Xu Y, Wu Z, Yu B, Peng X, Yu G, Wei Z, Wang G, Li R (2008) Non-microcystin producing Microcystis wesenbergii (Komarek) Komarek (Cyanobacteria) representing a main waterbloom-forming species in Chinese waters. Environ Pollut 156:162–167

Yang F, Zhou YL, Yin LH, Zhu GC, Liang GY, Pu YP (2014) Microcystin-degrading activity of an indigenous bacterial strain Stenotrophomonas acidaminiphila MC-LTH2 isolated from Lake Taihu. PLoS One 9:e86216

Yu G, Jiang Y, Song G, Tan W, Zhu M, Li R (2014) Variation of Microcystis and microcystins coupling nitrogen and phosphorus nutrients in Lake Erhai, a drinking-water source in Southwest Plateau, China. Environ Sci Pollut Res 21:9887–9898

Yu L, Kong F, Shi X, Yang Z, Zhang M, Yu Y (2015) Effects of elevated CO2 on dynamics of microcystin-producing and non-microcystin-producing strains during Microcystis blooms. J Environ Sci 27:251–258

Yu L, Zhu G, Yu L, Zhu G, Kong F, Li S, Shi X, Zhang M, Yang Z, Xu H, Zhu M (2019) Spatiotemporal characteristics of microcystin variants composition and associations with environmental parameters in Lake Chaohu, China. J Lake Sci 31:700–713

Zhang, L., Liu J., Zhang D., Luo, L., Liao Q., Yuan, L., Wu, N., 2018. Seasonal and spatial variations of microcystins in Poyang Lake, the largest freshwater lake in China. Environ Sci Pollut Res 25, 6300–6307

Zhu R, Wang H, Chen J, Shen H, Deng X (2018) Use the predictive models to explore the key factors affecting phytoplankton succession in Lake Erhai, China. Environ Sci Pollut Res 25:1283–1293
Funding
This research was jointly funded by the National Major Science and Technology Program for Water Pollution Control and Treatment (2017ZX0740100301), the Featured Institute Service Projects from Institute of Hydrobiology, Chinese Academy of Sciences (Y85Z061601), and Scientific Research Foundation for Doctors, Marine Fisheries Research Institute of Zhejiang (112019108500105).
Ethics declarations
Ethical approval
We promised that this manuscript is original research and this work neither accepted nor submitted simultaneously to any other journals.
Competing interests
The authors declare that they have no conflict of interest.
Consent to participate
Not applicable
Consent to publish
Not applicable
Additional information
Publisher's note
Springer Nature remains neutral with regard to jurisdictional claims in published maps and institutional affiliations.
Responsible Editor: Vitor Manuel Oliveira Vasconcelos
About this article
Cite this article
Zhu, R., Wang, H., Shen, H. et al. The dynamics and release characteristics of microcystins in the plateau Lake Erhai, Southwest China. Environ Sci Pollut Res (2021). https://doi.org/10.1007/s11356-020-12312-8
Received:

Accepted:

Published:
Keywords
Microcystins variation

Cyanobacteria

Environmental factors

Lake Erhai