Abstract
Numerous active pharmaceutical ingredients (APIs) have been detected in various environmental matrices. Thus, their potential to elicit their toxic effect on non-target organisms is a growing concern, especially in the aquatic environment. This study aimed to investigate the potential toxicity of ibuprofen (IBU) at environmentally relevant concentration on the haematology and histology of the gill, liver, and kidney over 30 days. The 96-h acute toxicity data showed that IBU was moderately toxic to C. gariepinus with an LC50 value of 3.78 mg/L. After 15 and 30 days of exposure, there was a significant alteration in haematological indices in the treated fishes when compared to the control group. Throughout the experimental duration, the level of the mean corpuscular volume (MCV) and mean corpuscular haemoglobin (MCH) were consistently lower significantly, in contrast to the control group. IBU induced histopathological deformities in the gills, liver, and kidney of the exposed fishes, with alterations such as showing severe secondary lamella necrosis (SLN), epithelial lifting (EL), mild deformity of the secondary lamella (DSL), mild secondary lamella necrosis (MLN), and mild vascular congestion in the liver and kidney, respectively. This study has demonstrated that IBU at environmentally relevant concentrations can significantly impact the haematology, gills, liver, and kidney of C. gariepinus. This study's results can provide baseline info for regulatory agencies to set safe limits for NSAIDs as a safeguard for the aquatic environment.
We're sorry, something doesn't seem to be working properly.
Please try refreshing the page. If that doesn't work, please contact support so we can address the problem.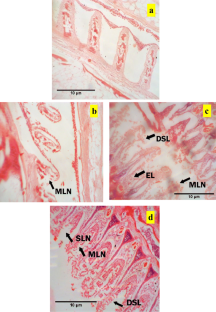 Data availability
All data generated is already in the manuscript.
References
Adamu KM, Audu BS (2008) Haematological assessment of the Nile tilapia Oreochromis niloticus exposed to sublethal concentrations of portland cement powder in solution. Int J Zool Res 4(1):48–52

Adewumi AA, Olaleye VF (2011) Catfish culture in Nigeria: progress, prospects and problems. Afr J Agric Res 6(6):1281–1285

Adewumi B, Ogunwole GA, Akingunsola E, Falope OC (2018) Effects of sub-lethal toxicity of chlorpyrifos and DDforce pesticides on haematological parameters of Clarias gariepinus. Int J Environ Res Public Health 5(5):62–71

Aghamirkarimi S, Mashinchian AM, Sharifpour I, Jamili S, Ghavam PM (2017) Sublethal effects of copper nanoparticles on the histology of gill, liver and kidney of the Caspian roach, Rutilus rutilus caspicus. Gjesm 3(3):323–332

Akinrotimi OA, Agokei EO, Aranyo AA (2012) Changes in blood parameters of Tilapia guineensis exposed to different salinity levels. J Environ Eng-Asce 1(2)

Alaa EHS, Imam AM, Usama MM (2012) Histopathological Alterations in some Body Organs of Adult Clarias gariepinus (Burchell, 1822) Exposed to 4- Nonylphenol, Zoology, Maria-Dolores Garcia. IntechOpen. https://doi.org/10.5772/29544

Aliakbar H (2012) Effect of marine mercury toxicity on immunological responses of seabream. Asian Australas J Anim Sci 6:1–12

Anderson HL, Brodsky IE, Mangalmurti NS (2018) The evolving erythrocyte: red blood cells as modulators of innate immunity. J Immunol Res 201:1343–1351

Arun K, Archana G (2015) Haematological studies of some edible fresh water fishes of NCR region. Int J Pharm Pharm Sci 4(6):1467–1479

Avwioro OG (2014) Histochemistry and tissue pathology principles and techniques, 3rd edn. Claverianum press, Nigeria ltd, p 119

Awofisayo OS, Awofisayo OA, Iferi II, Akpan OE (2008) The pattern of Sale and use of non-steroidal anti- inflammatory drugs in rural and urban centres in Nigeria. Trop J Pharm Res 3:1013–1018

Bartoskova M, Radka D, Vlasta S, Dana Z, Jana B, Petr M, Lenka Z, Milan B, Francesca C, Caterina F (2013) Evaluation of ibuprofen toxicity for zebrafish (Danio rerio) targeting on selected biomarkers of oxidative stress. Neuro Endocrinol 34(Suppl.2):102–108

Baskar T (2014) Impact of nitrite toxicity on histopathological profile to freshwater fish, Cirrhinus Mrigala. Int J Eng Sci Technol 3(4):42–47

Binukumari S, Anbalagan M, Vasanthi J (2013) A study on the effect of an insecticide encounter (herbal plant extract) on the haematology of the freshwater fish, Labeo rohita. Int J Pharm Biol Sci 8:92–94

Blaxhall PC, Daisley KW (1973) Routine haematological methods for use with fish blood. J Fish Biol 5:771–781

Bob-Manuel KNO, Green AF (2019) Sublethal effects of Gammalin 20® (lindane) on the haematology of Clarias gariepinus (Burchell, 1822) juveniles. Afric J Environ Nat Sci Res 2(1):46–54

Bound JP, Voulvoulis N (2005) Household disposal of pharmaceuticals as a pathway for aquatic contamination in the United Kingdom. Environ Health Perspect 113:1705–1711

Burgos-Aceves MA, Lillà L, Caterina F (2019) Multidisciplinary haematology as prognostic device in environmental and xenobiotic stress-induced response in fish. Sci Total Environ 670:1170–1183

Camargo MMP, Martinez CBR (2007) Histopathology of gills, kidney and liver of a Neotropical fish caged in an urban stream. Neotrop Ichthyol 5(3):327–336. https://doi.org/10.1590/S1679-62252007000300013

Chaudhry HS, Kasarla MR (2019) Microcytic hypochromic anemia. [Updated 2019 Mar 2]. In: StatPearls [Internet]. StatPearls Publishing, Treasure Island 2019 Jan-. Available from: www.ncbi.nlm.nih.gov/books/NBK470252/

Coles EH (1986) Veterinary clinical pathology, 4th edn. W.B. Saunder's Company, London

Corcoran J, Winter MJ, Tyler CR (2010) Pharmaceuticals in the aquatic environment: a critical review of the evidence for health effects in fish. Crit Rev Toxicol 40(4):287–304. https://doi.org/10.3109/10408440903373590

Dacie JV, Lewis SN (1991) Practical Haematology. Churchill, Edinburg

Dacie JV, Lewis SM (2011) Practical Haematology. Churchill Livingstone, New York

Davies AK, Maney DL, Maerz JC (2008) The use of leukocyte profiles to measure stress in vertebrates: a review for ecologists. Funct Ecol 22(5):760–772. https://doi.org/10.1111/j.1365-2435.2008.01467.x

De Moraes FD, de Figueiredo JSL, Rossi PA, Venturini FP, Moraes G (2015) Acute toxicity and sublethal effects of phenol on hematological parameters of channel catfish Ictalurus punctatus and pacu Piaractus mesopotamicus. Ecotoxicol Environ Contam 10(1):31–36

El-Murr AE, Imam TS, Hakim Y, Ghonimi WAM (2015) Histopathological, immunological, hematological and biochemical effects of fipronil on Nile tilapia (Oreochromis niloticus). J Vet Sci Tech 6:5

Fazio F, Marafioti S, Sanfilippo M, Casella S, Piccione G (2016) Assessment of immune blood cells and serum protein levels in Mugil cephalus (Linnaeus, 1758), Sparus aurata (Linnaeus, 1758) and Dicentrarchus labrax (Linnaeus, 1758) collected from the Thyrrhenian Sea coast (Italy). Cah Biol Mar 57:235–240

Fent K, Weston AA, Caminada D (2006) Ecotoxicology of human pharmaceuticals. Aquat 76:122–159

Ferrando-Climent L, Collado N, Buttiglieri G, Gros M, Rodriguez-Roda I, Rodriguez-Mozaz S, Barceló D (2012) Comprehensive study of ibuprofen and its metabolites in activated sludge batch experiments and aquatic environment. Sci Total Environ 438:404–413

Finney GJ (1971) Probit analysis, 3rd edn. Cambridge press, London, p 318

Fraisal ASR (2003) Adverse effects of some antimicrobial agents used in fish. PhD thesis, Faculty of Veterinary Medicine, Cairo University, Cairo

Francesco P, Mathieu P, Senechal D (2012) Conformal field theory. Springer Science & Business Media, Berlin

Gardner GR, Yevich PP (1970) Histological and hematological responses of an estuarine teleost to cadmium. J Fish Res Boa Can 27:2185–2196

Han S, Choi K, Kim J, Ji K, Kim S, Aho B, Yun J, Choi K, Khim JS, Zhang X, Giesy JP (2010) Endocrine disruption and consequences of chronic exposure to ibuprofen in Japanese medaka Oryzias latipes and freshwater cladocerans Daphnia magna and Moina macrocopa. Aquat Toxicol 98:256–264. https://doi.org/10.1016/j.aquatox.2010.02.013

Hashemi R, Majidi A, Motamed H, Amini A, Najari F, Tabatabaey A (2015) Erythrocyte sedimentation rate measurement using as a rapid alternative to the Westergren method. Emergency (Tehran, Iran) 3(2):50–53

IMS Health (2020) www.imshealth.com. Available at: http://us.imshealth.com/canada/Trends14_En_09.pdf.

Kasherwani D, Lodhi HS, Tiwari KJ, Shukla S, Sharma UD (2009) Cadmium toxicity to freshwater catfish, Heteropneustes fossilis (Bloch). Asian J Exp Sci 23(1):149–156

Kasprzyk-Hordern B, Dinsdale RM, Guwy AJ (2008) The occurrence of pharmaceuticals, personal care products, endocrine disruptors and illicit drugs in surface waters in South Wales, UK. Water Res 42:3498–3518

Kumar R, Banerjee TK (2016) Arsenic induced hematological and biochemical responses in nutritionally important catfish Clarias batrachus (L.). Toxicol Rep 3:148–152

Lan SM, Amaeze NH, Obanya HE, Okoroafor CU (2019) Occurrence of selected pharmaceuticals in industrial wastewater, receiving waters and fish. Afr J Aquat Sci 44(4):401–408

Li ZH, Li P, Randak T (2011) Evaluating the toxicity of environmental concentrations of waterborne chromium (VI) to a model teleost, Oncorhynchus mykiss: a comparative study of in vivo and in vitro. Comp Biochem Physiol C 153(4):402–407

Loos R, Gawlik BM, Locoro G, Rimaviciute E, Contini S, Bidoglio G (2009) EU-wide survey of polar organic persistent pollutants in European river waters. Environ Pollut 157:561–568

Maharajan A, Rufus MK, Paruruckumani PS, Ganapiriya V (2016) Histopathology biomarker responses in Asian sea bass, Lates calcarifer (Bloch) exposed to copper. J Basic Appl Zool 77:21–30

Marchlewicz A, Guzik U, Wojcieszyńska D (2015) Over-the-counter monocyclic non-steroidal anti-inflammatory drugs in the environment sources, risks, biodegradation. Water Air Soil Pollut 226:335

Martins ML, Tavares-Dias M, Fujimoto RY, Onaka EM, Nomura DT (2004) Haematological alterations of Leporinus macrocephalus (Osteichthyes: Anostomidae) naturally infected by Goezia leporini (Nematoda: Anisakidae) in fish pond. Arq Bras Med Vet Zootec 56:640–646

Martins ML, Xu DH, Shoemaker CA, Klesius PH (2011) Temperature effects on immune response and hematological parameters of channel catfish Ictalurus punctatus vaccinated with live theronts of Ichthyophthirius multifiliis. Fish Shellfish Immun 31:774–780

Mazon AF, Monteiro EAS, Pinheiro GHD, Fernandes MN (2002) Hematological and physiological changes induced by short-term exposure to copper in the freshwater fish Prochilodus scrofa. Braz J Biol 62(4A):621–631

Medline Plus (2020) Erythrocyte Sedimentation Rate. Available at: www.medlineplus.gov/lab-tests/erythrocyte-sedimentation-rate-esr/. Accessed 26 Feb 2020

Mirale JB (1982) Laboratory medicine haematological, 6th edn. The CV Mosby Publishing, London, p 883

Mostakim GM, Zahangir MM, Mishu MM, Rahman MK, Islam MS (2015) Alteration of blood parameters and histoarchitecture of liver and kidney of silver barb after chronic exposure to quinalphos. Int J Toxicol:415984

Nwani CD, Mkpadobi BN, Onyishi G, Echi PC, Chukwuka CO, Oluah SN, Njoku I (2013) Changes in behavior and hematological parameters of freshwater African catfish Clarias gariepinus (Burchell 1822) following sublethal exposure to chloramphenicol. Drug Chem Toxicol Early Online:1–7

Ogueji EO, Nwani CD, Iheanacho SC, Mbah CE, Okeke CO, Yaji A (2018) Acute toxicity effects of ibuprofen on behaviour and haematological parameters of African catfish Clarias gariepinus (Burchell, 1822). Afr J Aquat Sci 43(3):293–303

Ogunwole GA, Saliu JK (2020) Seasonal Occurrence Of Ibuprofen In Sediment, Water, and Biota In River Owena and Ogbese, and Its Ecological Risk Assessment. Ann Sci Tech - B 5(1):11–19

Oliveira TZ, Andre LV, Gisela GC, Aline H, Roberto MN, Antonio O (2016) Effects of iodized salt on the histopathology of the gills and liver in Rhamdia quelen and Metynnis maculatus. Aquac Res 48(5):2198–2208

Olufayo MO (2009) Haematological characteristics of Clarias gariepinus (Burchell 1822) juveniles exposed to Derris Elliptica root powder. Afr J Food Agric Nutr Dev 9(3)

Organisation for Economic Co-operation and Development (2010) Short guidance on the threshold approach for acute fish toxicity testing. series on testing and assessment. No. 126. www.oecd.org.

Parolini M, Binelli A, Provini A (2011) Chronic effects induced by ibuprofen on the freshwater bivalve Dreissena polymorpha. Ecotox Environ Safe 74:1586–1594

Parrino V, Cappello T, Costa G, Cannavà C, Sanfilippo M, Fazio F, Fasulo S (2018) Comparative study of haematology of two teleost fish (Mugil cephalus and Carassius auratus) from different environments and feeding habits. Eur Zool J 85(1):193–199

Pereira S, Pinto AL, Cortes R, Fontaınhas-Fernandes A, Coimbra AM, Monteiro SM (2013) Gill histopathological and oxidative stress evaluation in native fish captured in Portuguese northwestern rivers. Ecotox Environ Safe 90:157–166

Rabitto IS, Alves Costa JR, Silva de Assis HC, Pelletier EE, Akaishi FM, Anjos A, Randi MA, Oliveira Ribeiro CA (2005) Effects of dietary Pb (II) and tributyltin on neotropical fish, Hoplias malabaricus: Histopathological and biochemical findings. Ecotoxicol Environ Saf 60:147–156

Sakr SA, Al J, Lail SM (2005) Fenvalerate induced histopathological and histochemical changes in the liver of the cat fish Clarias gariepinus. Res J Appl Sci 1(3):263–267

Samuel VK, Little FP, Samuel T, Muniyasamy P, Kalyanasundaram D, Deepa P, Rajasingh R, Subramanian A, Mohamed M (2018) Haematological studies of Anabas testudineus Bloch 1792 on exposure to aquatic toxicants of Buckingham canal, Chennai, Tamil Nadu. India Int J Fish Aquat Stud 6(4):55–59

Saravanan M, Devi KU, Malarvizhi A, Ramesh M (2012) Effects of ibuprofen on hematological, biochemical and enzymological parameters of blood in an Indian major carp, Cirrhinus mrigala. Environ Toxicol Pharmacol 34:14–22. https://doi.org/10.1016/j.etap.2012.02.005

Sayed AEH, Moneeb RH (2015) Hematological and biochemical characters of monosex tilapia (Oreochromis niloticus, Linnaeus, 1758) cultivated using methyltestosterone. Jobaz 72:36–42

Sayed AEH, Mekkawy IA, Mahmoud UM (2012) Histopathological alterations in some body organs of adult Clarias gariepinus (Burchell, 1822) exposed to 4-nonylphenol. IntechOpen Zool 8:163–184

Strzyżewska-Worotyńska E, Szarek J, Babińska I, Gulda D (2017) Gills as morphological biomarkers in extensive and intensive rainbow trout (Oncorhynchus mykiss, Walbaum 1792) production technologies. Environ Monit Assess 189:611. https://doi.org/10.1007/s10661-017-6278-7

Summit Medical Group (2020) Erythrocyte Sedimentation Rate Test. Available at: www.summitmedicalgroup.com/library/adult_health/aha_esr_test/. Accessed 26 Feb 2020

Thophon S, Kruatrachue M, Upathan ES, Pokethitiyook P, Sahaphong S, Jarikhuan S (2003) Histopathological alterations of white seabass, Lates calcarifer in acute and subchronic cadmium exposure. Environ Pollut 121:307–320

Tincey V (2017) Enhancing aquatic hypoxia: responses, adaptability and mitigation measures. Green Challenges Newsletter, Mumbai

Umamaheswari S, Senthilnathan S (2013) Effect of diethylphthalate on the haematological parameters of the freshwater fish Oreochromis mossambicus (Tilapia). Eur Zool J 2(4):55–59

USEPA (2009) Origins and fate of PPCPs in the environment; http://www.epa.gov/ppcp/pdf/drawing.pdf; As posted on August 20, 2009. USEPA Office of Research and Development, National Exposure Research Laboratory

Wedemeyer CA, Yasutake WT (1983) Clinical methods for the assessment of the effects of environmental stress on fish health. In: United States Technical Papers and United States Fish Wildlife Services, vol 89, pp 1–18

Williams RT, Cook JC (2007) Exposure to pharmaceuticals present in the environment. Drug Inform J 41:133–141
Acknowledgements
We wish to thank the Laboratory for Interdisciplinary Statistical Analysis (LISA), of the Federal University of Technology, Akure, for their immense statistical tutoring and guidance that facilitated the validity of this study.
Authors' information
Not applicable
Ethics declarations
Competing interests
The authors declare that they have no competing interests.
Ethics approval and consent to participate
All experimental procedures were approved by the institutional ethics clearance committee with reference number CERAD/REC/10/19/011 and performed in compliance with the standards described by the institution of animal welfare act in line with the National Environmental Standard Regulations Enforcement Agency (NESREA) Act of Nigeria on the protection of animals against cruelty.
Consent for publication
Not applicable.
Additional information
Publisher's note
Springer Nature remains neutral with regard to jurisdictional claims in published maps and institutional affiliations.
Responsible Editor: Philippe Garrigues
About this article
Cite this article
Ogunwole, G.A., Saliu, J.K., Osuala, F.I. et al. Chronic levels of ibuprofen induces haematoxic and histopathology damage in the gills, liver, and kidney of the African sharptooth catfish (Clarias gariepinus). Environ Sci Pollut Res (2021). https://doi.org/10.1007/s11356-020-12286-7
Received:

Accepted:

Published:
Keywords
Ibuprofen

Haematology

Histology

Catfish

Liver

Kidney

Gills