Abstract
The conversion of carbon-rich biomass into valuable material is an environmental-friendly approach for its reutilization. In this study, coconut shell–derived biochar, graphitic carbon nitride (g-C3N4), g-C3N4/biochar, titanium dioxide (TiO2)/biochar, zinc oxide (ZnO)/biochar, and ferric oxide (Fe2O3)/biochar were synthesized and characterized by using scanning electron microscopy coupled with energy-dispersive X-ray spectroscopy (SEM-EDX), X-ray diffraction (XRD), Fourier-transform infrared spectroscopy (FTIR), thermogravimetric analysis (TGA), surface area analysis, UV-Vis diffuse reflectance spectroscopy (DRS), and zeta potential analysis. The g-C3N4 or metal oxide particles were found to be well-distributed on the coconut shell–derived biochar with the improvement in thermal stability and enlargement of specific surface area. A great reduction in band gap energy was observed in the composite materials after incorporating with the biochar. Among different biochar composites, g-C3N4/biochar was found to have the highest photocatalytic activity. The interactive effect of parameters such as catalyst dosage, peroxymonosulfate (PMS) oxidant dosage, and solution pH on the photocatalytic degradation of methyl orange was investigated using the response surface methodology (RSM). The highest photocatalytic degradation efficiency (96.63%) was achieved at catalyst dosage of 0.75 g/L, oxidant dosage of 0.6 mM, and solution pH 3 after 30 min.
Access options
Buy single article
Instant access to the full article PDF.
US$ 39.95
Tax calculation will be finalised during checkout.
Subscribe to journal
Immediate online access to all issues from 2019. Subscription will auto renew annually.
US$ 79
Tax calculation will be finalised during checkout.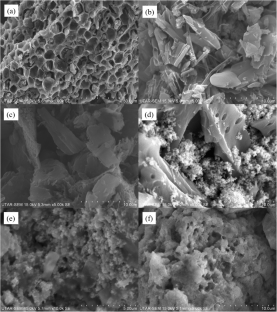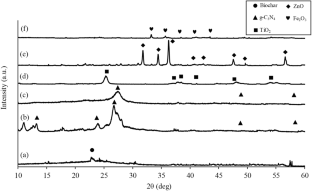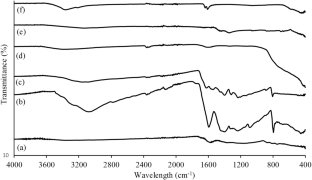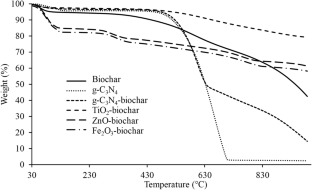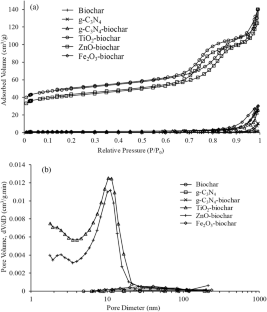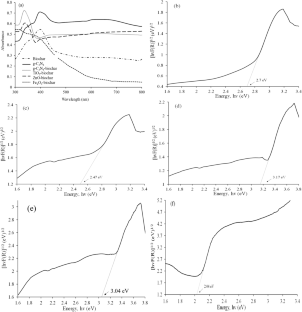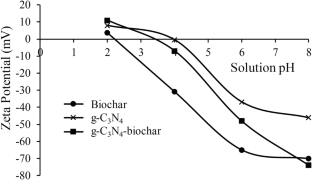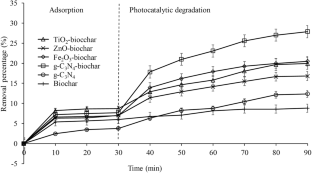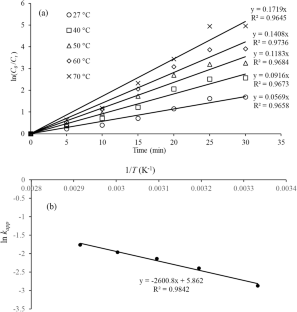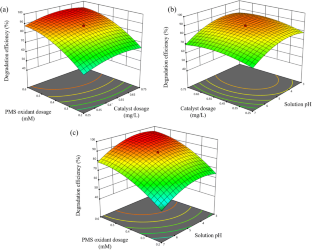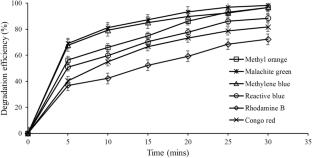 Data availability
All data generated or analyzed during this study are included in this published article and its supplementary materials file.
References
Ahmad I (2020) Comparative study of metal (Al, Mg, Ni, Cu and Ag) doped ZnO/g-C3N4 composites: efficient photocatalysts for the degradation of organic pollutants. Sep Purif Technol 251:117372

Ahmad M, Aziz ARA, Mazari SA, Baloch AG, Nizamuddin S (2020) Photocatalytic degradation of methyl orange from wastewater using a newly developed Fe-Cu-Zn-ZSM-5 catalyst. Environ Sci Pollut Res 27:26239–26248

Armah EK, Chetty M, Deenadayalu N (2020) Biogas production from sugarcane bagasse with South African industrial wastewater and novel kinetic study using response surface methodology. Scientific African 10:e00556

Chen D, Wang X, Zhang X, Yang Y, Xu Y, Qian G (2019) Facile fabrication of mesoporous biochar/ZnFe2O4 composite with enhanced visible-light photocatalytic hydrogen evolution. Int J Hydrog Energy 44:19967–19977

Costa SIG, Cauneto VD, Fiorentin-Ferrari LD, Almeida PB, Oliveira RC, Longo E, Módenes AN, Slusarski-Santana V (2020) Synthesis and characterization of Nd(OH)3-ZnO composites for application in photocatalysis and disinfection. Chem Eng J 392:123737

Das A, Nikhil SK, Nair RG (2019) Influence of surface morphology on photocatalytic performance of zinc oxide: a review. Nano-Struct Nano-Objects 19:100353

El Nemr A, Hassaan MA, Madkour FF (2018) Advanced oxidation process (AOP) for detoxification of Acid Red 17 dye solution and degradationmechanism. Environmental Processes 5:95–113

Fazal T, Razzaq A, Javed F, Hafeez A, Rashid N, Amjad US, Ur Rehman MS, Faisal A, Rehman F (2020) Integrating adsorption and photocatalysis: a cost effective strategy for textile wastewater treatment using hybrid biochar-TiO2 composite. J Hazard Mater 390:121623

Gholami P, Dinpazhoh L, Khataee A, Orooji Y (2019) Sonocatalytic activity of biochar-supported ZnO nanorods in degradation of gemifloxacin: synergy study, effect of parameters and phytotoxicity evaluation. Ultrason Sonochem 55:44–56

Guo F, Lu J, Liu Q, Zhang P, Zhang A, Cai Y, Wang Q (2018) Degradation of Acid Orange 7 by peroxymonosulfate activated with the recyclable nanocomposites of g-C3N4 modified magnetic carbon. Chemosphere 205:297–307

Han M, Duan X, Cao G, Zhu S, Ho S-H (2020) Graphitic nitride-catalyzed advanced oxidation processes (AOPs) for landfill leachate treatment: a mini review. Process Saf Environ Prot 139:230–240

Husain S, Afreen S, Hemlata, Yasin D, Afzal B, Fatma T (2019) Cyanobacteria as a bioreactor for synthesis of silver nanoparticles-an effect of different reaction conditions on the size of nanoparticles and their dye decolorization ability. J Microbiol Methods 162:77–82

Karimi-Shamsabadi M, Behpour M, Babaheidari AK, Saberi Z (2017) Efficiently enhancing photocatalytic activity of NiO-ZnO doped onto nanozeoliteX by synergistic effects of p-n heterojunction, supporting and zeolite nanoparticles in photo-degradation of Eriochrome Black T and Methyl Orange. J Photochem Photobiol A 346:133–143

Kruk M, Jaroniec M (2001) Gas adsorption characterization of ordered organic-inorganic nanocomposite materials. Chem Mater 13:3169–3183

Li J, Xu C, Zhang Y, Tang X, Qi W, Wang Q (2018) Gravity-directed separation of both immiscible and emulsified oil/water mixtures utilizing coconut shell layer. J Colloid Interface Sci 511:233–242

Li K, Huang Z, Zhu S, Luo S, Yan L, Dai Y, Guo Y, Yang Y (2019a) Removal of Cr(VI) from water by a biochar-coupled g-C3N4 nanosheets composite and performance of a recycled photocatalyst in single and combined pollution systems. Appl Catal B 243:386–396

Li X, Qian X, An X, Huang J (2019b) Preparation of a novel composite comprising biochar skeleton and "chrysanthemum" g-C3N4 for enhanced visible light photocatalytic degradation of formaldehyde. Appl Surf Sci 487:1262–1270

Liu W, Bai X, Shen Y, Mu P, Yang Y, Li J (2020) Efficient separation of free organic liquid mixtures based on underliquid superlyophobic coconut shell coated meshes. Sep Purif Technol 231:115899

Lu L, Shan R, Shi Y, Wang S, Yuan H (2019) A novel TiO2/biochar composite catalysts for photocatalytic degradation of methyl orange. Chemosphere 222:391–398

Maučec D, Šuligoj A, Ristić A, Dražić G, Pintar A, Tušar NN (2018) Titania versus zinc oxide nanoparticles on mesoporous silica supports as photocatalysts for removal of dyes from wastewater at neutral pH. Catal Today 310:32–41

Meng L, Yin W, Wang S, Wu X, Hou J, Yin W, Feng K, Ok YS, Wang X (2020) Photocatalytic behavior of biochar-modified carbon nitride with enriched visible-light reactivity. Chemosphere 239:124713

Mian MM, Liu G, Yousaf B, Fu B, Ahmed R, Abbas Q, Munir MAM, Ruijia L (2019) One-step synthesis of N-doped metal/biochar composite using NH3-ambiance pyrolysis for efficient degradation and mineralization of Methylene Blue. J Environ Sci 78:29–41

Mirzaei A, Yerushalmi L, Chen Z, Haghighat F (2018) Photocatalytic degradation of sulfamethoxazole by hierarchical magnetic ZnO@g-C3N4: RSM optimization, kinetic study, reaction pathway and toxicity evaluation. J Hazard Mater 359:516–526

Mohammad A-T, Abdulhameed AS, Jawad AH (2019) Box-Behnken design to optimize the synthesis of new crosslinked chitosan-glyoxal/TiO2 nanocomposite: methyl orange adsorption and mechanism studies. Int J Biol Macromol 129:98–109

Nandi P, Das D (2019) Photocatalytic degradation of Rhodamine-B dye by stable ZnO nanostructures with different calcination temperature induced defects. Appl Surf Sci 465:546–556

Nasir MS, Yang G, Ayub I, Wang S, Wang L, Wang X, Yan W, Peng S, Ramakarishna S (2019) Recent development in graphitic carbon nitride based photocatalysis for hydrogen generation. Appl Catal B 257:117855

Norouzi O, Kheradmand A, Jiang Y, Di Maria F, Masek O (2019) Superior activity of metal oxide biochar composite in hydrogen evolution under artificial solar irradiation: a promising alternative to conventional metal-based photocatalysts. Int J Hydrog Energy 44:28698–28708

Nunes LA, Silva MLS, Gerber JZ, Kalid RA (2020) Waste green coconut shells: diagnosis of the disposal and applications for use in other products. J Clean Prod 255:120169

Peng X, Wang M, Hu F, Qiu F, Dai H, Cao Z (2019) Facile fabrication of hollow biochar carbon-doped TiO2/CuO composites for the photocatalytic degradation of ammonia nitrogen from aqueous solution. J Alloys Compd 770:1055–1063

Peng L, Zheng R-r, Feng D-w, Yu H, Dong X-t (2020) Synthesis of eco-friendly porous g-C3N4/SiO2/SnO2 composite with excellent visible-light responsive photocatalysis. Arab J Chem 13:4275–4285

Pi L, Jiang R, Zhou W, Zhu H, Xiao W, Wang D, Mao X (2015) g-C3N4 modified biochar as an adsorptive and photocatalytic material for decontamination of aqueous organic pollutants. Appl Surf Sci 358:231–239

Qin DD, He CH, Li Y, Trammel AC, Gu J, Chen J, Yan Y, Shan DL, Wang QH, Quan JJ, Tao CL, Lu XQ (2017) Fe2PO5-encapsulated reverse energetic ZnO/Fe2O3 heterojunction nanowire for enhanced photoelectrochemical oxidation of water. ChemSusChem 10:2796–2804

Shan R, Lu L, Gu J, Zhang Y, Yuan H, Chen Y, Luo B (2020) Photocatalytic degradation of methyl orange by Ag/TiO2/biochar composite catalysts in aqueous solutions. Mater Sci Semicond Process 114:105088

Silvestri S, Ferreira CD, Oliveira V, Varejão JMTB, Labrincha JA, Tobaldi DM (2019a) Synthesis of PPy-ZnO composite used as photocatalyst for the degradation of diclofenac under simulated solar irradiation. J Photochem Photobiol A 375:261–269

Silvestri S, Gonçalves MG, da Silva Veiga PA, da Silva Matos TT, Peralta-Zamora P, Mangrich AS (2019b) TiO2 supported on Salvinia molesta biochar for heterogeneous photocatalytic degradation of Acid Orange 7 dye. J Environ Chem Eng 7:102879

Tsamo C, Assabe M, Argue J, Ihimbru SO (2019) Discoloration of methylene blue and slaughter house wastewater using maize cob biochar produced using a constructed burning chamber: a comparative study. Sci Afr 3:e00078

Wang J, Wang G, Wei X, Liu G, Li J (2018) ZnO nanoparticles implanted in TiO2 macrochannels as an effective direct Z-scheme heterojunction photocatalyst for degradation of RhB. Appl Surf Sci 456:666–675

Xie X, Li S, Zhang H, Wang Z, Huang H (2019) Promoting charge separation of biochar-based Zn-TiO2/pBC in the presence of ZnO for efficient sulfamethoxazole photodegradation under visible light irradiation. Sci Total Environ 659:529–539

Yao Y, Cai Y, Lu F, Wei F, Wang X, Wang S (2014) Magnetic recoverable MnFe2O4 and MnFe2O4-graphene hybrid as heterogeneous catalysts of peroxymonosulfate activation for efficient degradation of aqueous organic pollutants. J Hazard Mater 270:61–70

Yu L, Huang Y, Yang Y, Xu Y, Wang G, Yang S (2013) Photocatalytic degradation of organic dyes by H4SiW6Mo6O40/SiO2 sensitized by H2O2. Int J Photoenergy 2013:812376

Yuan Y-J, Shen Z-K, Wang P, Li Z, Pei L, Zhong J, Ji Z, Yu Z-T, Zou Z (2020) Metal-free broad-spectrum PTCDA/g-C3N4 Z-scheme photocatalysts for enhanced photocatalytic water oxidation. Appl Catal, B 260:118179

Zhang H, Li M, Cao J, Tang Q, Kang P, Zhu C, Ma M (2018a) 2D a-Fe2O3 doped Ti3C2 MXene composite with enhanced visible light photocatalytic activity for degradation of Rhodamine B. Ceram Int 44:19958–19962

Zhang L, Tu L-y, Liang Y, Chen Q, Li Z-s, Li C-h, Wang Z-h, Li W (2018b) Coconut-based activated carbon fibers for efficient adsorption of various organic dyes. RSC Adv 8:42280–42291

Zhang W, Li Y, Ma X, Qian Y, Wang Z (2020) Simultaneous NO/CO2 removal performance of biochar/limestone in calcium looping process. Fuel 262:116428

Zhou H, Qu Y, Zeid T, Duan X (2012) Towards highly efficient photocatalysts using semiconductor nanoarchitectures. Energy Environ Sci 5:6732–6743

Zhu B, Xia P, Ho W, Yu J (2015) Isoelectric point and adsorption activity of porous g-C3N4. Appl Surf Sci 344:188–195

Zou H, Wang Y (2019) Functional collaboration of biofilm-cathode electrode and microbial fuel cell for biodegradation of methyl orange and simultaneous bioelectricity generation. Environ Sci Pollut Res 26:23061–23069
Acknowledgments
The authors would like to thank the anonymous reviewers for their helpful comments.
Funding
This study was funded by the Fundamental Research Grant Scheme (FRGS/1/2018/TK10/UTAR/02/2) by the Ministry of Education (MOE) Malaysia, Universiti Tunku Abdul Rahman (UTAR) Research Fund (IPSR/RMC/UTARRF/2020-C2/P01) and SATU Joint Research Scheme Program.
Ethics declarations
Ethical approval
Not applicable. This manuscript does not involve researching about any animal or human data or tissue.
Consent to participate
All of the authors consented to participate in the drafting of this manuscript.
Consent to publish
Not applicable. All of the authors consented to publish this manuscript.
Competing interests
The authors declare that they have no competing interests.
Additional information
Publisher's note
Springer Nature remains neutral with regard to jurisdictional claims in published maps and institutional affiliations.
Responsible editor: Sami Rtimi
Supplementary information
About this article
Cite this article
Pang, Y.L., Law, Z.X., Lim, S. et al. Enhanced photocatalytic degradation of methyl orange by coconut shell–derived biochar composites under visible LED light irradiation. Environ Sci Pollut Res (2021). https://doi.org/10.1007/s11356-020-12251-4
Received:

Accepted:

Published:
Keywords
Photocatalytic

Coconut shell–derived biochar

Graphitic carbon nitride (g-C3N4)

Characterizations

Optimization