Abstract
This article presents the results of studies of the activity of radionuclides in peat-bog profiles of the European subarctic of Russia. Two peat profiles were collected in different areas of the Arkhangelsk region. The peat cores were used to determine 210Pb, 137Cs, 241Am, 239Pu, 240Pu, 238U, and 234U content. To estimate the relationship between radionuclide activity and physicochemical parameters of peat, the content of organic matter, water-soluble salts, carbonates and ash, and the pH of aqueous and salt extracts were studied. Radionuclide activity concentrations in peat samples were measured using inductively coupled plasma mass spectrometry (ICP-MS), low-background semiconductor gamma spectrometry with a high-purity germanium (HPGe) detector, and alpha spectrometry. The 210Pb chronology of peat cores was studied using a constant flow model based on the Monte Carlo simulation method. Comparison of 210Pb dating data showed that the position of the maximum activity peaks of anthropogenic radionuclides shifted along the peat profile. This is probably due to the relative mobility of different radionuclides in the peat massif. Measurement of the atomic ratio 240Pu/239Pu showed that the main sources of pollution in the peatlands of the European subarctic of Russia are global fallout from atmospheric tests from the 1950s through 1980 and fallout from the Chernobyl nuclear accident in 1986. This study shows that a complex of radioactive isotopes in peat deposits can provide valuable information on the environmental pollution loads of subarctic territories.
Access options
Buy single article
Instant access to the full article PDF.
US$ 39.95
Tax calculation will be finalised during checkout.
Subscribe to journal
Immediate online access to all issues from 2019. Subscription will auto renew annually.
US$ 79
Tax calculation will be finalised during checkout.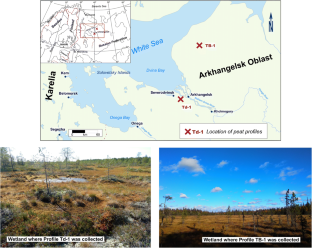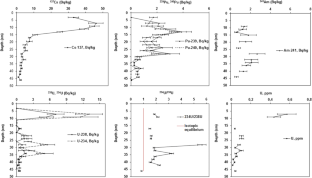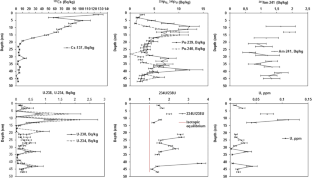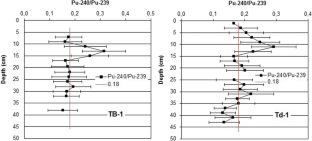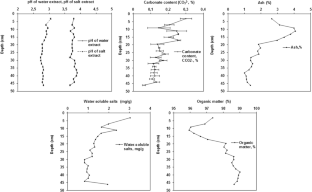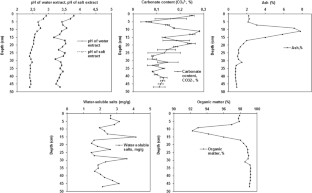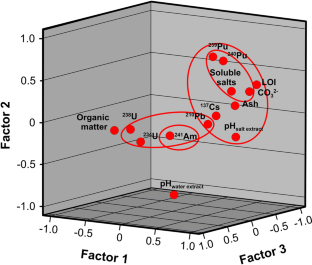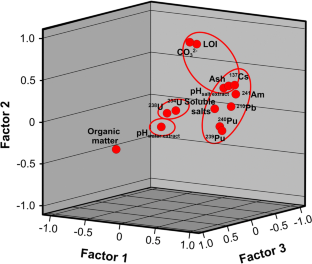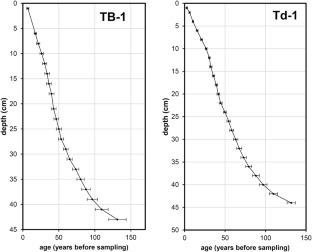 Data availability
All data generated or analysed during this study are included in this published article.
References
Ali AA, Ghaleb B, Garneau M, Asnong H, Loisel J (2008) Recent peat accumulation rates in minerotrophic peatlands of the Bay James region, Eastern Canada, inferred by 210Pb and 137Cs radiometric techniques. Appl Radiat Isot 66:1350–1358. https://doi.org/10.1016/j.apradiso.2008.02.091

Appleby PG (2008) Three decades of dating recent sediments by fallout radionuclides: a review. Holocene 18(1):83–93. https://doi.org/10.1177/0959683607085598

Appleby PG, Oldfield F (1978) The calculation of 210Pb dates assuming a constant rate of supply of unsupported 210Pb to the sediment. Catena 5:1–8. https://doi.org/10.1016/S0341-8162(78)80002-2

Aybulatov, N.A., 2000. Ecological echo of the cold war in the seas of the Russian Arctic. GEOS.

Bahur AE, Manuilova LI, Zueva DM, Ovsyannikova TM, Trukhina TP (2013a) The method for measuring the specific activity of polonium-210 (210Po) and lead-210 (210Pb) in samples of soils, soils, bottom sediments, rocks and building materials based on them using an alpha-beta-radiometric method with radiochemical preparation. VIMS, Moscow.

Bahur AE, Manuilova LI, Zueva DM, Ovsyannikova TM, Trukhina TP (2013b) The method for measuring the specific activity of uranium isotopes (238U, 234U, 235U) in samples of soils, soils, bottom sediments, rocks and building materials based on them using an alpha-spectrometric method with radiochemical preparation. VIMS, Moscow

Byzova NM, Preminina YK (2001) Geography of the Arkhangelsk region. Sport Akadem Press, Moscow.

Chalov PI (1991) Methodical guide on uranium-isotopic modeling of groundwater dynamics in conditions of active water exchange. Ilim, Bishkek.

Corcho Alvarado, J.A.C., Steinmann P., Estier, S., Bochud, F., Haldimann, M., Froidevaux, P., 2014. Anthropogenic radionuclides in atmospheric air over Switzerland during the last few decades. Nature Communications 5. 3030, 1–6.: https://doi.org/10.1038/ncomms4030 (2014).

Cordoba FE, Piovano EL, Guerra L, Mulsow S, Sylvestre F, Zárate M (2017) Independent time markers validate 210Pb chronologies for two shallow Argentine lakes in Southern Pampas. Quat Int 438:175–186. https://doi.org/10.1016/j.quaint.2016.07.003

Crickmore MJ, Tazioli GS, Appleby PG, Oldfield F (1990) The use of nuclear techniques in sediment transport and sedimentation problems. International Hydrological Programme. UNESCO, Paris, pp 131–147

Denecke MA, Bryan N, Kalmykov S, Morris K, Quinto F (2018) Experimental and theoretical approaches to actinide chemistry; Chapter 8: From Fundamental Systems to Practical Applications. Sources and Behaviour of Actinide Elements in the Environment:378–444. https://doi.org/10.1002/9781119115557.ch8

Dowdall M, Gwynn JP, Moran С, Davids C, O'Dea J, Lind B (2005) Organic soil as a radionuclide sink in a High Arctic environment. J Radioanal Nucl Chem 266(2):217–223. https://doi.org/10.1007/s10967-005-0895-2

Efurd DW, Steiner RE, Roensch FR, Glover SE, Musgrave JA (2005) Determination of the Pu-240/Pu-239 atom ratio in global fallout at two locations in the Northern Hemisphere. J Radioanal Nucl Chem 263:387–391. https://doi.org/10.1007/s10967-005-0599-7

Fialkiewicz-Koziel B, Kolaczek P, Piotrowska N, Michczynski A, Lokas E, Wachniew P, Woszczyk M, Sensula B (2016) High-resolution age-depth model of a peat bog in Poland as an important basis for Paleoenvironmental studies. Radiocarbon 56(1):109–125. https://doi.org/10.2458/56.16467

Evzerov VY (2012) Peat deposits of the Murmansk region. Vestnik VGU 2:153–157 (in Russian)

Galiulin RV, Galiulina RA (2011) Pollution of the territory of Chelyabinsk and its environs by arsenic during coal burning. Solid Fuel Chem 3:58–60. https://doi.org/10.3103/S0361521911030037

Galiulin RV, Galiulina RA (2013) Pollution of the territory of Chelyabinsk by heavy metals during coal combustion. Solid Fuel Chem 2:62–64

Gelen A, Diaz O, Simon MJ, Herrera E, Soto J, Gomez J, Rodenas C, Beltran J, Ramirez M (2003) 210Pb dating of sediments from Havana Bay. J Radioanal Nucl Chem 256(3):561–564. https://doi.org/10.1023/A:1024572304648

Gerdol R, Degeto S, Mazzotta D, Vecchiati G (1994) The vertical distribution of the 137Cs derived from Chernobyl fall out in the uppermost Sphagnum layer of two peatlands in the southern Alps (Italy). Water Air Soil Pollut 75:93–106

Goryachenkova TA, Kazinskaya IE, Ryleeva VS, Abramova AV, Novikov AP (2013) Dependence of the migration ability of plutonium and americium in soils on additions of natural and modified organic compounds. Radiochem. 6:639–646. https://doi.org/10.1134/S1066362213060143

GOST 11623-89 (1990) Peat and products of its processing for agriculture. Methods for the determination of exchange and active acidity.

GOST 26213-91 (1993) Soils. Methods for determination of organic matter.

GOST 26423-85 (1985) Soils. Methods for determination of specific electric conductivity, pH and solid residue of water extract.

GOST 28268-89 (1990) Soils. Methods of determination of moisture, maximum hygroscopic moisture and moisture of steady plant fading.

GOST 33776-2016 (2018) Methods for testing chemical products that are hazardous to the environment. Determination of pH, acidity and alkalinity.

Gwynn JP, Dowdall M, Lind B (2004) The radiological environment of Svalbard. Stralevern Rapport (2), Norwegian Radiation Protection Authority, Osteras. 55 p.

Hallstadius L, Holm E, Persson B, Aarkrog A, Nilsson K (1982) 137Cs in the Svalbard area. Proceedings of 3. Int Symp Radiol Protect Adv Theory Pract 2:500–505

Hansson SV, Kaste JM, Olid C, Bindler R (2014) Incorporation of radiometric tracers in peat and implications for estimating accumulation rates. Sci Total Environ 493:170–177. https://doi.org/10.1016/j.scitotenv.2014.05.088

Heiri O, Lotter AF, Lemcke G (2001) Loss on ignition as a method for estimating organic and carbonate content in sediments: reproducibility and comparability of results. J Paleolimnol 25:101–110. https://doi.org/10.1023/A:1008119611481

Hendon D, Charman DJ (2004) High-resolution peatland water-table changes for the past 200 years: the influence of climate and implications for management. Holocene 14:125–134. https://doi.org/10.1191/0959683604hl695rp

Hou X, Roos P (2008) Critical comparison of radiometric and mass spectrometric methods for the determination of radionuclides in environmental, biological and nuclear waste samples. Anal Chim Acta 608:105–139. https://doi.org/10.1016/j.aca.2007.12.012

IAEA-TECDOC-298 (1983) Radioisotopes in sediment studies. International Atomic Energy Agency, Vienna, 71 p

Igarashi Y, Inomata Y, Aoyama M, Hirose K, Takahashi H, Shinoda Y, Sugimoto N, Shimizu A, Chiba M (2009) Possible change in Asian dust source suggested by atmospheric anthropogenic radionuclides during the 2000s. Atmos Environ 43(18):2971–2980. https://doi.org/10.1016/j.atmosenv.2009.02.018

Ilin GV, Kasatkina NE, Moiseev DV, Usyagina IS (2017) Infrastructure Objects of the Nuclear Fleet as Sources of Radioactive Contamination of the Barents Sea: Waste Repository in Guba Andreeva. At Energy 2:131–137. https://doi.org/10.1007/s10512-017-0247-7

Inisheva LI (2005) The concept of protection and rational use of peat bogs in Russia. CNTI, Tomsk, 76 p. (in Russian).

Joosten H (2015) Peatlands, climate change mitigation and biodiversity conservation. Nordic Council of Ministers. 14 p. https://doi.org/10.6027/ANP2015-727

Karcher M, Harms I, Standring WJF, Dowdall M, Strand P (2010) On the potential for climate change impacts on marine anthropogenic radioactivity in the Arctic regions. Mar Pollut Bull 60:1151–1159. https://doi.org/10.1016/j.marpolbul.2010.05.003

Kazinskaya IE, Goryachenkova TA, Novikov AP, Vinokurov SE, Tkachev VV (2012) Association of radionuclides with components of fulvic acids isolated from soils. Radiochem. 1:87–91. https://doi.org/10.1134/S1066362212010134

Kelley M, Bond LA, Beasley TM (1999) Global distribution of Pu isotopes and 237Np. Sci Total Environ 237(238):483–500. https://doi.org/10.1016/s0048-9697(99)00160-6

Ketterer ME, Szechenyi SC (2008) Determination of plutonium and other transuranic elements by inductively coupled plasma mass spectrometry: a historical perspective and new frontiers in the environmental sciences. Spectrochim Acta B 63:719–737. https://doi.org/10.1016/j.sab.2008.04.018

Kiselev GP, Bazhenov AV, Kiseleva IM (2013) Radioactive isotopes in the soils of the Arkhangelsk industrial agglomeration. Bulletin of the NArFU, Natural Sciences 4:12–20 (in Russian)

Kiselev GP, Bazhenov AV, Kiselyova IM, Druzhinin SV (2014) Radioactivity of the epicenter zones of industrial nuclear explosions in the Arkhangelsk region. Arctic Eviron Res 4:21–31 (in Russian)

Krishnaswamy S, Lal D, Martin J, Meybeck M (1971) Geochronology of lake sediments. Earth Planet. Sci. Lett 11:407–414. https://doi.org/10.1016/0012-821X(71)90202-0

Kulikova MP, Kuular LL (2013) Study of the chemical composition of peat. Basic Res 4:90–94 (in Russian)

Kutinov YG, Chistova ZB (2004) Hierarchical series of manifestations of alkaline-ultrabasic magmatism in the Arkhangelsk diamondiferous province. Their reflection in geological and geophysical materials. Pravda Severa, Arkhangelsk.

Laptev GV, Voitsekhovich OV (2009) Prospects for radiometric dating as a basic instrument of marine lithodynamics. Moscow, GEOS, 168 p (in Russian)

Li C, Roux GL, Sonke J, Beek P, Souhaut M, Van der Putten N, Vleeschouwer F (2017) Recent 210Pb, 137Cs and 241Am accumulation in an ombrotrophic peatland from Amsterdam Island (Southern Indian Ocean). J Environ Radioact 175–176:164–169. https://doi.org/10.1016/j.jenvrad.2017.05.004

Lindahl P, Lee S, Worsfold P, Keith-Roach M (2010) Plutonium isotopes as tracers for ocean processes: a review. Mar Environ Res 69(2):73–84. https://doi.org/10.1016/j.marenvres.2009.08.002

Lindahl P, Roos P, Eriksson M, Holm E (2004) Distribution of Np and Pu in Swedish lichen samples (Cladonia stellaris) contaminated by atmospheric fallout. J Environ Radioact 73:73–85. https://doi.org/10.1016/j.jenvrad.2003.08.003

Lishtvan II, Bazin Ye.T., Gamayunov NI (1989) Peat physics and chemistry. Nedra, Moscow (in Russian).

Lokas E, Mietelski JW, Ketterer ME, Kleszcz K, Wachniew P, Michalska S, Miecznik M (2013) Sources and vertical distribution of 137Cs, 238Pu, 239+240Pu and 241Am in peat profiles from southwestern Spitsbergen. Appl Geochem 28:100–108. https://doi.org/10.1016/j.apgeochem.2012.10.027

Lubis AA (2006) Constant rate of supply (CRS) model for determining the sediment accumulation rates in the coastal area using 210Pb. J Coast Dev 10(1):9–18

Lubis AA, Aliyanta B (2006) Preliminary study of sediment ages and accumulation rates in Jakarta bay derived from depth profiles of unsupported 210Pb. Indones J Chem 6(3):256–260. https://doi.org/10.22146/ijc.21728

Maloshtan I, Polishchuk S, Kashparov V, Yoschenko V (2017) Assessment of radiological efficiency of countermeasures on peat-bog soils of Ukrainian Polissya. J Environ Radioact 175–176:52–59. https://doi.org/10.1016/j.jenvrad.2017.03.026

Malygin PV, Lyubov VK (2014) Study of the structure, composition and properties of peat. Bulletin of ChSU 5:12–18 (in Russian)

Matishov GG, Matishov DG, Usyagina IS, Kasatkina NE (2014) Long-term dynamics of radioactive contamination in the Barents-Kara region (1960-2013). Dokl Earth Sci 458(4):473–479

Mauricheva TS (2007) Quantitative assessment of the release of radionuclides into the environment during the operation of coal-fired thermal power plants. PhD Thesis, Sergeev institute of environmental geoscience RAS, Moscow.

McKenzie AB, Farmer JG, Sudgen CL (1997) Isotopic evidence of the relative retention and mobility of lead and radiocesium in Scottish ombrotropic peats. Sci Total Environ 203:115–127. https://doi.org/10.1016/S0048-9697(97)00139-3

Mietelski JW (2001) Plutonium in the environment of Poland (a review). Radioact Environ 1:401–412. https://doi.org/10.1016/S1569-4860(01)80026-7

Mietelski JW, Kierepko R, Lokas E, Cwanek A, Kleszcz K, Tomankiewicz E, Mroz T, Anczkiewicz R, Szalkowski M, Wa SB, Bartyzel M, Misiak R (2016) Combined sequential procedure for determination of 137Cs, 40K, 63Ni, 90Sr, 230,232Th, 234,238U, 237Np, 238,239+240Pu and 241Am applied for a study on contamination of soils near Zarnowiec Lake (Northern Poland). J Radioanal Nucl Chem 310(2):661–670. https://doi.org/10.1007/s10967-016-4835-0

Mihalik J, Bartuskova M, Holgye Z, Jezkova T, Henych O (2014) Fractionation of 137Cs and Pu in natural peatland. J Environ Radioact 134:14–20. https://doi.org/10.1016/j.jenvrad.2014.02.015

Mikhailov AV, Ivanov SL, Bolshunov AV, Kremcheev EA (2013) Peat resources of the North-West Federal District of Russia and the prospects for their development. Notes of the Mining Institute 200:226–230 (in Russian)

Mikhailov VN (2006) Nuclear Tests in the Arctic. Moscow Textbooks, Moscow (in Russian)

Mironov VP, Kudryashov LP (2003) Methodology for determining the activity of strontium-90 and transuranium elements in biological objects MVI. In: MN 1892-2003. Minsk, 17 p, Institute of Radiobiology (in Russian)

Mirzoeva NY, Gulin SB, Sidorov IG, Gulina LV (2018) Estimation of sedimentation and sedimentation rates in the coastal and deep-water areas of the Black Sea using natural and anthropogenic (Chernobyl) radionuclides. Chernoy System Sea Moscow: Scientific World, Ch 7.5:659–670. https://doi.org/10.29006/978-5-91522-473-4.2018.659 (in Russian)

Mitchell PI, Schell WR, McGarry A, Ryan TP, Sanchez-Cabeza JA, Vidal-Quadras A (1992) Studies of the vertical distribution of Cs-134, Cs-137, Pu-238, Pu-239, Pu-240, Pu-241, Am-241 and Pb-210 in ombrogenous mires at mid-latitudes. J Radioanal Nucl Chem Artic 156:361–387. https://doi.org/10.1007/BF02038351

Mroz T, Lokas E, Kocurek J, Gasiorek M (2017) Atmospheric fallout radionuclides in peatland from Southern Poland. J Environ Radioact 175-176:25–33. https://doi.org/10.1016/j.jenvrad.2017.04.012

Muramatsu Y, Rühm W, Yoshida S, Tagami K, Uchida S, Wirth E (2000) Concentrations of 239Pu and 240Pu and their isotopic ratios determined by ICP-MS in soils from the Chernobyl 30-km zone. Environ Sci Technol 34:2913–2917. https://doi.org/10.1021/es0008968

Nasledov AD (2005) SPSS: Computer analysis of data in psychology and social sciences. Saint Petersburg Peter 416 (in Russian)

Nasledov AD (2004) Mathematical methods of psychological research. Analysis and interpretation of data. Tutorial. Saint Petersburg. Rech', 392(in Russian).

Nifontova MG (2005) Use of lichens and mosses for on-line testing of environmental radioactive contamination. Russ J Nondestruct Test 41:80–84. https://doi.org/10.1007/s11181-005-0130-9

Olid C, Garcia-Orellana J, Masque P, Martínez CA, Sanchez-Cabeza JA, Bindler R (2013) Improving the 210Pb-chronology of Pb deposition in peat cores from Chao de Lamoso (NW Spain). Sci Total Environ 443:597–607. https://doi.org/10.1016/j.scitotenv.2012.10.107

Orlov OO, Irklienko SP, Turko VM (1999) The 137Cs content in biogeocenosis components of mesooligotrophic bogs of Ukrainian Polessie and the role of sphagous cover in redistribution of potassium and 137Cs streams in their ecosystems. Problemy Ekologii Lesov I Lesoplozovania Na Ukrainskom Polessie Zhytomir: Volyn (in Ukr)

Paatero J, Jaakkola T, Kulmala S (1998) Lichen (sp. Cladonia) as a deposition indicator for transuranium elements investigated with the Chernobyl fallout. J Environ Radioact 38:223–247. https://doi.org/10.1016/S0265-931X(97)00024-6

Parfenova LN, Selyanina SB, Trufanova MV, Bogolitsyn KG, Orlov AS, Volkova NN, Ponomareva TI, Sokolova TV (2016) Influence of climatic and hydrological factors on structure and composition of peat from northern wetland territories with low anthropogenic impact. Sci Total Environ 551-552:108–115. https://doi.org/10.1016/j.scitotenv.2016.01.204

Parry LE, Charman DJ, Blake WH (2013) Comparative dating of recent peat deposits using natural and anthropogenic fallout radionuclides and Spheroidal Carbonaceous Particles (SCPs) at a local and landscape scale. Quat Geochronol 15:11–19. https://doi.org/10.1016/j.quageo.2013.01.002

Persson BR (1970) 210Pb-Atmospheric deposition in lichen-carpets in northern Sweden during 1961-1969. Tellus:564–571

Pham MK, Chamizo E, Lopéz-Lora M, Martín J, Osvath I, Povinec PP (2020) Impact of Saharan dust events on radionuclides in the atmosphere, seawater, and sediments of the northwest Mediterranean Sea. J Environ Radioact 214–215:106157. https://doi.org/10.1016/j.jenvrad.2020.106157

Povinec PP, Holy K, Chudy M, Sivo A, Sykora I, Jeskovsky M, Richtarikova M (2012) Long-term variations of 14C and 137Cs in the Bratislava air - implications of different atmospheric transport processes. J Environ Radioact 108:33–40. https://doi.org/10.1016/j.jenvrad.2011.08.004

Preiss N, Melieres M-A, Pourchet M (1996) A compilation of data on lead 210 concentration in surface air and fluxes at the air-surface and water-sediment interfaces. J Geophys Res 101(D22):28847–28862. https://doi.org/10.1029/96JD01836

Realo, E., Realo, K., 2005. Natural radionuclides in radium-rich soils in North-East Estonia. VIIth Int. Symp. The Natural Radiation Environment. Rhodes, Greece. 140-149. https://doi.org/10.1016/S1569-4860(04)07015-9

Realo, K., Realo, E., 2001. 210Pb in Estonian soil. Proc. IRPA Regional Congress on Radiation Protection in Central Europe. Dubrovnik, Croatia. 1-6.

Realo K, Realo E (2006) Studies of Lead-210 in air and natural soils in Estonia. The Second Asian and Oceanic IRPA Congress on Radiological Protection. Beijing, China, In, pp 710–713

Recommendation MI 2453-2000 (2000) Methods of radiation monitoring. General requirements. VNIIFTI, Moscow (in Russian).

Recommendation MVI: MN 3421-2010 (2010) Methodology for performing measurements on a gamma spectrometer. Belarusian State Institute of Metrology, Minsk (in Russian).

Robbins JA (1978) Geochemical and geophysical applications of radioactive lead isotopes. Nriagu, J.O. (Ed.), Biochemistry of Lead. Amsterdam. Elsevier P. 85–393.

Rosen K, Vinichuk M, Johanson KJ (2009) 137Cs in a raised bog in central Sweden. J Environ Radioact 100:534–539. https://doi.org/10.1016/j.jenvrad.2009.03.005

Roux GL, Marshall WA (2011) Constructing recent peat accumulation chronologies using atmospheric fall-out radionuclides. Mires Peat 7:1–14

Sanchez-Cabeza JA, Ruiz-Fernandez AC, Ontiveros-Cuadras JF, Perez-Bernal LH, Olid C (2014) Monte Carlo uncertainty calculation of 210Pb chronologies and accumulation rates of sediments and peat bogs. Quat Geochronol 23:80–93. https://doi.org/10.1016/j.quageo.2014.06.002

Sanchez-Cabeza JA, Ruiz-Fernandez AC (2012) 210Pb sediment radiochronology: an integrated formulation and classification of dating models. Geochim Cosmo chim Acta 82:183–200. https://doi.org/10.1016/j.gca.2010.12.024

Sarkisov AA (2019) Radioactive contamination mitigation in the Arctic region. Proceedings of the Russian academy of sciences 2, 107-124. https://doi.org/10.31857/S0869-5873892107-124

Sarkisov AA, Antipov SV, Bilashenko VP, Vysotsky VL (2013) Strategic Approaches to management of nuclear fleet objects dumped. Proc Russian Acad Sci 2:86–89

Selyanina SB, Parfenova LN, Trufanova MV, Bogolitsyn KG, Maltseva EV, Bogdanov MV, Yarygina ON (2013) Extraction of bitumen from horse peat. Vestnik of NArFU Chemistry Series 1:43–50 (in Russian)

Shishov LL, Tonkonogov VD, Lebedeva II, Gerasimova MI (2004) Classification and detection of soils in Russia. Oykumena, Smolensk (in Russian)

Sikorski J (2019) A new method for constructing Pb-210 chronology of young peat profiles sampled with low frequency. Geochronometria 46(1):1–14. https://doi.org/10.1515/geochr-2015-0101

Smith JN, Ellis KM, Polyak L, Ivanov G, Forman SL, Moran SB (2000) 239,240Pu transport into the Arctic Ocean from underwater nuclear tests in Chernaya Bay, Novaya Zemlya. Cont Shelf Res 20(3):255–279. https://doi.org/10.1016/S0278-4343(99)00066-7

Strack M (2008) Peatlands and climate change. Jyväskylä, International Peat Society.

Strand P, Howard BJ, Aarkrog A, Balonov M, Tsaturov Y, Bewers JM, Salo A, Sickel M, Bergman R, Rissanen K (2002) Radioactive contamination in the Arctic--sources, dose assessment and potential risks. J Environ Radioact 60(1-2):5–21. https://doi.org/10.1016/s0265-931x(01)00093-5

Sych, Yu G, Dubinko LV (2012) Radioecological situation on the Novaya Zemlya archipelago. Arctic Ecol Econ 1(5):48–59 (in Russian)

Taylor BN, Kuyatt CE (1994) Guidelines for evaluating and expressing the uncertainty of NIST measurement results. NIST Tech. Note 1297. U.S. Government Printing Office, Washington, D.C.

Tihonov AI (2009) Nonequilibrium uranium in conditions of active water exchange and its use in geology and hydrogeology. L.A. Naumov publishing house. Cheboksary.

Tokarev IV (2012) Reconstruction of conditions for the formation of the Severodvinsk iodine water deposit according to isotopic data. Vestnik of Saint Petersburg University 4:191–195 (in Russian)

Vaasma T, Karu H, Kiisk M, Pensa M, Isakar K, Realo E, Alliksaar T, Tkaczyk HA (2017) Pb-210 and fly ash particles in ombrotrophic peat bogs as indicators of industrial emissions. J Environ Radioact 174:78–86. https://doi.org/10.1016/j.jenvrad.2016.07.027

Vasiliev AP, Vodolaga BK, Voloshin NP (2005) State program "Nuclear explosions for the national economy". Bull Atomic Energy 4:20–24 (in Russian)

Vile MA, Wieder KR, Novak M (1999) Mobility of Pb in Sphagnum-derived peat. Biogeochem. 45:35–52. https://doi.org/10.1023/A:1006085410886

Vinichuk MM, Johanson KJ, Taylor A (2004) 137Cs in the fungal compartments of Swedish forest soils. Sci Total Environ 323:243–251. https://doi.org/10.1016/j.scitotenv.2003.10.009

Zaccone C, Cocozza C, Cheburkin AK, Shotyk W, Miano TM (2007) Enrichment and depletion of major and trace elements, and radionuclides in ombrotrophic raw peat and corresponding humic acids. Geoderma 141(3–4):235–246. https://doi.org/10.1016/j.geoderma.2007.06.007

Zherin II, Amelina GN (2010) Chemistry of thorium, uranium and plutonium. Publishing House NRTPU, Tomsk, 148 p (in Russian)

Zorenko TN, Cheremkhina GM, Korepanov VS, Vertunova LS, Levin VI, Rybalko AE (2000) State geological map of the Russian Federation on a scale of 1: 200,000, Onega series, sheets Q-37-XXXIII, XXXIV. (Severodvinsk area). Ministry of Natural Resources and Environment of the Russian Federation, St Petersburg (in Russian).
Funding
The study was funded by RFBR and BRFBR according to the research project No. 19-55-04001 and also as a part of the RFBR grants No. 18-05-60151 and No. 20-35-70060.
Ethics declarations
Conflict of interest
The authors declare that they have no conflicts of interest.
Ethical approval
The locations of material collected here are neither privately owned lands nor protected areas. No specific permits were required for our research.
Consent to participate
Not applicable.
Consent to publish
Not applicable.
Additional information
Publisher's note
Springer Nature remains neutral with regard to jurisdictional claims in published maps and institutional affiliations.
Responsible editor: Georg Steinhauser
Supplementary information
About this article
Cite this article
Yakovlev, E., Spirov, R., Druzhinin, S. et al. Atmospheric fallout of radionuclides in peat bogs in the Western Segment of the Russian Arctic. Environ Sci Pollut Res (2021). https://doi.org/10.1007/s11356-020-12224-7
Received:

Accepted:

Published:
Keywords
Peatland

Radionuclides

Chronology

Accumulation rate

Monte Carlo simulation