Abstract
The main objective of this work is to produce an eco-friendly and economically nano-adsorbent which can separate scandium metal ions Sc from a model aqueous phase prior to applying these adsorbents in industrial filed. The magnetic core-shell structure Fe3O4@SiO2 nanoparticles were synthesized by modified Stöber method and functionalized with (3-aminopropyl) triethoxysilane APTES as a coupling agent and ethylenediaminetetraacetic acid (EDTA) as a ligand. Magnetic nano support adsorbents exhibit many attractive opportunities due to their easy removal and possibility of reusing. The ligand grafting was chemically robust and does not appreciably influence the morphology or the structure of the substrate. To evaluate the potential, the prepared hybrid nanoparticles were used as nano-adsorbent for Sc ions from model aqueous solutions due to the fact that rare earth elements (REEs) have a strong affinity for oxygen and nitrogen donors. The iron oxide nanoparticles were prepared by co-precipitation method at pH 10 and pH 11 to get the best morphology and nanoscale dimensions of iron oxide magnetic nanoparticles. The particle size, morphology, specific surface area, and surface modification were characterized by transmission electron microscopy (TEM), Fourier transform infrared spectroscopy (FT-IR), vibrating sample magnetometer (VSM), and X-ray powder diffraction (XRD). The results showed that the Fe3O4 nanoparticles with average particle size of 15 ± 3 nm were successfully synthesized at pH 11, and 25 °C. Moreover, the prepared Fe3O4 nanoparticles were coated with amorphous SiO2 and functionalized with amino and carboxyl groups. The adsorption study conditions of Sc are as follows: the initial concentrations of the Sc model solution varied 10–50 mg/L, 20 mL volume, 20–80 mg of the Fe3O4@SiO2-COO adsorbent, pH range of 1–5, and 5 h contact time at 25 °C temperature. The adsorption equilibrium was represented with Langmuir, Freundlich, and Temkin isotherm models. Langmuir model was found to have the correlation coefficient value in good agreement with experimental results. However, the adsorption process followed pseudo-second-order kinetics.
Access options
Buy single article
Instant access to the full article PDF.
US$ 39.95
Tax calculation will be finalised during checkout.
Subscribe to journal
Immediate online access to all issues from 2019. Subscription will auto renew annually.
US$ 79
Tax calculation will be finalised during checkout.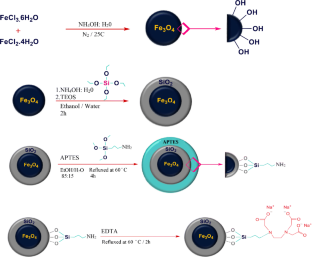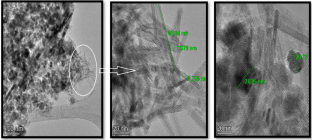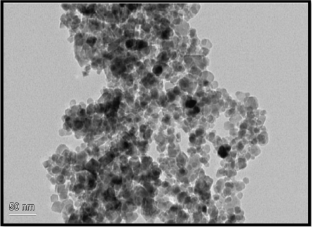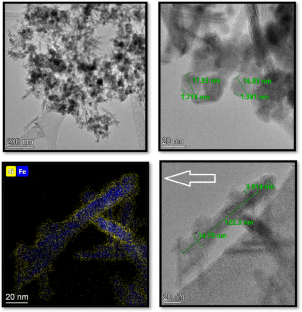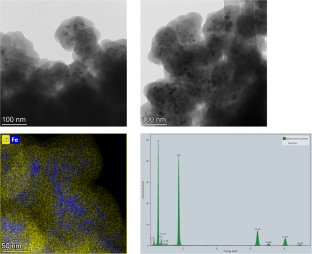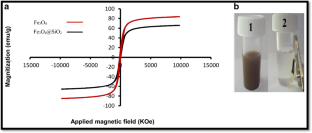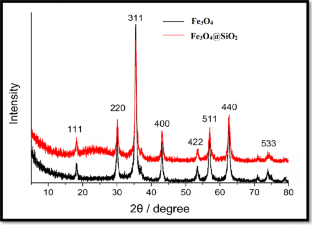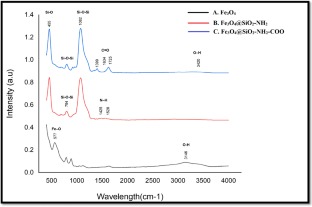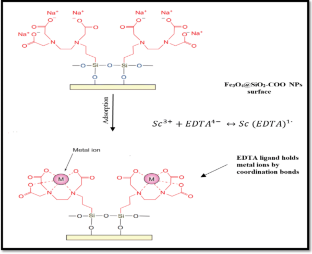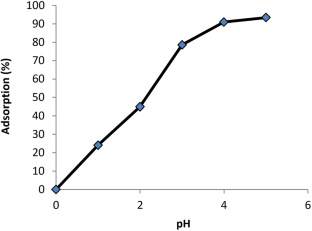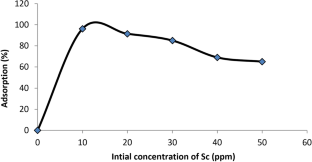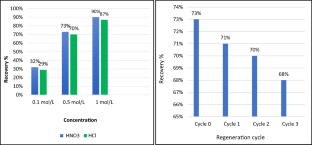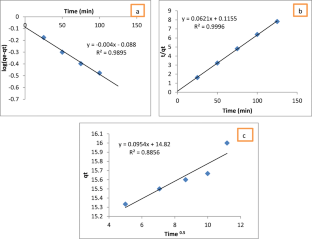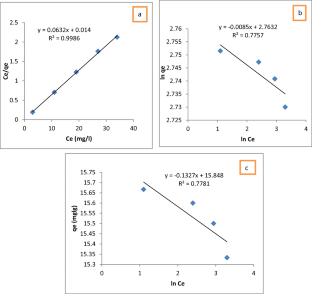 Data availability
All authors declare that all data and materials are complying with field standards.
References
Abdullah TA, Rasheed RT, Juzsakova T, Al-Jammal N, Mallah MA, Cuong LP, Salman AD, Domokos E, Ali Z, Cretescu I (2020) Preparation and characterization of MnO2-based nanoparticles at different annealing temperatures and their application in dye removal from water. Int J Environ Sci Technol

Abu-Nada A, McKay G, Abdala A (2020) Recent advances in applications of hybrid graphene materials for metals removal from wastewater. Nanomaterials 10(3):595

Ashour RM, El-sayed R, Abdel-Magied AF, Abdel-khalek AA, Ali MM, Forsberg K, Uheida A, Muhammed M, Dutta J (2017) Selective separation of rare earth ions from aqueous solution using functionalized magnetite nanoparticles: kinetic and thermodynamic studies. Chem Eng J 327:286–296

Bhattacharyya KG, Sharma A (2005) Kinetics and thermodynamics of methylene blue adsorption on neem (Azadirachta indica) leaf powder. Dyes Pigments 65(1):51–59

Chen J, Hao Y, Chen M (2014) Rapid and efficient removal of Ni2+ from aqueous solution by the one-pot synthesized EDTA-modified magnetic nanoparticles. Environ Sci Pollut Res 21(3):1671–1679

Chu TPM, Nguyen NT, Vu TL, Dao TH, Dinh LC, Nguyen HL, Hoang TH, Le TS, Pham TD (2019) Synthesis, characterization, and modification of alumina nanoparticles for cationic dye removal. Materials 12(3):450

Dawood A, Jani G, Fatalla A (2017) Comparative study of the effect of incorporating SiO2 nano-particles on properties of poly methyl methacrylate denture bases. Biomed Pharmacol J 10:1525–1535

Dawood A, Tatjána J, Al-Mayyahi MA, Ibrahim RI, Adnan Abdullah T, Khader EH (2020) Improvement of mechanical properties of Oil well cement by incorporate Nano-CaCO3 prepared from eggshell waste. IOP Conf Ser: Mater Sci Eng 765:012006

Deng L, Shi Z, Zou Z, Zhou S (2017) Magnetic EDTA functionalized CoFe2O4 nanoparticles (EDTA-CoFe2O4) as a novel catalyst for peroxymonosulfate activation and degradation of Orange G. Environ Sci Pollut Res 24(12):11536–11548

Dupont D, Brullot W, Bloemen M, Verbiest T, Binnemans K (2014) Selective uptake of rare earths from aqueous solutions by EDTA-functionalized magnetic and nonmagnetic nanoparticles. ACS Appl Mater Interfaces 6(7):4980–4988

El-Dib FI, Mohamed DE, El-Shamy OAA, Mishrif MR (2020) Study the adsorption properties of magnetite nanoparticles in the presence of different synthesized surfactants for heavy metal ions removal. Egypt J Pet 29(1):1–7

Freundlich H (1906) Over the adsorption in solution. J Phys Chem 57(385471):1100–1107

Gautam RK and Chattopadhyaya MC (2016) Chapter 7-Functionalized magnetic nanoparticles: adsorbents and applications. Nanomaterials for wastewater remediation. R. K. Gautam and M. C. Chattopadhyaya. Boston, Butterworth-Heinemann: 139-159

Grass RN, Athanassiou EK, Stark WJ (2007) Covalently functionalized cobalt nanoparticles as a platform for magnetic separations in organic synthesis. Angew Chem Int Ed 46(26):4909–4912

Gul S, Khan SB, Rehman IU, Khan MA, Khan M (2019) A comprehensive review of magnetic nanomaterials modern day theranostics. Front Mater 6:179

Hao R, Xing R, Xu Z, Hou Y, Gao S, Sun S (2010a) Synthesis, functionalization, and biomedical applications of multifunctional magnetic nanoparticles. Adv Mater 22(25):2729–2742

Hao Y-M, Man C, Hu Z-B (2010b) Effective removal of Cu (II) ions from aqueous solution by amino-functionalized magnetic nanoparticles. J Hazard Mater 184(1):392–399

Huang C, Hu B (2008) Silica-coated magnetic nanoparticles modified with γ-mercaptopropyltrimethoxysilane for fast and selective solid phase extraction of trace amounts of Cd, Cu, Hg, and Pb in environmental and biological samples prior to their determination by inductively coupled plasma mass spectrometry. Spectrochim Acta B At Spectrosc 63(3):437–444

Ibrahim RI, Odah MK, Shafeeq DA, Dawood Salman A (2020) Drag reduction and flow enhancement in iraqi crude oil pipelines using PMMA polymer and CNTs. IOP Conf Ser: Mater Sci Eng 765:012004

Keçili R, Büyüktiryaki S, Dolak İ and Hussain CM (2020) 5-The use of magnetic nanoparticles in sample preparation devices and tools. Handbook of nanomaterials in analytical chemistry. C. Mustansar Hussain, Elsevier: 75-95

Koehler FM, Rossier M, Waelle M, Athanassiou EK, Limbach LK, Grass RN, Günther D, Stark WJ (2009) Magnetic EDTA: coupling heavy metal chelators to metal nanomagnets for rapid removal of cadmium, lead and copper from contaminated water. Chem Commun 32:4862–4864

Lagergren SK (1898) About the theory of so-called adsorption of soluble substances. Sven Vetenskapsakad Handingarl 24:1–39

Langmuir I (1917) The constitution and fundamental properties of solids and liquids. II. Liquids. J Am Chem Soc 39(9):1848–1906

Li Y, Wu J, Qi D, Xu X, Deng C, Yang P, Zhang X (2008) Novel approach for the synthesis of Fe3O4@TiO2 core–shell microspheres and their application to the highly specific capture of phosphopeptides for MALDI-TOF MS analysis. Chem Commun 5:564–566

Liu Z, Li B, Wang B, Yang Z, Wang Q, Li T, Qin D, Li Y, Wang M, Yan M (2012) Magnetic nanoparticles modified with DTPA-AMC-rare earth for fluorescent and magnetic resonance dual mode imaging. Dalton Trans 41(28):8723–8728

Liu Y, Chen M, Yongmei H (2013) Study on the adsorption of Cu(II) by EDTA functionalized Fe3O4 magnetic nano-particles. Chem Eng J 218:46–54

Liu L, Leng J, Yang X, Liao L, Cen Y, Xiao A, Ma L (2016) Rapid screening and identification of BSA bound ligands from Radix astragali using BSA immobilized magnetic nanoparticles coupled with HPLC-MS. Molecules 21(11):1471

Liu F, Zhang X, Shan C, Pan B (2019) Effect of 3-D distribution of ZVI nanoparticles confined in polymeric anion exchanger on EDTA-chelated Cu(II) removal. Environ Sci Pollut Res 26(10):10013–10022

Lu A-H, Salabas EL, Schüth F (2007) Magnetic nanoparticles: synthesis, protection, functionalization, and application. Angew Chem Int Ed 46(8):1222–1244

Ocaña M, Rodriguez-Clemente R, Serna CJ (1995) Uniform colloidal particles in solution: formation mechanisms. Adv Mater 7(2):212–216

Panda L, Jena SK, Rath SS, Misra PK (2020) Heavy metal removal from water by adsorption using a low-cost geopolymer. Environ Sci Pollut Res 27(19):24284–24298

Pathania D, Sharma S, Singh P (2017) Removal of methylene blue by adsorption onto activated carbon developed from Ficus carica bast. Arab J Chem 10:S1445–S1451

Peng X, Wang Y, Tang X, Liu W (2011) Functionalized magnetic core–shell Fe3O4@SiO2 nanoparticles as selectivity-enhanced chemosensor for Hg(II). Dyes Pigments 91(1):26–32

Pham TD, Tran TT, Le VA, Pham TT, Dao TH, Le TS (2019) Adsorption characteristics of molecular oxytetracycline onto alumina particles: The role of surface modification with an anionic surfactant. J Mol Liq 287:110900

Pham TD, Bui TT, Trang Truong TT, Hoang TH, Le TS, Duong VD, Yamaguchi A, Kobayashi M, Adachi Y (2020a) Adsorption characteristics of beta-lactam cefixime onto nanosilica fabricated from rice HUSK with surface modification by polyelectrolyte. J Mol Liq 298:111981

Pham TD, Vu TN, Nguyen HL, Le PHP, Hoang TS (2020b) Adsorptive Removal of antibiotic ciprofloxacin from aqueous solution using protein-modified nanosilica. Polymers 12(1):57

Ramasamy DL, Puhakka V, Repo E, Ben Hammouda S, Sillanpää M (2018) Two-stage selective recovery process of scandium from the group of rare earth elements in aqueous systems using activated carbon and silica composites: dual applications by tailoring the ligand grafting approach. Chem Eng J 341:351–360

Rasheed RT, Mansoor HS, Abdullah TA, Juzsakova T, Al-Jammal N, Salman AD, Al-Shaikhly RR, Le PC, Domokos E, Abdulla TA (2020) Synthesis, characterization of V 2 O 5 nanoparticles and determination of catalase mimetic activity by new colorimetric method. J Therm Anal Calorim:1–11

Ren Y, Abbood HA, He F, Peng H, Huang K (2013) Magnetic EDTA-modified chitosan/SiO2/Fe3O4 adsorbent: preparation, characterization, and application in heavy metal adsorption. Chem Eng J 226:300–311

Rossier M, Koehler FM, Athanassiou EK, Grass RN, Aeschlimann B, Günther D, Stark WJ (2009) Gold adsorption on the carbon surface of C/Co nanoparticles allows magnetic extraction from extremely diluted aqueous solutions. J Mater Chem 19(43):8239–8243

Rossier M, Koehler FM, Athanassiou EK, Grass RN, Waelle M, Birbaum K, Günther D, Stark WJ (2010) Energy-efficient noble metal recovery by the use of acid-stable nanomagnets. Ind Eng Chem Res 49(19):9355–9362

Saiz J, Bringas E, Ortiz I (2014) New functionalized magnetic materials for As5+ removal: adsorbent regeneration and reuse. Ind Eng Chem Res 53(49):18928–18934

Saleh NJ, Ibrahim RI, Salman AD (2015) Characterization of nano-silica prepared from local silica sand and its application in cement mortar using optimization technique. Adv Powder Technol 26(4):1123–1133

Saman N, Johari K, Mat H (2014) Adsorption characteristics of sulfur-functionalized silica microspheres with respect to the removal of Hg(II) from aqueous solutions. Ind Eng Chem Res 53(3):1225–1233

Schärtl W (2010) Current directions in core–shell nanoparticle design. Nanoscale 2(6):829–843

Sun L, Li Y, Sun M, Wang H, Xu S, Zhang C, Yang Q (2011) Porphyrin-functionalized Fe3O4@SiO2 core/shell magnetic colorimetric material for detection, adsorption and removal of Hg2+ in aqueous solution. New J Chem 35(11):2697–2704

Svilović S, Rušić D, Stipišić R (2009) Modeling batch kinetics of copper ions sorption using synthetic zeolite NaX. J Hazard Mater 170(2-3):941–947

Tempkin M, Pyzhev V (1940) Kinetics of ammonia synthesis on promoted iron catalyst. Acta Phys Chim USSR 12(1):327

Tian Z, Yu X, Ruan Z, Zhu M, Zhu Y, Hanagata N (2018) Magnetic mesoporous silica nanoparticles coated with thermo-responsive copolymer for potential chemo- and magnetic hyperthermia therapy. Microporous Mesoporous Mater 256:1–9

Valderrama C, Gamisans X, de las Heras X, Farran A, Cortina J (2008) Sorption kinetics of polycyclic aromatic hydrocarbons removal using granular activated carbon: intraparticle diffusion coefficients. J Hazard Mater 157(2-3):386–396

Wang W, Cheng CY (2011) Separation and purification of scandium by solvent extraction and related technologies: a review. J Chem Technol Biotechnol 86(10):1237–1246

Wang J, Zheng S, Shao Y, Liu J, Xu Z, Zhu D (2010) Amino-functionalized Fe3O4@SiO2 core–shell magnetic nanomaterial as a novel adsorbent for aqueous heavy metals removal. J Colloid Interface Sci 349(1):293–299

Wang B, Hai J, Wang Q, Li T, Yang Z (2011) Coupling of luminescent terbium complexes to Fe3O4 nanoparticles for imaging applications. Angew Chem 123(13):3119–3122

Warner CL, Addleman RS, Cinson AD, Droubay TC, Engelhard MH, Nash MA, Yantasee W, Warner MG (2010) High-performance, superparamagnetic, nanoparticle-based heavy metal sorbents for removal of contaminants from natural waters. ChemSusChem 3(6):749–757

Weber WJ, Morris JC (1963) Kinetics of adsorption on carbon from solution. J Sanit Eng Div 89(2):31–60

Wei S, Wang Q, Zhu J, Sun L, Lin H, Guo Z (2011) Multifunctional composite core–shell nanoparticles. Nanoscale 3(11):4474–4502

Xi P, Cheng K, Sun X, Zeng Z, Sun S (2012) Magnetic Fe3O4 nanoparticles coupled with a fluorescent Eu complex for dual imaging applications. Chem Commun 48(24):2952–2954

Xu Y, Zhou Y, Ma W, Wang S, Li S (2013) Functionalized magnetic core–shell Fe3O4@SiO2 nanoparticles for sensitive detection and removal of Hg2+. J Nanopart Res 15

Yang S, Zong P, Ren X, Wang Q, Wang X (2012) Rapid and highly efficient preconcentration of Eu(III) by core–shell structured Fe3O4@humic acid magnetic nanoparticles. ACS Appl Mater Interfaces 4(12):6891–6900

Yantasee W, Warner CL, Sangvanich T, Addleman RS, Carter TG, Wiacek RJ, Fryxell GE, Timchalk C, Warner MG (2007) Removal of heavy metals from aqueous systems with thiol functionalized superparamagnetic nanoparticles. Environ Sci Technol 41(14):5114–5119

Yao Y, Bing H, Feifei X, Xiaofeng C (2011) Equilibrium and kinetic studies of methyl orange adsorption on multiwalled carbon nanotubes. Chem Eng J 170(1):82–89

Zargoosh K, Abedini H, Abdolmaleki A, Molavian MR (2013) Effective removal of heavy metal ions from industrial wastes using thiosalicylhydrazide-modified magnetic nanoparticles. Ind Eng Chem Res 52(42):14944–14954

Zhang F, Shi Y, Zhao Z, Ma B, Wei L, Lu L (2014) Amino-functionalized Fe3O4/SiO2 magnetic submicron composites and In3+ ion adsorption properties. J Mater Sci 49(9):3478–3483
Acknowledgments
The authors would like to thank Hungarian GINOP-2.2.1-15-2017-00106 project: Complex utilization of red mud and recovery of rare earth metals from red mud and the Nanotechnology Advanced Material Research Center, University of Technology, Baghdad, Iraq, for their contribution to testing and measurements.
Ethics declarations
Ethical approval
The manuscript is not submitted to any other journal while the manuscript is under consideration by the Journal of Environmental Science and Pollution Research. The submitted work is an original work, it does not have been published elsewhere in any form or language (partially or in full), unless the new work concerns an expansion of previous work.
Consent of participant and consent to publish
All authors agreed with the content and that all gave explicit consent for participation, submission and publication.
Competing interests
The authors declare that they have no conflict of interest.
Additional information
Publisher's note
Springer Nature remains neutral with regard to jurisdictional claims in published maps and institutional affiliations.
Responsible Editor: Tito Roberto Cadaval Jr
About this article
Cite this article
Salman, A.D., Juzsakova, T., Ákos, R. et al. Synthesis and surface modification of magnetic Fe3O4@SiO2 core-shell nanoparticles and its application in uptake of scandium (III) ions from aqueous media. Environ Sci Pollut Res (2021). https://doi.org/10.1007/s11356-020-12170-4
Received:

Accepted:

Published:
Keywords
Magnetic core-shell

Adsorption

EDTA

Nano-adsorbents