Abstract
This study aims to improve bacterial laccase enzyme activity (LEA) and dehydrogenase activity (DHA) affecting acetylsalicylic acid (ASA) biodegradation using an alternating current (AC). A microbial consortium was inoculated in an electroactive bioreactor supplied with an AC by a function generator under operating conditions of amplitude (AMPL) = 2–10 peak-to-peak voltage (Vpp), optical fiber splice tray (OFST) = 0.1 V, and sine wave frequency = 10 Hz. The obtained results revealed that at an applied voltage of 8 Vpp and an OFST of 0.1 for 12 h, the maximum bacterial LEA and DHA were 30.6 U/mL and 75.5 micro grTF/cm2.gr biomass; respectively. Cell viability and permeability were equal to 95.7% and 0.3%; respectively, at the voltage of 8 Vpp. Moreover, liquid chromatography–mass spectrometry (LC-MS) and gas chromatography–mass spectrometry (GC-MS) analyses showed that by-products had lower intensity at 8 Vpp compared with that of 2 Vpp voltage. Finally, the results demonstrated an optimum applied voltage of the AC, which could stimulate and promote bacterial LEA and DHA. Therefore, an electroactive bioreactor supplied with an AC can be a novel system for stimulation of enzyme activities in the process of ASA biodegradation.
Access options
Buy single article
Instant access to the full article PDF.
US$ 39.95
Tax calculation will be finalised during checkout.
Subscribe to journal
Immediate online access to all issues from 2019. Subscription will auto renew annually.
US$ 79
Tax calculation will be finalised during checkout.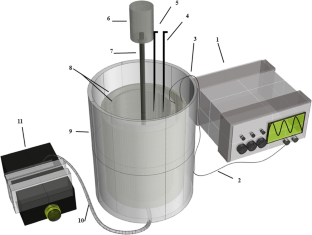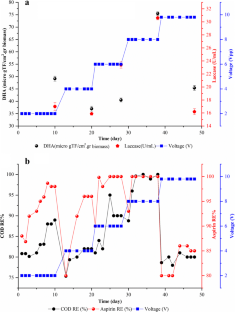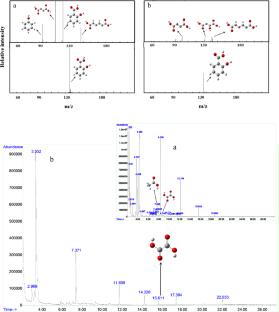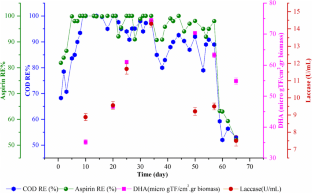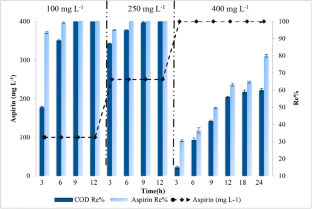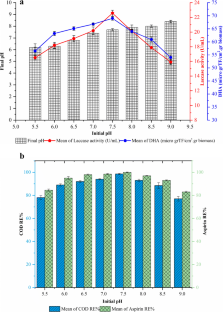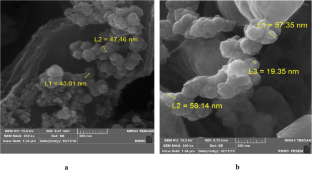 Data availability
All data generated or analyzed during this study are included in this published article.
References
APHA, AWWA, WEF (2017) Standard Methods for the examination of water and wastewater. 23st Eds, Washington, DC, USA.

Ahmed MB, Zhou JL, Ngo HH, Gue W, Thomaidis NS, Xu J (2017) Progress in the biological and chemical treatment technologies for emerging contaminant removal from wastewater: a critical review. J Hazard Mater 323:274–298

Arunkumar T, Alex AD, Narendrakumar G (2014) Production and partial purification of laccase from Pseudomonas aeruginosa ADN04. J Pure Appl Microbiol 8:727–731

Bao LJ, Wei YL, Ruan QQ, Zeng EY (2015) Global trends of research on emerging contaminants in the environment and humans: a literature assimilation. Environ Sci Pollut Res 22:1635–1643

Ben Younes S, Sayadi S (2013) Detoxification of Indigo carmine using a combined treatment via a novel trimeric thermostable laccase and microbial consortium. J Mol Catal B Enzym 87:62–68

Bo LG, Almeida RM, Cardoso CMM, Zavarize DG, Brum SS, Mendonça ARV (2019) Acetylsalicylic acid biosorption onto fungal-bacterial biofilm supported on activated carbons: an investigation via batch and fixed-bed experiments. Environ Sci Pollut Res 26:28962–28976

Boixa C, Ibanez M, Fabregat-Safont D, Morales E, Pastor L, Sancho JV, Sanchez-Ramírez JE, Hernandez F (2016) The behavior of emerging contaminants in sewage sludge after anaerobic digestion. Chemosphere 163:296–304

Charuaud L, Jarde E, Jaffrezic A, Thomas MF, Bot B (2019) Veterinary pharmaceutical residues from natural water to tap water: sales, occurrence, and fate. J Hazard Mater 361:169–186

Chatterjee P, Dessi P, Kokko M, Lakaniemi AM, Lens P (2019) Selective enrichment of biocatalysts for bioelectrochemical systems: a critical review. Renew Sust Energ Rev 109:10–23

Claus HJM (2004) Laccases: structure, reactions, distribution. Micron 35:93–96

Dai Q, Xia Y, Chen J (2016) Mechanism of enhanced electrochemical degradation of highly concentrated aspirin wastewater using a rare earth La-Y co-doped PbO2 electrode. Electrochim Acta 188:871–881

Dellamatrice PM, Monteiro RT, Kamida HM, Nogueira NL, Rossi ML, Blaise C (2005) Decolourization of municipal effluent and sludge by Pleurotus sajor- caju and Pleurotus ostreatus. World J Microbiol Biotechnol 21:1363–1369

Di Poi C, Costil K, Bouchart V, Halm-Lemeille MP (2018) Toxicity assessment of five emerging pollutants, alone and in binary or ternary mixtures, towards three aquatic organisms. Environ Sci Pollut Res 25:6122–6134

Ding A, Fan Q, Cheng R, Sun G, Zhang M, Wu D (2018) Impacts of applied the voltage on microbial electrolysis cell-anaerobic membrane bioreactor (MEC-AnMBR) and its membrane fouling mitigation mechanism. Chem Eng J 333:630–635

Egea-Corbacho A, Ruiz SG, Alonso JMQ (2019) Removal of emerging contaminants from wastewater using nanofiltration for its subsequent reuse: Full-scale pilot plant. J Clean Prod 214:514–523

Eyvaz M, Kirlaroglu M, Aktas TS, Yuksel E (2009) The effects of alternating current electrocoagulation on dye removal from aqueous solutions. Chem Eng J 153:16–22

Fan H, Li J, Zhang L, Feng L (2014) Contribution of sludge adsorption and biodegradation to the removal of five pharmaceuticals in a submerged membrane bioreactor. Biochem Eng J 88:101–117

Foladori P, Tamburini S, Bruni L (2010) Bacteria permeabilization and disruption caused by sludge reduction technologies evaluated by flow cytometry. Water Res 44:4888–4899

Gago-Ferrero P, Borova V, Dasenaki ME, Τhomaidis NS (2015) Simultaneous determination of 148 pharmaceuticals and illicit drugs in sewage sludge based on ultrasound-assisted extraction and liquid chromatography–tandem mass spectrometry. Anal Bioanal Chem 407:4287–4297

García-Galán MJ, Rodríguez-Rodríguez CE, Vicent T, Caminal G, Díaz-Cruz MS, Barceló D (2011) Biodegradation of sulfamethazine by Trametes Versicolor: removal from sewage sludge and identification of intermediate products by UPLC–QqTOF-MS. Sci Total Environ 409:5505–5512

He L, Sun X, Zhu F, Ren S, Wang S (2017) OH-initiated transformation and hydrolysis of aspirin in AOPs system: DFT and experimental studies. Sci Total Environ 592:33–40

Huang L, Cheng S, Chen G (2011) Bioelectrochemical systems for efficient recalcitrant wastes treatment. Chem Technol Biotechnol 86:481–491

Huo Z-Y, Li G-Q, Yu T, Feng C, Lu Y, Wu Y-H, Yu C, Xie X, Hu H-Y (2018) Cell Transport prompts the performance of low-voltage electroporation for cell inactivation. Sci Rep 8:34027–34037

Ieropoulos I, Greenman J, Melhuish C, Hart J (2005) Energy accumulation and improved performance in microbial fuel cells. J Power Sources 145(2):253–256

Ieropoulos IA, You J, Gajda I, Greenman J (2018) A new method for modulation, control and power boosting in microbial fuel cells. Fuel Cells 18(5):663–668

Ieropoulos I, Greenman J (2015) Microbial fuel cell, method of controlling and measuring the redox potential difference of the fuel cell. Int Patent WO2016120641A1

Lai C-Y, Wu C-H, Meng C-T, Lin C-W (2017) Decolorization of azo dye and generation of electricity by a microbial fuel cell with laccase-producing white-rot fungus on the cathode. Appl Energy 188:392–398

Li X-M, Luo X-G, Si C-L, Wang N, Zhou H, He J-F (2015) Antibacterial active compounds from Hypericum ascyron L. induce bacterial cell death through apoptosis pathway. Eur J Med Chem 96:436–444

Logan BE, Rossi R, Ragab A, Saikaly PE (2019) Electroactive microorganisms in bioelectrochemical systems. Nat Rev Microbiol 17:307–319

Luo Q, Wang H, Zhang X, Qian Y (2005) Effect of direct electric current on the cell surface properties of phenol-degrading bacteria. Am Soc Microb 71:423–427

Majeau J-A, Brar SK, Tyagi RD (2010) Laccases for removal of recalcitrant and emerging pollutants. Bioresour Technol 101:2331–2350

Mansooriana HJ, Mahvi AH, Jafari AJ (2014) Removal of lead and zinc from battery industry wastewater using electrocoagulation process: influence of direct and alternating current by using iron and stainless steel rod electrodes. Sep Purif Technol 135:165–175

Naidu R, Espana VAA, Liu Y, Jit J (2016) Emerging contaminants in the environment: risk-based analysis for better management. Chemosphere 154:350–357

Osińska-Jaroszuk M, Jaszek M, Starosielec M, Sulej J, Matuszewska A, Janczarek M, Bancerz R, Wydrych J, Wiater A, Jarosz-Wilkołazka A (2018) Bacterial exopolysaccharides as a modern biotechnological tool for the modification of fungal laccase properties and metal ion binding. Bioprocess Biosyst Eng 41:973–989

Ratanapongleka K, Punbut S (2018) Removal of acetaminophen in water by laccase immobilized in barium alginate. Environ Technol 39:336–345

Sophia AC, Lim EC (2018) Removal of emerging contaminants from the environment by Adsorption. Ecotoxicol Environ Saf 150:1–17

Sim J, Reid R, Hussain A, An J, Lee HS (2018) Hydrogen peroxide production in a pilot-scale microbial electrolysis cell. Biotechnol Rep 19:e00276

Teodosiu C, Gilca A-F, Barjoveanu G, Fiore S (2018) Emerging pollutants removal through advanced drinking water treatment: a review on processes and environmental performances assessment. J Clean Prod 197:1210–1221

Tiwari B, Sellamuthu B, Ouarda Y, Drogui P, Tyagi RD, Buelna G (2017) Review on fate and mechanism of removal of pharmaceutical pollutants from wastewater using a biological approach. Bioresour Technol 224:1–12

Wang X, Zhou L, Lu L, Lobo FL, Li N, Wang H, Park J (2016) Alternating current influences anaerobic electroactive biofilm activity. Environ Sci Technol 50:9169–9176

Yavuz H, Celebi SS (2000) Effects of magnetic field on the activity of activated sludge in wastewater treatment. Enzym Microb Technol 26:22–27

Yu T-H, Lin AY-C, Panchangam SC, Hong P-KA, Yang P-Y, Lin C-FJC (2011) Biodegradation and bio-sorption of antibiotics and non-steroidal anti-inflammatory drugs using an immobilized cell process. Chemosphere 84:1216–1222

Zeng J, Zhu Q, Wu Y, Lin X (2016) Oxidation of polycyclic aromatic hydrocarbons using Bacillus subtilis CotA with high laccase activity and copper independence. Chemosphere 148:1–7

Zhang L, Ding L, He X, Ma H, Fu H, Wang J, Ren H (2019) Effect of continuous and intermittent electric current on lignin wastewater treatment and microbial community structure in the electro-microbial system. Sci Rep 9:1–11

Zhang L, Zhu X, Li J, Liao Q, Ye D (2011) Biofilm formation and electricity generation of a microbial fuel cell started up under different external resistances. J Power Sources 196:6029–6035
Funding
This study was supported by Tarbiat Modares University, Ph.D. thesis support.
Ethics declarations
Competing interests
The authors declare that they have no conflict of interest.
Ethics approval and consent to participate
This research did not involve any human participants and/or animals.
Consent for publication
The authors accepted the publication.
Additional information
Publisher's note
Springer Nature remains neutral with regard to jurisdictional claims in published maps and institutional affiliations.
Responsible Editor: Ta Yeong Wu
About this article
Cite this article
Moghiseh, Z., Rezaee, A. Removal of aspirin from aqueous solution using electroactive bacteria induced by alternating current. Environ Sci Pollut Res (2021). https://doi.org/10.1007/s11356-020-11365-z
Received:

Accepted:

Published:
Keywords
Emerging contaminant

Applied current

Biostimulation

Wastewater

Laccase

Dehydrogenase activity