Abstract
In order to explore the effective method of ecological environment quality evaluation the of environmental pollution treatment of energy consumption emits in industrial parks in China, based on a literature review, 21 evaluation indicators of four types were selected in this paper. With a hierarchical analysis method used to determine the relative weights of each evaluation indicator, and a two-level comprehensive fuzzy evaluation model reconstructed, a comprehensive evaluation study of ecological environment quality was carried out, taking the Nanjing MV Industrial Park as the research object. The evaluation results show that it can be seen that the ecological environment quality of the Nanjing MV Industrial Park has improved in certain degree. The evaluation results are in line with the actual situation, which verifies the validity of the comprehensive fuzzy evaluation model for the comprehensive evaluation of ecological environment quality. The research results have a guiding role for the management practice of environmental pollution in industrial parks and have a significant theoretical support for the government to formulate the ecological environment quality standards and related policies of industrial parks.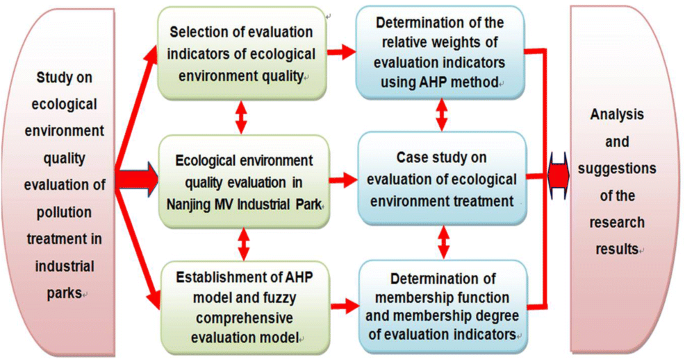 Access options
Buy single article
Instant access to the full article PDF.
US$ 39.95
Tax calculation will be finalised during checkout.
Subscribe to journal
Immediate online access to all issues from 2019. Subscription will auto renew annually.
US$ 79
Tax calculation will be finalised during checkout.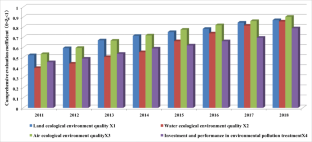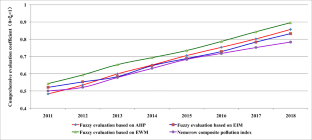 Abbreviations
MV:

The name of the target company is not authorized to be expressed in letters

AHP:

Analytic hierarchy process

CR:

Consistency check ratio

RI:

Random consistency index

CI:

Consistency indicators

EEQ:

Ecological environment quality

EPT:

Environmental pollution treatment
Acknowledgments
The authors thank for the research materials provided by the Nanjing MV Industrial Park, and the editors and review experts for their constructive comments on the paper.
Funding
The authors thank the National Office for philosophy and Social Sciences for its financial support. This work has received funding from the general project of the National Social Science Foundation of China: "Research on mechanism and supportive polices of environmental pollution cooperative governance in the process of regional integration development of the Yangtze river delta" (approval number: 19BJL035).
Additional information
Publisher's note
Springer Nature remains neutral with regard to jurisdictional claims in published maps and institutional affiliations.
Highlights
• Research on the evaluation of the ecological and environmental quality of industrial parks
• Use the AHP and expert survey to determine the index weight
• Adopt the two-level fuzzy evaluation model for evaluation
• Take Nanjing MV industry as an example
Responsible editor: Philippe Loubet
About this article
Cite this article
Han, X., Cao, T. Study on ecological environment quality evaluation of the energy consumption pollution treatment in industrial parks. Environ Sci Pollut Res (2021). https://doi.org/10.1007/s11356-020-10147-x
Received:

Accepted:

Published:
Keywords
Ecological environment quality evaluation

Environmental pollution treatment

Hierarchical analysis method

Comprehensive fuzzy evaluation model

Industrial park