Abstract
In this paper, we are focusing on study of the impact of sterilization on culture establishment of indigenous Musa variety to restore plant diversity and its importance in human life. Biodiversity supports biological system profitability where every species has a significant task to carry out. Biodiversity of plants guarantees an asset for new nourishment harvests and prescriptions. The biodiversity conservation can start from in situ and ex situ techniques. In situ strategies secure the plants in their common natural surroundings, where as ex situ techniques include safeguarding and upkeep of plant species through plant tissue culture technique. Re-establishing Indigenous plant territory is fundamental for conservation of biodiversity. Indigenous plants are those that present normally in a place where they developed. They are the biological premise whereupon the life of animals and human depends. Traditional medicines from plants are significant part of Indian culture. Banana cultivars nowadays are triploid (AAA, AAB, ABB) cross breeds of two species, Musa acuminate Colla (AA) and Musa balbisiana Colla (BB), which separately contribute the A and B genomes. The M. balbisiana which is normally present in North-Eastern belt of India has high nutrients and resistance to biotic and abiotic stresses. Nanjangud rasabale has been found in parts of Mysuru district, known for its stand-out smell, flavor, taste, and time span of sensible convenience anyway incredibly viewed as a jeopardized grouping; red bananas are phenomenal anyway concerning supplement C and potassium, they are better than yellow ones; Meitei Hei is acclaimed for its enjoyableness and incredible alluring quality. It is a cold permissive grouping thriving incredible even at 12–15 °C. The accomplishment of plant tissue culture convention relies upon explant sterilization procedure. Determination of sterilant and time span of introduction are additionally basic on the grounds that the living material should not lose their natural action and just contaminants should be wiped out during cleansing. Surface sanitization of explant is a procedure which includes the drenching of explants into suitable convergence of compound sterilants for a predetermined time bringing about the foundation of a contamination-free culture.
Access options
Buy single article
Instant access to the full article PDF.
US$ 39.95
Tax calculation will be finalised during checkout.
Subscribe to journal
Immediate online access to all issues from 2019. Subscription will auto renew annually.
US$ 79
Tax calculation will be finalised during checkout.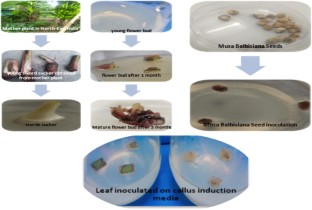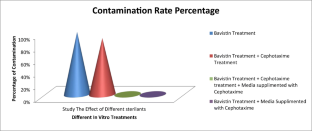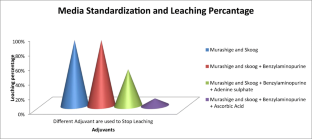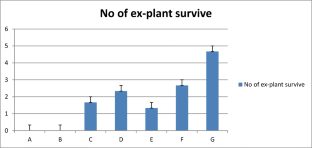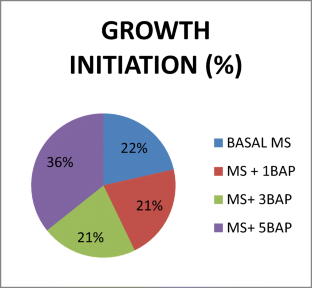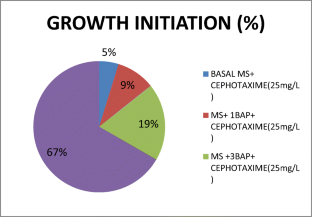 References
Banaerjee N, De Langhe E (1985) A tissue culture technique for rapid clonal propagation and storage under minimal growth conditions of Musa (Banana and Plantain). Plant Cell Rep 4(6):351–354. https://doi.org/10.1007/bf00269897

Cheesman E.E. (1948). Classification of the bananas. Critical notes on species. Musa balbisiana Colla. Kew Bulletin,3(3), 325.https://doi.org/10.2307/4108836

FAO STAT. (2011) Food and Agriculture Organization of the United Nations

Hore DK, Sharma BD, Pandey G (1992) Status of banana in North-East India. J Econ Taxon Bot 16:447–455

ICAR. (2015). Vision 2050. National research centre for Banana

Osuji JO, Okoli BE, Ortiz R (1995) Morphological characterisation of Musa cultivars. Nigerian J Genet X:8–13

Joe A, Sreejith PE, Sabu M (2014) A new variety of Musa balbisianaColla (Musaceae) from South India. Phytotaxa 175(2):113–116. https://doi.org/10.11646/phytotaxa.175.2.6

Buah JN (2016) In vitro growth of dwarf Cavendish Banana plantlets in different culture vessels and light intensities. Int J Agric Res 11(1):23–31. https://doi.org/10.3923/ijar.2016.23.31

Borborah K, Borthakur SK, Tanti B (2015) Musa BalbisianaColla- taxonomy, traditional knowledge and economic potentialities of the plant in Assam, India. Indian J Tradit Knowl 15(1):116–120

Borborah K, Borthakur SK, Tanti B (2016) A new variety of Musa Balbisiana Colla from Assam. India Bangladesh J Plant Taxon 23(1):75–78. https://doi.org/10.3329/bjpt.v23i1.28348

Martin KP, Pachathundikandi SK, Zhang CL, Slater A, Joseph M (2006) RAPD analysis of a variant of banana (Musa sp.) cv. Grande Naine and its propagation via shoot tip culture. In Vitro Cell Dev Biol Plant 42(2):188–192. https://doi.org/10.1079/ivp2005736

Moore H.E. (1957). Musa and Ensete the cultivated bananas. Baileya5, 177

Nayar NM (2010) The bananas: botany, origin, dispersal. Horticultural Reviews:117–164. https://doi.org/10.1002/9780470527238.ch2

P. Babu. (2019). An efficient protocol for in vitro regeneration of Banana var. Nanjangudurasabale(Musa spp. AAB). Int.J.Curr.Microbiol.App.Sci8(6): 3392-3402. https://doi.org/10.20546/ijcmas.2019.806.402

Rajoriya P (2011) Development of protocols for micropropagation of red banana (Musa acuminata). (M. Sc. Biotechnlgy thesis) Sam Higginbottom University of agriculture, Technology and Sciences, Allahabad. 1–34

Lalrinsanga R, Vanlaldiki H, Meitei WI (2013) In vitro shoot tip culture of Banana cultivar Meitei Hei. The Bioscan 8(3):839–844

Scot C. Nelson, Randy C. Ploetz, and Angela Kay Kepler. (2006). Musa species (banana and plantain). Species Profiles for Pacific Island Agroforestry

Subbaraya U (2006) Farmer's knowledge of wild Musa in India. Plant Production and Protection Division, FAO, Rome, pp 1–46

Sulistyaningsih LD, Megia R, Widjaja EA (2014) Two new records of wild bananas (Musa balbisiana and Musa itinerans) from Sulawesi. Makara J Sci 18(1):1–6. https://doi.org/10.7454/mss.v18i1.3043
Acknowledgments
The authors are grateful to the Amity University, Noida for facilitating us with the infrastructure and laboratory facilities for manifesting this research work.
Additional information
Publisher's note
Springer Nature remains neutral with regard to jurisdictional claims in published maps and institutional affiliations.
Responsible editor: Philippe Garrigues
About this article
Cite this article
Bhutani, R., Shukla, S. & Shukla, S. Impact of sterilants on culture establishment of indigenous Musa L. varieties: a step forward for conservation. Environ Sci Pollut Res 28, 3913–3919 (2021). https://doi.org/10.1007/s11356-020-10059-w
Received:

Accepted:

Published:

Issue Date:
Keywords
Indigenous

Plant biodiversity

Sterilization

Contamination

Plant tissue culture