Abstract
Water pollution is one of the most important environmental challenges and also one of the main causes of death in the world. Transporting oil products on roads by trucks and their accidents lead to the release of these chemicals into the environment, resulting in water resources pollution. Thus, the main goal of this study is to evaluate the risk assessment of the water resources pollution in the road of Sanandaj to Marivan, Kurdistan province, Iran. Six scenarios for four types of hazardous materials in two seasons of the years were considered. The road was then segmented, and the probability of accidents in each segment was calculated by the Poisson regression method. Two scenarios were selected for analysis since truck accidents had happened mainly in spring (scenario 1) and winter (scenario 4). According to the results, the total risk of water contamination path is 20%very low, 19% low, 29% moderate, 28% high, and 4% very high. Also, according to scenario 1, 14% of the total area of the study area is very low risk, 23% low risk, 15% medium risk, 6% high risk, and 42% are very high risk. Based on scenario 4, 39% of the total area of the study area has a very low risk, 44% low risk, 13% medium risk, 4% high risk. This simply means that this road is not very suitable for transporting hazardous oil products.
This is a preview of subscription content, log in to check access.
Access options
Buy single article
Instant access to the full article PDF.
US$ 39.95
Price includes VAT for USA
Subscribe to journal
Immediate online access to all issues from 2019. Subscription will auto renew annually.
US$ 99
This is the net price. Taxes to be calculated in checkout.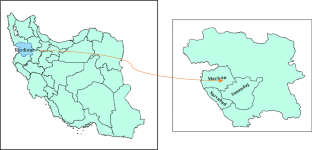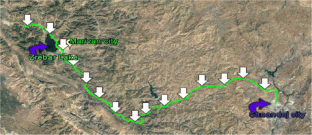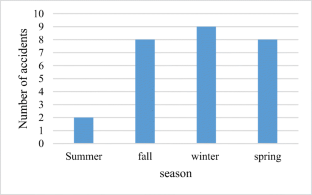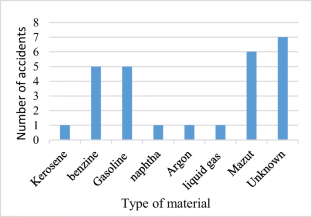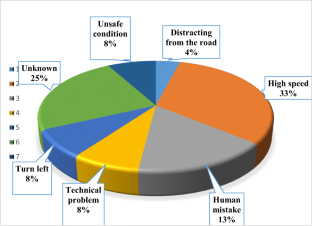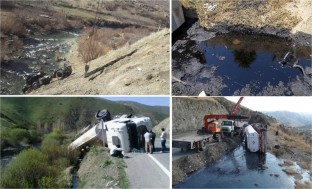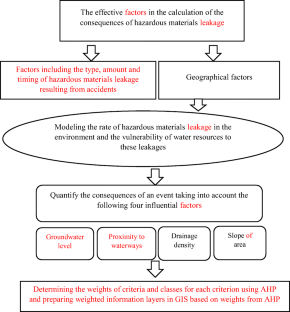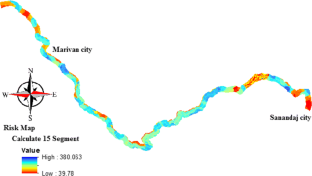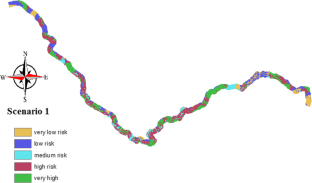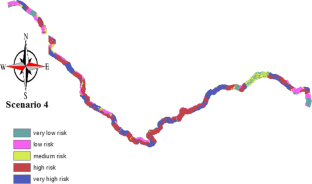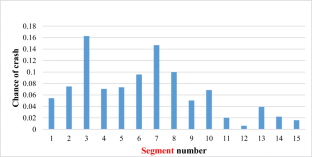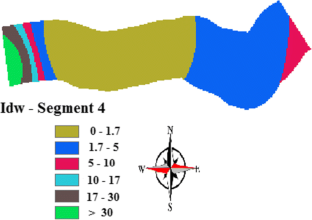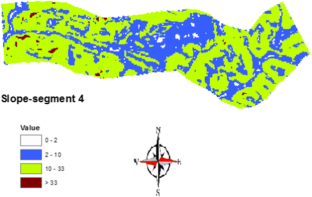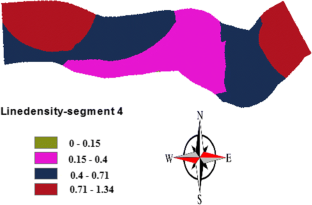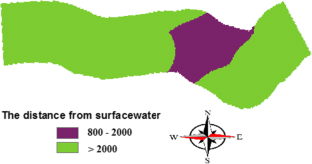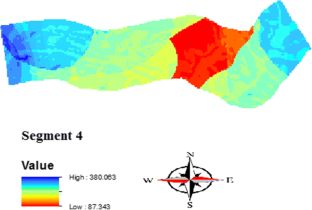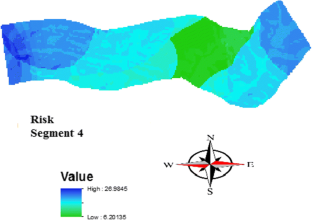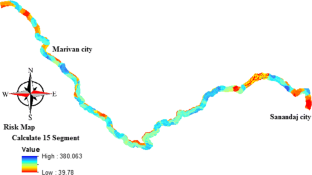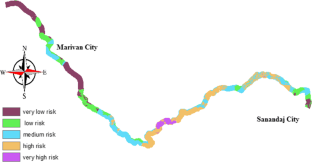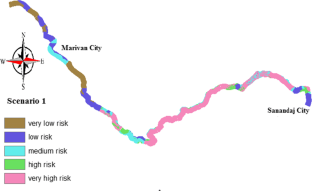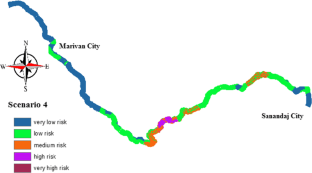 References
Agarwal S, Kachroo P, Regentova E (2016) A hybrid model using logistic regression and wavelet transformation to detect traffic incidents. Iatss Res 40(1):56–63

Aguero-Valverde J, Jovanis PP (2006) Spatial analysis of fatal and injury crashes in Pennsylvania. Accid Anal Prev 38(3):618–625

AlRukaibi F, Alrukaibi D, Alkheder S, Alojaiman S, Sayed T (2018) Optimal route risk-based algorithm for hazardous material transport in Kuwait. J Loss Prev Process Ind 52:40–53

Ambituuni A, Amezaga JM, Werner D (2015) Risk assessment of petroleum product transportation by road: a framework for regulatory improvement. Saf Sci 79:324–335

Ardjmand E, Young WA II, Weckman GR, Bajgiran OS, Aminipour B, Park N (2016) Applying genetic algorithm to a new bi-objective stochastic model for transportation, location, and allocation of hazardous materials. Expert Syst Appl 51:49–58

Bagherzadeh S, Kalantari N, Nobandegani AF, Derakhshan Z, Conti GO, Ferrante M, Malekahmadi R (2018) Groundwater vulnerability assessment in karstic aquifers using COP method. Environ Sci Pollut Res 25(19):18960–18979

Bianco L, Caramia M, Giordani S (2009) A bi-level flow model for hazmat transportation network design. Transp Res C Emerg Technol 17(2):175–196

Bruglieri M, Colorni A, Lue A (2014) The vehicle relocation problem for the one-way electric vehicle sharing: an application to the Milan case. Procedia Soc Behav Sci 111(0):18–27

Chakrabarti UK, Parikh JK (2011) Route risk evaluation on class-2 hazmat transportation. Process Saf Environ Prot 89(4):248–260

Chang L-Y (2005) Analysis of freeway accident frequencies: negative binomial regression versus artificial neural network. Saf Sci 43(8):541–557

Conca A, Ridella C, Sapori E (2016) A risk assessment for road transportation of dangerous goods: a routing solution. Transp Res Procedia 14:2890–2899

Cordeiro FG, Bezerra BS, Peixoto ASP, Ramos RAR (2016) Methodological aspects for modeling the environmental risk of transporting hazardous materials by road. Transp Res Part D: Transp Environ 44:105–121

Dinu RR, Veeraragavan A (2011) Random parameter models for accident prediction on two-lane undivided highways in India. J Saf Res 42(1):39–42

DOT U (2004) "List of hazardous materials." The Office of Hazardous Materials Safety, US Department of Transportation, Washington, DC

Ghazinoory S, Kheirkhah AS (2008) Transportation of hazardous materials in Iran: a strategic approach for decreasing accidents. Transport 23(2):104–111

Huang X, Wang X, Pei J, Xu M, Huang X, Luo Y (2018) Risk assessment of the areas along the highway due to hazardous material transportation accidents. Nat Hazards 93(3):1181–1202

Jarray H, Zammouri M, Ouessar M, Hamzaoui-Azaza F, Barbieri M, Zerrim A, Soler A, Yahyaoui H (2017) Groundwater vulnerability based on GIS approach: case study of Zeuss-Koutine aquifer, South-Eastern Tunisia. Geofis Int 56(2):157–172

Jiang J, Wang P, Lung W, Guo L, Li M (2012) A GIS-based generic real-time risk assessment framework and decision tools for chemical spills in the river basin. J Hazard Mater 227:280–291

Kara BY, Erkut E, Verter V (2003) Accurate calculation of hazardous materials transport risks. Oper Res Lett 31(4):285–292

Lee M (2014) GIS-based route risk assessment of hazardous material transport

Li L, Zhu L, Sui DZ (2007) A GIS-based Bayesian approach for analyzing spatial--temporal patterns of intra-city motor vehicle crashes. J Transp Geogr 15(4):274–285

Lozano A, Muñoz Á, Macias L, Antún JP (2011) Hazardous materials transportation in Mexico City: chlorine and gasoline cases. Transp Res C Emerg Technol 19(5):779–789

Ma J, Kockelman KM, Damien P (2008) A multivariate Poisson-lognormal regression model for prediction of crash counts by severity, using Bayesian methods. Accid Anal Prev 40(3):964–975

Machado ER, do Valle Junior RF, Pissarra TCT, Siqueira HE, Sanches Fernandes LF, Pacheco FAL (2018) Diagnosis on transport risk based on a combined assessment of road accidents and watershed vulnerability to spills of hazardous substances. Int J Environ Res Public Health 15(9):2011

Paltrinieri N, Landucci G, Molag M, Bonvicini S, Spadoni G, Cozzani V (2009) Risk reduction in road and rail LPG transportation by passive fire protection. J Hazard Mater 167(1–3):332–344

Rebelo A, Ferra I, Gonçalves I, Marques AM (2014) A risk assessment model for water resources: releases of dangerous and hazardous substances. J Environ Manag 140:51–59

Saat MR, Werth CJ, Schaeffer D, Yoon H, Barkan CPL (2014) Environmental risk analysis of hazardous material rail transportation. J Hazard Mater 264:560–569

Shrestha S, Semkuyu DJ, Pandey VP (2016) Assessment of groundwater vulnerability and risk to pollution in Kathmandu Valley, Nepal. Sci Total Environ 556:23–35

Siqueira HE, Pissarra TCT, do Valle Junior RF, Fernandes LFS, Pacheco FAL (2017) A multi criteria analog model for assessing the vulnerability of rural catchments to road spills of hazardous substances. Environ Impact Assess Rev 64:26–36

Torretta V, Rada EC, Schiavon M, Viotti P (2017) Decision support systems for assessing risks involved in transporting hazardous materials: a review. Saf Sci 92:1–9

Tubis A (2018) Route risk assessment for road transport companies. International conference on dependability and complex systems, 492–503

Vrabel J, Jagelcak J, Sarkan B, Skrucany T, Seliga A (2015) Transit routes for transportation of dangerous goods in the city of Bratislava. Mach Technol Mater 9(10):53–56

Wang J, He J, Chen H (2012) Assessment of groundwater contamination risk using hazard quantification, a modified DRASTIC model and groundwater value, Beijing plain, China. Sci Total Environ 432:216–226

Wang X, Zhu J, Ma F, Li C, Cai Y, Yang Z (2016) Bayesian network-based risk assessment for hazmat transportation on the middle route of the south-to-north water transfer project in China. Stoch Env Res Risk A 30(3):841–857

Yang J, Li F, Zhou J, Zhang L, Huang L, Bi J (2010) A survey on hazardous materials accidents during road transport in China from 2000 to 2008. J Hazard Mater 184(1–3):647–653

Zhang J, Hodgson J, Erkut E (2000) Using GIS to assess the risks of hazardous materials transport in networks. Eur J Oper Res 121(2):316–329

Zhao L, Wang X, Qian Y (2012) Analysis of factors that influence hazardous material transportation accidents based on Bayesian networks: a case study in China. Saf Sci 50(4):1049–1055

Zhao L, Qian Y, Hu Q-M, Jiang R, Li M, Wang X (2018) An analysis of hazardous chemical accidents in China between 2006 and 2017. Sustainability 10(8):2935
Acknowledgments
This research did not receive any specific grant from funding agencies in the public, commercial, or non-profit sectors. The authors would like to thank the Traffic Police Office of the Kurdistan Province for providing truck accident data.
Additional information
Publisher's note
Springer Nature remains neutral with regard to jurisdictional claims in published maps and institutional affiliations.
Responsible Editor: Philippe Garrigues
About this article
Cite this article
Ebrahimi, B., Ahmadi, S., Chapi, K. et al. Risk assessment of water resources pollution from transporting of oil hazardous materials (Sanandaj-Marivan road, Kurdistan Province, Iran). Environ Sci Pollut Res (2020). https://doi.org/10.1007/s11356-020-09886-8
Received:

Accepted:

Published:
Keywords
HazMat

Truck accident

Risk assessment

Water resources pollution

Poisson regression

Sanandaj-Marivan road

Responsible