Abstract
Due to many folds increase in application of human and veterinary medicines, pharmaceuticals, a new category of pollutants, have emerged in our environment. They exist as residues in rivers, sewage effluents, streams, surface, ground, and potable water. Paracetamol (acetaminophen) is one such drug that is used as an antipyretic and analgesic medicine. It is a non-steroidal antiinflammatory drug (NSAID) and is easily available in the market because no medical prescription is necessary for its purchase and use. Paracetamol remains physiologically active even after their expiry period. Their detection in the environment in bioactive form has resulted in adverse effects on nontarget species. To determine the effect of paracetamol on aquatic photosynthetic organic (Cyanobacteria—Nostoc muscorum), present study was performed. Paracetamol (25 mg/L, 50 mg/L, 75 mg/L, 100, 125, and 150 mg/L) exposure showed toxic responses on the test organism by generating oxidative stress (MDA, H2O2, O2.-). Paracetamol caused a significant decrease in growth of cyanobacteria and showed EC50 113.68 mg/L after the 6th day of treatment. Photosynthetic pigments (chlorophyll, carotenoid, and phycobiliprotein) decreased with paracetamol increase. Antioxidant enzymatic (SOD, CAT, APX, GST, and GR) and osmolyte (Proline) also increased with increase in paracetamol to counteract the oxidative stress.
This is a preview of subscription content, log in to check access.
Access options
Buy single article
Instant access to the full article PDF.
US$ 39.95
Price includes VAT for USA
Subscribe to journal
Immediate online access to all issues from 2019. Subscription will auto renew annually.
US$ 99
This is the net price. Taxes to be calculated in checkout.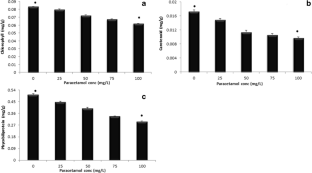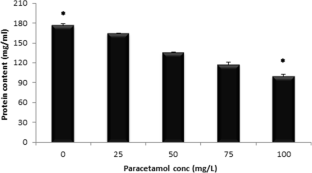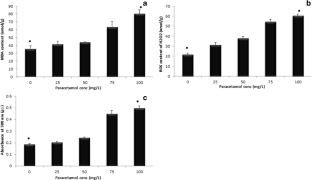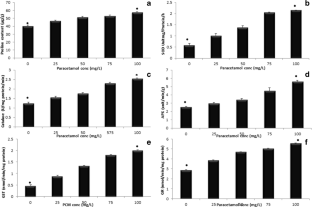 References
Aebi H (1984) Catalase in vitro. Methods Enzymol 22:43–94

Antunes SC, Freitas R, Figueira E, Gonçalves F, Nunes B (2013) Biochemical effects of acetaminophen in aquatic species: edible clams Venerupis decussata and Venerupis philippinarum. Environ Sci Pollut Res 20(9):6658–6666

Asada K (1999) The water-water cycle in chloroplasts: scavenging of active oxygens and dissipation of excess photons. Annu Rev Plant Biol 50(1):601–639

Bartha B, Huber C, Harpaintner R, Schröder P (2010) Effects of acetaminophen in Brassica juncea L. Czern.: investigation of uptake, translocation, detoxification, and the induced defense pathways. Environ Sci Pollut Res 17(9):1553–1562

Bartha B, Huber C, Schröder P (2014) Uptake and metabolism of diclofenac in Typha latifolia–how plants cope with human pharmaceutical pollution. Plant Sci 227:12–20

Bates LS, Wadern RP, Teare ID (1973) Rapid estimation of free proline for water stress determination. Plant Soil 39:205–207

Christou A, Antoniou C, Christodoulou C, Hapeshi E, Stavrou I, Michael C, Fatta-Kassinos D, Fotopoulos V (2016) Stress-related phenomena and detoxification mechanisms induced by common pharmaceuticals in alfalfa (Medicago sativa L.) plants. Sci Total Environ 557:652–664

Corcoran GB, Mitchell JR, Vaishnav YN, Horning EC (1980) Evidence that acetaminophen and N-hydroxyacetaminophen form a common arylating intermediate, N-acetyl-p-benzoquinoneimine. Mol Pharmacol 18(3):536–542

De Oliveira MA, Monteiro MP, Robbs PG, Leite SG (1999) Growth and chemical composition of Spirulina maxima and Spirulina platensis biomass at different temperatures. Aquac Int 7(4):261–275

Dhindsa RS, Dhindsa PP, Thorpe TA (1981) Leaf senescence: correlated with increased levels of superoxide dismutase and catalse. J Exp Bot 32:93–101

Dordio AV, Belo M, Teixeira DM, Carvalho AP, Dias CMB, Picó Y, Pinto AP (2011) Evaluation of carbamazepine uptake and metabolization by Typha spp., a plant with potential use in phytotreatment. Bioresour Technol 102(17):7827–7834

Foyer CH, Halliwell B (1976) The presence of glutathione and glutathione reductase in chloroplasts: a proposed role in ascorbic acid metabolism. Planta 133(1):21–25

Fram MS, Belitz K (2011) Occurrence and concentration of pharmaceuticals compound in ground water used for public drinking water supply in California. Sci Total Environ 409(3409):3417

Gajewska E, Skłodowska M (2007) Effect of nickel on ROS content and antioxidative enzyme activities in wheat leaves. Biometals 20(1):27–36

Grujic S, Vasiljevic T, Lausevic M (2009) Determination of multiple pharmaceutical classes in surface and ground waters by liquid chromatography–ion trap–tandem mass spectrometry. J Chromatogr A 1216(25):4989–5000

Habig WH, Pabst MJ, Jakoby WB (1974) Glutathione S-transferases the first enzymatic step in mercapturic acid formation. J Biol Chem 249(22):7130–7139

Hamid ZA, Budin SB, Jie NW, Hamid A, Husain K, Mohamed J (2012) Nephroprotective effects of Zingiber zerumbet Smith ethyl acetate extract against paracetamol-induced nephrotoxicity and oxidative stress in rats. J Zhejiang Univ Sci B 13(3):176–185

Heath RL, Packer L (1968) Photoperoxidation in isolated chloroplasts I. Stiochiomistry of fatty acid peroxidation. Arch Biochem Biophys 125(189–89):198

Henschel KP, Wenzel A, Diedrich M, Fliedner A (1997) Environmental hazard assessment of pharmaceuticals. Regul Toxicol Pharmacol 25(3):220–225

Jana S, Choudhuri MA (1982) Glycolate metabolism of three submersed aquatic angiosperms during ageing. Aquat Bot 12:345–354

Jensen A (1978) Chlorophylls and carotenoids. Handbook of phycological methods, physiological and biochemical methods. Cambridge university press, Cambridge, pp 59–70

Kolpin DW, Furlonge T, Meyer MT, Thurman EM, Zaugg SD, Barber LB, Buxton HT (2002) Pharmaceuticals, hormones and other organic waste water contaminants in U.S. streams, 1991-2000: a national reconnaissance. Environ Sci Techol 36:1202

Kummerova M, Zezulka S, Babula P, Triska J (2016) Possible ecological risk of two pharmaceuticals diclofenac and paracetamol demonstrated on a model plant Lemna minor. J Hazard Mater 302:351–361

Liu L, Liu YH, Liu CX, Wang Z, Dong J, Zhu GF, Huang X (2013) Potential effect and accumulation of veterinary antibiotics in Phragmites australis under hydroponic conditions. Ecol Eng 53:138–143

Lowry OH, Rosebrough NJ, Farr AL, Randall RJ (1951) Protein measurement with the Folin phenol reagent. J Biol Chem 193:265–275

MacCord JM (1969) Superoxide dismutase: an enzymatic function for erythrocuprein (hemocuprein). J Biol Chem 244:6049–6055

Mackinney G (1941) Absorption of light by chlorophyll solution. J Biol Chem 140:315–322

Mutiyar PK, Mittal AK (2013) Occurrences and fate of an antibiotic amoxicillin in extended aeration-based sewage treatment plant in Delhi, India: a case study of emerging pollutant. Desalin Water Treat 51(31–33):6158–6164

Nakano Y, Asada K (1981) Hydrogen peroxide is scavenged by ascorbate specific peroxidase in spinach chloroplast. Plant Cell Physiol 22:867–880

Nie XP, Liu BY, Yu HJ, Liu WQ, Yang YF (2013) Toxic effects of erythromycin, ciprofloxacin and sulfamethoxazole exposure to the antioxidant system in Pseudokirchneriella subcapitata. Environ Pollut 172:23–32

Noctor G, Foyer CH (1998) Ascorbate and glutathione: keeping active oxygen under control. Annu Rev Plant Biol 49(1):249–279

Nunes B, Antunes SC, Santos J, Martins L, Castro BB (2014a) Toxic potential of paracetamol to freshwater organisms: a headache to environmental regulators. Ecotoxicol Environ Saf 107:178–185

Nunes B, Pinto G, Martins L, Gonçalves F, Antunes SC (2014b) Biochemical and standard toxic effects of acetaminophen on the macrophyte species Lemna minor and Lemna gibba. Environ Sci Pollut Res 21(18):10815–10822

Olaleye MT, Rocha BJ (2008) Acetaminophen-induced liver damage in mice: effects of some medicinal plants on the oxidative defense system. Exp Toxicol Pathol 59(5):319–327

Oppenheimer C, Stern KG (1939) Biological oxidation. Junk, The Hague 256

Pai EF, Schulz GE (1983) The catalytic mechanism of glutathione reductase as derived from x-ray diffraction analyses of reaction intermediates. J Biol Chem 258(3):1752–1757

Rabiet M, Togola A, Brissaud F, Seidel JL, Budzinski H, Elbaz-Poulichet F (2006) Consequence of waste water disposal on the contamination of the water resource by pharmaceuticals in a mediterranean basin. Environ Sci Technol 40(5282):5288

Robert PH, Thomas KV (2006) The occurrence of selected pharmaceuticals in wastewater effluent and surface waters of the lower Tyne catchment. Sci Total Environ 356(1–3):143–153

Roncalli V, Cieslak MC, Passamaneck Y, Christie AE, Lenz PH (2015) Glutathione S-transferase (GST) gene diversity in the crustacean Calanus finmarchicus–contributors to cellular detoxification. PLoS One 10(5):e0123322

Siegelman HW, Kygia JH (1978) Handbook of phycological methods. Cambridge university press, Cambridge, pp 9–73

Subedi B, Balakrishna K, Joshua DI, Kannan K (2017) Mass loading and removal of pharmaceuticals and personal care products including psychoactives, antihypertensives, and antibiotics in two sewage treatment plants in southern India. Chemosphere 167:429–437

Ternes TA (1998) Occurrence of drugs in German sewage treatment plants and rivers. Water Res 32(11):3245–3260

Touliabah HE, El-Bassat RA, El-Shimy A, Harisa GI (2008) Oxidative stress of plankton community and some isolated species during paracetamol toxicity test. J Biol Sci 8(1):13–23

Wan J, Guo P, Peng X, Wen K (2015) Effect of erythromycin exposure on the growth, antioxidant system and photosynthesis of Microcystis flos-aquae. J Hazard Mater 283:778–786

Wang DC, Chu WL, Kok YY (2015) Assessment of paracetamol (acetaminophen) toxicity in microalgae. Pol J Environment Stud 24(2):735–741

Wiegel S, Aulinger A, Brockmeyer R, Harms H, Loffler J, Reincke H, Schmidt R, Stachel B, Von Trumpling W, Wanke A (2004) Pharmaceuticals in the river Elbe and its tributaries. Chemosphere 57:107–2004

Xu JJ, Hendriks BS, Zhao J, de Graaf D (2008) Multiple effects of acetaminophen and p38 inhibitors: towards pathway toxicology. FEBS Lett 582(8):1276–1282

Yousef MI, Omar SAM, El-Guendia MI, Laila A, Abdelmegid LA (2010) Potential protective effects of quercetin and curcumin on paracetamol-induced histological changes, oxidative stress, impaired liver and kidney functions and haematotoxicity in rat. Food Chem Toxicol 48(11):3246–3261

Zhang W, Zhang M, Lin K, Sun W, Xiong B, Guo M, Cui X, Fu R (2012) Eco-toxicological effect of carbamazepine on Scenedesmus obliquus and Chlorella pyrenoidosa. Environ Toxicol Pharmacol 33(2):344–352
Acknowledgements
S. Fatima sincerely thanks CSIR (09/446 (0186)/2017 EMR-I) for JRF fellowship. Authors are thankful to Culture Collection Centres of India IARI for providing the strain.
Additional information
Publisher's note
Springer Nature remains neutral with regard to jurisdictional claims in published maps and institutional affiliations.
Responsible Editor: Lotfi Aleya
About this article
Cite this article
Fatima, S., Asif, N., Ahmad, R. et al. Toxicity of NSAID drug (paracetamol) to nontarget organism—Nostoc muscorum. Environ Sci Pollut Res (2020). https://doi.org/10.1007/s11356-020-09802-0
Received:

Accepted:

Published:
Keywords
Cyanobacteria

Pharmaceutical

Paracetamol

Oxidative stress

Lipid peroxidation

Antioxidant