Abstract
Manure-based fertilizer is usually applied to agricultural soils to increase soil fertility and improve soil quality. However, this practice has an impact on the soil environment, e.g., increasing heavy metal contents. The aim of this study was to evaluate and estimate the accumulation tendencies of eight heavy metals, including arsenic (As), cadmium (Cd), chromium (Cr), copper (Cu), mercury (Hg), lead (Pb), manganese (Mn), and zinc (Zn) in a soil fertilized continuously with dairy manure through a 5 years' field-scale experiment. Contents of the As, Cd, Cr, Cu, Mn, and Zn gradually increased with the fertilization time of dairy manure at the stable rate of around 326 t hm-2 year-1, leading to annual mean increases of 3.6%, 2.4%, 3.9%, 3.8%, 4.2%, and 6.1%, respectively. Based on the prediction of a dynamic mass balance model using the current practice, the contents of Cd and Zn in the fertilized soil would reach the Chinese standard values for agricultural soils in 48 and 35 years. The mitigation measures, such as lower application rates, for the environmental risk of heavy metal accumulation should be considered.
This is a preview of subscription content, log in to check access.
Access options
Buy single article
Instant access to the full article PDF.
US$ 39.95
Price includes VAT for USA
Subscribe to journal
Immediate online access to all issues from 2019. Subscription will auto renew annually.
US$ 99
This is the net price. Taxes to be calculated in checkout.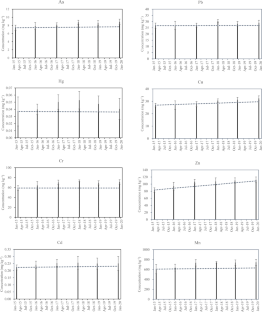 References
Alvarenga P, Mourinha C, Farto M, Santos T, Palma P, Sengo J, Morais MC, Cunha-Queda C (2015) Sewage sludge, compost and other representative organic wastes as agricultural soil amendments: benefits versus limiting factors. Waste Manag 40:44–52

Bai Y, Wang M, Peng C, Alatalo JM (2016) Impacts of urbanization on the distribution of heavy metals in soils along the Huangpu River, the drinking water source for Shanghai. Environ Sci Pollut Res 23:5222–5231

de Meeûs C, Eduljee GH, Hutton M (2002) Assessment and management of risks arising from exposure to cadmium in fertilisers. I Sci Total Environ 291:167–187

Franco A, Schuhmacher M, Roca E, Domingo JL (2006) Application of cattle manure as fertilizer in pastureland: Estimating the incremental risk due to metal accumulation employing a multicompartment model. Environ Int 32:724–732

Guan DX, Sun FS, Yu GH, Polizzotto ML, Liu YG (2018) Total and available metal concentrations in soils from six long-term fertilization sites across China. Environ Sci Pollut Res 25:31666–31678

Guo T, Lou CL, Zhai WW, Tang XJ, Hashmi MZ, Murtaza R, Li Y, Liu XM, Xu JM (2018) Increased occurrence of heavy metals, antibiotics and resistance genes in surface soil after long-term application of manure. Sci Total Environ 635:995–1003

Hou DY, O'Connor D, Nathanail P, Tian L, Ma Y (2017) Integrated GIS and multivariate statistical analysis for regional scale assessment of heavy metal soil contamination: A critical review. Environ Pollut 231:1188–1200

Hu WY, Wang HF, Dong LR, Huang B, Borggaard OK, Hansen HCB, He Y, Holm PE (2018) Source identification of heavy metals in peri-urban agricultural soils of southeast China: An integrated approach. Environ Pollut 237:650–661

Leclerc A, Laurent A (2017) Framework for estimating toxic releases from the application of manure on agricultural soil: national release inventories for heavy metals in 2000-2014. Sci Total Environ 590-591:452–460

Li YX, Xiong X, Lin CY, Zhang FS, Li W, Han W (2010) Cadmium in animal production and its potential hazard on Beijing and Fuxin farmlands. J Hazard Mater 177:475–480

Li J, Xu Y, Wang LQ, Li FD (2019) Heavy metal occurrence and risk assessment in dairy feeds and manures from the typical intensive dairy farms in China. Environ Sci Pollut Res 26:6348–6358

Lopes C, Herva M, Franco-Uria A, Roca E (2011) Inventory of heavy metal content in organic waste applied as fertilizer in agriculture: evaluating the risk of transfer into the food chain. Environ Sci Pollut Res 18:918–939

MEE China (Ministry of Ecology and Environment, the People's Republic of China) (2018) Soil environmental quality: risk control standard for soil contamination of agricultural land (GB15618). Standards Press of China, Beijing, China

MEP China (Ministry of Environmental Protection, the People's Republic of China) (2016) Soil Environmental Quality Standard for Agricultural Land (3rd Edition, Exposure Draft). Available at http://www.mee.gov.cn/gkml/hbb/bgth/201603/t20160315_332881.htm

Michaud AM, Cambier P, Sappin-Didier V, Deltreil V, Mercier V, Rampon JN, Sabine HS (2019) Mass balance and long-term soil accumulation of trace elements in arable crop systems amended with urban composts or cattle manure during 17 years. https://doi.org/10.1007/s11356-019-07166-8

Minari GD, Rosalen DL, Pessôa da Cruz MC, José de Melo W, Carareto Alves LM, Saran LM (2017) Agricultural management of an Oxisol affects accumulation of heavy metals. Chemosphere 185:344–350

Moolenaar SW, van der Zee SE, Lexmond TM (1997) Indicators of the sustainability of heavy metal management in agroecosystems. Sci Total Environ 20:155–169

NBSC (National Bureau of Statistics of China) (2019) China Statistical Yearbook. China Statistics Press, Beijing

Qian XY, Shen GX, Yao Z, Guo CX, Xu SX, Wang ZQ (2012) Town-based spatial heterogeneity of nutrient balance and potential pollution risk of land application of animal manure and fertilizer in Shanghai. China Nutr Cycl Agroecosys 92:67–77

Qian MR, Wu HZ, Wang JM, Zhang H, Zhang ZL, Zhang YZ, Lin H, Ma JW (2016) Occurrence of trace elements and antibiotics in manure-based fertilizers from the Zhejiang Province of China. Sci Total Environ 559:174–181

Qian XY, Shen GX, Wang ZQ, Zhang XL, Hong ZX (2018a) Effect of swine liquid manure application in paddy field on water quality, soil fertility and crop yields. Paddy Water Environ 16:15–22

Qian XY, Wang ZQ, Shen GX, Chen XH, Tang ZZ, Guo CX, Gu HR, Fu K (2018b) Heavy metals accumulation in soil after 4 years of continuous land application of swine manure: a field-scale monitoring and modeling estimation. Chemosphere 210:2019–1034

Shen GX, Qian XY, Yao Z, Xu ZX, Huang SF, Yan ZC (2005) Evaluation of livestock and poultry breeding carrying capacity of arable lands in Shanghai suburbs. Livestock Environment VII - Proceedings of the Seventh International Symposium:452–457

Sungur A, Soylak M, Yilmaz S, Ozcan H (2016) Heavy metal mobility and potential availability in animal manure: using a sequential extraction procedure. J Mater Cycles Waste Manag 18:563–572

Sungur A, Soylak M, Ozcan H (2019) Source identification and risk assessments for heavy metals in soils near a small-scale industrial area (Çanakkale-Turkey). Soil Sediment Contam 28:213–227

Wang H, Dong YH, Yang YY, Toor GS, Zhang XM (2013) Changes in heavy metal contents in animal feeds and manures in an intensive animal production region of China. J Environ Sci 25:2435–2442

Wang PC, Li ZG, Liu JL, Bi XY, Ning YQ, Yang SC, Yang XJ (2019) Apportionment of sources of heavy metals to agricultural soils using isotope fingerprints and multivariate statistical analyses. Environ Pollut 249:208–216

Xu Y, Li J, Zhang XB, Wang LQ, Xu XB, Xu L, Gong HR, Xie HY, Li FD (2019) Data integration analysis: heavy metal pollution in China's large-scale cattle rearing and reduction potential in manure utilization. J Clean Prod 232:308–317

Yang XP, Li Q, Tang Z, Zhang WW, Yu GH, Shen QR, Zhao FJ (2017) Heavy metal concentrations and arsenic speciation in animal manure composts in China. Waste Manag 64:333–339

Zhao YC, Yan ZB, Qin JH, Xiao ZW (2014) Effects of long-term cattle manure application on soil properties and soil heavy metals in corn seed production in Northwest China. Environ Sci Pollut Res 21:7586–7595
Funding
This work was funded by the Major Science and Technology Program for Water Pollution Control and Treatment (2014ZX07602004) from Ministry of Science and Technology of China and the Key Programs of Science and Technology from Shanghai Municipal Bureau of Ecology and Environment (2015-05 and 2016-02).
Additional information
Publisher's note
Springer Nature remains neutral with regard to jurisdictional claims in published maps and institutional affiliations.
Responsible Editor: Kitae Baek
About this article
Cite this article
Qian, X., Shen, G., Wang, Z. et al. Application of dairy manure as fertilizer in dry land in East China: field monitoring and model estimation of heavy metal accumulation in surface soil. Environ Sci Pollut Res (2020). https://doi.org/10.1007/s11356-020-09786-x
Received:

Accepted:

Published:
Keywords
Heavy metals

Fertilized soil

Dairy manure

Mass balance modeling

Environmental risk evaluation