Abstract
The current paper aimed at evaluating and optimizing the efficiency of energy use and mitigation of environmental pollution by minimizing the emissions and intensity of greenhouse gases (GHG) for farm production systems in Mashhad, Iran. The results indicated that the total values of consumed energy were equal to 28,648, 38,479, and 43,490 MJha−1 for barley, canola, and forage corn, respectively. The highest rate of the consumed energy for all crops belonged to irrigation electricity, diesel fuel, and nitrogen consumption. The highest and lowest energy efficiencies were respectively achieved from forage corn and canola, while barley production led to the lowest GHG emissions. The estimation of GHG intensity demonstrated that canola with 53% took up the highest intensity, which was followed by barley (30%) and forage corn (17%). Since the intensity of GHG takes into account the amount of energy produced by each crop per hectare, this index is more suitable than GHG emissions for assessing environmental pollution. The results of optimal responses of the multiple goal programming (MGP) model revealed that the optimum evaluated cultivation areas (for meeting the goals of the study) for barley and forage corn were 10,088 and 3256 ha, respectively, while the MGP model generally eliminates canola from the cultivation plan. On the other hand, the plan proposed by the MGP model increases the total energy efficiency from 103,625 for the current systems to 105,169 for the optimized systems per year. Furthermore, the emissions and intensity of GHG were reduced by the model to 311,786 kgCO2eq and 10 kgCO2eq MJoutput−1 per year, respectively.
This is a preview of subscription content, log in to check access.
Access options
Buy single article
Instant access to the full article PDF.
US$ 39.95
Price includes VAT for USA
Subscribe to journal
Immediate online access to all issues from 2019. Subscription will auto renew annually.
US$ 99
This is the net price. Taxes to be calculated in checkout.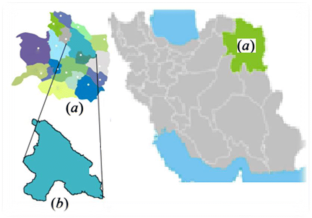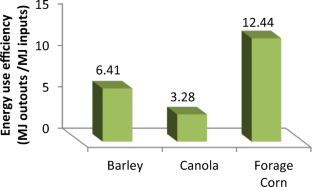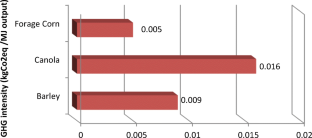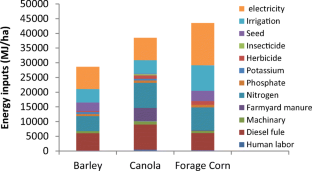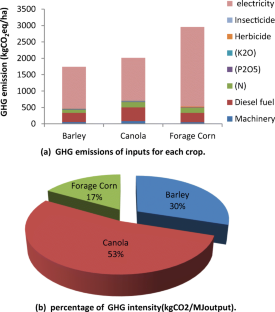 References
Adewale C, Higgins S, Granatstein D, Stockle CO, Carlson BR, Zaher UE, Carpenter-Boggs L (2016) Identifying hot-spots in the carbon footprint of a small scale organic vegetable farm. Agric Syst 149:112–121

Acaroglu M, Aksoy AS (2005) The cultivation and energy balance of Miscanthus × giganteus production in Turkey. Biomass Bioenergy 29:42–48

Aghaalikhani M, Kazemi-Poshtmasari H, Habibzadeh F (2013) Energy use pattern in rice production: a case study from Mazandaran province, Iran. Energy Convers Manag 69:157–162

Almasi M (2005) Energy management in agriculture, masters textbook of agricultural mechanization. Azad university of Science and Research of Tehran, Iran (In Persian)

Almassi M, Kiani Sh, Loveimi N (2008) Principles of agricultural mechanization, jungle publication. Tehran, Iran (In Persian)

Anonymous (2018) Annual Agricultural Statistics. Jihad-e-Agriculture of Razavi Khorasan Province, Iran. http://www.koaj.ir. Accessed 15 March 2020

Banaeian N, Omid M, Ahmadi H (2011) Energy and economic analysis of greenhouse strawberry production in Tehran province of Iran. Energy Convers Manag 52(1020):1025

Beigi M, Torki-Harchegani M, Ghanbarian D (2016) Energy use efficiency and economical analysis of almond production: a case study in Chaharmahal-Va-Bakhtiari Province, Iran. Energy Efficiency 9:745–754

Charnes A, Cooper WW (1977) Goal programming and multiple objective optimizations. Eur J Oper Res 1:39–54

Colapinto C, Jayaraman R, Marsiglio S (2017) Multi-criteria decision analysis with goal programming in engineering, management and social sciences: a state-of-the art review. Ann Oper Res 251(1–2):7–40

Dyer JA, Desjardins RL (2006) Carbon dioxide emissions associated with the manufacturing of tractors and farm machinery in Canada. Biosyst Eng 93(1):107–118

Dyer JA, Desjardins RL (2003) Simulated farm fieldwork, energy consumption and related greenhouse gas emissions in Canada. Biosyst Eng 85(4):503–513

Erdal G, Esengun K, Erdal H, Gunduz O (2007) Energy use and economical analysis of sugar beet production in Tokat Province of Turkey. Energy 32:35–41

Esengun K, Gunduz O, Erdal G (2007) Input-output energy analysis in dry apricot production of Turkey. Energy Convers Manag 48:592–598

Ghahderijani M, Pishgar-Komleh H, Keyhani A, Sefeedpari P (2013) Energy analysis and life cycle assessment of wheat production in Iran. Afr J Agric Res 8:1929–1939

Gokdogan O, Seydosoglu S, Kokten K, Sukru Bengu A, Firat Baran M (2017) Energy input-output analysis of guar (Cyamopsis tetragonoloba) and lupin(Lupinus albus L.) production in Turkey. Legum Res 40(3):526–531

Gundogmus E (2006) Energy use on organic farming: a comparative analysis on organic versus conventional apricot production on small holding in Turkey. Energy Convers Manag 47:3351–3359

Geberzgbher SA, Meuwissen MPM, Oude Lansink AGJMA (2014) Multiple criteria decision making approach to manure management systems in the Netherlands. Eur J Oper Res 232(3):643–653

Gupta S, Fügenschuh A, Ali I (2018) A multi-criteria goal programming model to analyze the sustainable goals of India. Sustainability 10:778. https://doi.org/10.3390/su10030778

Gustavo G, Camargo T, Ryan MR, Richard TL (2013) Energy use and greenhouse gas emissions from crop production using the farm energy analysis tool. BioScience 63:263–273

Hatirli SA, Ozkan B, Fert C (2005) An econometric analysis of energy input-output in Turkish agriculture. Renew Sust Energ Rev 9:608–623

Hosseini-Fashami F, Motevali A, Nabavi-Pelesaraei A, Hashemi SJ, Chau KW (2019) Energy-life cycle assessment on applying solar technologies for greenhouse strawberry production. Renew Sust Energ Rev 116:109411

Hosseinzadeh-Bandbafha H, Nabavi-Pelesaraei A, Khanali M, Ghahderijani M, Chau KW (2018) Application of data envelopment analysis approach for optimization of energy use and reduction of greenhouse gas emission in peanut production of Iran. J Clean Prod 172:1327–1335

IPCC (2013) Intergovernmental panel on climate change, climate change. The physical science basis. Contribution of Working Group I to the Fifth Assessment Report of the IPCC, Cambridge and New York, p 1585

Ismael M, Srouji F, Boutabba MA (2018) Agricultural technologies and carbon emissions: evidence from Jordanian economy. Environ Sci Pollut Res 25(11):10867–10877

Jayaraman R, Colapinto C, La Torre D, Malik T (2017a) A weighted goal programming model for planning sustainable development applied to Gulf Cooperation Council countries. Appl Energy 185:1931–1939

Jayaraman R, Colapinto C, Liuzzi D, La Torre D (2017b) Planning sustainable development through a scenario-based stochastic goal programming model. Oper Res Int J 17(3):789–805

Jayaraman R, La Torre D, Malik T, Pearson YE (2015) Optimal labor allocation for energy, economic and environmental sustainability in the United Arab Emirates. A goal programming approach. Energy Procedia 75:2999–3006

Kazemi H, Hassanpour Bourkheili S, Kamkar B, Soltani A, Gharanjic K, Nazari NM (2016) Estimation of greenhouse gas (GHG) emission and energy use efficiency (EUE) analysis in rainfed canola production (case study: Golestan province, Iran). Energy 116:694–700

Khojastehpour M, Nikkhah A, Hashemabadi D (2015) A comparative study of energy use and greenhouse gas emissions of canola production. Int J Agr Manag Dev 5(1):51–58

Khoshnevisan B, Rafiee S, Omid M, Mousazadeh H (2013) Applying data envelopment analysis approach to improve energy efficiency and reduce GHG (greenhouse gas) emission of wheat production. Energy 5:588–593

Kitani O (1999) Energy for biological systems In: The International Commission of Agricultural Engineering, editor, CIGR handbook of agricultural engineering: Energy and biomass engineering, V. American Society of Agricultural Engineers, (2.1 J Ortiz-Canavate J. and JL Hernanz Energy Analysis), (3.3. P.C. Padger, Solid Fuels) pp: 351

Koocheki A, Hosseini M (1994) Energy efficiency in agricultural ecosystems, Ferdowsi University of Mashhad Press, Mashhad (in Persian)

Lal R (2004) Carbon emission from farm operations. Environ Int 30:981–990

Mobtaker HG, Keyhani A, Mohammadi A, Rafiee S, Akram A (2010) Sensitivity analysis of energy inputs for barley production in Hamedan Province of Iran. Agric Ecosyst Environ 137:367–372

Mohammadi A, Rafiee S, Mohtasebi SS, Rafiee H (2010) Energy inputs-yield relationship and cost analysis of kiwifruit production in Iran. Renew Energy 35:1071–1075

Mohammadi A, Rafiee S, Jafari A, Keyhani A, Mousavi-Avval SH, Nonhebel S (2014) Energy use efficiency and greenhouse gas emissions of farming systems in North Iran. Renew Sust Energ Rev 30:724–733

Mohammadzadeh A, Mahdavi Damghani A, Vafabakhsh J, Deihimfard R (2017) Assessing energy efficiencies, economy and global warming potential (GWP) effects of major crop production system in Iran: a case study in East Azerbaijan province. Environ Sci Pollut Res 24(20):16971–16984

Mostashari-Rad F, Nabavi-Pelesaraei A, Soheilifard F, Hosseini-Fashami F, Chau KW (2019) Energy optimization and greenhouse gas emissions mitigation for agricultural and horticultural systems in Northern Iran. Energy 186:115845

Nabavi-Pelesaraei A, Abdi R, Rafiee S, Mobtaker HG (2014) Optimization of energy required and greenhouse gas emissions analysis for orange producers using data envelopment analysis approach. J Clean Prod 65:311–317

Nabavi-Pelesaraei A, Hosseinzadeh-Bandbafha H, Qasemi-Kordkheili P, Kouchaki-Penchah H, Riahi-Dorcheh F (2016) Applying optimization techniques to improve of energy efficiency and GHG (greenhouse gas) emissions of wheat production. Energy 103:672–678

Nabavi-Pelesaraei A, Rafiee S, Mohtasebi SS, Hosseinzadeh-Bandbafha H, Chau KW (2017) Energy consumption enhancement and environmental life cycle assessment in paddy production using optimization techniques. J Clean Prod 162:571–586

Oliveira C, Coelho D, Antunes CH (2016) Coupling input–output analysis with multiobjective linear programming models for the study of economy–energy–environment–social (E3S) trade-offs: a review. Ann Oper Res 247(2):471–502

Omrani H, Valipour M, Emrouznejad A (2019) Using weighted goal programming model for planning regional sustainable development to optimal workforce allocation: an application for provinces of Iran. Soc Indic Res 141(3):1007–1035

Ozkan B, Akcaoz H, Fert C (2004) Energy input-output analysis in Turkish agriculture. Renew Energy 29:39–51

Panwar NL, Kaushik SC, Kothari S (2011) Role of renewable energy sources in environmental protection. A review. Renew Sust Energ Rev 15(3):1513–1524

Prisenk J, Turk J, Rozman C, Borec A, Zrakic M, Pazek K (2014) Advantages of combining linear programming and weighted goal programming for agriculture application. Oper Res Int J 14(2):253–260

San Cristobal JR (2012) A goal programming model for environmental policy analysis: application to Spain. Energy Policy 43:303–307

Sarauskis E, Masilionyte L, Juknevicius D, Buragiene S, Kriauciuniene Z (2019) Energy use efficiency, GHG emissions, and cost-effectiveness of organic and sustainable fertilization. Energy 172:1151–1160

Sununta N, Kongboon R, Sampattagul S (2019) GHG evaluation and mitigation planning for low carbon city case study: Dan Sai municipality. J Clean Prod 228:1345–1353

Soltani A, Rajabi MH, Zeinali E, Soltani E (2013) Energy inputs and greenhouse gases emissions in wheat production in Gorgan, Iran. Energy 50:54–61

Talukder B, VanLoon GW, Hipelcd KW (2019) Energy efficiency of agricultural systems in the southwest coastal zone of Bangladesh. Ecol Indic 98:641–648

Tzilivakis J, Warner DJ, May M, Lewis KA, Jaggard K (2005) An assessment of the energy inputs and greenhouse gas emissions in sugar beet (Beta vulgaris) production in the UK. Agric Syst 85:101–119

Unakitan G, Hurma H, Yilmaz F (2010) An analysis of energy use efficiency of canola production in Turkey. Energy 35:3623–3627

Wang P, Souma K, Kobayashi Y, Iwabuchi K, Sato C, Masuko T (2010) Influences of northern leaf blight on corn silage fermentation quality, nutritive value and feed intake by sheep. Anim Sci J 81(4):487–493

West TO, Marland G (2002) A synthesis of carbon sequestration, carbon emissions, and net carbon flux in agriculture, comparing tillage practices in the United States. Agric Ecosyst Environ 91:217–232

Yildizhan H (2018) Energy, exergy utilization and CO2 emission of strawberry production in greenhouse and open field. Energy 143:417–423

Yilmaz I, Akcaoz H, Ozkan B (2005) An analysis of energy use and input costs for cotton production in Turkey. Renew Energy 30:145–155
Additional information
Publisher's note
Springer Nature remains neutral with regard to jurisdictional claims in published maps and institutional affiliations.
Responsible editor: Philippe Garrigues
About this article
Cite this article
Taleghani, A., Almassi, M. & Ghahderijani, M. Environmental evaluation and optimization of energy use and greenhouse gases mitigation for farm production systems in Mashhad, Iran. Environ Sci Pollut Res (2020). https://doi.org/10.1007/s11356-020-09778-x
Received:

Accepted:

Published:
Keywords
Optimization

Energy efficiency

Mitigation

GHG emissions

GHG intensity