Abstract
A total of 77 street dust samples were collected from Jinan City in East China and were analyzed for the concentrations, speciation, bioavailability, and influencing factors of ten heavy metals. The results showed that the average concentrations of Ba, Co, Cr, Cu, Cd, Mn, Ni, Pb, Zn, and V in the street dust were 642.77, 8.24, 114.09, 87.71, 1.08, 517.04, 30.29, 80.32, 497.84, and 51.76 mg/kg, and the concentrations of Ba, Cr, Cu, Cd, Ni, Pb, and Zn exceeded the local soil element background values. In the street dust, Ba, Co, Cr, Mn, Ni, and V were mainly in the residual; Cu and Pb were controlled by the oxidizable; Cd mainly existed in the acid extractable; and Zn was dominated by the reducible. According to the ratios of the acid extractable to the sum of four forms, Cd (39.85%) presented a high environmental risk; Mn and Zn (24.29% and 27.78%) exhibited a medium risk; and V, Cu, Pb, Ba, Co, Ni, and Cr had no environmental risk. The order of mobility or potential risk of heavy metals was Cd ( 85.8%) > Zn (77.1%) > Cu (64.3%) > Pb (62.0%) > Mn (51.7%) > Ba ( 38.9%) > Co (31.2%) > Ni (30.1%) > V (25.8%) > Cr (23.1%), suggesting that Cd, Zn, Cu, Pb, and Mn presented relatively high movability and risk. The bioavailability order of heavy metals was Cd (82.7%) > Zn (63.6%) > Mn (40.4%) > Ni (20.4%) > Pb (11.7%) > Cu (11.1%) > V (7.8%) > Cr (3.7%) in the gastric phase and Cu (24.6%) > Cd (19.9%) > Mn (16.2%) > Ni (6.6%) > Pb (5.7%) > Zn (4.4%) > Cr (3.0%) > V (2.3%) in intestinal phase, implying that Cd, Zn, Mn, and Cu were highly bioavailable in the gastrointestinal environment, which coincided with the risk of speciation. The speciation of heavy metals in street dust had certain correlations with their bioavailability. The physiochemical properties of street dust had significant effects on the concentrations, speciation, and bioavailability of heavy metals in street dust. The simple, fast, and nondestructive magnetic measurements could be used as indicators of the concentrations, speciation, and bioavailability of heavy metals in street dust.
This is a preview of subscription content, log in to check access.
Access options
Buy single article
Instant access to the full article PDF.
US$ 39.95
Price includes VAT for USA
Subscribe to journal
Immediate online access to all issues from 2019. Subscription will auto renew annually.
US$ 99
This is the net price. Taxes to be calculated in checkout.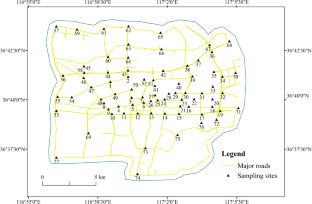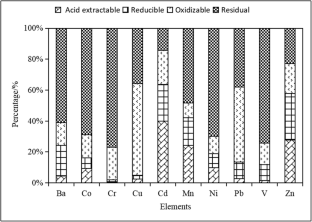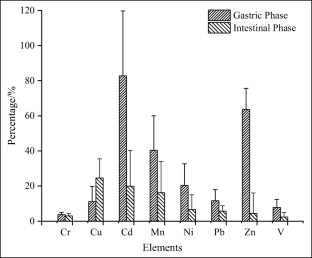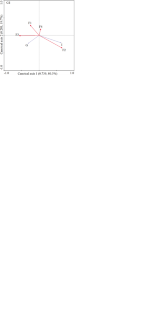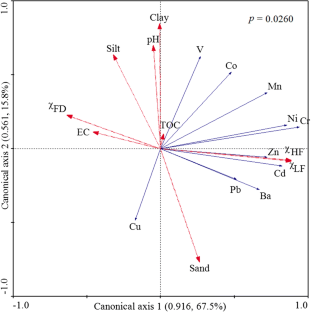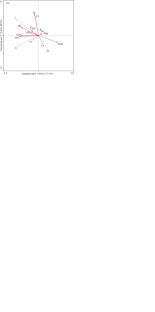 References
Acosta JA, Faz Cano A, Arocena JM, Debela F, Martínez-Martínez (2009) Distribution of metals in soil particle size fractions and its implication to risk assessment of playgrounds in Murcia City (Spain). Geoderma 149:101–109

Acosta JA, Faz Cano A, Kalbitz K, Jansen BJ, Martínez-Martínez S (2014) Partitioning of heavy metals over different chemical fraction in street dust of Murcia (Spain) as a basis for risk assessment. J Geochem Explor 144:298–305

Adams ML, Zhao FJ, McGrath SP, Nicholson FA, Chambers BJ (2004) Predicting cadmium concentrations in wheat and barley grain using soil properties. J Environ Qual 33:532–541

Akhbarizadeh R, Moore F, Keshavarzi B, Moeinpour A (2017) Microplastics and potentially toxic elements in coastal sediments of Iran's main oil terminal (Khark Island). Environ Pollut 220:720–731

Al-Khashman OA (2007) Determination of metal accumulation in deposited street dusts in Amman, Jordan. Environ Geochem Health 29:1–10

Armid A, Shinjo R, Zaeni A, Sani A, Ruslan R (2014) The distribution of heavy metals including Pb, Cd and Cr in Kendari Bay surfificial sediments. Mar Pollut Bull 84:373–378

Atiemo MS, Ofosu GF, Kuranchie-Mensah HA, Tutu ONDM, Palm L, Blankson SA (2011) Contamination assessment of heavy metals in road dust from selected roads in Accra, Ghana. Res J Environ Earth Sci 3:473–480

Bastami KD, Neyestani MR, Esmaeilzadeh M, Haghparast S, Alavi C, Fathi S, Nourbakhsh S, Shirzadi EA, Parhizgar R (2017) Geochemical speciation, bioavailability and source identification of selected metals in surface sediments of the Southern Caspian Sea. Mar Pollut Bull 114:1014–1023

Bi X, Liang SY, Li XD (2013) A novel in situ method for sampling urban soil dust: particle size distribution, trace metal concentrations, and stable lead isotopes. Environ Pollut 177:48–57

Bilos C, Colombo JC, Skorupka CN, Rodriguez Presa MJ (2001) Sources, distribution and variability of airborne trace metals in La Plata City area, Argentina. Environ Pollut 111:149–158

Botsou F, Sungur A, Kelepertzis E, Soylak M (2016) Insights into the chemical partitioning of trace metals in road side and off-road agricultural soils along two major highways in Attica's region, Greece. Ecotox Environ Safe 132:101–110

Bourliva A, Papadopoulou L, Aidona E (2016) Study of road dust magnetic phases as the main carrier of potentially harmful trace elements. Sci Total Environ 553:380–391

Bourliva A, Kantiranis N, Papadopoulou L, Aidona E, Christophoridis C, Kollias P, Evgenakis M, Fytianos K (2018) Seasonal and spatial variations of magnetic susceptibility and potentially toxic elements (PTEs) in road dusts of Thessaloniki city, Greece: A one-year monitoring period. Sci Total Environ 639:417–427

Cao ZZ, Yang YH, Lu JL, Zhang CX (2011) Atmospheric particle characterization, distribution, and deposition in Xi'an, Shaanxi Province, Central China. Environ Pollut 159:577–584

Cao Z, Yu G, Chen Y, Cao Q, Fiedler H, Deng S, Huang J, Wang B (2012) Particle size: a missing factor in risk assessment of human exposure to toxic chemicals in settled indoor dust. Environ Int 49:24–30

CNEMC (China National Environmental Monitoring Centre) (1990) The soil element background values of China. Environmental Science Press of China

Cong M, Liu RM, Xu F, Wang QR, Guo LJ, Shen ZY (2018) Pollution characteristics, risk assessment, and source apportionment of heavy metals in road dust in Beijing, China. Sci Total Environ 612:138–147

Du Y, Gao B, Zhou H, Ju X, Hao H, Yin S (2013) Health risk assessment of heavy metals in road dusts in urban parks of Beijing, China. Procedia Environ Sci 18:299–309

Guan W, Xia DS, Liu XM, Chen FH, Ye Y, Yang LP, Chen JH, Zhou AF (2008) Spatial and temporal variation in magnetic properties of street dust in Lanzhou City, China. Sci Bull 53:1913–1923

Gunawardana C, Goonetilleke A, Egodawatta P, Dawes L, Kokot S (2012) Source characterisation of road dust based on chemical and mineralogical composition. Chemosphere 87:163–170

Han XF, Lu XW, Zhang QH, Hai QS, Pan HY (2016) Grain-size distribution and contamination characteristics of heavy metal in street dust of Baotou, China. Environ Earth Sci 75:1–10

Hossein K, Maria G, Ali A, Sivia MM, Angle F, Acosta JA (2019) Environmental impact assessment of industrial activities on heavy metals distribution in street dust and soil: a review. Chemosphere 217:695–705

Hu BB, Liu BQ, Zhou J, Guo JT, Sun ZB, Meng WQ, Guo X, Duan JH (2016) Health risk assessment on heavy metals in urban street dust of Tianjin based on trapezoidal fuzzy numbers. Hum Ecol Risk Assess 22:678–692

Hu CY, Yang XL, Dong JY, Zhang XM (2018) Heavy metal concentrations and chemical fractions in sediment from Swan Lagoon, China: their relation to the physiochemical properties of sediment. Chemosphere 209:848–856

Hudspith M, Reichelt-Brushett A, Harrison PL (2017) Factors affecting the toxicity of trace metals to fertilization success in broadcast spawning marine invertebrates: a review. Aquat Toxicol 184:1–13

Jackson GS, Murray I, Hosszu LL, Gibbs N, Waltho JP, Clarke AR, Collinge J (2001) Location and properties of metal-binding sites on the human prion protein. Proc Natl Acad Sci USA 98:8531–8535

Jiang Y, Chao S, Liu J, Yue Y, Chen Y, Zhang A, Cao HB (2016) Source apportionment and health risk assessment of heavy metals in soil for a township in Jiangsu Province, China. Chemosphere168: 1658-1668

Juhas AL, Weber J, Smith E, Naidu R, Rees M, Rofe A, Kuchel T, Sansom L (2009) Assessment of four commonly employed in vitro arsenic bioaccessibility assays for predicting in vivo relative arsenic bioavailability in contaminated soils. Environ Sci Technol 43:9487–9494

Kang MX, Tian YM, Peng S, Wang MQ (2019) Effect of dissolved oxygen and nutrient levels on heavy metal contents and fractions in river surface sediments. Sci Total Environ 648:861–870

Lee PK, Kang MJ, Yu S, Ko KS, Ha K, Shin SC, Park JH (2017) Enrichment and geochemical mobility of heavy metals in bottom sediment of the Hoedong reservoir, Korea and their source apportionment. Chemosphere 184:74–85

Liu EF, Yan T, Birch G, Zhu YX (2014) Pollution and health risk of potentially toxic metals in urban road dust in Nanjing, a mega-city of China. Sci Total Environ 476-477:522–531

Liu R, Tu LL, Gou X, Yang HY (2016) Particle size distribution and health risk assessment of heavy metals of constructive dust in Guiyang. Sci Technol Engineer 17:187–195 (in Chinese )

Liu BL, Ai SW, Naeem S, Ding J, Ji WH, Zhang YM (2018) Metal bioaccessibility in a wastewater irrigated soil-wheat system and associated human health risks: Implications for regional thresholds. Ecol Indic 94:305–311

Lu SG, Bai SQ (2006) Study on the correlation of magnetic properties and heavy metals content in urban soils of Hangzhou city, China. J Appl Geophys 60:1–12

Lu XW, Loretta YL, Wang LJ, Lei K, Huang J, Zhai YX (2009) Contamination assessment of mercury and arsenic in roadway dust from Baoji, China. Atmos Environ 43:2489–2496

Lu XW, Pan HY, Wang YW (2017) Pollution evaluation and source analysis of heavy metal in roadway dust from a resource-typed industrial city in Northwest China. Atmos Pollut Res 8:587–595

Luo XS, Zhou DM, Liu XH, Wang YJ (2006) Solid/solution partitioning and speciation of heavy metals in the contaminated agricultural soils around a copper mine in eastern Nanjing city, China. J Hazard Mater 131:19–27

Luo XS, Yu S, Li XD (2012) The mobility, bioavailability, and human bioaccessibility of trace metals in urban soils of Hong Kong. Appl Geochem 27:995–1004

Manno E, Varrica D, Dongarrà G (2006) Metal distribution in road dust samples collected in an urban area close to petrochemical plant at Gela, Sicily. Atmos Environ 40:5929–5941

Marschner B, Welge P, Hack A (2006) Comparison of soil Pb in vitro bioaccessibility and in vivo bioavailability with Pb pools from a sequential soil extraction. Environ Sci Technol 40:2812–2818

Mohammed ELT, Rosazlin A, Rozainah MZ, Kartini KB (2018) Evaluation of heavy metals and environmental risk assessment in the Mangrove Forest of Kuala Selangor estuary, Malaysia. Mar Pollut Bull 136:1–9

Naji A, Ismail A, Ismail AR (2010) Chemical speciation and contamination assessment of Zn and Cd by sequential extraction in surface sediment of Klang River, Malaysia. Microchem J 95:285–292

Nolan AL, Lombi E, McLaughlin MJ (2003) Metal bioaccumulation and toxicity in soils-why bother with speciation? Aust J Chem 56:77–91

Padoan E, Rome C, Ajmone-Marsan F (2017) Bioaccessibility and size distribution of metals in road dust and roadside soils along a peri-urban transect. Sci Total Environ 601:89–98

Palleiro L, Patinha C, Rodríguez-Blanco ML, Taboada-Castro MM, Taboada-Castro MT (2016) Metal fractionation in topsoils and bed sediments in the Mero River rural basin: bioavailability and relationship with soil and sediment properties. CATENA 144:34–44

Pan HY, Lu XW, Lei K (2017) A comprehensive analysis of heavy metals in urban road dust of Xi'an, China: Contamination, source apportionment and spatial distribution. Sci Total Environ 609:1361–1369

Pant P, Harrison RM (2013) Estimation of the contribution of road traffic emissions to particulate matter concentrations from field measurements: a review. Sci Total Environ 77:78–97

Paustenbach DJ (2000) The practice of exposure assessment: a state-of-the-art review. J Toxicol Env Health, Part B 3:179–291

Pelfreňe A, Waterlot C, Mazzuca M (2011) Assessing Cd, Pb, Zn human bioaccessibility in smelter contaminated agricultural topsoils (northern France). Environ Geochem Health 33:477–493

Rahman MS, Khan MD, Jolly YN, Kabir J, Akter S, Salam A (2019) Assessing risk to human health for heavy metal contamination through street dust in the Southeast Asian Megacity: Dhaka, Bangladesh. Sci Total Environ 660:1610–1622

Rao CRM, Sahuquillo A, Lopez Sanchez F (2008) A review of the different methods applied in environmental geochemistry for single and sequential extraction of trace elements in solids and related materials. Water Air Soil Poll 189:291–333

Rauret G, Lopez-Sanchez JF, Sahuquillo A, Rubio R, Davidson C, Ure A, Quevauviller P (1999) Improvement of the BCR three step sequential extraction procedure prior to the certification of new sediment and soil reference materials. J Environ Monitor 1:57–61

Rieuwerts JS (2007) The mobility and bioavailability of trace metals in tropical soils: a review. Chem Spec Bioavailab 19:75–85

Roberts SM, Lowney YW, Stuchal LD (2019) Bioaccessibility of polychlorinated dioxins and furans in soil from a Superfund site. Chemosphere 214:418–423

Ruby MV, Davis A, Schoof R, Eberle S, Sellstone CM (1996) Estimation of lead and arsenic bioavailability using a physiologically based extraction test. Environ Sci Technol 30:422–430

Rumby MY, Schoof R, Brattin W (1999) Advances in evaluating the oral bioavailability of inorganics in soil for use in human health risk assessment. Environ Sci Technol 33:3697–3705

Sauve S, Hendershot W, Allen HE (2000) Solid-solution partitioning of metals in contaminated soils: dependence on pH, total metal burden, and organic matter. Environ Sci Technol 34:1125–1131

Shen HT, Li WW, Graham SE, Starr JM (2019) The role of soil and house dust physicochemical properties in determining the post ingestion bioaccessibility of sorbed polychlorinated biphenyls. Chemosphere 217:1–8

Shi GT, Chen ZL, Xu SY, Zhang J, Wang L, Bi CJ, Teng JY (2008) Potentially toxic metal contamination of urban soils and street dust in Shanghai, China. Environ Pollut 156:251–260

Shi GT, Chen ZL, Cj B, Wang L, Teng JY, Li YS, Xu SY (2011) A comparative study of health risk of potentially toxic metals in urban and suburban road dust in the most populated city of China. Atmos Environ 45:764–771

Shrivastava SK, Banerjee DK (2004) Speciation of metals in sewage sludge and sludge– amended soils. Water Air Soil Poll 152:219–232

Sundaray SK, Nayak BB, Lin S, Bhatta D (2011) Geochemical speciation and risk assessment of heavy metals in the river estuarine sediments-A case study: Mahanadi basin, India. J Hazard Mater 186:1837–1846

Swietlik R, Trojanowska M, Strzelecka M, Bocho-Janiszewska A (2015) Fractionation and mobility of Cu, Fe, Mn, Pb and Zn in the road dust retained on noise barriers along expressway - a potential tool for determining the effects of driving conditions on speciation of emitted particulate metals. Environ Pollut 196:404–413

Tang RL, Ma KM, Zhang YX, Mao QZ (2013) The spatial characteristics and pollution levels of metals in urban street dust of Beijing, China. Appl Geochem 35:88–98

Tang Z, Huang Q, Yang Y, Nie Z, Cheng J, Yang J, Wang Y, Chai M (2016) Polybrominated diphenyl ethers (PBDEs) and heavy metals in road dusts from a plastic waste recycling area in north China: implications for human health. Environ Sci Pollut R 23:625–637

Tang WZ, Xia Q, Shan BQ, Ng JC (2018) Relationship of bioaccessibility and fractionation of cadmium in long-term spiked soils for health risk assessment based on four in vitro gastrointestinal simulation models. Sci Total Environ 631:1582–1589

Tessier A, Campbell PGC, Bisson M (1979) Sequential extraction procedures for the speciation of particulate trace metals. Anal Chem 51:844–850

Tessier A, Campbell PGC, Bisson M (1982) Particulate trace metal speciation in stream sediments and relationships with grain size: Implications for geochemical exploration. J Geochem Explor 16:77–104

Thanh PM, Ketheesan B, Yan Z, Stuckey D (2016) Trace metal speciation and bioavailability in anaerobic digestion: a review. Biotechnol Adv 34:122–136

Thorpe A, Harrison RM (2008) Sources and properties of non-exhaust particulate matter from road traffic: a review. Sci Total Environ 400:270–282

Valotto G, Rampazzo G, Visin F, Gonella F, Cattaruzza E, Glisenti A, Formenton G, Tieppo P (2015) Environmental and traffic-related parameters affecting road dust composition: a multi-technique approach applied to Venice area (Italy). Atmos Environ 122:596–608

Wang Y, Yang Z, Shen Z, Tang Z, Niu J, Gao F (2011) Assessment of heavy metals in sediments from a typical catchment of the Yangtze River, China. Environ monit Assess 172:407–417

Wang G, Oldfifield F, Xia DS, Chen FH, Liu XM, Zhang WG (2012) Source characteristics and correlation with heavy metals in urban street dust: a case study from the city of Lanzhou, China. Atmos Environ 46:289–298

Wang LJ, Lu XW, Ren CH, Li XX, Chen CC (2014) Contamination assessment and health risk of heavy metals in dust from Changqing industrial park of Baoji, NW China. Environ Earth Sci 71:2095–2104

Wang LJ, Lu XW, Li LY, Ren CH, Luo DC, Chen JH (2015) Content, speciation and pollution assessment of Cu, Pb and Zn in soil around the lead-zinc smelting plant of Baoji, NW China. Environ Earth Sci 73:5281–5288

Wang LJ, Tao WD, Smardon RC, Xu X, Lu XW (2018) Speciation, sources, and risk assessment of heavy metals in suburban vegetable garden soil in Xianyang City, Northwest China. Front Earth Sci 12:397–407

Wei BG, Yang LS (2010) A review of heavy metal contaminations in urban soils, urban road dusts and agricultural soils from China. Microchem J 94:99–107

Wei X, Gao B, Wang P, Zhou HD, Lu J (2015) Pollution characteristics and health risk assessment of heavy metals in street dusts from different functional areas in Beijing, China. Ecotox Environ safe 112:186–192

Yang J, Bamett MO, Jardine PM, Brooks SC (2003) Factors controlling the bioaccessibility of arsenic and lead in soil. Soil Sediment Contam 12:165–179

Yang T, Liu QS, Li HX, Zeng QL, Chan LS (2010) Anthropogenic magnetic particles and heavy metals in the road dust: Magnetic identification and its implications. Atmos Environ 44:1175–1185

Yildirim G, Tokalioglu S (2016) Heavy metal speciation in various grain sizes of industrially contaminated street dust using multivariate statistical analysis. Ecotox Environ safe 124:369–376

Zhao H, Shao Y, Yin C, Jiang Y, Li X (2016) An index for estimating the potential metal pollution contribution to atmospheric particulate matter from road dust in Beijing. Sci Total Environ 550:167–175

Zia MH, Codling EE, Scheckel KG, Chaney RL (2011) In vitro and in vivo approaches for the measurement of oral bioavailability of lead (Pb) in contaminated soils: A review. Environ Pollut 159:2320–2327
Acknowledgments
This research was supported by the National Natural Science Foundation of China through Grants 41877516 and 41877517, and the Fundamental Research Funds for the Central Universities through Grants GK201701010 and GK201601009.
Additional information
Publisher's note
Springer Nature remains neutral with regard to jurisdictional claims in published maps and institutional affiliations.
Responsible Editor: Philippe Garrigues
About this article
Cite this article
Dong, S., Zhang, S., Wang, L. et al. Concentrations, Speciation, and Bioavailability of Heavy Metals in Street Dust as well as Relationships with Physiochemcal Properties: A Case Study of Jinan City in East China. Environ Sci Pollut Res (2020). https://doi.org/10.1007/s11356-020-09761-6
Received:

Accepted:

Published:
Keywords
Heavy metal

Speciation

Bioavailability

Influencing factor

Street dust