Abstract
Calcium peroxide (CP) has been widely applied in environmental remediation, but few studies have reported its application in controlling Microcystis blooms. To recognize its feasibility for mitigating Microcystis blooms, the properties of CP in terms of hydrogen peroxide (HP) release and phosphate removal were investigated at different CP doses, temperatures, and initial pH values. HP release kinetics followed the Higuchi model. Batch experiments conducted in this study suggested that the HP yield and release rate were positively correlated with the CP dose. Increasing temperature decreased the HP yield but accelerated the HP release rate. The phosphate removal kinetics were well simulated by the pseudo-second-order model. The batch experiments suggested that an increased CP dose enhanced the phosphate removal capacity, but it did not affect the phosphate removal rate. Moreover, increased temperature accelerated both phosphate removal capacity and rate. However, the initial pH of low-buffer-capacity solutions did not notably affect HP release and phosphate removal. According to laboratory experiments, HP released from CP could impair photosynthetic activity, resulting in Microcystis mortality. Furthermore, the reduced phosphate concentration in the solutions suggested that CP could facilitate the control of eutrophication, which directly reduced bloom formation. Hence, our results confirmed CP as a promising algicide for Microcystis bloom control, and it is worthwhile to develop novel methods for bloom mitigation based on CP.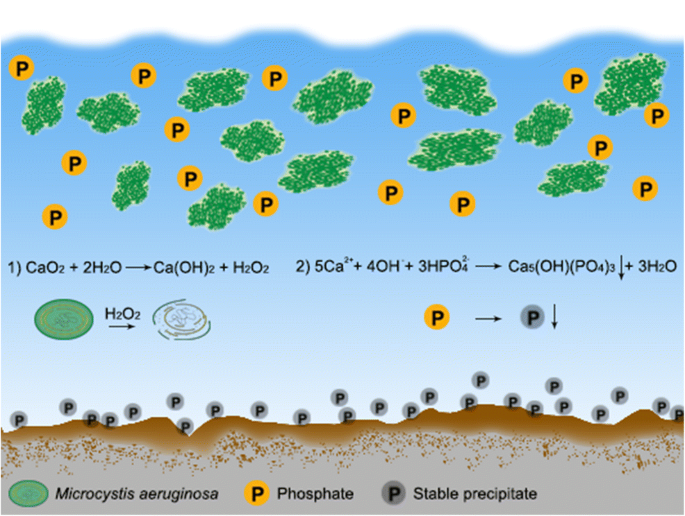 This is a preview of subscription content, log in to check access.
Access options
Buy single article
Instant access to the full article PDF.
US$ 39.95
Price includes VAT for USA
Subscribe to journal
Immediate online access to all issues from 2019. Subscription will auto renew annually.
US$ 99
This is the net price. Taxes to be calculated in checkout.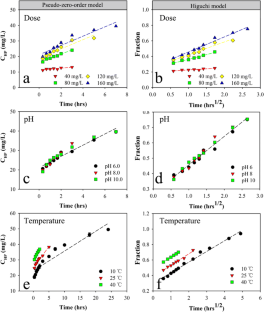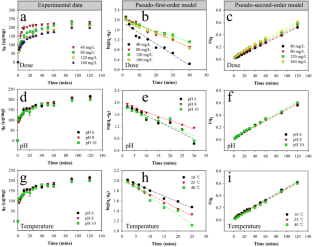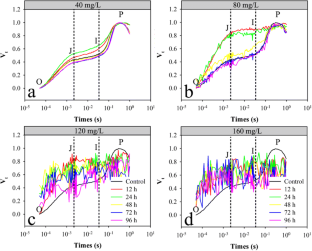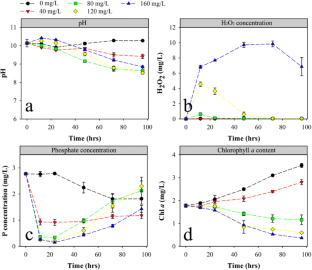 References
A.P.H.A (1995) Standard methods for the examination of water and wastewater, vol 10. American Public Health Association, Washington, DC

Appenroth KJ, Stöckel J, Srivastava A, Strasser R (2001) Multiple effects of chromate on the photosynthetic apparatus of Spirodela polyrhiza as probed by OJIP chlorophyll a fluorescence measurements. Environ Pollut 115:49–64. https://doi.org/10.1016/S0269-7491(01)00091-4

Barzegar-Jalali M, Adibkia K, Valizadeh H, Shadbad MRS, Nokhodchi A, Omidi Y, Mohammadi G, Nezhadi SH, Hasan M (2008) Kinetic analysis of drug release from nanoparticles. J Pharm Pharm Sci 11:167–177

Bi L, Pan G (2017) From harmful Microcystis blooms to multi-functional core-double-shell microsphere bio-hydrochar materials. Sci Rep-UK 7:15477. https://doi.org/10.1038/s41598-017-15696-9

Bogan BW, Trbovic V, Paterek JR (2003) Inclusion of vegetable oils in Fenton's chemistry for remediation of PAH-contaminated soils. Chemosphere 50:15–21. https://doi.org/10.1016/S0045-6535(02)00490-3

Carpenter SR (2008) Phosphorus control is critical to mitigating eutrophication. P Natl A Sci USA 105:11039–11040. https://doi.org/10.1073/pnas.0806112105

Chen Y, Fan C, Teubner K, Dokulil M (2003) Changes of nutrients and phytoplankton chlorophyll-a in a large shallow lake, Taihu, China: an 8-year investigation. Hydrobiologia 506:273–279. https://doi.org/10.1023/B:HYDR.0000008604.09751.01

Chen Y, Wang J, Zhang Q, Xiang Z, Li D, Han X (2017) Microcystin-leucine arginine exhibits immunomodulatory roles in testicular cells resulting in orchitis. Environ Pollut 229:964–975. https://doi.org/10.1016/j.envpol.2017.07.081

Cho I, Lee K (2002) Effect of calcium peroxide on the growth and proliferation of Microcystis aerusinosa, a water-blooming cyanobacterium. Biotechnol Bioproc E 7:231–233. https://doi.org/10.1007/BF02932976

Dodds WK, Bouska WW, Eitzmann JL, Pilger TJ, Pitts KL, Riley AJ et al (2008) Eutrophication of US freshwaters: analysis of potential economic damages. ACS Publications, USA

Drábková M, Matthijs H, Admiraal W, Maršálek B (2007) Selective effects of H2O2 on cyanobacterial photosynthesis. Photosynthetica 45:363–369. https://doi.org/10.1007/s11099-007-0062-9

Fan F, Shi X, Zhang M, Liu C, Chen K (2019) Comparison of algal harvest and hydrogen peroxide treatment in mitigating cyanobacterial blooms via an in situ mesocosm experiment. Sci Total Environ 694:133721. https://doi.org/10.1016/j.scitotenv.2019.133721

Fischer WJ, Dietrich DR (2000) Pathological and biochemical characterization of microcystin-induced hepatopancreas and kidney damage in carp (Cyprinus carpio). Toxicol Appl Pharmacol 164:73–81. https://doi.org/10.1006/taap.1999.8861

Francy DS, Brady AM, Ecker CD, Graham JL, Stelzer EA, Struffolino P et al (2016) Estimating microcystin levels at recreational sites in western Lake Erie and Ohio. Harmful Algae 58:23–34. https://doi.org/10.1016/j.hal.2016.07.003

Gu N, Gao J, Wang K, Li B, Dong W, Ma Y (2016) Microcystis aeruginosa inhibition by Zn–Fe–LDHs as photocatalyst under visible light. J Taiwan Inst Chem E 64:189–195. https://doi.org/10.1016/j.jtice.2016.04.016

Havens KE (2008) Cyanobacteria blooms: effects on aquatic ecosystems. Cyanobacterial harmful algal blooms: state of the science and research needs. Springer Science & Business Media, Berlin

Kalam MA, Humayun M, Parvez N, Yadav S, Garg A, Amin S et al (2007) Release kinetics of modified pharmaceutical dosage forms: a review. Cont J Pharm Sci 1:30–35

Kao C, Chen S, Su M (2001) Laboratory column studies for evaluating a barrier system for providing oxygen and substrate for TCE biodegradation. Chemosphere 44:925–934. https://doi.org/10.1016/S0045-6535(00)00578-6

Klassen NV, Marchington D, McGowan HC (1994) H2O2 determination by the I3-method and by KMnO4 titration. Anal Chem 66:2921–2925. https://doi.org/10.1016/S0045-6535(00)00578-6

Liu X, Zhang L (2015) Removal of phosphate anions using the modified chitosan beads: adsorption kinetic, isotherm and mechanism studies. Powder Technol 277:112–119. https://doi.org/10.1016/j.powtec.2015.02.055

Liu Y, Cao X, Yu Z, Song X, Qiu L (2016) Controlling harmful algae blooms using aluminum-modified clay. Mar Pollut Bull 103:211–219. https://doi.org/10.1016/j.marpolbul.2015.12.017

Lu C, Vonshak A (2002) Effects of salinity stress on photosystem II function in cyanobacterial Spirulina platensis cells. Physiol Plant 114:405–413. https://doi.org/10.1034/j.1399-3054.2002.1140310.x

Lu S, Zhang X, Xue Y (2017) Application of calcium peroxide in water and soil treatment: a review. J Hazard Mater 337:163–177. https://doi.org/10.1016/j.jhazmat.2017.04.064

Matthijs HC, Visser PM, Reeze B, Meeuse J, Slot PC, Wijn G et al (2012) Selective suppression of harmful cyanobacteria in an entire lake with hydrogen peroxide. Water Res 46:1460–1472. https://doi.org/10.1016/j.watres.2011.11.016

Northup A, Cassidy D (2008) Calcium peroxide (CaO2) for use in modified Fenton chemistry. J Hazard Mater 152:1164–1170. https://doi.org/10.1016/j.jhazmat.2007.07.096

Noyma NP, de Magalhaes L, Furtado LL, Mucci M, van Oosterhout F, Huszar VL et al (2016) Controlling cyanobacterial blooms through effective flocculation and sedimentation with combined use of flocculants and phosphorus adsorbing natural soil and modified clay. Water Res 97:26–38. https://doi.org/10.1016/j.watres.2015.11.057

Otten TG, Paerl HW, Dreher TW, Kimmerer WJ, Parker AE (2017) The molecular ecology of Microcystis sp. blooms in the San Francisco Estuary. Environ Microbiol 19:3619–3637. https://doi.org/10.1111/1462-2920.13860

Paerl HW, Otten TG (2013) Harmful cyanobacterial blooms: causes, consequences, and controls. Microb Ecol 65:995–1010. https://doi.org/10.1007/s00248-012-0159-y

Paerl HW, Xu H, McCarthy MJ, Zhu G, Qin B, Li Y et al (2011) Controlling harmful cyanobacterial blooms in a hyper-eutrophic lake (Lake Taihu, China): the need for a dual nutrient (N & P) management strategy. Water Res 45:1973–1983. https://doi.org/10.1016/j.watres.2010.09.018

Shi X, Yang L, Niu X, Xiao L, Kong Z, Qin B, Gao G (2003) Intracellular phosphorus metabolism of Microcystis aeruginosa under various redox potential in darkness. Microbiol Res 158:345–352. https://doi.org/10.1078/0944-5013-00214

Shi K, Zhang Y, Xu H, Zhu G, Qin B, Huang C, Liu X, Zhou Y, Lv H (2015) Long-term satellite observations of microcystin concentrations in Lake Taihu during cyanobacterial bloom periods. Environ Sci Technol 49:6448–6456. https://doi.org/10.1021/es505901a

Strasser R (1992) On the OJIP fluorescence transient in leaves and D1 mutants of Chlamydomonas reinhardtii. Research in photosynthesis: proceedings of the IXth International Congress on Photosynthesis. Vol. 2. Kluwer Academic Publishers, pp. 29-32.

Strasser RJ, Srivastava A (1995) Polyphasic chlorophyll alpha fluorescence transient in plants and cyanobacteria. Photochem Photobiol 61:32–42

Trovó AG, Senivs P, Palmiste Ü, Sillanpää M, Tang WZ (2016) Decolorization kinetics of Acid Blue 161 by solid peroxides catalyzed by iron in aqueous solution. Desalin Water Treat 57:19344–19356. https://doi.org/10.1080/19443994.2015.1098573

Van Hullebusch E, Chatenet P, Deluchat V, Chazal PM, Froissard D, Botineau M et al (2003) Copper accumulation in a reservoir ecosystem following copper sulfate treatment (St. Germain Les Belles, France). Water Air Soil Pollut 150:3–22. https://doi.org/10.1023/A:1026148914108

Viisimaa M, Karpenko O, Novikov V, Trapido M, Goi A (2013) Influence of biosurfactant on combined chemical–biological treatment of PCB-contaminated soil. Chem Eng J 220:352–359. https://doi.org/10.1016/j.cej.2013.01.041

Visser P, Ibelings B, Van Der Veer B, Koedood J, Mur R (1996) Artificial mixing prevents nuisance blooms of the cyanobacterium Microcystis in Lake Nieuwe Meer, the Netherlands. Freshw Biol 36:435–450. https://doi.org/10.1046/j.1365-2427.1996.00093.x

Visser PM, Verspagen JM, Sandrini G, Stal LJ, Matthijs HC, Davis TW et al (2016) How rising CO2 and global warming may stimulate harmful cyanobacterial blooms. Harmful Algae 54:145–159. https://doi.org/10.1016/j.hal.2015.12.006

Wang W, Wang J (2018) Comparative evaluation of sorption kinetics and isotherms of pyrene onto microplastics. Chemosphere 193:567–573. https://doi.org/10.1016/j.chemosphere.2017.11.078

Wang B, Wang X, Hu Y, Chang M, Bi Y, Hu Z (2015) The combined effects of UV-C radiation and H2O2 on Microcystis aeruginosa, a bloom-forming cyanobacterium. Chemosphere 141:34–43. https://doi.org/10.1016/j.chemosphere.2015.06.020

Wang H, Zhao Y, Li T, Chen Z, Wang Y, Qin C (2016) Properties of calcium peroxide for release of hydrogen peroxide and oxygen: a kinetics study. Chem Eng J 303:450–457. https://doi.org/10.1016/j.cej.2016.05.123

Wang B, Song Q, Long J, Song G, Mi W, Bi Y (2019) Optimization method for Microcystis bloom mitigation by hydrogen peroxide and its stimulative effects on growth of chlorophytes. Chemosphere 228:503–512. https://doi.org/10.1016/j.chemosphere.2019.04.138

Weenink EF, Luimstra VM, Schuurmans JM, Van Herk MJ, Visser PM, Matthijs HC (2015) Combatting cyanobacteria with hydrogen peroxide: a laboratory study on the consequences for phytoplankton community and diversity. Front Microbiol 6:714. https://doi.org/10.3389/fmicb.2015.00714

Woolbright BL, Williams CD, Ni H, Kumer SC, Schmitt T, Kane B et al (2017) Microcystin-LR induced liver injury in mice and in primary human hepatocytes is caused by oncotic necrosis. Toxicon 125:99–109. https://doi.org/10.1016/j.toxicon.2016.11.254

Xu H, Paerl HW, Qin B, Zhu G, Gaoa G (2010) Nitrogen and phosphorus inputs control phytoplankton growth in eutrophic Lake Taihu. China Limnol Oceanogr 55:420–432. https://doi.org/10.4319/lo.2010.55.1.0420

Xu H, Paerl HW, Zhu G, Qin B, Hall NS, Zhu M (2017) Long-term nutrient trends and harmful cyanobacterial bloom potential in hypertrophic Lake Taihu, China. Hydrobiologia 787:229–242. https://doi.org/10.1007/s10750-016-2967-4

Zhang S, Wang W, Zhang K, Xu P, Lu Y (2018) Phosphorus release from cyanobacterial blooms during their decline period in eutrophic Dianchi Lake. China Environ Sci Poll Res 25:13579–13588. https://doi.org/10.1007/s11356-018-1517-1

Zhou L, Roberts DA, Ma W, Zhang H, Tang L (2014) Estimation of higher chlorophylla concentrations using field spectral measurement and HJ-1A hyperspectral satellite data in Dianshan Lake. China ISPRS J Photogram 88:41–47. https://doi.org/10.1016/j.isprsjprs.2013.11.016
Funding
This work was supported by the Start-up Funding of Shaoxing University (No: 20195004 and No: 20195019).
Additional information
Publisher's note
Springer Nature remains neutral with regard to jurisdictional claims in published maps and institutional affiliations.
Responsible Editor: Vitor Manuel Oliveira Vasconcelos
Electronic supplementary material
About this article
Cite this article
Hu, Y., Shen, L., Ren, X. et al. Properties of CaO2 for H2O2 release and phosphate removal and its feasibility in controlling Microcystis blooms. Environ Sci Pollut Res (2020). https://doi.org/10.1007/s11356-020-09738-5
Received:

Accepted:

Published:
Keywords
Calcium peroxide

Hydrogen peroxide

Phosphate removal

Microcystis bloom

Photosynthesis