Abstract
Associations of household airborne fungi with allergies in childhood were inconsistent in the epidemiologic studies. During 2013–2014, we conducted a case-control study (phase two), which was nested in a cross-sectional study (phase one) during 2011–2012 in Shanghai, China. We inspected indoor air quality of 454 residences for 5–10 years old children. We defined cases as those children who were reported illnesses in the questionnaire of phase one or phase two and defined controls as those children who were not reported illnesses in both phases. A total of 436 living rooms and 445 bedrooms had valid data of household airborne fungi, and their mean concentrations were 301 cfu/m3 and 310 cfu/m3, respectively. In the multiple logistic regression analyses with adjusting for potential confounders, most associations of 16 studied illnesses with airborne fungi concentration were not statistically significant. Taking children in the 1st quartile that was stratified according to airborne fungi concentration in the living room as reference, only children in the 3rd quartile were significantly associated with a higher odd of lifetime-ever ear infections (adjusted OR, 95% CI 3.05, 1.29–7.21), and children in the 4th quartile were significantly associated with a higher odd of lifetime-ever wheeze (2.72, 1.28–5.75); but children in the 3rd quartile (0.33, 0.17–0.68) and in the 4th quartile (0.47, 0.23–0.97) were significantly associated with a lower odd of rhinitis in the past 12 months prior to the home inspection. Our results indicate that exposures to indoor airborne fungi in low concentrations seemingly have no significant impacts on the risks of most allergic and airway illnesses in childhood. Since families with sick participants might pay more attention to improve indoor air quality, effects of "avoidance behavior" on associations between indoor pollutants and childhood health should be considered in the data analysis and design of the nested case-control study.
This is a preview of subscription content, log in to check access.
Access options
Buy single article
Instant access to the full article PDF.
US$ 39.95
Price includes VAT for USA
Subscribe to journal
Immediate online access to all issues from 2019. Subscription will auto renew annually.
US$ 99
This is the net price. Taxes to be calculated in checkout.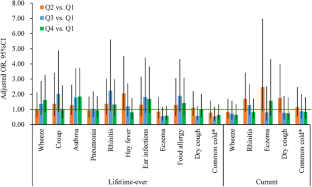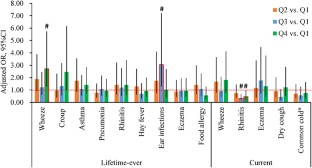 References
Arshad SH, Tariq SM, Matthews S, Hakim E (2001) Sensitization to common allergens and its association with allergic disorders at age 4 years: a whole population birth cohort study. Pediatrics. 108:E33–E37

Asher MI, Montefort S, Björkstén B, Lai CKW, Strachan DP, Weiland SK, Williams H (2006) Worldwide time trends in the prevalence of symptoms of asthma, allergic rhinoconjunctivitis, and eczema in childhood: ISAAC phases one and three repeat multicountry cross-sectional surveys. Lancet. 368:733–743

Bekö G, Toftum J, Clausen G (2011) Modeling ventilation rates in bedrooms based on building characteristics and occupant behavior. Build Environ 46:2230–2237

Bornehag CG, Sundell J, Hagerhed-Engman L, Sigsgaard T (2005) Association between ventilation rates in 390 Swedish homes and allergic symptoms in children. Indoor Air 15:275–280

Bornehag CG, Sundell J, Hägerhed-Engman L (2003) Pet-keeping in early childhood and airway, nose and skin symptoms later in life. Allergy 58:939–944

Braun-Fahrlander C, Riedler J, Herz U, Eder W, Waser M, Grize L et al (2002) Environmental exposure to endotoxin and its relation to asthma in school-age children. N Engl J Med 347(12):869–877

Cabral JPS (2010) Can we use indoor fungi as bioindicators of indoor air quality? Historical perspectives and open questions. Sci Total Environ 408:4285–4295

Cai J, Liu W, Hu Y, Zou ZJ, Shen L, Huang C (2016) Associations between home dampness-related exposures and childhood eczema among 13,335 preschool children in Shanghai, China: a cross-sectional study. Environ Res 146:18–26

Casas L, Tischer C, Wouters IM, Torrent M, Gehring U, Garcia-Esteban R, Thiering E, Postma DS, de Jongste J, Smit HA, Borràs-Santos A, Zock JP, Hyvärinen A, Heinrich J, Sunyer J (2013) Early life microbial exposure and fractional exhaled nitric oxide in school-age children: a prospective birth cohort study. Environ Health 12:103

Celedon JC, Milton DK, Ramsey CD, Litonjua AA, Ryan L, Platts-Mills TAE et al (2007) Exposure to dust mite allergen and endotoxin in early life and asthma and atopy in childhood. J Allergy Clin Immunol 120:144–149

Ceylan E, Ozkutuk A, Ergor G, Yucesoy M, Itil O, Caymaz S et al (2006) Fungi and indoor conditions in asthma patients. J Asthma 43:5

Chen CH, Chao HJ, Chan CC, Chen BY, Guo YL (2014) Current asthma in schoolchildren is related to fungal spores in classrooms. Chest. 6(1):123–134

Clausen G, Host A, Toftum J, Bekö G, Weschler C, Callesen M et al (2012) Children's health and its association with indoor environments in Danish homes and daycare centres-methods. Indoor Air 22:467–475

Dales R, Ruest K, Guay M, Marro L, Miller JD (2010) Residential fungal growth and incidence of acute respiratory illness during the first two years of life. Environ Res 110:692–698

Douwes J, Pearce N, Heederik D (2002) Does environmental endotoxin exposure prevent asthma? Thorax. 57(1):86–90

Douwes J, van der Sluis B, Doekes G, van Leusden F, Wijnands L, van Strien R, Verhoeff A, Brunekreef B (1999) Fungal extracellular polysaccharides in house dust as a marker for exposure to fungi: relations with culturable fungi, reported home dampness, and respiratory symptoms. J Allergy Clin Immunol 103:494–500

Douwes J, van Strien R, Doekes G, Smit J, Kerkhof M, Gerritsen J, Postma D, de Jongste J, Travier N, Brunekreef B (2006) Does early indoor microbial exposure reduce the risk of asthma? The prevention and incidence of asthma and mite allergy birth cohort study. J Allergy Clin Immunol 117(5):1067–1073

Douwes J (2005) (1→3)-beta-d-Glucans and respiratory health: a review of the scientific evidence. Indoor Air 15(3):160–169

Downs SH, Mitakakis TZ, Marks GB, Car NG, Belousova EG, Leuppi JD et al (2001) Clinical importance of Alternaria exposure in children. Am J Respir Crit Care Med 164(3):455–459

Ege MJ, Mayer M, Normand AC, Genuneit J, Cookson William OCM et al (2011) Exposure to environmental microorganisms and childhood asthma. N Engl J Med 364:701–709

Fan G, Xie J, Yoshino H, Yanagi U, Hasegawa K, Kagi N, Liu J (2017) Environmental conditions in homes with healthy and unhealthy schoolchildren in Beijing. China Build Environ 112:270–284

Fann N, Bell ML, Walker K, Hubbell B (2011) Improving the linkages between air pollution epidemiology and quantitative risk assessment. Environ Health Perspect 119:1671–1675

GAQS (General Administration of Quality Supervision)Indoor Air Quality Standard (GB/T 18883–2002) China Architecture and Building Press, Beijing, 2002. (in Chinese)

Garrett MH, Rayment PR, Hooper MA, Abramson MJ, Hooper BM (1998) Indoor airborne fungal spores, house dampness and associations with environmental factors and respiratory health in children. Clin Exp Allergy 28(4):459–467

Halonen M, Stern DA, Wright AL, Taussig LM, Martinez FD (1997) Alternaria as a major allergen for asthma in children raised in a desert environment. Am J Respir Crit Care Med 155:1356–1361

Hargreaves M, Parappukkaran S, Morawska L, Hitchins J, He C, Gilbert D (2003) A pilot investigation into associations between indoor airborne fungal and non-biological particle concentrations in residential houses in Brisbane. Australia Sci Total Environ 312:89–101

Holme J, Hägerhed-Engman L, Mattsson J, Sundell J, Bornehag CG (2010) Culturable mold in indoor air and its association with moisture-related problems and asthma and allergy among Swedish children. Indoor Air 20:329–340

Hu Y, Liu W, Huang C, Zou ZJ, Zhao ZH, Shen L, Sundell J (2014) Home dampness, childhood asthma, hay fever, and airway symptoms in Shanghai, China: associations, dose-response relationships, and lifestyle's influences. Indoor Air 24:450–463

Huang C, Cai J, Liu W, Wang X, Zou Z, Sun C, Li B (2019) Associations of household dust mites (Der p 1 and Der f 1) with childhood health outcomes masked by avoidance behaviors. Build Environ 151:198–206

Huang C, Hu Y, Liu W, Zou ZJ, Sundell J (2013) Pet-keeping and its impact on asthma and allergies among preschool children in Shanghai, China. Chin Sci Bull 58:4203–4210

Huang C, Liu W, Hu Y, Zou ZJ, Zhao ZH, Shen L, Weschler LB, Sundell J (2015) Updated prevalences of asthma, allergy, and airway symptoms, and a systematic review of trends over time for childhood asthma in Shanghai, China. PLoS One 10(4):e0121577

Huang C, Wang XY, Liu W, Cai J, Li S, Zou ZJ et al (2016) Household indoor air quality and its associations with childhood asthma in Shanghai, China: on-site inspected methods and preliminary results. Environ Res 151:154–167

Jovanovic S, Felder-Kennel A, Gabrio T, Kouros B, Link B, Maisner V, Piechotowski I, Schick KH, Schrimpf M, Weidner U, Zöllner I, Schwenk M (2004) Indoor fungi levels in homes of children with and without allergy history. Int J Hyg Environ Health 207:369–378

Kanchongkittiphon W, Mendell MJ, Gaffin JM, Wang G, Phipatanakul W (2015) Indoor environmental exposures and exacerbation of asthma: an update to the 2000 review by the Institute of Medicine. Environ Health Perspect 123:6–20

Liu W, Cai J, Huang C, Zou Z, Sun C, Li B (2020) Family and building characteristics in relation to levels of bed dust mites in 453 beddings of Shanghai children. Sustain Cities Soc 54:102007

Liu W, Huang C, Hu Y, Zou ZJ, Sundell J et al (2013) Associations between indoor environmental smoke and respiratory symptoms among preschool children in Shanghai, China. Chin Sci Bull 58:4211–4216

Liu W, Huang C, Hu Y, Zou ZJ, Weschler LB, Shen L et al (2015) Cross-sectional associations of dietary habits with asthma and wheeze in childhood: confounding for avoidance behaviors. Sci Bull 60(23):2080–2082

Liu ZJ, Li AG, Hu ZP, Sun HF (2014) Study on the potential relationships between indoor culturable fungi, particle load and children respiratory health in Xi'an, China. Build Environ 80:105–114

Muller A, Lehmann I, Seiffart A, Diez U, Wetzig H, Borte M et al (2002) Increased incidence of allergic sensitisation and respiratory diseases due to mould exposure: results of the Leipzig allergy risk children study (LARS). Int J Hyg Environ Health 204:363–365

Nambu M, Kouno H, Aihara-Tanaka M, Shirai H, Takatori K (2009) Detection of fungi in indoor environments and fungus-specific IgE sensitization in allergic children. WAO J 2:208–212

Naydenov K, Popov T, Mustakov T, Melikov A, Bornehag CG, Sundell J (2008) The association of pet keeping at home with symptoms in airways, nose and skin among Bulgarian children. Pediatr Allergy Immunol 19:702–708

Nevalainen A, Taubel M, Hyvarinen A (2015) Indoor fungi: companions and contaminants. Indoor Air 25:125–156

Oh HJ, Nam IS, Yun H, Kim J, Yang J (2014) Characterization of indoor air quality and efficiency of air purifier in child care centers, Korea. Build Environ 82:203–214

Rajasekar A, Balasubramanian R (2011) Assessment of airborne bacteria and fungi in food courts. Build Environ 46:2081–2087

Wang XY, Liu W, Hu Y, Zou ZJ, Shen L, Huang C (2016a) Home environment, lifestyles behaviors, and rhinitis in childhood. Int J Hyg Environ Health 219:220–231

Wang XY, Liu W, Huang C, Cai J, Shen L, Zou ZJ, Lu R, Chang J, Wei X, Sun C, Zhao Z, Sun Y, Sundell J (2016b) Associations of dwelling characteristics, home dampness, and lifestyle behaviors with indoor airborne culturable fungi: on-site inspection in 454 Shanghai residences. Build Environ 102:159–162

Zhang HL, Yao DJ, Zhang Y, Fang ZL (2016) Establishment of assessment method for air bacteria and fungi contamination. Environ Sci 37(3):795–800 (in Chinese)

Zhang YP, Li BZ, Huang C, Yang X, Qian H, Deng QH, Zhao ZH, Li AG, Zhao JN, Zhang X, Qu F, Hu Y, Yang Q, Wang J, Zhang M, Wang F, Zheng XH, Lu C, Liu ZJ, Sun YX, Mo JH, Zhao YL, Liu W, Wang TT, Norbäck D, Bornehag CG, Sundell J (2013a) Ten cities cross-sectional questionnaire survey of children asthma and other allergies in China. Chin Sci Bull 58:4182–4189

Zhang YP, Mo JH, Weschler CJ (2013b) Reducing health risks from indoor exposures in rapidly developing urban China. Environ Health Perspect 121:751–755

Zhao J, Bai J, Shen K, Xiang L, Huang S, Chen A, Huang Y, Wang J, Ye R (2010) Self-reported prevalence of childhood allergic diseases in three cities of China: a multicenter study. BMC Public Health 10:551

Zhen SQ, Li KJ, Yin LH, Yao MS, Zhang HL, Chen LS, Zhou M, Chen X (2009) A comparison of the efficiencies of a portable BioStage impactor and a Reuter centrifugal sampler (RCS) high flow for measuring airborne bacteria and fungi concentrations. Aerosol Science 40:503–513

Zhu SW, Cai W, Yoshino H, Yanag U, Hasegawa K, Kagi N et al (2015) Primary pollutants in school children's homes in Wuhan, China. Build Environ. 93:41–53
Acknowledgments
We thank all of the parents and children who took part in this study and others who provided assistance for our home inspection. We also thank Prof. Yinping Zhang in the Tsinghua University, Prof. Baizhan Li in the Chongqing University, and Associate Prof. Zhuohui Zhao in the Fudan University for their guidance and helps on the CCHH project in Shanghai, China.
Funding
This work is financially supported by the National Key Research and Development Program of China (2017YFC0702700), research start-up fund for new faculty of Chongqing university of Science and Technology (182001002), and special fund for Postdoctoral Fellow in Chongqing (13201907).
Ethics declarations
The questionnaire and proposal for the CCHH study was approved by the ethical committee from the School of Public Health, Fudan University.
Competing interests
The authors declare that they have no conflict of interest.
Additional information
Publisher's note
Springer Nature remains neutral with regard to jurisdictional claims in published maps and institutional affiliations.
Responsible editor: Lotfi Aleya
Electronic supplementary material
About this article
Cite this article
Liu, W., Cai, J., Sun, C. et al. Associations between household airborne culturable fungi and allergies and airway illnesses in childhood in Shanghai, China. Environ Sci Pollut Res (2020). https://doi.org/10.1007/s11356-020-09717-w
Received:

Accepted:

Published:
Keywords
Airborne fungi

Asthma

Childhood

Case-control study

Residence

Threshold