Abstract
This study seeks to assess the reaction of the eggplant (Solanum melongena L.) to soil samples contaminated. Following, cultivation, growth, and harvest, the plant samples were prepared and maximum absorption rates of heavy metals were measured in both leaf and fruit. The estimated daily intake (EDI), the target hazard quotient (THQ), and the bio-concentration factor (BCF) were measured at various intervals during the growth period of the plant. Spectral analysis was also performed to assess the reaction of target crops to heavy metals. The results showed that in the second and third stages of plant growth, the THQ values were more than 1 for infected plants with Cd, Pb, and Zn. According to results from the BCF analysis, the absorption rate in Pb, during the growth stages was relatively high, in crops contaminated by Ni was around 1 in the second and third stages, and in plants contaminated by Cd was extremely high. All crops contaminated by heavy metals showed higher reflection rates in the 400–500 and 600–700 nm range. So, using electromagnetic waves during different stages of growth, the reaction of eggplant cultivated in soil samples contaminated by heavy metals is predictable.
This is a preview of subscription content, log in to check access.
Access options
Buy single article
Instant access to the full article PDF.
US$ 39.95
Price includes VAT for USA
Subscribe to journal
Immediate online access to all issues from 2019. Subscription will auto renew annually.
US$ 99
This is the net price. Taxes to be calculated in checkout.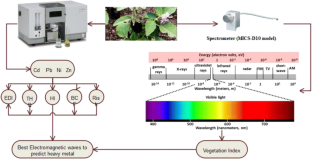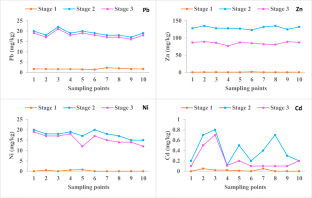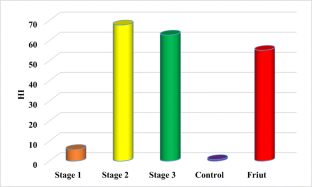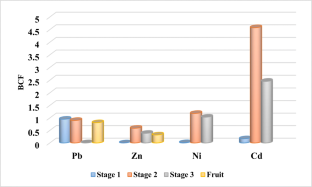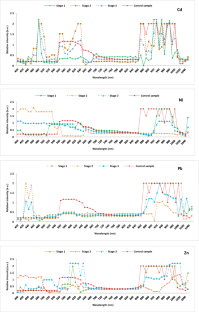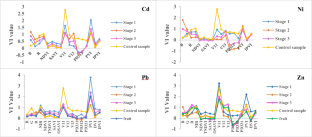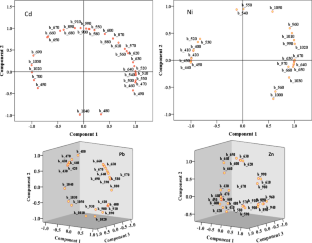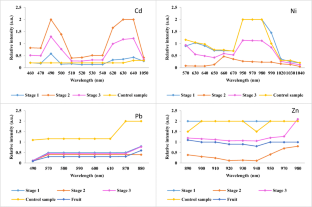 Abbreviations
EDI:

Estimated daily intake

THQ:

Target hazard quotient

BCF:

Bio-concentration factor

PCA:

Principal Component Analysis
References
Arnot JA, Gobas FA (2006) A review of bioconcentration factor (BCF) and bioaccumulation factor (BAF) assessments for organic chemicals in aquatic organisms. Environ Rev 14(4):257–297

Aycicek M, Kaplan O, Yaman M (2008) Effect of Cd on germination, seedling growth and metal contents of sunflower (Helianthus annus L.). Asian J Chem 20(4):2663

Battude M, Al Bitar A, Brut A, Tallec T, Huc M, Cros J, Weber JJ, Lhuissier L, Simonneaux V, Demarez V (2017) Modeling water needs and total irrigation depths of maize crop in the south west of France using high spatial and temporal resolution satellite imagery. Agric Water Manag 189:123–136

Broge NH, Mortensen JV (2002) Deriving green crop area index and canopy chlorophyll density of winter wheat from spectral reflectance data. Remote Sens Environ 81(1):45–57

Chen YY, Tang MY, Wang ST, Wang Q, Zhan WX, Huang G (2016) Heavy metal pollution assessment of farmland soil in China based on bibliometrics. Chin J Soil Sci 47:219–225

Crippen RE (1990) Calculating the vegetation index faster. Remote Sens Environ 34(1):71–73

Duker Schein JI (1999) Cd and mercury in emergent Majies from the upper Mississippi River. Am J Bot 23(109):723–738

Ebrahimi-Najafabadi H, Pasdaran A, Bezenjani RR, Bozorgzadeh E (2019) Determination of toxic heavy metals in rice samples using ultrasound assisted emulsification microextraction combined with inductively coupled plasma optical emission spectroscopy. Food Chem 289:26–32

Eitel JU, Gessler PE, Smith AM, Robberecht R (2006) Suitability of existing and novel spectral indices to remotely detect water stress in Populus spp. For Ecol Manag 229(1–3):170–182

FDA (Food and Drug Administration) (2001) Dietary reference intakes for vitamin A, vitamin K, arsenic, boron, chromium, copper, iodine, iron, manganese, molybdenum, Ni, silicon, vanadium, and Zn. In: Report of the panel on micronutrients. Food and Drug Administration. Dietary supplements. Center for Food Safety and Applied Nutrition, National Academy Press, Washington, DC

Fraga CG (2005) Relevance, essentiality and toxicity of trace elements in human health. Mol Asp Med 26(4–5):235–244

Hu W, Huang B, Shi X, Chen W, Zhao Y, Jiao W (2013) Accumulation and health risk of heavy metals in a plot-scale vegetable production system in a peri-urban vegetable farm near Nanjing, China. Ecotoxicol Environ Saf 98:303–309

Huete H (1988) A soil-adjusted vegetation index (SAVI). Remote Sens Environ 25:295–309

Kabata-Pendias A (2011) Trace elements in soils and plants.,(4th edn)(CRC Press: Boca Raton, FL, USA)

Kovács M, Turcsányi G, Szõke P, Penksza K, Kaszab L, Koltay A (1993) Heavy metal content in cereals in industrial regions. Acta Agronomica Hungarica 42:171–183

Kabata-Pendias A, Pendias H (1992) Trace elements in soils and plants, 2nd edn. CRC Press, Inc, Boca Raton

Killilea AN, Downing KH, Killilea DW (2007) Zinc deficiency reduces paclitaxel efficacy in LNCaP prostate cancer cells. Cancer Lett 258:70–79

Leblebici Z, Kar M (2018) Heavy metals accumulation in vegetables irrigated with different water sources and their human daily intake in Nevsehir. J Agric Sci Technol 20(2):401–415

Li MS, Yang SX (2020) Heavy metal contamination in soils and phytoaccumulation in a manganese mine wasteland, South China. Air Soil Water Res 1(1):30–41

Liu Y, Li W, Wu G, Xu X (2011) Feasibility of estimating heavy metal contaminations in floodplain soils using laboratory-based hyperspectral data—a case study along Le'an River, China. GIS 14(1):10–16

Llobet JM, Falco G, Casas C, Teixido A, Domingo JL (2003) Concentrations of arsenic, Cd, mercury, and lead in common foods and estimated daily intake by children, adolescents, adults, and seniors of Catalonia, Spain. J Agric Food Chem 51(3):838–842

Mahmood A, Malik RN (2014) Human health risk assessment of heavy metals via consumption of contaminated vegetables collected from different irrigation sources in Lahore, Pakistan. Arab J Chem 7(1):91–99

Mapanda F, Mangwayana EN, Nyamangara J, Giller KE (2005) The effect of long-term irrigation using wastewater on heavy metal contents of soils under vegetables in Harare, Zimbabwe. Agric Ecosyst Environ 107(2–3):151–165

Marais AD, Blackhurst DM (2009) Do heavy metals counter the potential health benefits of wine? J Endocrinol Metab Diabetes S Afr 14(2):77–79

McLaughlin MJ, Whatmuff M, Warne M, Heemsbergen D, Barry G, Bell M, Nash D, Pritchard D (2007) A field investigation of solubility and food chain accumulation of biosolid-cadmium across diverse soil types. Environ Chem 3(6):428–432

Mokarram M, Boloorani AD, Hojati M (2016) Relationship between land cover and vegetation indices. Case study: Eghlid Plain, Fars Province, Iran. Eur J Geogr 7(2):48–60

Moore PD, Chapman SB (1986) Chemical analysis. In: Methods in plant ecology. Blackwell Scientific Publications, Oxford, pp 315–317

Mosleh MK, Hassan QK, Chowdhury EH (2015) Application of remote sensors in mapping rice area and forecasting its production: a review. Sensors 15(1):769–791

Myneni RB, Hall FG, Sellers PJ, Marshak AL (1995) The interpretation of spectral vegetation indexes. IEEE Trans Geosci Remote Sens 33(2):481–486

Nouri H, Anderson S, Sutton P, Beecham S, Nagler P, Jarchow CJ, Roberts DA (2017) NDVI, scale invariance and the modifiable areal unit problem: an assessment of vegetation in the Adelaide Parklands. Sci Total Environ 584:11–18

Peñuelas J, Filella I (1998) Visible and near-infrared reflectance techniques for diagnosing plant physiological status. Trends Plant Sci 3(4):151–156

Peñuelas J, Pinol J, Ogaya R, Filella I (1997) Estimation of plant water concentration by the reflectance water index, WI (R900/R970). Int J Remote Sens 18(13):2869–2875

Pickup G, Chewings VH, Nelson DJ (1993) Estimating changes in vegetation cover over time in arid rangelands using Landsat MSS data. Remote Sens Environ 43(3):243–263

Rathod PH, Brackhage C, Van der Meer FD, Müller I, Noomen MF, Rossiter DG, Dudel GE (2015) Spectral changes in the leaves of barley plant due to phytoremediation of metals—results from a pot study. Eur J Remote Sens 48(1):283–302

Reimann C, De Caritat P (2005) Distinguishing between natural and anthropogenic sources for elements in the environment: regional geochemical surveys versus enrichment factors. Environ Sci Technol 337:91–107

Rodriguez-Iruretagoiena A, Trebolazabala J, Martinez-Arkarazo I, de Diego A, Madariaga JM (2015) Metals and metalloids in fruits of tomatoes (Solanum lycopersicum) and their cultivation soils in the Basque Country: concentrations and accumulation trends. Food Chem 173:1083–1089

Rondeaux G, Steven M, Baret F (1996) Optimization of soil-adjusted vegetation indices. Remote Sens Environ 55(2):95–107

Rouse JW, Haas RH, Deering DW, Schell JA, Harlan JC (1974) Monitoring the vernal advancement and retro gradation (green wave effect) of natural vegetation. NASA/GSFC Type III Final Report, Greenbelt 371p

Salgueiro MJ, Zubillaga M, Lysionek A, Sarabia MI, Caro R, De Paoli T, Hager A, Weill R, Boccio J (2000) Zn as an essential micronutrient: a review. Nutr Res 20(5):737–755

Shukla SR, Pai RS (2005) Adsorption of Cu (II): Ni (II) and Zn (II) on modified jute fibres. Bioresour Technol 96(13):1430–1438

Slonecker ET (2011) Analysis of the effects of heavy metals on vegetation hyperspectral reflectance properties. Hyperspec Remote Sens Vegeta (1):561–578

Slonecker T, Haack B, Price S (2009) Spectroscopic analysis of arsenic uptake in Pteris ferns. Remote Sens 1(4):644–675

Sovrani V, Blandino M, Scarpino V, Reyneri A, Coïsson JD, Travaglia F, Locatelli M, Bordiga M, Montella R, Arlorio M (2012) Bioactive compound content, antioxidant activity, deoxynivalenol and heavy metal contamination of pearled wheat fractions. Food Chem 135(1):39–46

Street JJ, Lindsay WL, Sabey BR (1977) Solubility and plant uptake of Cd in soils amended with Cd and sewage sludge 1. J Environ Qual 6(1):72–77

Tchounwou P, Newsome C, Williams J, Glass K (2008) Copper-induced cytotoxicity and transcriptional activation of stress genes in human liver carcinoma cells. Metal Ions Biol Med 10:285–290

Tucker CJ (1979) Red and photographic infrared linear combinations for monitoring vegetation. Remote Sens Environ 8(2):127–150

Türkmen M, Budur D (2018) Heavy metal contaminations in edible wild mushroom species from Turkey's Black Sea region. Food Chem 254:256–259

USEPA (1989) Risk assessment guidance for superfund. Human health evaluation manual, part a. EPA/540/1–89/002. Office of Health and Environmental Assessment, Washington, DC

USEPA (2000) Risk-based concentration table. Office of Health and Environmental Assessment, Washington, DC

USEPA (United States Environmental Protection Agency) (2011) USEPA Regional Screening Level (RSL) Summary Table: November 2011. Available at: http://www.epa.gov/regshwmd/risk/human/Index.htm, last update: 20th January, 2014

Yang XE, Long XX, Ye HB, He ZL, Calvert DV, Stoffella PJ (2004) Cd tolerance and hyperaccumulation in a new Zn-hyperaccumulating plant species (Sedum alfredii Hance). Plant Soil 259(1–2):181–189

Yang Y, Zhang FS, Li HF, Jiang RF (2009) Accumulation of Cd in the edible parts of six vegetable species grown in Cd-contaminated soils. J Environ Manag 90(2):1117–1122
Funding
The authors would like to thank Shiraz University for providing financial support (grant number: 238726-116) for this study.
Ethics declarations
Conflict of interest
The authors declare that they have no conflict of interest.
Additional information
Publisher's note
Springer Nature remains neutral with regard to jurisdictional claims in published maps and institutional affiliations.
Responsible Editor: Lotfi Aleya
About this article
Cite this article
Mokarram, M., Amin, H. & Setoodeh, A. Assessment of heavy metals contamination and the risk of non-cancerous diseases in vegetable using electromagnetic-chemical. Environ Sci Pollut Res (2020). https://doi.org/10.1007/s11356-020-09690-4
Received:

Accepted:

Published:
Keywords
Heavy metal

Eggplant (Solanum melongena L.)

Estimated daily intake (EDI)

Target hazard quotient (THQ)

Bio-concentration factor (BCF)

Electromagnetic wave