Abstract
Adverse health effects have been observed in nearby residents due to exposure to petrochemical-derived chemicals. The objective of this study was to examine associations of soluble metals with lung and liver toxicity in fine particulate matter (PM2.5) in the vicinity of a petrochemical complex. PM2.5 was collected in the vicinity of a petrochemical complex of Mailiao Township (Yunlin County, Taiwan) to investigate lung and liver toxicity in BALB/c mice. The PM2.5 concentration was 30.2 ± 11.2 μg/m3, and the PM2.5 was clustered in major local emissions (19.1 μg/m3) and minor local emissions (14.1 μg/m3) using a k-means clustering model. The PM2.5 (50 and 150 μg/kg) and PM2.5-equivalent soluble nickel (Ni), vanadium (V), and lead (Pb) concentrations were intratracheally instilled into BALB/c mice. PM2.5 and V significantly decreased the tidal volume after exposure (p < 0.05). The peak expiratory flow (PEF) and peak inspiratory flow (PIF)/PEF ratio were significantly altered by 150 μg/kg V (p < 0.05). V and Pb significantly increased total protein and lactate dehydrogenase (LDH) levels in bronchoalveolar lavage fluid (BALF) (p < 0.05). Interleukin (IL)-6 in BALF significantly increased after exposure to Pb (p < 0.05) accompanied by lung inflammatory infiltration. PM2.5 and Pb significantly increased levels of 8-isoprostane (p < 0.05). The level of caspase-3 activity significantly increased after exposure to Pb (p < 0.05). LDH in the liver was significantly increased by PM2.5 (p < 0.05). 8-Isoprostane in the liver was significantly increased by PM2.5 and Pb (p < 0.05). IL-6 in the liver was significantly increased by PM2.5, Ni, V, and Pb after exposure (p < 0.05), accompanied by liver inflammatory infiltration. Our results demonstrated that V in PM2.5 was associated with an increase in 8-isoprostane for all emissions and major local petrochemical emissions. In conclusion, V contributes to in vivo liver toxicity induced by PM2.5 in the vicinity of a petrochemical complex.
This is a preview of subscription content, log in to check access.
Access options
Buy single article
Instant access to the full article PDF.
US$ 39.95
Price includes VAT for USA
Subscribe to journal
Immediate online access to all issues from 2019. Subscription will auto renew annually.
US$ 99
This is the net price. Taxes to be calculated in checkout.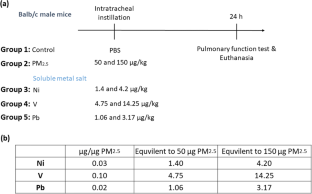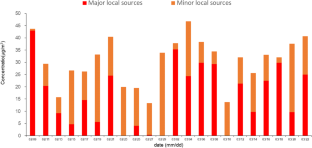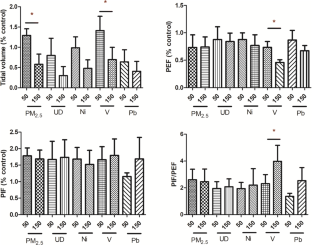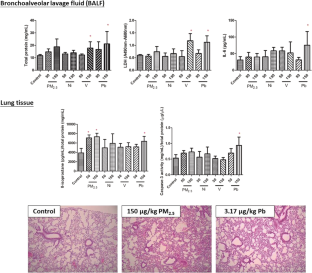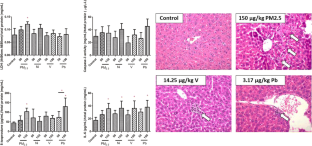 References
Anders LC, Lang AL, Anwar-Mohamed A, Douglas AN, Bushau AM, Falkner KC, Hill BG, Warner NL, Arteel GE, Cave M, McClain CJ, Beier JI (2016) Vinyl chloride metabolites potentiate inflammatory liver injury caused by LPS in mice. Toxicol Sci 151:312–323

Cano-Gutierrez G, Acevedo-Nava S, Santamaria A, Altamirano-Lozano M, Cano-Rodriguez MC, Fortoul TI (2012) Hepatic megalocytosis due to vanadium inhalation: participation of oxidative stress. Toxicol Ind Health 28:353–360

Carslaw DC, Beevers SD (2013) Characterising and understanding emission sources using bivariate polar plots and k-means clustering. Environ Model Softw 40:325–329

Chen CS, Yuan TH, Shie RH, Wu KY, Chan CC (2017) Linking sources to early effects by profiling urine metabolome of residents living near oil refineries and coal-fired power plants. Environ Int 102:87–96

Chiang TY, Yuan TH, Shie RH, Chen CF, Chan CC (2016) Increased incidence of allergic rhinitis, bronchitis and asthma, in children living near a petrochemical complex with SO2 pollution. Environ Int 96:1–7

Chio CP, Yuan TH, Shie RH, Chan CC (2014) Assessing vanadium and arsenic exposure of people living near a petrochemical complex with two-stage dispersion models. J Hazard Mater 271:98–107

Chuang HC, Cheng YL, Lei YC, Chang HH, Cheng TJ (2013a) Protective effects of pulmonary epithelial lining fluid on oxidative stress and DNA single-strand breaks caused by ultrafine carbon black, ferrous sulphate and organic extract of diesel exhaust particles. Toxicol Appl Pharmacol 266:329–334

Chuang HC, Hsueh TW, Chang CC, Hwang JS, Chuang KJ, Yan YH, Cheng TJ (2013b) Nickel-regulated heart rate variability: the roles of oxidative stress and inflammation. Toxicol Appl Pharmacol 266:298–306

Chuang HC, Juan HT, Chang CN, Yan YH, Yuan TH, Wang JS, Chen HC, Hwang YH, Lee CH, Cheng TJ (2014) Cardiopulmonary toxicity of pulmonary exposure to occupationally relevant zinc oxide nanoparticles. Nanotoxicology 8:593–604

Chuang HC, Shie RH, Chio CP, Yuan TH, Lee JH, Chan CC (2018) Cluster analysis of fine particulate matter (PM2.5) emissions and its bioreactivity in the vicinity of a petrochemical complex. Environ Pollut 236:591–597

Cyrys J, Stolzel M, Heinrich J, Kreyling WG, Menzel N, Wittmaack K, Tuch T, Wichmann HE (2003) Elemental composition and sources of fine and ultrafine ambient particles in Erfurt, Germany. Sci Total Environ 305:143–156

de la Campa AM, Moreno T, de la Rosa J, Alastuey A, Querol X (2011) Size distribution and chemical composition of metalliferous stack emissions in the San Roque petroleum refinery complex, southern Spain. J Hazard Mater 190:713–722

dos Anjos Paulino S, Oliveira RL, Loyola J, Minho AS, Arbilla G, Quiterio SL, Escaleira V (2014) Trace metals in PM10 and PM 2.5 samples collected in a highly industrialized chemical/petrochemical area and its urbanized surroundings. Bull Environ Contam Toxicol 92:590–595

Feldman AT, Wolfe D (2014) Tissue processing and hematoxylin and eosin staining. Methods Mol Biol 1180:31–43

Feng X, Shao L, Xi C, Jones T, Zhang D, BéruBé K (2020) Particle-induced oxidative damage by indoor size-segregated particulate matter from coal-burning homes in the Xuanwei lung cancer epidemic area, Yunnan Province, China. Chemosphere 256:127058

Formosa Petrochemical Corporation, 2015. No.6 Naphtha Cracking Project—Magnitude and Facilities

Harder, S.D., Dailey, L.A., Ghio, A.J., Becker, S., 2001. Utah Valley dust affects humna BAL lymphocytes, American Thoracic Society Annual Meeting

Ho KF, Wu KC, Niu X, Wu Y, Zhu CS, Wu F, Cao JJ, Shen ZX, Hsiao TC, Chuang KJ, Chuang HC (2019) Contributions of local pollution emissions to particle bioreactivity in downwind cities in China during Asian dust periods. Environ Pollut 245:675–683

Hsu CY, Chiang HC, Chen MJ, Chuang CY, Tsen CM, Fang GC, Tsai YI, Chen NT, Lin TY, Lin SL, Chen YC (2017) Ambient PM2.5 in the residential area near industrial complexes: spatiotemporal variation, source apportionment, and health impact. Sci Total Environ 590-591:204–214

Kongtip P, Singkaew P, Yoosook W, Chantanakul S, Sujiratat D (2013) Health effects of people living close to a petrochemical industrial estate in Thailand. J Med Assoc Thail 96(Suppl 5):S64–S72

Lemos AT, Lemos CT, Flores AN, Pantoja EO, Rocha JA, Vargas VM (2016) Genotoxicity biomarkers for airborne particulate matter (PM2.5) in an area under petrochemical influence. Chemosphere 159:610–618

Liu CC, Chen CC, Wu TN, Yang CY (2008) Association of brain cancer with residential exposure to petrochemical air pollution in Taiwan. J Toxicol Environ Health A 71:310–314

March TH, Wilder JA, Esparza DC, Cossey PY, Blair LF, Herrera LK, McDonald JD, Campen MJ, Mauderly JL, Seagrave J (2006) Modulators of cigarette smoke-induced pulmonary emphysema in A/J mice. Toxicol Sci 92:545–559

Meo SA, Alrashed AH, Almana AA, Altheiban YI, Aldosari MS, Almudarra NF, Alwabel SA (2015) Lung function and fractional exhaled nitric oxide among petroleum refinery workers. J Occup Med Toxicol 10:37

Merolla L, Richards RJ (2005) In vitro effects of water-soluble metals present in UK particulate matterI. Exp Lung Res 31:671–683

Ollson CJ, Smith E, Herde P, Juhasz AL (2017) Influence of co-contaminant exposure on the absorption of arsenic, cadmium and lead. Chemosphere 168:658–666

Pasetto R, Comba P, Pirastu R (2008) Lung cancer mortality in a cohort of workers in a petrochemical plant: occupational or residential risk? Int J Occup Environ Health 14:124–128

Pasetto R, Zona A, Pirastu R, Cernigliaro A, Dardanoni G, Addario SP, Scondotto S, Comba P (2012) Mortality and morbidity study of petrochemical employees in a polluted site. Environ Health 11:34

Prieditis H, Adamson IY (2002) Comparative pulmonary toxicity of various soluble metals found in urban particulate dusts. Exp Lung Res 28:563–576

Rehman SU, Zubair H, Sarwar T, Husain MA, Ishqi HM, Nehar S, Tabish M (2015) Redox cycling of Cu(II) by 6-mercaptopurine leads to ROS generation and DNA breakage: possible mechanism of anticancer activity. Tumour Biol 36:1237–1244

Rovira E, Cuadras A, Aguilar X, Esteban L, Borras-Santos A, Zock JP, Sunyer J (2014) Asthma, respiratory symptoms and lung function in children living near a petrochemical site. Environ Res 133:156–163

Selvin S, Shaw G, Schulman J, Merrill DW (1987) Spatial distribution of disease: three case studies. J Natl Cancer Inst 79:417–423

Thomson EM, Breznan D, Karthikeyan S, MacKinnon-Roy C, Vuong NQ, Dabek-Zlotorzynska E, Celo V, Charland JP, Kumarathasan P, Brook JR, Vincent R (2016) Contrasting biological potency of particulate matter collected at sites impacted by distinct industrial sources. Part Fibre Toxicol 13:65

Tsai SP, Chen VW, Fox EE, Wendt JK, Cheng Wu X, Foster DE, Fraser AE (2004) Cancer incidence among refinery and petrochemical employees in Louisiana, 1983-1999. Ann Epidemiol 14:722–730

Valko M, Jomova K, Rhodes CJ, Kuča K, Musílek K (2016) Redox- and non-redox-metal-induced formation of free radicals and their role in human disease. Arch Toxicol 90:1–37

Vidrio E, Jung H, Anastasio C (2008) Generation of hydroxyl radicals from dissolved transition metals in surrogate lung fluid solutions. Atmos Environ 42:4369–4379

Wang JP, Cui RY, Zhang KY, Ding XM, Luo YH, Bai SP, Zeng QF, Xuan Y, Su ZW (2016) High-fat diet increased renal and hepatic oxidative stress induced by vanadium of Wistar rat. Biol Trace Elem Res 170:415–423

Wang CW, Liao KW, Chan CC, Yu ML, Chuang HY, Chiang HC, Huang PC (2019) Association between urinary thiodiglycolic acid level and hepatic function or fibrosis index in school-aged children living near a petrochemical complex. Environ Pollut 244:648–656

WHO, 2006. WHO air quality guidelines for particulate matter, ozone, nitrogen dioxide and sulfur dioxide. World Health Organization

Xu J, Wise JTF, Wang L, Schumann K, Zhang Z, Shi X (2017) Dual roles of oxidative stress in metal carcinogenesis. J Environ Pathol Tox 36:345–376

Yuan TH, Shie RH, Chin YY, Chan CC (2015) Assessment of the levels of urinary 1-hydroxypyrene and air polycyclic aromatic hydrocarbon in PM2.5 for adult exposure to the petrochemical complex emissions. Environ Res 136:219–226

Yuan TH, Chio CP, Shie RH, Pien WH, Chan CC (2016a) The distance-to-source trend in vanadium and arsenic exposures for residents living near a petrochemical complex. J Expo Sci Environ Epidemiol 26:270–276

Yuan TH, Chung MK, Lin CY, Chen ST, Wu KY, Chan CC (2016b) Metabolic profiling of residents in the vicinity of a petrochemical complex. Sci Total Environ 548-549:260–269

Yuan TH, Ke DY, Wang JE, Chan CC (2020) Associations between renal functions and exposure of arsenic and polycyclic aromatic hydrocarbon in adults living near a petrochemical complex. Environ Pollut 256:113457
Acknowledgments
The authors wish to thank Ms. Yi-Syuan Lin, Mr. Guan-Che Wu, and Mrs. Yu-Hua Liao for technical assistance with this research. This paper was financially supported by the "Innovation and Policy Center for Population Health and Sustainable Environment (Population Health Research Center, PHRC), College of Public Health, National Taiwan University" from The Featured Areas Research Center Program within the framework of the Higher Education Sprout Project by the Ministry of Education (MOE) in Taiwan.
Funding
This study was funded by the Ministry of Science and Technology of Taiwan (MOST104-2621-M-038-002-MY3).
Ethics declarations
Conflict of interest
The authors declare that they have no conflicts of interest.
Additional information
Publisher's note
Springer Nature remains neutral with regard to jurisdictional claims in published maps and institutional affiliations.
Responsible editor: Lotfi Aleya
Electronic supplementary material
About this article
Cite this article
Chuang, H., Shie, R., Lee, C. et al. Associations of soluble metals and lung and liver toxicity in mice induced by fine particulate matter originating from a petrochemical complex. Environ Sci Pollut Res (2020). https://doi.org/10.1007/s11356-020-09644-w
Received:

Accepted:

Published:
Keywords
Air pollution

Inflammation

Liver

Lung

Oxidative stress