Abstract
This study examines the performance level of hybrid woven protective clothing (HWPC), manufactured from Kevlar® (K) and Ramie (R) yarns. The weave structures (plain, twill 1/3) and variables fiber ratios were used to produce HWPC. The performance level of HWPC was measured according to EN 388:2016. We came to the conclusion that blade cut resistance of plain and twill structure sustained protection level up to increase of KR 80:20 and KR 70:30, respectively; puncture resistance of K100% and HWPC remained in the same level of protection for plain and twill weaves; Abrasion resistance of K100% and HWPC of plain and twill weaves samples presented abrasive performance of same protection level, but the average number of cycles sustained for twill weave samples was slightly higher than plain weave. However, comparing the plain and twill weaves sample for tear resistance, twill weave samples have higher tear resistance than plain weave. A gray relational analysis and Taguchi method was performed to optimize the performance of two structures with variable fiber ratios. It was established that the article produced with K&R yarns with KR 80:20 ratio and twill weave presented the best performance against all test runs. The main objective of this study is to reduce plastic pollution by reducing the amount of synthetic fiber proportion in personal protective clothing and thereby reducing the dependence on nonrenewable sources for synthetic fiber. The 41 g/m2 reduction of Kevlar® fiber has been made in a conventional PC with ramie fiber, without compromising the protection level. This will enhance the sustainability of HWPC.
This is a preview of subscription content, log in to check access.
Access options
Buy single article
Instant access to the full article PDF.
US$ 39.95
Price includes VAT for USA
Subscribe to journal
Immediate online access to all issues from 2019. Subscription will auto renew annually.
US$ 99
This is the net price. Taxes to be calculated in checkout.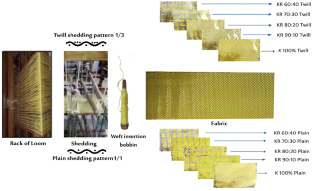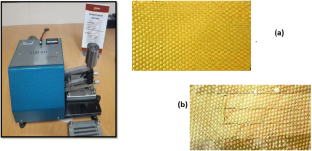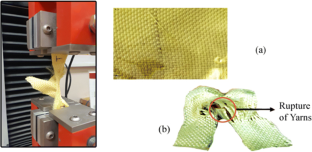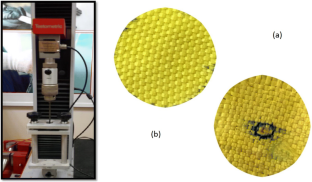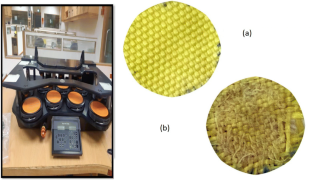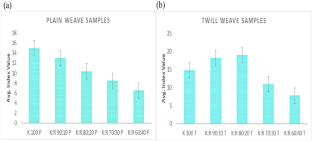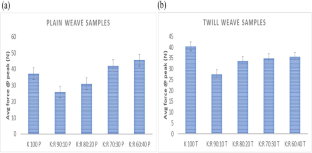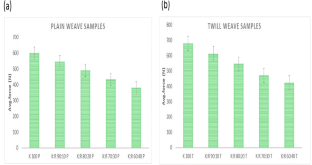 References
Abdullah I, Blackburn RS, Russell SJ, Taylor J (2006) Abrasion phenomena in twill Tencel fabric. J Appl Polym Sci 102(2):1391–1398. https://doi.org/10.1002/app.24195

Alimalik Z, Tanwari A, Sheikh HR (2011) Influence of plain and twill (3/1) weave designs on the tensile strength of pc blended fabrics. Mehran University Research Journal of Engineering & Technology 30(1):23–28 Retrieved from http://publications.muet.edu.pk/research_papers/pdf/pdf57.pdf

Aly NM, Saad MM, Ali Marwa A (2014) Multifunctional laminated composite materials for protective clothing. International Journal of Engineering and Technology 6(5):1982–1993

Asim M, Jawaid M, Saba N, Ramengmawii, Nasir M, Sultan MTH (2017) In: Thakur MK, Gupta RK, Thakur VK (eds) Hybrid polymer composite materials. Woodhead Publishing

Bhuiyan MAR, Wang L, Shaid A, Shanks RA, Ding J (2018) Advances and applications of chemical protective clothing system. J Ind Text:1–42. https://doi.org/10.1177/1528083718779426

Blackburn RS (2005) Biodegradable and sustainable fibres. In: Blackburn R (ed) Book, 1st edn. WoodHead Publishing in Textiles

Chellamani KP, Veerasubramanian D, Vignesh Balaji R (2013) Tensile and tearing strength of woven fabrics: some studies. Asian Textile Journal 22(11):70–74

Choi HN, Hong TM, Lee EH, Paik JG, Yoon BI, Lee SG, National C (2011) Stab resistance of aramid fabrics reinforced with silica STF. In: 18Th International Conference on Composite Materials, pp 1–4

Deptt L (1997) Pakistan The Factories Act 1934. Pakistan

Dianat I, Haslegrave CM, Stedmon AW (2012) Methodology for evaluating gloves in relation to the effects on hand performance capabilities: a literature review. Ergonomics 55(11):1429–1451. https://doi.org/10.1080/00140139.2012.708058

Dong S, Xian G, Yi X-S (2018) Life cycle assessment of ramie fiber used for FRPs. Aerospace 5(3):81. https://doi.org/10.3390/aerospace5030081

Ertekin M, Kirtay HE (2015) Cut resistance of hybrid Para-aramid fabrics for protective gloves. J Text Inst 107(10):1–8. https://doi.org/10.1080/00405000.2015.1100820

Faruk O, Bledzki AK, Fink HP, Sain M (2012) Biocomposites reinforced with natural fibers: 2000-2010. Prog Polym Sci 37(11):1552–1596. https://doi.org/10.1016/j.progpolymsci.2012.04.003

Govarthanam KK, Anand SC, Rajendran S (2010) Development of advanced personal protective equipment fabrics for protection against slashes and pathogenic bacteria part 1: development and evaluation of slash-resistant garments. J Ind Text 40(2):139–155. https://doi.org/10.1177/1528083710366722

Jabbar M, Shaker K, Umair M, Nawab Y (2017) Optimizing the performance of woven protective gloves using grey relational analysis. The Journal of the Textile Institute 108(10):1715–1719

Kothari VK, Das A, Sreedevi R (2006) Cut resistance of textile fabrics — A theoretical and an experimental approach. Indian Journal of Fibre & Textile Research 32:306–311

Lara J, Turcot D, Daigle R, Boutin J (2009) A new test method to evaluate the cut resistance of glove materials. Performance of Protective Clothing: Fifth 5:23–31. https://doi.org/10.1520/stp14054s

Lau AK, Cheuk WW, Lo KV (2009) Degradation of greenhouse twines derived from natural fibers and biodegradable polymer during composting. J Environ Manag 90(1):668–671. https://doi.org/10.1016/j.jenvman.2008.03.001

Liu X, Yi X, Zhu J (2018) Bio-based epoxies and composites as environmentally friendly alternative materials. https://doi.org/10.1016/C2015-0-06205-0

Maqsood M, Hussain T, Ahmad N, Nawab Y (2017) Multi-response optimization of mechanical and comfort properties of bi-stretch woven fabrics using grey relational analysis in Taguchi method. J Text Inst 108(5):794–802. https://doi.org/10.1080/00405000.2016.1191721

Memon AA, Peerzada MH, Sahito IA, Abbassi S, Jeong SH (2018) Facile fabrication and comparative exploration of high cut resistant woven and knitted composite fabrics using Kevlar and polyethylene. Fashion and Textiles 5(5). https://doi.org/10.1186/s40691-017-0122-0

Memon AH, Peerzada MH, Muhammad K, Memon SA, Mangi SA, Mujtaba G (2019) Recent eco-friendly developments in personal protective clothing materials for reducing plastic pollution: a review. Engineering, Technology & Applied Science Research 9(2):4012–4018

Mobarak Hossain M (2016) A review on different factors of woven fabrics' strength prediction. Sci Res 4(3):88–463. https://doi.org/10.1207/s15327752jpa5803_2

Mohammed L, Ansari MNM, Pua G, Jawaid M, Islam MS (2015) A review on natural Fiber reinforced polymer composite and its applications. International Journal of Polymer Sciences:15. https://doi.org/10.1155/2015/243947. Review

Nishino T, Hirao K, Kotera M, Nakamae K, Inagaki H (2003) Kenaf reinforced biodegradable composite. Compos Sci Technol 63(9):1281–1286. https://doi.org/10.1016/S0266-3538(03)00099-X

Palaniswamy K, Mohamed P (2006) Effect of the single-yarn twist and ply to single-yarn twist ratio on the hairiness and abrasion resistance of cotton two-ply yarn. Autex Research Journal 6(2):59–71

Raheel M, Dai GX (2008) Chemical resistance and structural integrity of protective glove materials chemical resistance and structural integrity of protective glove materials. J Environ Sci Health A 1204:567–579. https://doi.org/10.1080/10934529709376561

Rattan R, Bijwe J (2006) Influence of weave of carbon fabric on abrasive wear performance of polyetherimide composites. Tribol Lett 22(1):105–112. https://doi.org/10.1007/s11249-006-9068-x

Rebouillat S, Steffenino B, Miret-Casas A (2010) Aramid, steel, and glass: characterization via cut performance testing, of composite knitted fabrics and their constituent yarns, with a review of the art. J Mater Sci 45(19):5378–5392. https://doi.org/10.1007/s10853-010-4590-5

Sabir T (2018) Fibers used for high-performance apparel. In: High- performance apparel materials, development, and applications. Woodhead Publishing Series in Textiles, pp 7–32. https://doi.org/10.1016/B978-0-08-100904-8.00002-X

Sandin G, Peters GM (2018) Environmental impact of textile reuse and recycling – A review. J Clean Prod 184:353–365. https://doi.org/10.1016/j.jclepro.2018.02.266

Scott RA (2005) In: Scott RA (ed) Textiles for protection. WoodHead Publishing in Textiles, Cambridge

Shale S (2015) Choosing the right hand protection. World Pumps 2015(1):36–38. https://doi.org/10.1016/S0262-1762(14)70348-7

Sharma A, Aloysius V, Visvanathan C (2019) Recovery of plastics from dumpsites and landfills to prevent marine plastic pollution in Thailand. Waste Disposal & Sustainable Energy 1(4):237–249

Shim E, Pourdeyhimi B (2006) Hydroentangling knitted fabrics for improving abrasion resistance. J Text Inst 97(5):435–440. https://doi.org/10.1533/joti.2006.0268

Shishoo R (2002) Recent developments in materials for use in protective clothing. International Journal of Clothing Science and Technology 14(3–4):201–215. https://doi.org/10.1108/09556220210437167

Sindh Government (2017) Sindh Occupational health and Safety Act 2017, Pub. L. No. Sindh Act No.I of 2018, 27. Pakistan. Retrieved from http://sindhlaws.gov.pk/setup/publications/PUB-18-000025.pdf

Sivan A (2011) New perspectives in plastic biodegradation. Curr Opin Biotechnol 22(3):422–426. https://doi.org/10.1016/j.copbio.2011.01.013

Sun B, Wang Y, Wang P, Hu H, Gu B (2011) Investigations of puncture behaviors of woven fabrics from finite element analyses and experimental tests. Text Res J 81(10):992–1007. https://doi.org/10.1177/0040517510395999

Taylor HM (1959) Tensile and tearing strength of cotton cloth. Journal of Textile Institute 50(1):161–188. https://doi.org/10.1080/19447025908662490

Technical Committee CEN/TC162 (2016) Protective gloves against mechanical risks BS EN 388:2016
Funding
The author (s) of this study had not utilized any grant from any funding agency in the public, private, or not-for-profit sectors.
Ethics declarations
Conflict of interest
The Author (s) of this study declared no potential conflicts of interest with reverence to the research, authorship, and/or publication of this study.
Additional information
Publisher's note
Springer Nature remains neutral with regard to jurisdictional claims in published maps and institutional affiliations.
Responsible editor: Philippe Garrigues
About this article
Cite this article
Memon, A.H., Peerzada, M.H., Brohi, K.M. et al. Performance evaluation of conventional and hybrid woven fabrics for the development of sustainable personal protective clothing. Environ Sci Pollut Res (2020). https://doi.org/10.1007/s11356-020-09610-6
Received:

Accepted:

Published:
Keywords
Abrasion resistance

Cut resistance

Hybrid woven protective clothing

Kevlar®

Puncture resistance

Ramie

Tear strength

Sustainable clothing

Low weight PPC