Abstract
The ranking of power generation sources is a very important prerequisite for power generation installation planning and power supply security. This study proposed a new multi-criteria system for ranking regional power generation sources in one country, including resources, economy, technology, environment, and society, using 11 sub-criteria. Based on the system, a novel decision-maker (DMs) preference-based integrated MCDM framework involving four methods (Visekriterijumsko Kompromisno Rangiranje (VIKOR), Technique for Order Preference by Similarity to Ideal Solution (TOPSIS), Preference Ranking Organization Method for Enrichment Evaluations (PROMETHEE), and Weighted Sum Method (WSM)) was developed for ranking six power generation sources (thermal, nuclear, wind, hydro, solar PV, and biomass) at the level of China's 30 provinces. Six different preferences of DMs are considered in the ranking according to five criteria. The results show that wind should be the power generation source given the top priority in most provinces in China whereas nuclear power and thermal power are the last choice for 26 provinces. Biomass is the most preferable power source for 17 provinces based on technological preference in which DMs regard the technology criteria is prior to all other criteria. Thermal power would still the preferred or secondary power source for provinces rich in coal resources such as Shanxi, Inner Mongolia, Henan, and Shaanxi.
This is a preview of subscription content, log in to check access.
Access options
Buy single article
Instant access to the full article PDF.
US$ 39.95
Price includes VAT for USA
Subscribe to journal
Immediate online access to all issues from 2019. Subscription will auto renew annually.
US$ 99
This is the net price. Taxes to be calculated in checkout.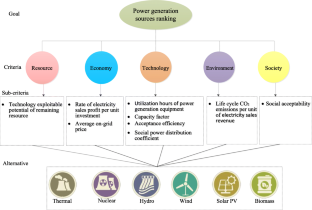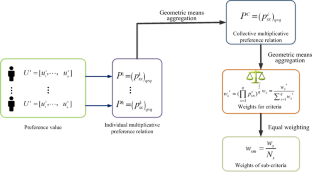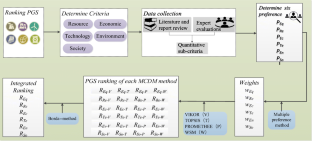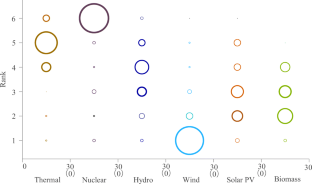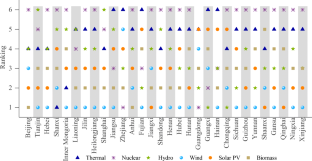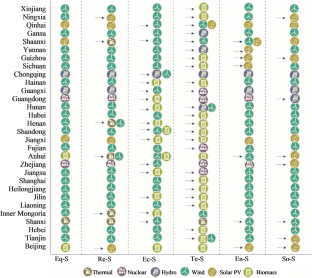 Notes
1.

The total number of nuclear power plants includes all nuclear power plants in operation, establishment, and preparation.

2.

This is mainly due to the high actual utilization hours of thermal power

3.

Preferential taxation policies to promote the development of wind power include: levying half of the value-added tax payable on wind power; in terms of income tax, wind power companies enjoy the former 3-year income tax exemptions and later 6-year halve and so on.

4.

Accelerate the application of distributed photovoltaics in various fields, implement the five major sunshine projects of "Sunshine Campus, Sunshine Business, Sunshine Park, Sunshine Agriculture, and Sunshine Infrastructure," encourage residential households to apply distributed photovoltaic power generation systems, and promote the participation of the whole society in development and utilization of solar PV.

5.

Encourage and support enterprises to develop roof photovoltaics in the form of roof leasing, cooperative co-construction, etc., and develop photovoltaic power plants of" agricultural light complementary" and "fishing and Light Complementary".
References
Ahmad S, Tahar RM (2014) Selection of renewable energy sources for sustainable development of electricity generation system using analytic hierarchy process: a case of Malaysia. Renew Energy 63:458–466

Akhavan P, Barak S, Maghsoudlou H, Antuchevicienė J (2015) FQSPM-SWOT for strategic alliance planning and partner selection; case study in a holding car manufacturer company. Technol Econ Dev Econ 21:165–185

Al Garni H, Kassem A, Awasthi A, Komljenovic D, Al-Haddad K (2016) A multicriteria decision making approach for evaluating renewable power generation sources in Saudi Arabia. Sustainable Energy Technologies and Assessments 16:137–150

Amer M, Daim TU (2011) Selection of renewable energy technologies for a developing county: a case of Pakistan. Energy for Sustainable Development 15:420–435

BP (2018) Statistical review of world energy 2018. British Petroleum, London

Brans JP, Vincke P (1985) Note-a preference ranking organisation method: the PROMETHEE method for multiple criteria decision-making. Manag Sci 31:647–656

Brans JP, Mareschal B, Vincke P (1984) PROMETHEE: a new family of outranking methods in multicriteria analysis. In: JP, B (ed) Operational Research. Elsevier, Amsterdam, pp 477–490

Cavallaro F, Ciraolo L (2005) A multicriteria approach to evaluate wind energy plants on an Italian island. Energy Policy 33:235–244

CEC (China Electricity Council) (2017) Annual development report of China's electric power industry 2017

CEPYEC (China Electric Power Yearbook Editorial Committee) (2017) China Electri Power Yearbook (2017). China Electric Power Press, Beijing

Chen GQ, Yang Q, Zhao YH (2011) Renewability of wind power in China: a case study of nonrenewable energy cost and greenhouse gas emission by a plant in Guangxi. Renew Sust Energ Rev 15:2322–2329

CNEA (China National Energy Administration) (2016) National Electricity Price Regulatory Circular 2016

CNEA (China National Energy Administration) (2017) 2017-Monitoring and Evaluation Report on Power Development of Renewable Energy

CNEIN (China Nuclear Energy Information Network) (2018) Distribution of Nuclear Power Plants in China. http://www.heneng.net.cn/index.php?mod=npp

CNEN (China New Energy Network) (2017) Benefits and problems of Biomass power generation. http://www.china-nengyuan.com/news/104963.html

CNNC (China National Nuclear Corporation) (2007) Nuclear Safety Regulation for Site Selection of Nuclear Power Plants

CNREC (2018) China renewable energy outlook, 2018. China National Renewable Energy Centre

CNREC (China National Renewable Energy Center) (2015) Renewable energy data book, Beijing

Ding J, Han D, Yang Y (2018) Iterative ranking aggregation using quality improvement of subgroup ranking. Eur J Oper Res 268:596–612

Erdogan M, Kaya I (2019) Prioritizing failures by using hybrid multi criteria decision making methodology with a real case application. Sustain Cities Soc 45:117–130

Fishburn PC (1967) Additive utilities with incomplete product sets: application to priorities and assignments. Oper Res 15:537–542

Georgiou D, Mohammed ES, Rozakis S (2015) Multi-criteria decision making on the energy supply configuration of autonomous desalination units. Renew Energy 75:459–467

Gilliams S, Raymaekers D, Muys B, Orshoven JV (2005) Comparing multiple criteria decision methods to extend a geographical information system on afforestation. Comput Electron Agric 49:142–158

He J, Liu Y, Lin B (2018) Should China support the development of biomass power generation? Energy 163:416–425

IREAN (2017) Renewable energy statistics 2017. International Renewable Energy Agency, Masdar City

Jahan A, Ismail MY, Shuib S, Norfazidah D, Edwards K (2011) An aggregation technique for optimal decision-making in materials selection. Mater Des 32:4918–4924

Jugen L, Lishan S (2006) Brief description of hydropower resources in China. Water Power 1:3–7

Karunathilake H, Hewage K, Merida W, Sadiq R (2019) Renewable energy selection for net-zero energy communities: life cycle based decision making under uncertainty. Renew Energy 130:558–573

Kou G, Yang P, Peng Y, Xiao F, Chen Y, Alsaadi FE (2020) Evaluation of feature selection methods for text classification with small datasets using multiple criteria decision-making methods. Appl Soft Comput 86:105836

Lee H, Chang C (2018) Comparative analysis of MCDM methods for ranking renewable energy sources in Taiwan. Renew Sustain Energy Rev 92:883–896

Menegaki AN (2012) A social marketing mix for renewable energy in Europe based on consumer stated preference surveys. Renew Energy 39:30–39

Mohamadabadi HS, Tichkowsky G, Kumar A (2009) Development of a multi-criteria assessment model for ranking of renewable and non-renewable transportation fuel vehicles. Energy 34:112–125

Momeni M, Maleki M, Afshari MA, Moradi JS, Mohammadi J (2011) A fuzzy MCDM approach for evaluating listed private banks in Tehran stock exchange based on balanced scorecard. Int J Bus Adm 2:80–97

Naicker P, Thopil GA (2019) A framework for sustainable utility scale renewable energy selection in South Africa. J Clean Prod 224:637–650

NBSC (National Bureau of Statistics of China) (2017) China Statistical Yearbook(2017). China Statistics Press, Beijing

NDRC (National Development and Reform Commission of China) (2007) National Nuclear Power Medium and Long-term Development Planning (2005–2020)

Niromandfam A, Yazdankhah AS, Kazemzadeh R (2020) Designing risk hedging mechanism based on the utility function to help customers manage electricity price risks. Electr Power Syst Res 185:106365

NRSC (Nuclear and Radiation Safety center of China) (2017) Requirements of nuclear power plant site selection. http://www.chinansc.cn/gzxc/bwbd/hyfsaqxgwt/201711/t20171120_455421.html

Opricovic S (1998) Multicriteria optimization of civil engineering systems. Faculty of Civil Engineering, Belgrade 2:5–21

Opricovic S, Tzeng GH (2004) Compromise solution by MCDM methods: a comparative analysis of VIKOR and TOPSIS. Eur J Oper Res 156:445–455

Pohekar SD, Ramachandran M (2004) Application of multi-criteria decision making to sustainable energy planning—a review. Renew Sustain Energy Rev 8:365–381

Pomerol JC, Barba-Romero S (2000) Multicriterion decision in management: principles and practice. Springer, Netherlands

PPGC(Polaris Power Grid of China) (2017) Distribution map of nuclear power in operation and under construction in China Mainland

Pratama YW, Purwanto WW, Tezuka T, Mclellan B, Hartono D, Hidayatno A, Daud Y (2017) Multi-objective optimization of a multiregional electricity system in an archipelagic state: the role of renewable energy in energy system sustainability. Renew Sustain Energy Rev 77:423–439

Pui KL, Othman J (2019) The influence of economic, technical, and social aspects on energy-associated CO2 emissions in Malaysia: an extended Kaya identity approach. Energy 181:468–493

Ram M, Child M, Aghahosseini A, Bogdanov D, Poleva A, Breyer C (2017) Comparing electricity production costs of renewables to fossil and nuclear power plants in G20 countries. Greenpeace, Hamburg

Ren J (2018) Multi-criteria decision making for the prioritization of energy systems under uncertainties after life cycle sustainability assessment. Sustainable Production and Consumption 16:45–57

Ren J, Sovacool BK (2015) Prioritizing low-carbon energy sources to enhance China's energy security. Energy Convers Manag 92:129–136

Roinioti A, Koroneos C (2019) Integrated life cycle sustainability assessment of the Greek interconnected electricity system. Sustainable Energy Technologies and Assessments 32:29–46

San Cristóbal JR (2011) Multi-criteria decision-making in the selection of a renewable energy project in Spain: the Vikor method. Renew Energy 36:498–502

Şengul U, Eren M, Shiraz SE, Gezder V, Şengul AB (2015) Fuzzy TOPSIS method for ranking renewable energy supply systems in Turkey. Renew Energy 75:617–625

Senthil S, Murugananthan K, Ramesh A (2017) Analysis and prioritisation of risks in a reverse logistics network using hybrid multi-criteria decision making methods. J Clean Prod 179:716–730

Shen Y-C, Lin GTR, Li K-P, Yuan BJC (2010) An assessment of exploiting renewable energy sources with concerns of policy and technology. Energy Policy 38:4604–4616

Song K, Zhou J, Zhang P (2016) Assessment of biomass power potential on provincial scale and analysis on plan target quota. Forum on Science and Technology in China 1:124–129

Stein EW (2013) A comprehensive multi-criteria model to rank electric energy production technologies. Renew Sust Energ Rev 22:640–654

Streimikiene D, Balezentis T, Krisciukaitienė I, Balezentis A (2012) Prioritizing sustainable electricity production technologies: MCDM approach. Renew Sust Energ Rev 16:3302–3311

Suo MQ, Li YP, Huang GH (2012) Multicriteria decision making under uncertainty: an advanced ordered weighted averaging operator for planning electric power systems. Eng Appl Artif Intell 25:72–81

Tasri A, Susilawati A (2014) Selection among renewable energy alternatives based on a fuzzy analytic hierarchy process in Indonesia. Sustainable Energy Technologies and Assessments 7:34–44

Triantaphyllou E (2000) Multi-criteria decision making methods[M]//multi-criteria decision making methods: a comparative study. Springer, Boston. 2000:5–21

Troldborg M, Heslop S, Hough RL (2014) Assessing the sustainability of renewable energy technologies using multi-criteria analysis: suitability of approach for national-scale assessments and associated uncertainties. Renew Sustain Energy Rev 39:1173–1184

Varmazyar M, Dehghanbaghi M, Afkhami M (2016) A novel hybrid MCDM model for performance evaluation of research and technology organizations based on BSC approach. Evaluation and program planning 58:125–140

Voogd H (1983) Multicriteria evaluation for urban and regional planning. Pion Ltd.

Wang P, Zhu Z, Wang Y (2016) A novel hybrid MCDM model combining the SAW, TOPSIS and GRA methods based on experimental design. Inf Sci 345:27–45

Wang Y, Li Y, Liu D, Liu S (2017) Evaluation of wind energy utilization efficiency based on improved gray theory. Sci Technol Manag Res 37:96–101

Wang L, Wang Y, Zhou Z, Garvlehn MP, Bi F (2018a) Comparative assessment of the environmental impacts of hydro-electric, nuclear and wind power plants in China: life cycle considerations. Energy Procedia 152:1009–1014

Wang N, Ren Y, Zhu T, Meng F, Wen Z, Liu G (2018b) Life cycle carbon emission modelling of coal-fired power: Chinese case. Energy 162:841–852

Wang H, Jiang Z, Zhang H, Wang Y, Yang Y, Li Y (2019) An integrated MCDM approach considering demands-matching for reverse logistics. J Clean Prod 208:199–210

Wu J (2011) The carbon dioxide allocation between the producer and the consumer in China electric power system. Energy Environ 33:15–17

Wu P, Ma X, Ji J, Ma Y (2017) Review on life cycle assessment of greenhouse gas emission profit of solar photovoltaic systems. Energy Procedia 105:1289–1294

Wu Y, Xu C, Zhang T (2018) Evaluation of renewable power sources using a fuzzy MCDM based on cumulative prospect theory: a case in China. Energy 147:1227–1239

Xu Z (2004) A method based on linguistic aggregation operators for group decision making with linguistic preference relations. Inf Sci 166:19–30

Yoon K, Kwang C (1981) Multiple criteria decision making, lecture notes in economics and mathematical systems. Springer-Verlag, pp:58–191

Yu Y (2011) Distribution of CO2 emission reduction obligations between power enterprises and end users. China power enterprise management, pp 40–42

Yu S, Zheng S, Gao S, Yang J (2017) A multi-objective decision model for investment in energy savings and emission reductions in coal mining. Eur J Oper Res 260(1):335–347

Yu S, Zheng Y, Li L (2019) A comprehensive evaluation of the development and utilization of China's regional renewable energy. Energy Policy 127:73–86

Yuan J, Li C, Li W, Liu D, Li X (2018) Linguistic hesitant fuzzy multi-criterion decision-making for renewable energy: a case study in Jilin. J Clean Prod 172:3201–3214

Zhang L, Yang T (2014) The evaluation and selection of renewable energy technologies in China. Energy Procedia 61:2554–2557

Zhang Q, Chen JCH, Chong PP (2004) Decision consolidation: criteria weight determination using multiple preference formats, decision support systems, 247–258

Zhang L, Zhou P, Newton S, Fang J-x, Zhou D-q, Zhang L-p (2015) Evaluating clean energy alternatives for Jiangsu, China: an improved multi-criteria decision making method. Energy 90:953–964

Zhou K, Yang S, Shen C, Ding S, Sun C (2015) Energy conservation and emission reduction of China's electric power industry. Renew Sustain Energy Rev 45:10–19
Funding
This study received financial supports from the National Natural Science Foundation of China (Grant Nos.71822403 and 31961143006) and Hubei Natural Science Outstanding Foundation (Grant No. 2019CFA089).
Additional information
Publisher's note
Springer Nature remains neutral with regard to jurisdictional claims in published maps and institutional affiliations.
Responsible Editor: Philippe Garrigues
Appendix
Appendix
About this article
Cite this article
Yu, S., Zheng, Y., Li, L. et al. Ranking provincial power generation sources of China: a decision-maker preferences based integrated multi-criteria framework. Environ Sci Pollut Res (2020). https://doi.org/10.1007/s11356-020-09609-z
Received:

Accepted:

Published:
Keywords
Power generation sources

Ranking

Multi-criteria decision making

China's province

Decision-maker preferences

Renewable energy