Abstract
Differences in leaf surface microstructure characteristics can lead to differences in the ability of trees to capture suspended particulate matter (PM). The influence of changes in leaf surface microstructure caused by growth and environmental pollution on the PM capture ability is poorly understood. This study assessed the influence of growth on leaf microstructure in leaves of different ages, and the influence of pollution intensity was assessed by studying trees growing under different pollution conditions. It was found that the ability of leaves of Taxus cuspidata var., Platycladus orientalis, and Pinus tabuliformis to absorb total suspended particles (TSP), PM10, PM2.5, and PM1 increased with leaf age. The amounts of TSP and PM10 captured by P. orientalis, P. tabuliformis, Sophora japonica, Populus tomentosa, and Ginkgo biloba were higher in heavily polluted areas than in clean areas. This may be because particle capture is influenced by leaf microstructure changes. With age increasing, the root mean square roughness (Rq) of three evergreen species leaves increased. Environmental pollution will change the leaf surface microstructure and its ability to capture PM. Compared with a clean area, in a heavily polluted area, the stomatal index of the leaves decreased, stomata were occluded, the leaf wax layer was degraded, the leaf surface contained more particles, the surface texture of S. japonica and G. biloba leaves became irregular, the boundaries of the epidermal cells became more irregular, and the trichrome of S. japonica became thinner, longer, and harder. The Rq value was generally higher in the heavily polluted area, and the roughness of the abaxial surface increased more than on the adaxial surface. In the heavily polluted area, the leaf microstructure changes were the main reason for the increase in the Rq value. With the increase in leaf roughness, the amount of PM on the leaf surface increased.
This is a preview of subscription content, log in to check access.
Access options
Buy single article
Instant access to the full article PDF.
US$ 39.95
Price includes VAT for USA
Subscribe to journal
Immediate online access to all issues from 2019. Subscription will auto renew annually.
US$ 99
This is the net price. Taxes to be calculated in checkout.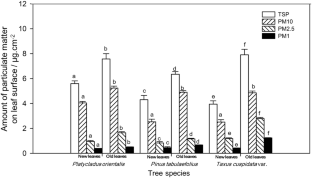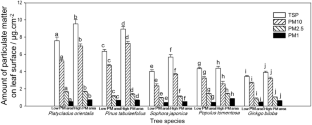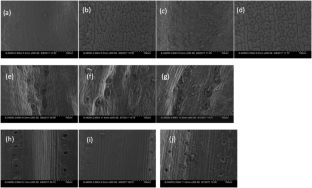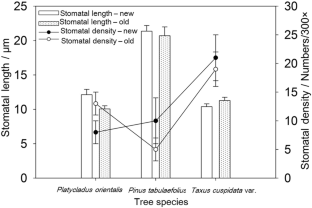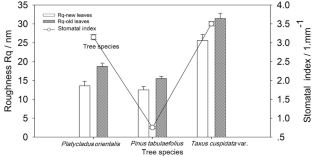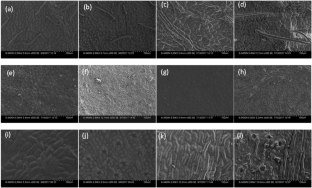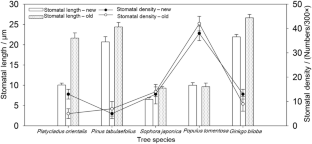 References
Andrade MF, Kumar P, de Freitas ED, Ynoue RY, Martins J, Martins LD, Nogueira T, Perez-Martinez P, de Miranda RM, Albuquerque T, Gonçalves FLT, Oyama B, Zhang Y (2017) Air quality in the megacity of São Paulo: evolution over the last 30 years and future perspectives. Atmos Environ 159:66–82

Brewer CA, Nuñez CI (2007) Patterns of leaf wettability along an extreme moisture gradient in Western Patagonia, Argentina. Int J Plant Sci 168:555–562

Burkhardt J, Peters K, Crossley A (1995) The presence of structural surface waxes on coniferous needles affects the pattern of dry deposition of fine particles. J Exp Bot 46:823–831

Cao C, Jiang W, Wang B, Fang J, Lang J, Tian G, Jiang J, Zhu TF (2014) Inhalable microorganisms in Beijing's PM2.5 and PM10 pollutants during a severe smog event. Environ Sci Technol 48:1499–1507

Conway TM, Almas AD, Coore D (2019) Ecosystem services, ecological integrity, and native species planting: how to balance these ideas in urban forest management? Urban For Urban Gree 41:1–5

Dawson J, Adams P, Pandis S (2007) Sensitivity of PM2.5 to climate in the Eastern US: a modeling case study. Atmos Chem Phys 7(16):4295–4309

Dzierzanowski K, Popek R, Gawronska H, Saebo A, Gawronski SW (2011) Deposition of particulate matter of different size fractions on leaf surfaces and in waxes of urban forest species. Int J Phytore 13:1037–1046

Fang YY, Wang B, Niu X (2015) Effects of surface roughness on leaf particulate matter capture capability and rain wash-off characteristics. J Soil Water Conserv 29:110–115

Freer-Smith PH, El-Khatib AA, Taylor G (2004) Capture of particulate pollution by trees: a comparison of species typical of semi-arid areas (Ficus nitida and Eucalyptus globulus) with European and North American species. Water Air Soil Pollut 155:173–187

Guerreiro CBB, Foltescu V, de Leeuw F (2014) Air quality status and trends in Europe. Atmos Environ 98:376–384

Haines BL, Jernstedt JA, Neufeld HS (1985) Direct foliar effects of simulated acid rain II. Leaf surface characteristics. New Phytol 99:407–416

He C, Qiu KY, Pott R (2020a) Reduction of traffic-related particulate matter by roadside plants: effect of traffic pressure and sampling height. Int J Phytoremediat 22(2):184–200

He C, Qiu KY, Alahmad A (2020b) Particulate matter capturing capacity of roadside evergreen vegetation during the winter season. Urban For Urban Green 48:126510

He C, Qiu KY, Pott R (2020c) Reduction of urban traffic-related particulate matter-leaf trait matters. Environ Sci Pollut Res 27:5825–5844

Hu ZZ, Tang XG, Zheng C, Guan ML, Shen JW (2018) Spatial and temporal analyses of air pollutants and meteorological driving forces in Beijing–Tianjin–Hebei region, China. Environ Earth Sci 77:1–19

Hwang HJ, Yook SJ, Ahn KH (2011) Experimental investigation of submicron and ultrafine soot particle removal by tree leaves. Atmos Environ 45:6987–6994

Koch K, Bhushan B, Barthlott W (2009) Multifunctional surface structures of plants: an inspiration for biomimetics. Prog Mater Sci 54(2):137–178

Lu SW, Yang XB, Li SN, Chen B, Jiang Y, Wang D, Xu L (2018) Effects of plant leaf surface and different pollution levels on PM2.5 adsorption capacity. Urban For Urban Gree 34:64–70

McDonald AG, Bealey WJ, Fowler D, Dragosits U, Skiba U, Smith RI, Donovan RG, Brett HE, Hewitt CN, Nemitz E (2007) Quantifying the effect of urban tree planting on concentrations and depositions of PM10 in two UK conurbations. Atmos Environ 41:8455–8467

Moreno E, Sagnotti L, Dinarès-Turell J, Winkler A, Cascella A (2003) Biomonitoring of traffic air pollution in Rome using magnetic properties of tree leaves. Atmos Environ 37:2967–2977

Nairn JJ, Forster WA, van Leeuwen RM (2011) Quantification of physical (roughness) and chemical (dielectric constant) leaf surface properties relevant to wettability and adhesion. Pest Manag Sci 67:1562–1570

Neinhuis C, Barthlott W (1998) Seasonal changes of leaf surface contamination in beech, oak, and ginkgo in relation to leaf micromorphology and wettability. New Phytol 138:91–98

Nowak DJ, Crane DE, Stevens JC (2006) Air pollution removal by urban trees and shrubs in the United States. Urban For Urban Gree 4:115–123

Nowak DJ, Hirabayashi S, Bodine A, Greenfield E (2014) Tree and forest effects on air quality and human health in the United States. Environ Pollut 193:119–129

Pal A, Kulshreshtha K, Ahmad KJ, Behl HM (2002) Do leaf surface characters play a role in plant resistance to auto-exhaust pollution? Flora - Morphol Dis Funct Ecol Plants 197:47–55

Pourkhabbaz A, Rastin N, Olbrich A, Langenfeld-Heyser R, Polle A (2010) Influence of environmental pollution on leaf properties of urban plane trees, Platanus orientalis L. Bull Environ Contam Toxicol 85:251–255

Prusty BA, Mishra PC, Azeez PA (2005) Dust accumulation and leaf pigment content in vegetation near the national highway at Sambalpur, Orissa, India. Ecotox Environ Safe 60(2):228–235

Przybysz A, Sæbø A, Hanslinb HM, Gawroński SW (2014) Accumulation of particulate matter and trace elements on vegetation as affected by pollution level, rainfall and the passage of time. Sci Total Environ 481:360–369

Rai A, Kulshreshtha K, Srivastava PK, Mohanty CS (2009) Leaf surface structure alterations due to particulate pollution in some common plants. Environmentalist 30:18–23

Räsänen JV, Holopainen T, Joutsensaari J, Pasanen P, Kivimäenpää M (2014) Particle capture efficiency of different-aged needles of Norway spruce under moderate and severe drought. Can J For Res 44:831–835

Sæbø A, Popek R, Nawrot B, Hanslin HM, Gawronska H, Gawronski SW (2012) Plant species differences in particulate matter accumulation on leaf surfaces. Sci Total Environ 427-428:347–354

Shi PJ, Bai XM, Kong F, Fang JY, Gong DY, Zhou T, Guo Y, Liu YS, Dong WJ, Wei ZA, He CY, Yu D, Wang JA, Ye Q, Yu RC, Chen DL (2017) Urbanization and air quality as major drivers of altered spatiotemporal patterns of heavy rainfall in China. Landsc Ecol 32:1723–1738

Tallis M, Taylor G, Sinnett D, Freer-Smith P (2011) Estimating the removal of atmospheric particulate pollution by the urban tree canopy of London, under current and future environments. Landsc Urban Plan 103:129–138

Terzaghi E, Wild E, Zacchello G, Cerabolini BEL, Jones KC, Di Guardo A (2013) Forest filter effect: role of leaves in capturing/releasing air particulate matter and its associated PAHs. Atmos Environ 74:378–384

Thaker P, Gokhale S (2016) The impact of traffic-flow patterns on air quality in urban street canyons. Environ Pollut 208:161–169

Wan JM, Lin M, Chan CY, Zhang ZS, Engling G, Wang XM, Chan IN, Li SY (2011) Change of air quality and its impact on atmospheric visibility in central-western Pearl River Delta. Environ Monit Assess 172:339–351

Wang HX, Shi H, Li YY, Yu Y, Zhang J (2013) Seasonal variations in leaf capturing of particulate matter, surface wettability and micromorphology in urban tree species. Fron Environ Sci Eng 7:579–588

Wang HX, Shi H, Wang YH, Yu Y (2014) PM2.5 removal by plant leaves: taking Ligustrum lucidum as an example. Ecol Sci 33:749–753

Wang HX, Shi H, Wang YH (2015a) Dynamics of the captured quantity of particulate matter by plant leaves under typical weather conditions. Acta Ecol Sin 35:1696–1705

Wang ZS, Li YT, Chen T, Zhang DW, Sun F, Pan LB (2015b) Spatial-temporal characteristics of PM2.5 in Beijing in 2013. Acta Geogra Sinica 70:110–120

Wang B, Niu X, Jiang YX, Wang XS, Wang D, Song QF, Lu SW, Zhou M, Ding FJ, You WZ, Li HJ, Li SN, Wei JS, Wei WJ, Liu ZY (2016) Methodology for field long-term observation of forest ecosystem(GB/T33027–2016). Standard Press, Beijing

Wang B, Niu X, Jiang YX, Guo QS, Liu SR, Yang FW, Song QF (2017) Indicators system for long-term observation of forest ecosystem (GB/T35377–2017). Standard Press, Beijing

Yan S, Cao H, Chen Y, Wu C, Hong T, Fan H (2016) Spatial and temporal characteristics of air quality and air pollutants in 2013 in Beijing. Environ Sci Pollut Res Int 23:13996–14007

Zhang J, Ouyang ZY, Miao H, Wang XK (2011) Ambient air quality trends and driving factor analysis in Beijing, 1983–2007. J Environ Sci 23:2019–2028

Zhang WK, Wang B, Niu X (2015a) Adsorption capacity of the air particulate matter in different urban landscape plants of Beijing. Environ Sci 36:2381–2388

Zhang WK, Wang B, Niu X (2015b) Study on the adsorption capacities for airborne particulates of landscape plants in different polluted regions in Beijing (China). Int J Environ Res Public Health 12:9623–9638

Zhang WK, Wang B, Niu X (2017) Relationship between leaf surface characteristics and particle capturing capacities of different tree species in Beijing. Forests 8:92

Zhang WK, Zhang Z, Meng H, Zhang T (2018) How does leaf surface micromorphology of different trees impact their ability to capture particulate matter? Forests 9:681
Funding
This study was funded by the National key research and development program of China (2017YFC0503804), the National Natural Science Foundation of China Youth Science Fund Project (31600359). Financial support was also provided by CFERN & BEIJING TECHNO SOLUTIONS Award Funds on excellent academic achievements.
Additional information
Publisher's note
Springer Nature remains neutral with regard to jurisdictional claims in published maps and institutional affiliations.
Responsible editor: Philippe Garrigues
About this article
Cite this article
Niu, X., Wang, B. & Wei, W. Response of the particulate matter capture ability to leaf age and pollution intensity. Environ Sci Pollut Res (2020). https://doi.org/10.1007/s11356-020-09603-5
Received:

Accepted:

Published:
Keywords
Leaf surface microstructure

Particulate matter capture ability

Leave ages

Pollution conditions