Abstract
Rice cultivation, particularly prone to weed issues, requires practices able to effectively control them, however reducing the use of herbicides, responsible for damage to human health and ecosystem sustainability. Alternative strategies for weed management can be based on plant-plant interaction phenomena. In this context, a group of organic farmers has developed a pragmatic approach for weed containment using Lolium multiflorum Lam. as a cover crop before rice. The present study aimed to confirm the farmer field observations reporting a preferential inhibitory effect of L. multiflorum on Echinochloa oryzoides (Ard.) Fritsch, one of the most yield-damaging rice weed, compared with Oryza sativa L. The study showed that L. multiflorum was able to significantly reduce the seed germination of E. oryzoides. It was found to be more susceptible than O. sativa both to the effect of the aqueous extract and powder of L. multiflorum leaves (23–79% vs. 3–57% and 26–100% vs. 23–31%, respectively). In addition, the leaf extract was able to affect E. oryzoides growth starting from 20% concentration both in relation to the root and shoot length while O. sativa exhibited differences compared with the control only under the influence of extract 50%. The L. multiflorum leaf characterization by NMR and UPLC-HR-MS analyses led to the identification of 35 compounds including several polyphenols, glycosyl flavonoids and glycosyl terpenoids, as well as different amino acids and organic acids. Some of them (e.g. protocatechuic and gallic acids) are already known as allelochemicals confirming that L. multiflorum is a source of plant growth inhibitors.
This is a preview of subscription content, log in to check access.
Access options
Buy single article
Instant access to the full article PDF.
US$ 39.95
Price includes VAT for USA
Subscribe to journal
Immediate online access to all issues from 2019. Subscription will auto renew annually.
US$ 99
This is the net price. Taxes to be calculated in checkout.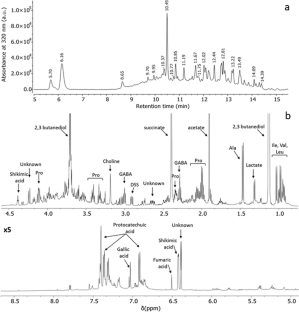 References
Abdul-Baki AA, Anderson JD (1973) Vigour determination in soybean seed by multiple criteria. Crop Sci 13:630–633. https://doi.org/10.2135/cropsci1973.0011183X001300060013x

Altop EK, Mennan H, Streibig JC, Budak U, Ritz C (2014) Detecting ALS and ACCase herbicide tolerant accession of Echinochloa oryzoides (Ard.) Fritsch. In rice (Oryza sativa L.) fields. Crop Prot 65:202–206. https://doi.org/10.1016/j.cropro.2014.07.011

Amigoni L, Stuknytė M, Ciaramelli C, Magoni C, Bruni I, De Noni I, Airoldi C, Regonesi ME, Palmioli A (2017) Green coffee extract enhances oxidative stress resistance and delays aging in Caenorhabditis elegans. J Funct Foods 33:297–306. https://doi.org/10.1016/j.jff.2017.03.056

Awan TH, Cruz PCS, Chauhan BS (2015) Ecological significance of rice (Oryza sativa) planting density and nitrogen rates in managing the growth and competitive ability of itchgrass (Rottboellia cochinchinensis) in direct-seeded rice systems. J Pest Sci 88(2):427–438. https://doi.org/10.1007/s10340-014-0604-4

Bastiaans L, Paolini R, Baumann DT (2008) Focus on ecological weed management. What is hindering adoption? Weed Res 48:481–491. https://doi.org/10.1111/j.1365-3180.2008.00662.x

Chen L, Yang XG, Wang L, Song NP (2017) Allelopathic effects of Caragana intermedia on monocot and dicot plant species and identification of allelochemicals. Allelopath J 42:251–262. https://doi.org/10.26651/allelo.j/2017-42-2-1121

Cobas C, Seoane F, Domínguez S, Sykora S, Davies (2011) A new approach to improving automated analysis of proton NMR spectra through Global Spectral Deconvolution (GSD). Spectrosc Eur 23:26–30. https://doi.org/10.3247/sl2nmr08.011

Delmotte S, Tittonell P, Mouret JC, Hammond R, Lopez-Ridaura S (2001) On farm assessment of rice yield variability and productivity gaps between organic and conventional cropping systems under Mediterranean climate. Europ J Agr 35:223–236. https://doi.org/10.1016/j.eja.2011.06.006

Directive 79/117/EE (1979) https://eurlex.europa.eu/LexUriServ/LexUriServ.do?uri=CONSLEG:1979L0117:20040520:EN:PDF.

Directive 91/414/CEE (1991). https://eur-lex.europa.eu/legal-content/EN/ALL/?uri=CELEX%3A31991L0414.

Ellis RA, Roberts EH (1981) The quantification of ageing and survival in orthodox seeds. Seed Sci Technol 9:373–409. https://doi.org/10.4236/ajac.2012.37063

Favaretto A, Scheffer-Basso SM, Perez NB (2018) Allelopathy in Poaceae species present in Brazil. A review Agron Sustain Dev 38:22. https://doi.org/10.1007/s13593-018-0495-5

Fischer AJ, Ateh CM, Bayer DE, Hill JE (2000) Herbicide-resistant Echinochloa oryzoides and E. phyllopogon in California Oryza sativa fields. Weed Sci 48:225–230. https://doi.org/10.1614/0043-1745(2000)048[0225:HREOAE]2.0.CO;2

Gibson KD, Fischer AJ, Foin TC, Hill JE (2002) Implications of delayed Echinochloa spp. germination and duration of competition for integrated weed management in water-seeded rice. Weed Res 42:351–358. https://doi.org/10.1046/j.1365-3180.2002.00295.x

Hazra KK, Swain DK, Bohra A, Singh SS, Kumar N, Nath CP (2018) Organic rice: potential production strategies, challenges and prospects. Org Agric 8:39–56. https://doi.org/10.1007/s13165-016-0172-4

Ispra (2018). https://www.isprambiente.gov.it/files2018/pubblicazioni/rapporti/Rapporto_282_2018.pdf

Jang SJ, Kim KR, Yun YB, Kim SS, Kuk YI (2018a) Inhibitory effects of Italian ryegrass (Lolium multiflorum Lam.) seedlings of rice (Oryza sativa L.). Allelopath J 44:219–232. https://doi.org/10.26651/allelo.j/2018-44-2-1165

Jang SJ, Beom YY, Kim YJ, Kuk YI (2018b) Effects of downy brome (Bromus tectorum L.) and Italian ryegrass (Lolium multiflorum Lam.) on growth inhibition of wheat and weeds. Philipp Agric Sci 101:20–27

Jose CM, Jose, Brandão Torres LM, Torres MAMG, Shirasuna RT, Farias DA, dos Santos Jr. NA, Grombone-Guaratini MT (2016) Phytotoxic effects of phenolic acids from Merostachys riedeliana, a native and overabundant Brazilian bamboo. Chemoecology 26:235–246. https://doi.org/10.1007/978-3-319-04732-4_6

Kadioglu I, Yanar Y (2004) Allelopathic effects of plant extracts against seed germination of some weeds. Asian J Plant Sci 3:472–475. https://doi.org/10.3923/ajps.2004.472.475

Kim KH, Kabir E, Jahan SA (2017) Exposure to pesticides and the associated human health effects. Sci Total Environ 575:525–535. https://doi.org/10.1016/j.scitotenv.2016.09.009

Lehoczky E, Nelima MO, Szabó R, Szalai A, Nagy P (2011) Allelopathic effect of Bromus spp. and Lolium spp. shoot extracts on some crops. Commun Agric Appl Biol Sci 76:537–544

Li G, Zeng RS, Li H, Yang Z, Xin G, Yuan J, Luo Y (2008a) Allelopathic effects of decaying Italian ryegrass (Lolium multiflorum lam.) residues on rice. Allelopath J 22:15–23

Li GX, Li HJ, Yang Z, Xin G, Tang XR, Yuan JG (2008b) The rhizosphere effects in "Italian ryegrass-rice" rotational system V. evidences for the existence of rice stimulators in decaying products of Italian ryegrass residues. Acta Sci Nat Univ Sunyatseni 47:88–93

Li ZH, Wang Q, Ruan X, Pan CD, Jiang DA (2010) Phenolics and plant allelopathy. Molecules 15:8933–8952. https://doi.org/10.3390/molecules15128933

Malik MS, Burgos NR, Talbert RE (2010) Confirmation and control of propanil-resistant and quinclorac-resistant barnyardgrass (Echinochloa crus-galli) in rice. Weed Technol 24:226–233. https://doi.org/10.1614/WT-09-053.1

Lim CJ, Basri M, Ee GCL, Omar D (2017) Phytoinhibitory activities and extraction optimization of potent invasive plants as eco-friendly weed suppressant against Echinochloa colona (L.) link. Ind Crop Prod 100:19–34. https://doi.org/10.1016/j.indcrop.2017.01.025

Orlando F, Alali S, Vaglia V, Pagliarino E, Bacenetti J, Network OR, Bocchi S (2020) Participatory approach for developing knowledge on organic rice farming: management strategies and productive performance. Agric Syst 178:102739. https://doi.org/10.1016/j.agsy.2019.102739

Palmioli A, Airoldi C (2019) SMA libraries for metabolite identification and quantification in Lolium multiflorum extracts. Mendeley Data V2. https://doi.org/10.17632/pxyk95g5j6.2

Palmioli A, Bertuzzi S, De Luigi A, Colombo L, La Ferla B, Salmona M, De Noni I, Airoldi C (2019) bioNMR-based identification of natural anti-Aβ compounds in Peucedanum ostruthium. Bioorg Chem 83:76–86. https://doi.org/10.1016/j.bioorg.2018.10.016

Pignatti S (1982) Flora d'Italia. Edagricole, Bologna (Italy)

Ravazi SM (2011) Plant coumarins as allelopathic agents. Int J Biol Chem 5:86–90. https://doi.org/10.3923/ijbc.2011.86.90

Shennan C, Krupnik TJ, Baird G, Cohen H, Forbush K, Lovell RJ, Olimpi EM (2017) Organic and conventional agriculture: a useful framing? Annu Rev Environ Resour 42:317–346. https://doi.org/10.1146/annurev-environ-110615-085750

Stoop WA, Adam A, Kassam A (2009) Comparing rice production systems: a challenge for agronomic research and for the dissemination of knowledge-intensive farming practices. Agric Water Manag 96:1491–1501. https://doi.org/10.1016/j.agwat.2009.06.022

Synowiec A, Kalemba D, Drozdek E, Bocianowski J (2017) Phytotoxic potential of essential oils from temperate climate plants against the germination of selected weeds and crops. J Pest Sci 90:407–419. https://doi.org/10.1007/s10340-016-0759-2

Tabaglio V, Marocco A, Schulz M (2013) Allelopathic cover crop of rye for integrated weed control in sustainable agroecosystems. Ital J Agron 8:e5. https://doi.org/10.4081/ija.2013.e5

Talbert RE, Burgos NR (2007) History and management of herbicide-resistant barnyardgrass (Echinochloa crus-galli) in Arkansas rice. Weed Technol 21:324–331. https://doi.org/10.1614/WT-06-084.1

Teasdale JR (1996) Contribution of cover crops to weed management in sustainable agricultural system. J Prod Agric 9:475–479. https://doi.org/10.2134/jpa1996.0475

Vitalini S, Orlando F, Vaglia V, Bocchi S, Iriti M (2020) Potential role of Lolium multiflorum Lam. in the management of rice weeds. Plants 9:324. https://doi.org/10.3390/plants9030324

Wezel A, Casagrande M, Celette F, Vian JF, Ferrer A, Peigné J (2014) Agroecological practices for sustainable agriculture. A review. Agron Sustain Dev 34:1–20. https://doi.org/10.1007/s13593-013-0180-7

Wright AA, Rodriguez-Carres M, Sasidharan R, Koski L, Peterson DG, Nandula VK, Ray JD, Bond JA, Shaw DR (2018) Multiple herbicide–resistant junglerice (Echinochloa colona): identification of genes potentially involved in resistance through differential gene expression analysis. Weed Sci 66:1–8. https://doi.org/10.1017/wsc.2018.10
Acknowledgements
We gratefully thank Dr. Stefano Gomarasca for his help in plant identification and seed treatment; all the members of the multi-actor community "RisoBioVero", the farmers network "Noi Amici della Terra" and the farm "Terre di Lomellina di Rosalia Caimo Duc" for the efforts in promoting the networking, knowledge exchange and dissemination of best practices; the farm "Una Garlanda" as the early pioneer of the practice.
Funding
This research was supported by "Risobiosystems Project" (Italian Ministry Mipaaf funds, for research and innovation in the organic rice sector) and by EcorNaturaSì s.p.a.
Ethics declarations
Conflict of interest
All authors declare that they have no conflict of interest.
Additional information
Publisher's note
Springer Nature remains neutral with regard to jurisdictional claims in published maps and institutional affiliations.
Responsible editor: Giovanni Benelli
About this article
Cite this article
Vitalini, S., Orlando, F., Palmioli, A. et al. Different phytotoxic effect of Lolium multiflorum Lam. leaves against Echinochloa oryzoides (Ard.) Fritsch and Oriza sativa L.. Environ Sci Pollut Res (2020). https://doi.org/10.1007/s11356-020-09573-8
Received:

Accepted:

Published:
Keywords
Allelopathy

Cover crop

Early watergrass

Italian ryegrass

Organic rice

Weed biocontrol