Abstract
The ability of biochar to be used as filter or as additive for the adsorption of volatile organic compounds (VOCs) emitted from cattle manure is investigated. The employed biochar was produced from cattle manure after slow pyrolysis at 550 °C (under nitrogen). Towards this, in-house-made glass emission reactors were filled with fresh cattle manure samples and a thin layer of biochar (10% w/w) was placed on the top of the manure layer. The mixture was left for 24 h to equilibrate and air samples were collected from the headspace air. The samples were then analyzed using the headspace solid-phase micro-extraction gas chromatography-mass spectrometry (HS-SPME-GC-MS) method. Cattle manure emissions are considered unpleasant and odoriferous. The respective changes in the emitted cattle manure VOCs were reported; these included mainly reduction in sulfur- (thiols and sulfides) and oxygen-containing VOCs (alcohols, ketones, phenolics), showing a promising application of biochar for the removal of such compounds from manure wastes. Also, five VOCs were selected as sorbents for further laboratory studies: hexane, dimethyl trisulfide, phenol, p-cresol, and 2-methyl-3-pentanone. The results of cattle manure-derived biochar, revealed a reduction in their emitted concentrations (low ppbv). The present application highlights a straightforward example of cyclic economy, where a waste product is reused after being processed; its re-usage as odor adsorbent serves again the agriculture sector.
This is a preview of subscription content, log in to check access.
Access options
Buy single article
Instant access to the full article PDF.
US$ 39.95
Price includes VAT for USA
Subscribe to journal
Immediate online access to all issues from 2019. Subscription will auto renew annually.
US$ 99
This is the net price. Taxes to be calculated in checkout.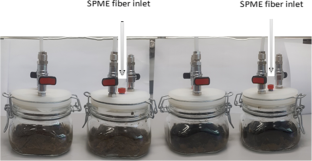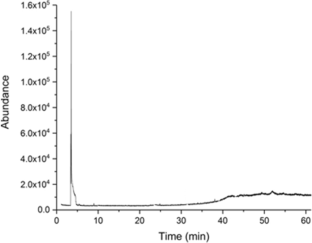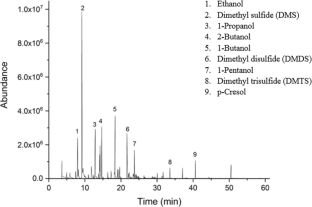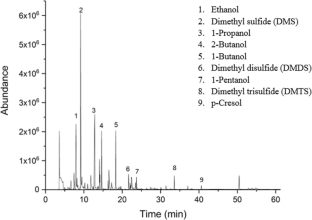 References
Ahmad M, Lee SS, Dou X, Mohan D, Sung JK, Yang JE, Ok YS (2012) Effects of pyrolysis temperature on soybean stover- and peanut shell-derived biochar properties and TCE adsorption in water. Bioresour Technol 118:536–544. https://doi.org/10.1016/j.biortech.2012.05.042

Ahmad M, Rajapaksha AU, Lim JE, Zhang M, Bolan N, Mohan D, Vithanage M, Lee SS, Ok YS (2014) Biochar as a sorbent for contaminant management in soil and water: a review. Chemosphere 99:19–33. https://doi.org/10.1016/j.chemosphere.2013.10.071

AIHA (2013) Odor threshold values. Am. Ind. Hyg, Assoc

Angin D (2013) Effect of pyrolysis temperature and heating rate on biochar obtained from pyrolysis of safflower seed press cake. Bioresour Technol 128:593–597. https://doi.org/10.1016/j.biortech.2012.10.150

Atienza-Martínez M, Ábrego J, Gea G, Marías F (2020) Pyrolysis of dairy cattle manure: evolution of char characteristics. J Anal Appl Pyrolysis 145:104724. https://doi.org/10.1016/j.jaap.2019.104724

Begnaud F, Pérés C, Berdagué JL (2003) Characterization of volatile effluents of livestock buildings by solid-phase microextraction. Int J Environ Anal Chem 83:837–849. https://doi.org/10.1080/03067310310001603349

Benkhedda J, Jaubert JN, Barth D, Perrin L (2000) Experimental and modeled results describing the adsorption of toluene onto activated carbon. J Chem Eng Data 45:650–653. https://doi.org/10.1021/je000010f

Blanes-Vidal V, Hansen MN, Adamsen APS et al (2009) Characterization of odor released during handling of swine slurry: part I. Relationship between odorants and perceived odor concentrations. Atmos Environ 43:2997–3005. https://doi.org/10.1016/j.atmosenv.2008.10.016

Bp D, Continental J, Hydrochloride D et al (2009) Safety data sheet of dimethyl trisulfide. Alfa Aesar 1173:1–8

Bulliner EA, Koziel JA, Cai L, Wright D (2006) Characterization of livestock odors using steel plates, solid-phase microextraction, and multidimensional gas chromatography-mass spectrometry-olfactometry. J Air Waste Manage Assoc 56:1391–1403. https://doi.org/10.1080/10473289.2006.10464547

Chen B, Chen Z (2009) Sorption of naphthalene and 1-naphthol by biochars of orange peels with different pyrolytic temperatures. Chemosphere 76:127–133. https://doi.org/10.1016/j.chemosphere.2009.02.004

Chen B, Chen Z, Lv S (2011) A novel magnetic biochar efficiently sorbs organic pollutants and phosphate. Bioresour Technol 102:716–723. https://doi.org/10.1016/j.biortech.2010.08.067

Chen W, Yang H, Chen Y, Chen X, Fang Y, Chen H (2016) Biomass pyrolysis for nitrogen-containing liquid chemicals and nitrogen-doped carbon materials. J Anal Appl Pyrolysis 120:186–193. https://doi.org/10.1016/j.jaap.2016.05.004

Chen Y, Zhang X, Chen W, Yang H, Chen H (2017) The structure evolution of biochar from biomass pyrolysis and its correlation with gas pollutant adsorption performance. Bioresour Technol 246:101–109. https://doi.org/10.1016/j.biortech.2017.08.138

Cho HJ, Baek K, Lee HH, Lee SH, Yang JW (2003) Competitive extraction of multi-component contaminants in water by Carboxen-polydimethylsiloxane fiber during solid-phase microextraction. J Chromatogr A 988:177–184. https://doi.org/10.1016/S0021-9673(02)02083-6

Cole NA, Clark RN, Todd RW, Richardson CR, Gueye A, Greene LW, McBride K (2005) Influence of dietary crude protein concentration and source on potential ammonia emissions from beef cattle manure. J Anim Sci 83:722–731. https://doi.org/10.2527/2005.833722x

Davoli E, Gangai ML, Morselli L, Tonelli D (2003) Characterisation of odorants emissions from landfills by SPME and GC/MS. Chemosphere 51:357–368. https://doi.org/10.1016/S0045-6535(02)00845-7

Filipy J, Rumburg B, Mount G, Westberg H, Lamb B (2006) Identification and quantification of volatile organic compounds from a dairy. Atmos Environ 40:1480–1494. https://doi.org/10.1016/j.atmosenv.2005.10.048

Hales KE, Parker DB, Cole NA (2012) Potential odorous volatile organic compound emissions from feces and urine from cattle fed corn-based diets with wet distillers grains and solubles. Atmos Environ 60:292–297. https://doi.org/10.1016/j.atmosenv.2012.06.080

HMDB (2020) Dimethyl trisulfide. In Version 4.0

Hobbs PJ, Webb J, Mottram TT, Grant B, Misselbrook TM (2004) Emissions of volatile organic compounds originating from UK livestock agriculture. J Sci Food Agric 84:1414–1420. https://doi.org/10.1002/jsfa.1810

Hwang O, Lee SR, Cho S, Ro KS, Spiehs M, Woodbury B, Silva PJ, Han DW, Choi H, Kim KY, Jung MW (2018) Efficacy of different biochars in removing odorous volatile organic compounds (VOCs) emitted from swine manure. ACS Sustain Chem Eng 6:14239–14247. https://doi.org/10.1021/acssuschemeng.8b02881

Jayawardhana Y, Gunatilake SR, Mahatantila K, Ginige MP, Vithanage M (2019) Sorptive removal of toluene and m-xylene by municipal solid waste biochar: Simultaneous municipal solid waste management and remediation of volatile organic compounds. J Environ Manag 238:323–330. https://doi.org/10.1016/j.jenvman.2019.02.097

Jeguirim M, Zorpas AA, Navarro Pedreno J, et al (2019) Sustainability assessment for biomass-derived char production and applications. Elsevier Inc

Kamarulzaman NH, Le-minh N, Fisher RM, Stuetz RM (2019) Science of the total environment quanti fi cation of VOCs and the development of odour wheels for rubber processing. Sci Total Environ 657:154–168. https://doi.org/10.1016/j.scitotenv.2018.11.451

Khan A, Szulejko JE, Samaddar P, Kim KH, Liu B, Maitlo HA, Yang X, Ok YS (2019) The potential of biochar as sorptive media for removal of hazardous benzene in air. Chem Eng J 361:1576–1585. https://doi.org/10.1016/j.cej.2018.10.193

Kumar A, Singh E, Khapre A, Bordoloi N, Kumar S (2019) Sorption of volatile organic compounds on non-activated biochar. Bioresour Technol 297:122469. https://doi.org/10.1016/j.biortech.2019.122469

Liu D, Nyord T, Rong L, Feilberg A (2018) Real-time quantification of emissions of volatile organic compounds from land spreading of pig slurry measured by PTR-MS and wind tunnels. Sci Total Environ 639:1079–1087. https://doi.org/10.1016/j.scitotenv.2018.05.149

Lou L, Wu B, Wang L, Luo L, Xu X, Hou J, Xun B, Hu B, Chen Y (2011) Sorption and ecotoxicity of pentachlorophenol polluted sediment amended with rice-straw derived biochar. Bioresour Technol 102:4036–4041. https://doi.org/10.1016/j.biortech.2010.12.010

Ma Y, Wang Q, Wang X, Sun X, Wang X (2014) A comprehensive study on activated carbon prepared from spent shiitake substrate via pyrolysis with ZnCl2. J Porous Mater 22:157–169. https://doi.org/10.1007/s10934-014-9882-8

Maurer DL, Koziel JA, Kalus K, Andersen D, Opalinski S (2017) Pilot-scale testing of non-activated biochar for swine manure treatment and mitigation of ammonia, hydrogen sulfide, odorous volatile organic compounds (VOCs), and greenhouse gas emissions. Sustainability 9:313–321. https://doi.org/10.3390/su9060929

Miller DN, Varel VH (2001) In vitro study of the biochemical origin and production limits of odorous compounds in cattle feedlots. J Anim Sci 79:2949–2956. https://doi.org/10.2527/2001.79122949x

Miller DN, Woodbury BL (2006) A solid-phase microextraction chamber method for analysis of manure volatiles. J Environ Qual 35:2383–2394. https://doi.org/10.2134/jeq2006.0065

Ni JQ, Robarge WP, Xiao C, Heber AJ (2012) Volatile organic compounds at swine facilities: a critical review. Chemosphere 89:769–788. https://doi.org/10.1016/j.chemosphere.2012.04.061

Rabaud NE, Ebeler SE, Ashbaugh LL, Flocchini RG (2003) Characterization and quantification of odorous and non-odorous volatile organic compounds near a commercial dairy in California. Atmos Environ 37:933–940. https://doi.org/10.1016/S1352-2310(02)00970-6

Ramos ME, Bonelli PR, Cukierman AL, Ribeiro Carrott MML, Carrott PJM (2010) Adsorption of volatile organic compounds onto activated carbon cloths derived from a novel regenerated cellulosic precursor. J Hazard Mater 177:175–182. https://doi.org/10.1016/j.jhazmat.2009.12.014

Rosenfeld PE, Clark JJJ, Hensley AR, Suffet IH (2007) The use of an odour wheel classification for the evaluation of human health risk criteria for compost facilities. Water Sci Technol 55(5):345–357. https://doi.org/10.2166/wst.2007.197

Schiffman SS, Bennett JL, Raymer JH (2001) Quantification of odors and odorants from swine operations in North Carolina. Agric For Meteorol 108:213–240. https://doi.org/10.1016/S0168-1923(01)00239-8

Shao-Pin (1999) Analysis of volatile fatty acids in wastewater collected from a pig farm by a solid phase microextraction method. Chemosphere 38:823–834

Son HK, Sivakumar S, Rood MJ, Kim BJ (2016) Electrothermal adsorption and desorption of volatile organic compounds on activated carbon fiber cloth. J Hazard Mater 301:27–34. https://doi.org/10.1016/j.jhazmat.2015.08.040

Statheropoulos M, Agapiou A, Zorba E, Mikedi K, Karma S, Pallis GC, Eliopoulos C, Spiliopoulou C (2011) Combined chemical and optical methods for monitoring the early decay stages of surrogate human models. Forensic Sci Int 210:154–163. https://doi.org/10.1016/j.forsciint.2011.02.023

Stylianou M, Christou A, Dalias P, Polycarpou P, Michael C, Agapiou A, Papanastasiou P, Fatta-Kassinos D (2020a) Physicochemical and structural characterization of biochar derived from the pyrolysis of biosolids, cattle manure and spent coffee grounds. J Energy Inst. https://doi.org/10.1016/j.joei.2020.05.002

Stylianou M, Montel E, Dermentzis K, Agapiou A (2020b) Electrochemical treatment of cattle wastewater samples. Waste and Biomass Valorization, In Press. https://doi.org/10.1007/s12649-020-01056-8

Tareq R, Akter N, Azam MS (2018) Biochars and biochar composites: low-cost adsorbents for environmental remediation. In: Biochar from biomass and waste, fundamentals and applications, Chapter 10. Elsevier Inc., pp 169–209

Trabue S, Scoggin K, McConnell L, Maghirang R, Razote E, Hatfield J (2011) Identifying and tracking key odorants from cattle feedlots. Atmos Environ 45:4243–4251. https://doi.org/10.1016/j.atmosenv.2011.04.081

Trabue SL, Kerr BJ, Scoggin KD (2019) Swine diets impact manure characteristics and gas emissions: part I sulfur level. Sci Total Environ 687:800–807. https://doi.org/10.1016/j.scitotenv.2019.06.130

US EPA (2008) List of hazardous air pollutants (air toxic website). Environ. Prot. Agency

US EPA (2000a) Hexane hazard summary. In: Environ Prot Agency

US EPA (2000b) Phenol. Environ. Prot, Agency

US EPA (2000c) Cresol. Environ Prot Agency

Wang D, Geng Z, Zhang C, Zhou X, Liu X (2014) Effects of thermal activation conditions on the microstructure regulation of corncob-derived activated carbon for hydrogen storage. J Energy Chem 23:601–608. https://doi.org/10.1016/S2095-4956(14)60190-X

Xue Y, Gao B, Yao Y, Inyang M, Zhang M, Zimmerman AR, Ro KS (2012) Hydrogen peroxide modification enhances the ability of biochar (hydrochar) produced from hydrothermal carbonization of peanut hull to remove aqueous heavy metals: Batch and column tests. Chem Eng J 200–202:673–680. https://doi.org/10.1016/j.cej.2012.06.116

Yang K, Xue F, Sun Q, Yue R, Lin D (2013) Adsorption of volatile organic compounds by metal-organic frameworks MOF-177. J Environ Chem Eng 1:713–718. https://doi.org/10.1016/j.jece.2013.07.005

Yasuhara A, Fuwa K, Jimbu M (1984) Identification of odorous compounds in fresh and rotten swine manure. Agric Biol Chem 48:3001–3010. https://doi.org/10.1080/00021369.1984.10866622

Zahn JA, Dispirito AA, Do YS et al (2001a) Correlation of human olfactory responses to airborne concentrations of malodorous volatile organic compounds emitted from swine effluent. J Environ Qual 30:624–634

Zahn JA, Hatfield JL, Laird DA et al (2001b) Functional classification of swine manure management systems based on effluent and gas emission characteristics. J Environ Qual 647:635–647

Zang B, Li S, Michel FC, Li G, Zhang D, Li Y (2017) Bioresource technology control of dimethyl sulfide and dimethyl disulfide odors during pig manure composting using nitrogen amendment. Bioresour Technol 224:419–427. https://doi.org/10.1016/j.biortech.2016.11.023

Zhang S, Cai L, Koziel JA, Hoff SJ, Schmidt DR, Clanton CJ, Jacobson LD, Parker DB, Heber AJ (2010) Field air sampling and simultaneous chemical and sensory analysis of livestock odorants with sorbent tubes and GC-MS/olfactometry. Sensors Actuators B Chem 146:427–432. https://doi.org/10.1016/j.snb.2009.11.028

Zhang X, Gao B, Creamer AE, Cao C, Li Y (2017) Adsorption of VOCs onto engineered carbon materials: a review. J Hazard Mater 338:102–123. https://doi.org/10.1016/j.jhazmat.2017.05.013

Zhang X, Gao B, Fang J, Zou W, Dong L, Cao C, Zhang J, Li Y, Wang H (2019) Chemically activated hydrochar as an effective adsorbent for volatile organic compounds (VOCs). Chemosphere 218:680–686. https://doi.org/10.1016/j.chemosphere.2018.11.144
Additional information
Publisher's note
Springer Nature remains neutral with regard to jurisdictional claims in published maps and institutional affiliations.
Responsible Editor: Zhihong Xu
Electronic supplementary material
Table SM1: A list of VOCs emitted from cattle manure and their % removal. Figure SM1. % removal of TVOCs and gases (CH4, H2S, NH3) based on PID and sensors measurements. (DOCX 40.2 kb)
About this article
Cite this article
Kaikiti, K., Stylianou, M. & Agapiou, A. Use of biochar for the sorption of volatile organic compounds (VOCs) emitted from cattle manure. Environ Sci Pollut Res (2020). https://doi.org/10.1007/s11356-020-09545-y
Received:

Accepted:

Published:
Keywords
Air quality

Biochar

Manure

Livestock

Sorbents

Waste